If you're looking to start a successful eCommerce business in 2023, then you'll want to consider learning how to dropship on Amazon.
Drop shipping can be a very lucrative business model, and with low start-up costs and very few overheads, you can see why entrepreneurs are seeing big returns for small input.
In this article, we'll teach you everything you need to know about how to dropship on Amazon, including what drop shipping is, how it works, and how you can scale your business to great heights by leveraging the right tools.
What Is Amazon Dropshipping?
Drop shipping is a business model where you don't have to keep any inventory. You simply act as the middleman between your customers and the supplier who stocks the product.
Whenever you receive an order from a customer, you place the same order with your supplier, and they will ship it directly to your customer.
Here Is How To Dropship On Amazon: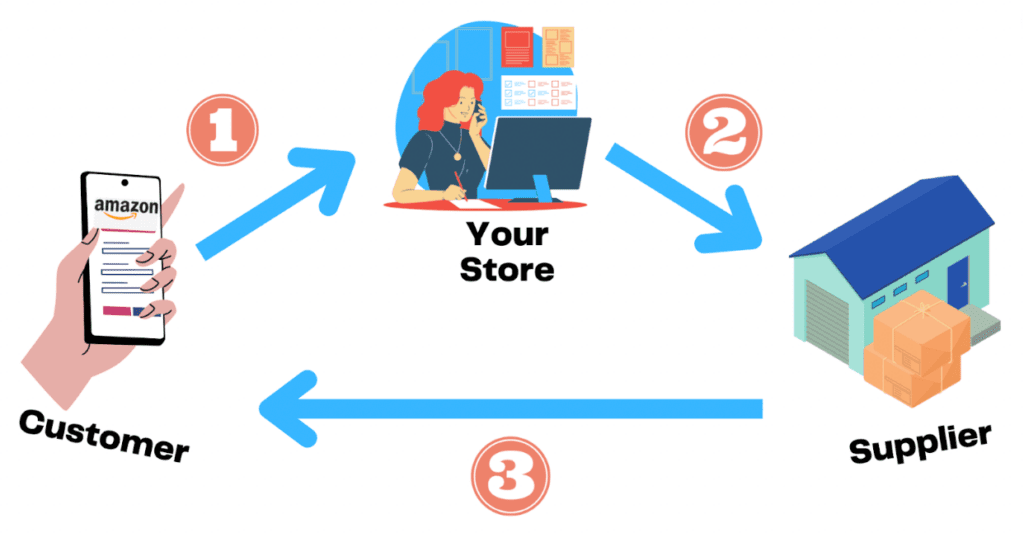 You (the entrepreneur) source a product to sell
You then find a supplier for the product
You list the product on Amazon
The Amazon customer purchases your product on Amazon
You then purchase from the supplier and get them to send it directly to the customer's address.
It's all about positioning yourself as the middle person so you'll never have to invest in large quantities of stock, pay storage fees, or ship container loads of inventory to Amazon fulfillment centers.
The Different Types Of Dropshipping:
When it comes to dropshipping on Amazon, there are a few different types you'll need to be aware of:
Private label Amazon dropshipping – this is when you source a product from a supplier (usually in China), then customize and brand it with your own logo. You can then list the product on Amazon as your own branded product.
Retail arbitrage Amazon dropshipping – this is where you source products from retail stores, then list them at a markup on Amazon. When an order comes in, you purchase the product from the store and have it shipped directly to your customer.
Wholesale Amazon dropshipping – this involves finding wholesalers who offer large discounts on products. You'll then list them on Amazon and take orders from customers. When you get an order, you purchase the product from the wholesaler in bulk and they ship directly to your customer.
Print-on-demand Amazon dropshipping – print-on-demand services allow you to list your own designs or artwork on products such as t-shirts, mugs, or phone cases. You don't need to buy any inventory upfront and only pay for the product when an order comes in.
Is Amazon DropShipping Profitable?
Yes, Amazon drop shipping is still a viable business model that can generate significant profits.
The great thing about dropshipping on Amazon is that there are no upfront costs and the overhead expenses are minimal: all you need to get started is to source a product and list it on the platform.
How Does Amazon Dropshipping Compare To Other Amazon Business Models?
Dropshipping on Amazon is just one of many different ways to start an online store. Each model has its own advantages and disadvantages.
For example, with dropshipping, you have low start-up costs as you don't need to purchase any inventory upfront. However, the margins are usually small and it can be hard to scale a business quickly due to the limited selection of products available.
Other popular ways to sell products on Amazon are Amazon FBA Private Label, Wholesale, Online Arbitrage, Bookselling, and Handmade.
What Are The Pros and Cons Of Amazon Dropshipping?
The pros of Amazon dropshipping include:
Low start-up costs – you don't need to purchase any inventory upfront, making it a great choice for entrepreneurs who are just getting started.
You can offer a wide selection of products – you can source products from anywhere in the world, giving you access to a much wider selection than you'd be able to find in a physical store.
No need for storage space – since you don't need to buy any inventory upfront, you don't have to worry about finding a place to store it.
The cons of Amazon dropshipping include:
Lower profit margins – since you're not buying the product in bulk, you'll have to charge a higher price to make a profit, which can make it difficult to compete with other sellers.
Risk of counterfeit products – since you're sourcing from third-party suppliers, there is a risk that some of the products could be counterfeit or low quality.
How Much Does Dropshipping On Amazon Cost?
The cost to dropship on Amazon will vary depending on your product and supplier, but generally, you can expect to pay for the following:
Shipping costs – if you're using a third-party supplier, you'll need to pay for the cost of shipping the product to your customer.
Amazon fees – Amazon will take up to 15% of every sale as their fee.
Advertising costs – if you want to get more sales on Amazon, you'll need to invest in advertising campaigns such as Amazon PPC or sponsored products.
Platform fees – depending on which platform you're using to manage your drop shipping business, there may be an additional fee associated with it.
Unlike private label and wholesaling, a dropshipping business doesn't require you to invest in or hold any inventory of your own.
Instead, when the consumer pays for their purchase from your store, use a portion of the proceeds to buy that product from a supplier and have them send it directly to the buyer.
This drastically reduces your start-up costs and overheads, making Amazon Dropshipping one of the most cost-effective ways to get started selling products online.
Here is a list of things that you should invest in to run your eCommerce store efficiently:
Amazon professional seller account – $39.99 per month
Product samples from your chosen supplier
Viral Launch for product discovery, optimizing listings, finding the best-converting keywords, and PPC management
Typically, the average dropshipping profit margins are between 10-30%, depending on the product.
Which, for a relatively passive income is very good!
How To Dropship On Amazon
Now that you know a little more about the business model, he is the steps you need to take to learn how to dropship on Amazon.
Step 1 – Set Up An Amazon Seller Central Account
There are two options when it comes to selling on Amazon – you can use the individual seller Amazon account or the professional seller Amazon account.
Each has its own advantages, but the professional plan is best if you want to dropship products on Amazon as it will allow you access to their full PPC tools, run promotions, and create bulk listings easier.
The professional seller account has a capped fee of $39.99 regardless of how many products you sell, whereas the individual seller account charges a $.0.99 fee per unit.
Step 2 – Finding Products To Sell
This step is the most vital part of starting your online store, and it's crucial you get it right.
Viral-Launch has made it much easier to find high-demand, low-competition products to start selling by leveraging the Product Discovery tool.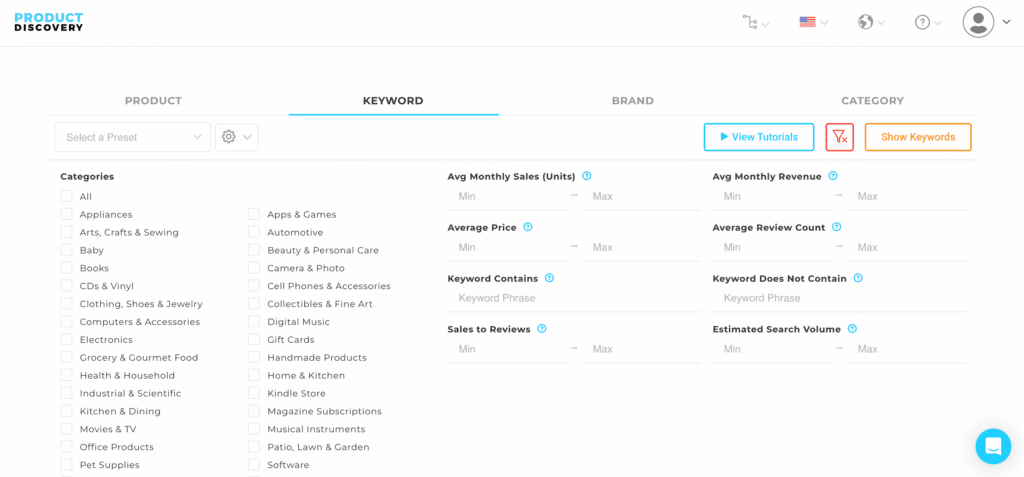 If you're unsure how to get the most out of this tool, there are two tutorial videos on the Product Discovery tool page, showing you how to get the most of out it.
But in order to find the high-demand, low-competition products, I would recommend starting your product search off with the following criteria in the KEYWORD tab:
Price range between $40-$100
Minimum monthly sales of 500>
At least 300 reviews
To avoid any complications with restricted products or products with any other limitations that could slow your growth, I would recommend sticking to the 5 main categories that sell very:
Baby
Sports & Outdoors
Home & Kitchen
Pets
Garden & Outdoor
Once you enter these details into the Product Discovery tool, you will be given a list of potential product ideas, with a star rating Idea Score, along with the product's average revenue and sales velocity.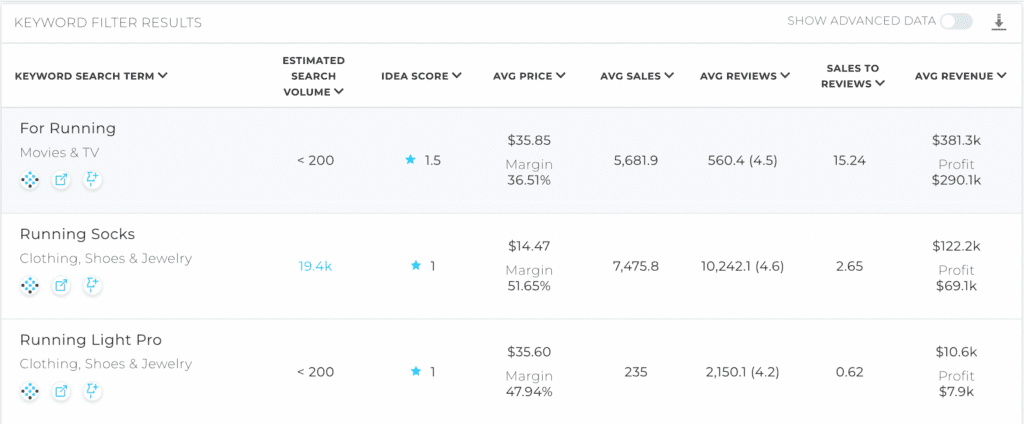 The top product idea that came up from my very basic search was products for running.
I would then click the button below the product keyword and head to the Viral-Launch Market Intelligence page:
Viral-Launch Market Intelligence provides me with a deep analysis of all the product ideas within the Running keyword and gives them a more detailed idea score star rating: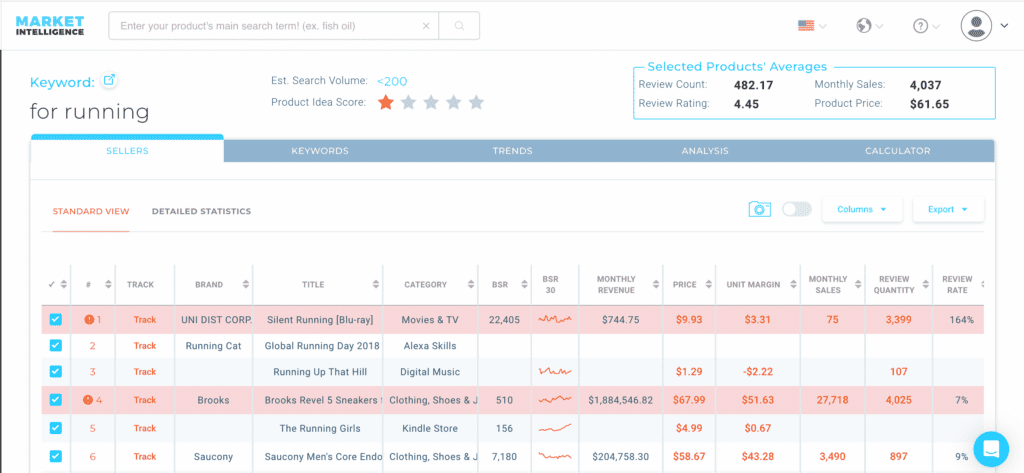 These tools will give you a huge advantage in finding the best products to start your Amazon dropshipping business.
Step 3 – Finding Products To Sell On Your Amazon Store
Once you have a list of viable product ideas, you then need to focus on finding a supplier.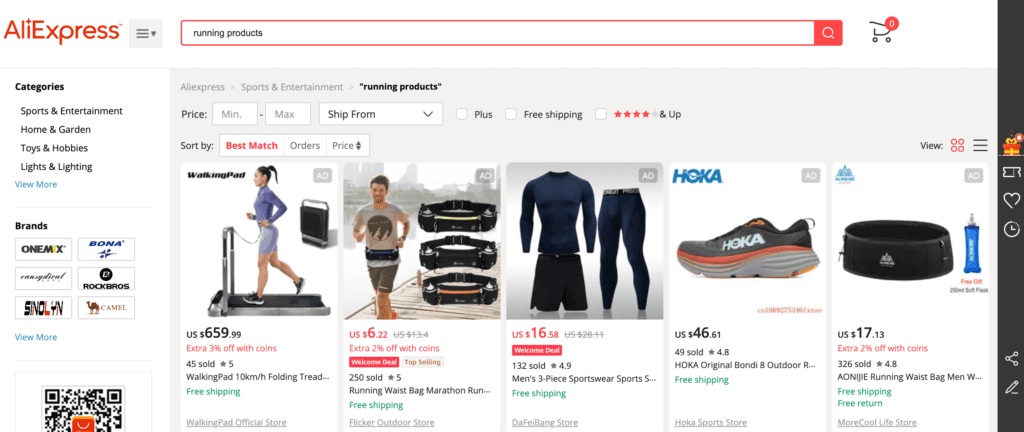 The first place to start would be AliExpress, as they offer a wide range of products and have thousands of suppliers all around the world.
When looking for new suppliers, you should focus on finding those that can create custom branding for your product packaging and labels. This way, you will be able to make your brand stand out from the competition.
Once you have narrowed down your list of suppliers, you should make sure to ask them for samples. This way, you can assess the quality of their products before committing to a large order.
Also, make sure to read the reviews and check out the ratings of any supplier you are considering working with – this will give you an insight into the quality of their products and customer service.
Step 4 – Create Your Listings On Amazon
Once you have chosen your supplier, it's time to create your product listings in Amazon Seller Central, or you can also build your listing in the Listing Builder tool.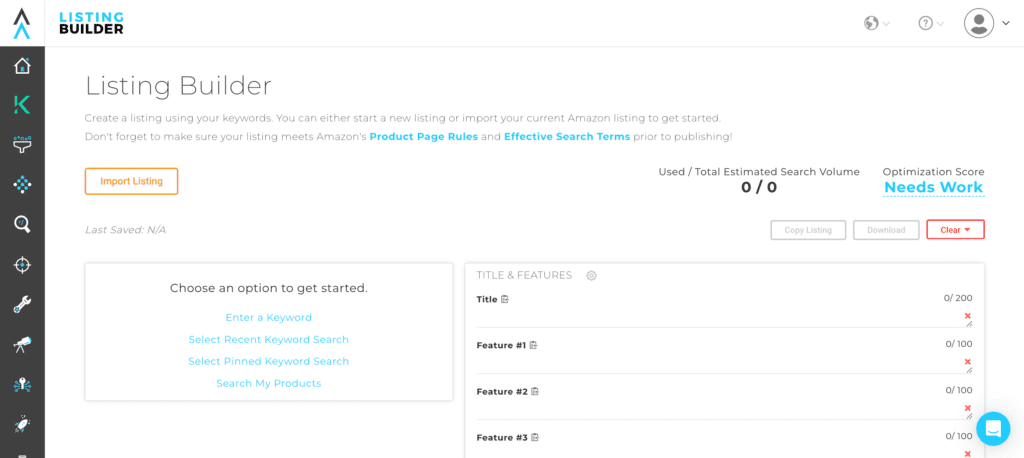 You will need to gather the following information for each listing:
A product title,
Images,
Bullet points,
Descriptions,
Pricing
Product Title
The key factors that Amazon considers when ranking products are the keywords in the product title, sales velocity, and the number of positive reviews.
So the best place to start would be finding the best keywords for your product title, and the rest of your listing.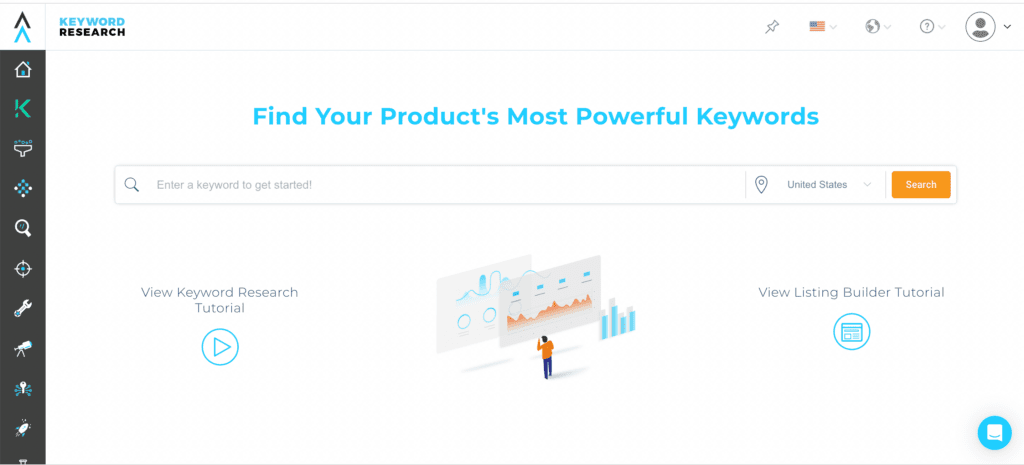 The Viral Launch Keyword Research tool will help you find the most powerful keywords for both your Product Title and Product Description.
The product title should be structured in a way that the strongest keyword for your product, is at the very start of your title.
Product Images
The product photos on your listing are a great way to increase sales by showing customers the main features of your product.
The images should be 1000×1000 pixels and you should use all photo slots on your listing.
If you're unable to take great photos yourself, you can always ask your supplier to provide you with high-resolution photos of your product.
Product Bullet Points
The product bullet points are the second most important part of the text on your Amazon product listing, after your product title, so they should be keyword rich.
Product bullet points are the best opportunity to tell your customers how purchasing your product will benefit them and solve their problems.
Product Description
The product description should summarize all the features and benefits of your product that you mentioned in the bullet points section, as well as any important information about how to use it. You can create amazing product descriptions using online AI Tools.
Pricing
Finally, you need to set a price for your product that will be competitive enough to generate sales without leaving too much margin on the table.
The Viral Launch Pricing tool will help you find the right price for your products by analyzing your competition and calculating the optimal price point.
Tips For Success In Your Amazon Dropshipping Business
Running a successful dropshipping business on Amazon can be a daunting task, so here are some tips to make sure you get the ball rolling.
1. Promote Your Listings
Running PPC Amazon ads will massively boost your exposure to your product listing, will increase your organic ranking for your chosen keywords, and will drastically increase your sales.
2. Set Up Your Storefront Properly
Make sure to create an attractive storefront with all of your product listings and images in place. This will give customers the chance to shop with ease, and it will also make a great first impression.
3. Utilize Social Media & Advertising
Social media is a great way to get the word out about your business and attract new customers.
You can post about sales, discounts, promotions, and other news related to your business on social media platforms like TikTok, Facebook, Instagram, and Twitter.
You can also create ads on different platforms to promote your products and direct customers to your store. And more over, you can find your competitor ads & can create your ads better than them.
4. Monitor Your Products & Pricing
Make sure you keep an eye on competitor prices and adjust yours accordingly if needed – this will help you stay competitive and maximize profit margins for each product.
5. Offer Excellent Customer Service
Providing excellent customer service is an essential part of running a successful dropshipping business on Amazon.
Make sure you provide prompt and courteous responses to customer inquiries, as well as handle any product returns or refunds in a timely manner.
Round Up Of How To Dropship On Amazon
Hopefully, this post provides you with a clearer view of how to dropship on Amazon.
Dropshipping on Amazon is a great way to start an online business and make money without having to manage inventory or handle shipping.
The key to success in dropshipping on Amazon lies in:
Sourcing the right products
Finding great suppliers
Optimizing your product listing,
Use the right keywords for your title and description,
Creating attractive product images and bullet points,
Setting a competitive price,
and providing excellent customer service.
By following these tips, you can increase your chances of success in selling products on Amazon as a dropshipper.
How To Dropship On Amazon FAQs
Who handles processing customer returns with Amazon Dropshipping?
The return policy is the same for anything you sell on Amazon.

Although, unlike the FBA business model – You as the seller will be responsible for the returns, not Amazon. The returns will need to be sent back to your location.
What are the upfront investments required?
Dropshipping on Amazon is a very low barrier to entry with regard to start-up costs. You would need to invest in:

– Amazon professional account – $39.99 per month
– Product samples from your chosen supplier
– Amazon Pay Per Click (PPC) advertising
– Viral Launch for product discovery, optimizing listings, finding the best-converting keywords, and PPC management
Do I need an LLC to start Amazon dropshipping?
No you don't have to start an LLC to drop ship on Amazon, although it will be a good idea to set one up as your own eCommerce store grows in revenue.
Will the supplier send products in branded packaging?
Sending your products with branded packaging is something that I would highly recommend asking your supplier to work with you on.

I would also advise working with your supplier to create packing slips and inserts into your packaging with information on other products and offers.

Something that Amazon prohibits, is the dropshipping model of online arbitrage where you purchase products individually from other online retailers like Walmart and sell them on Amazon and the product arrives to the customer in Walmart packaging.
Do I need a professional amazon seller account?
It's not essential to have a professional seller account, but you will experience far fewer limitations when you invest in a professional seller amazon account.