It's no secret that the cost of living has gone up in recent months. This also applies to the costs of running a business, like Amazon selling.
If you're an Amazon seller already, you might have noticed that as of January 17, 2023, the Amazon fee increase has impacted your bottom line.
Even Amazon, the biggest retailer in the world, had to adjust to the rising costs. As a result, they shifted some of the burdens onto Amazon Sellers.
This post will cover all of the different Amazon fees, what they are, how fees have changed, and how much it costs to sell on Amazon in 2023.
What Fees Do Amazon Sellers Have To Pay?
Depending upon which type of Amazon business model you operate, there are a number of fees that you will have to pay in order to sell your products on the Amazon platform.
Here is a breakdown of all of the fees that Amazon charges:
Selling Fees
Amazon selling fees are based on the product's price and are charged per item sold. The fee is a percentage of the sale price plus a minimum fee.
Fulfillment By Amazon (FBA) Fees
There are a number of different fees within the FBA fees, including storage fees, pick and pack fees, and shipping fees. The amount will vary depending on the size and weight of the product.
Referral Fees
The referral fee is a percentage of the item's sale price and varies based on the category in which the item is sold.
Advertising Fees
To run Pay Per Click (PPC) ads on the Amazon selling platform, sellers must pay Amazon to display these. These fees are based on the cost-per-click model, where the seller pays every time someone clicks on their ad.
Subscription/ Amazon Seller fees
There are two different seller account options – Individual or Professional. An individual account is free, and a Professional account is $39.99 per month.
Returns Processing Fee
If a seller uses Amazon's Fulfilment By Amazon program, they may be subject to processing fees based on the type and size of their item(s) should there be any returns.
Long-term Storage Fees
Sellers who use FBA and keep their inventory in Amazon's fulfillment centers for more than one year will be charged long-term storage fees.
How Have Amazon FBA Fees Changed In 2023?
Previously, Amazon has attempted to keep fee changes low by reducing or eliminating certain fees like customer returns.
Starting in 2022 some of those fees were put back onto sellers, particularly FBA fulfillment fees, which will continue into 2023.
Fuel prices and inflation are the main reason for the Amazon fee increase.
Here are some of the changes sellers can expect to see:
Fulfillment Fees
The outbound FBA fees have increased on average by $0.22.
However, FBA still remains super competitive as the $0.22 rise is much cheaper than all other logistics providers.
The reason for the price increase is to cover the costs of increased shipping fees, fuel prices, and inflation.
Storage Fees
Amazon FBA storage fees change depending on the time of year.
Here are the changes in storage fees:
Off Peak (January – September): increase of $0.04 per cubic foot
Peak (October – December): increase of $0.20 per cubic foot
As of April 1, 2023, a storage utilization surcharge will be brought in for sellers who have high levels of inventory taking up space.
The surcharge will be relative to the cube of recent weekly sales and will affect around 8% of sellers who have the highest volume of storage relative to sales volume.
There will also be a surcharge for sellers with aged inventory stored for 271-365 days.
FBA Removal and Disposal Fee Changes
FBA removal and disposal fees are determined based on the size tier, per unit fee, and the item's shipping weight.
These fees will increase between $0.45 to $1.06 for standard-size products and between $1.62 to $4.38, depending on the shipping weight of your product.
Amazon Selling Fee Increase Summary
Here is a summary of what's changing for FBA sellers:
Non-peak storage fees are increasing by $0.04 per cubic foot for standard-size items and $0.03 per cubic foot for oversized items.
Effective April 15, 2023, the aged inventory surcharge will apply to items sitting in Amazon warehouses for 180 days or more, excluding product categories such as watches, apparel, shoes, and jewelry.
An average of $0.20 reduction in returns processing fees for Apparel and Shoes category products.
FBA Returns and Disposal fees will almost double.
How Can Sellers Reduce The Cost Of Amazon Selling ?
The rise in fees can impact a seller's bottom line, but there are some ways to maintain healthy profit margins.
Here are some suggestions to help keep costs down and maintain healthy profit margins:
Optimize Your PPC Ads
Sellers can spend a lot of money on unnecessary clicks to their PPC ads that don't convert.
Pay close attention to your campaigns and make sure that you're not paying for clicks that don't have a high chance of converting.
The best way to run Amazon PPC ads is with a killer PPC Management tool like the Viral Launch Kinetic PPC Tool.
How does the Kinetic tool help sellers get more out of their PPC ads?
Control results – Can create more customizable rules to achieve the highest return on ad spend.
Maximize Profits – Gain access to more data to see what is impacting ad campaigns.
Clear Strategies – Integrating the Viral Launch research tools directly into the Kinetic PPC tool helps conversions of relevant keywords, improves organic rankings, and drives organic sales.
Create Automation – Set up automated rules to control your results around the clock. Ensures sellers don't lose ranking or overspend on ads.
Optimize Product Listings
Optimizing your product listing so that it is ranking for the most relevant, and highest converting keywords is the best way to increase organic ranking and traffic to the listing.
The most important parts of a product listing to Optimize to increase rankings are:
Product Title
Product bullet points
Product Description
Use the Viral Launch Keyword Research tool to audit your listing, and find high-converting keywords, longtail keywords, and other search terms to add to your product listing.

Stay On Top Of Your Inventory
Monitor inventory levels and make sure they don't become too large by taking advantage of seasonal discounts or promotions.
This is especially important if you store products in Amazon FBA warehouses as this will help avoid long-term storage fees or surcharges.
Review Product Prices
Make sure your prices remain competitive so you don't lose customers to competitors. You can also focus on selling high-margin products to increase profits despite the increased fee structure.
What Amazon Sellers Should Not Spend Money On
Expensive Tools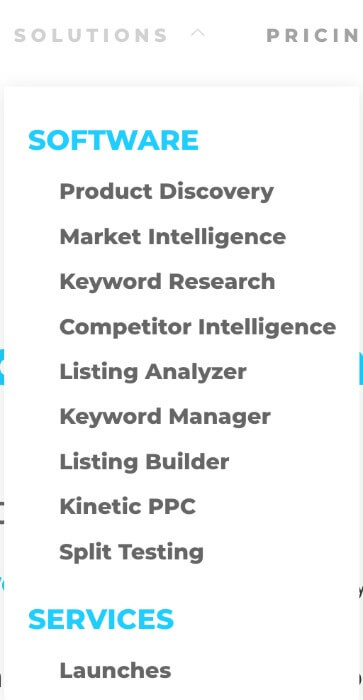 There are many different tasks involved when it comes to running a successful Amazon store, so naturally, there are many different tools to solve problems and provide services for Sellers.
Cutting unnecessary monthly subscriptions to tools that are not always required is will help free up cash flow.
Viral Launch, however, offers a "one-stop-shop" array of tools that sellers will require to run their businesses successfully, all under one subscription fee.
Expensive Training/Courses
There are some fantastic Amazon FBA Courses available to sellers, but most of them come with a premium price tag. In some cases, courses can cost upwards of $5k!
Viral Launch has a FREE course hosted on the teachable platform where sellers can learn the basics of Amazon, confidently build an online business, and get one step closer to financial freedom:
As well as the free course, the Viral Launch YouTube channel has a lot of great information videos
Legal Fees
Too many sellers are too hasty to incorporate their business in the early phases of getting started. Setting up an LLC, or establishing a legal structure for your business is something that can be expensive and something that can be done further down the line when the business is more established.
Realistically, How Much Does It Cost To Start An Amazon Business?
There are many factors to consider when putting a price tag on a business startup. But here are what Sellers could expect to spend on starting their own Amazon store:
Ordering Product Samples – $100
First Inventory Order – Average price for 500units + shipping = $2000
UPC Code – $30
Amazon Professional Seller Account – $39.99p/m
Grand Total = $2,170
You will also need to invest in Amazon PPC in order to run a successful launch campaign. You should expect to spend around $10 per day for the first month. Be sure to use the best PPC Tools in order to maximize the effectiveness of your ads.
Unless you are a skilled creative, you may also need to hire a designer for your product's logo and product packaging, and a photographer for your product listing photographs.
Cashflow
Something that I feel is not talked about enough with newbie sellers is the matter of Cashflow.
You will need access to enough working capital to be able to afford a second inventory order before you receive payment from the first. (Ideally, you should be placing another order with your supplier as soon as your first inventory reaches the FBA centers)
If you have to wait until you are sold out of your product before you can place a second order, your product will be out of stock for far too long and any organic ranking that you achieved with your launch will be lost by the time your inventory is replenished.
So as a rule of thumb – I figure out my first month's startup costs, and double it!
Is Starting An Amazon FBA Business Still Worth It?
The answer is YES!
Starting an Amazon FBA business still remains a very viable way to start an online business. The potential for success is huge. With the right planning and strategy, Amazon selling can be a great choice if you're looking to start your own business and work toward financial freedom.
Be sure to plan ahead and budget carefully so that you remain in control of your finances. Keeping track of costs and staying on top of fees will help you avoid unexpected surprises, while also managing cash flow correctly will ensure that your business continues to grow over time.
Remember – it's important not to get carried away with unnecessary expenses when starting out. These can quickly add up over time. Careful spending, coupled with the right tools and resources, is essential to getting your business off the ground.
Viral Launch makes this process even easier by giving you all the necessary tools and resources to get started on Amazon. With Viral Launch, you can easily manage your daily activities, monitor changes in the marketplace, track product performance, optimize PPC campaigns, and launch new products – all under one subscription fee!