Once you've decided to start selling on Amazon, you'll quickly be met with your second decision: Which Amazon Seller plan should you choose: Professional or Individual?
Amazon's created these seller plans to target two general types of Amazon sellers, with fees and perks designed to support your business efficiently. Each plan has unique features and costs, and it is essential to consider your current and projected sales volume and budget when deciding.
Below, we'll compare the two available seller plans to help you examine the Amazon Professional seller vs Individual seller plans to determine which makes the most sense for you and your Amazon business.
Individual Seller
The Individual seller plan requires a $0.99 fee every time you sell an item. In contrast to the Professional plan, the Individual seller plan can be considered an option for casual or low-volume sellers.
This plan makes more sense for sellers still deciding on a product or selling less than 40 units per month. Because of the per-item fees, the Individual plan presents a more cost-efficient option for low-volume sellers. The Individual seller plan also makes more sense for anyone testing the waters on Amazon with just a few products. If you're still searching for a product or not ready to open up for business, choosing this option can help reduce costs as you build your business.
This plan does not provide access to inventory tools, so anyone with a more extensive product catalog or volume of products would be better served on the Professional plan. It's also worth mentioning that Individual sellers can upgrade to Professional at any time, making it an excellent placeholder account until you're ready to level up to Professional.
Professional Seller
The Professional seller plan requires a flat $39.99 monthly payment, no matter how many items you sell within the month. In addition to the $39.99 monthly payment, Amazon collects a seller fee (a percentage of the total transaction that varies by product category) on each of your sales.
Additionally, sellers on the Professional plan gain access to Amazon benefits such as Brand Registry, which protects your business from fraud and abuse while allowing additional perks on your listing.
In short, the Professional plan makes more sense for sellers looking to create a brand on Amazon. On top of capping your monthly payment, the Professional program offers access to the Amazon Advertising platform, qualification for top placement on product detail pages, promotions including free shipping, and much more.
If you have a business type or goal in mind, you probably know which plan is best suited for your business after checking the above breakdown. Still, there are a few more specific questions you'll want to answer for your business before signing up.
How many items do you plan on selling right away?
If you plan on selling 40 or more items a month, the answer is simple: get the Professional plan.
It doesn't take a math wizard to know the $39.99 plan is more cost-effective than the $0.99/item plan. If you're hoping to sell 40 or more items monthly, save yourself some money and earn access to additional perks with the Professional plan.
Selling FBA? Get a feel for expected sales volume by examining the competition with Market Intelligence.
Do you need access to restricted categories?
Amazon sellers are free to sell in most product categories, but a select few require a Professional plan to unlock access. Any sellers on the Individual plan will not have access to the following categories:
Automotive Parts & Accessories
Business to Business (B2B) products
Collectibles Coins
Fashion Jewelry
Fine Jewelry
Fine Art
Grocery, Food & Gourmet
Industrial & Scientific
Professional Services
Sports Collectibles
Video, DVD, & Blu-ray
Watches
While Amazon undoubtedly takes product authenticity seriously, these categories require an extra level of authentication and performance checks that only exist within the Professional plan to be sold on the marketplace.
Do you need the Buy Box to meet your sales goals?
Anyone selling on Amazon needs the Professional plan to qualify for the Buy Box.
What's the Buy Box? The Buy Box is the CTA (Call to Action) that leads Amazon shoppers to purchase the product on the product listing. It's found on a product page and contains the price, shipping information, seller, and an "add to cart" button, like below.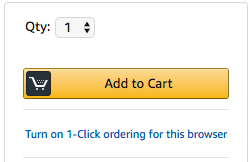 If you don't own the Buy Box, customers must find your specific product offering in the "Other Sellers on Amazon" option below the standard Add to Cart button.

Reports suggest over 80% of Amazon purchases are made through the Buy Box, so it's a non-negotiable, must-have perk for anyone hoping to scale a business on Amazon.
Most Amazon sellers looking to create a sizable income through Amazon will need to own the Buy Box to achieve their goals, so the Professional seller plan would be the easy choice.
Are you going to channel your inner marketing wiz and advertise on Amazon?
Once an elective skill for Amazon sellers, Amazon Advertising has become a significant part of selling on the platform in recent years. Advertising should be on the radar of anyone looking to stake their claim on Amazon.
Currently, the Amazon Advertising console is only available for sellers on the Professional plan.
In the competition for visibility, pay-per-click (PPC) advertising can be a boon for your business with short and long-term benefits. If advertising on Amazon sounds like a tool that could improve the health of your Amazon business, the Professional plan is likely for you.
Do these additional features add value for you?
While the benefits listed above may provide a clear answer for which plan makes the most sense for you, they're just a few of the perks of the more advanced plan.
In addition to a set pricing plan, access to advertising and the Buy Box, and an expanded range of categories for your business, Professional sellers gain access to an abundance of tools that can play a role in your business's success.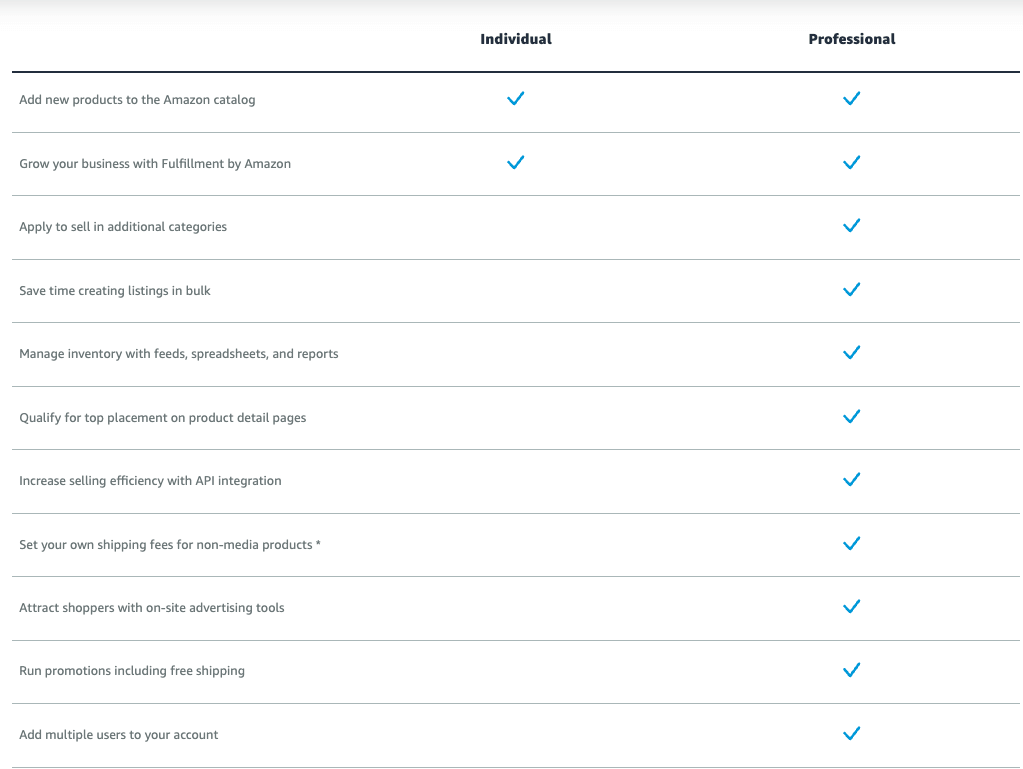 Inventory management tools, additional shipping options, access to sales promotions and opportunities for enhanced visibility add even more value to the Professional plan.
Conclusion: Amazon Professional Seller vs Individual
The choice of which selling plan to choose hinges on you envision your Amazon experience.
If you're trying to unload a few items and make some money, the Individual plan perfectly fits those needs. With more than 150 million Prime members shopping on Amazon, there's nowhere to find a greater audience to sell these items.
However, if you intend to create a significant income and build a business, the Professional plan is a no-brainer. For any high-volume business, the flat monthly fee will pay for itself. Factor in the extensive benefits and tools at your disposal with the Professional plan, and the choice becomes evident for any business owner.
Have you decided on your plan, and are you ready to take the next step with your online business?
Find the product to anchor your Amazon business with Viral Launch's Product Research tools. With advanced software to uncover winning product ideas and untapped markets, it's never been easier to find the right product to launch your online business.