When it comes to advertising on Amazon, there's plenty to unpack. We break down the three main types of Amazon ads for third-party sellers, highlighting the ways you can ensure your products get the visibility they deserve.
Much has changed about Amazon in recent years, but arguably no aspect of the platform has advanced more than advertising on Amazon. Here, we'll walk you through the types of Amazon ads.
Over the past year, Amazon Advertising's growth rate accelerated past its other products, AWS, third-party seller and subscription services, and its online store. Before Amazon Advertising becomes even more critical to sellers' success, every Amazon seller should be aware of the opportunities in the Amazon Advertising Console.
No matter if you only sell one product or manage an extensive catalog, Amazon Advertising could be the key that unlocks the next evolution of your online business. But understanding what ads are, how they can scale your business to new heights, and which ad type is best for you must come first.
What are Amazon ads?
Much like the typical advertisements you see on billboards, television, or between YouTube videos, Amazon ads are a way for brand owners to gain exposure and visibility by paying for premium digital real estate.
As we know, exposure and visibility are the heartbeats of being profitable. If customers can't find your products, they can't buy them! But standing out among the millions of products on Amazon isn't easy.
Amazon Advertising is pay-per-click (PPC), so sellers only actually spend if it's increased visibility.
Of course, as the old saying goes, "you can lead a horse to water, but you can't force it to drink," meaning the visibility doesn't inherently lead to a sale. Undoubtedly, a strong product and an appealing product listing are foundational selling elements that cause turn clicks into conversions.
[RELATED: What Is Amazon PPC?]
What are the benefits of Amazon PPC?
The benefits of PPC are far-reaching but primarily break down to getting discovered, increasing sales, and controlling costs in the process.
Product and brand visibility constantly ranks among the most critical topics for sellers. Advertising provides an outlet for sellers actively seeking more exposure for their brand or products.
As previously mentioned, the pay-per-click model ensures you pay only for advertisements that are seen. Since you place the bids and set a budget, you never pay more than you're willing to spend. Once you know your margins and get a solid understanding of your conversion rates, you can place bids accordingly to maximize your profits and scalability.
As a whole, the advent of advertising on Amazon solves many issues simultaneously. Even better, all sides benefit when adequately performed. Sellers pay Amazon for valuable digital real estate. Shoppers are shown products they're looking to purchase, and sellers profit as those sales accumulate.
Additionally, there are tertiary benefits of advertising, some of which can be directly measured and others that are indirectly impacted. Organic rank remains the holy grail for Amazon sellers, and it's very likely that you'll notice your organic keyword rank improve as you gain purchases through via PPC.
For example, if you sell coffee mugs and customers purchase your product through an ad they found when searching for "cute mugs", you may see your organic rank for "cute mugs" boosted as a result.
How do you access the Amazon Advertising Console?
Fortunately, the process for accessing and setting up Amazon Advertising is simple! First, you must register your Seller Central account for advertising.
Once you've successfully registered, you can find it within your Seller Central account under the Advertising tab. When hovering over the Advertising tab, a dropdown menu should appear. Next, click on the Campaign Manager option in the dropdown menu.
From there, select the "Create campaign" button, and you're ready to start advertising!
The 3 Primary Types of Amazon ads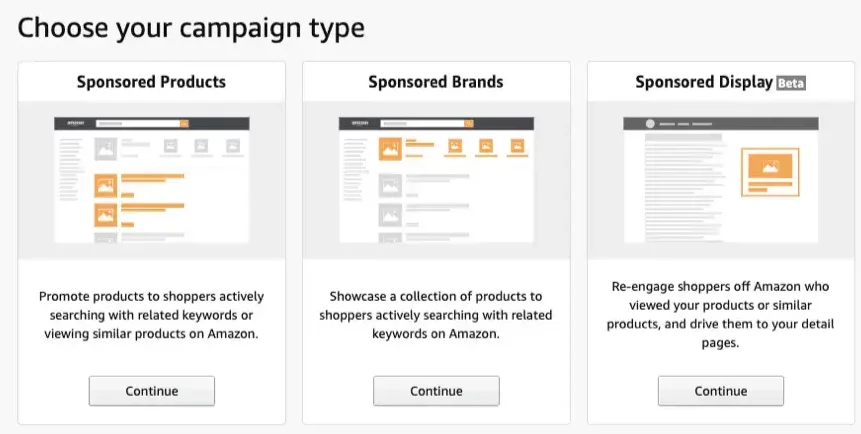 Amazon Sponsored Products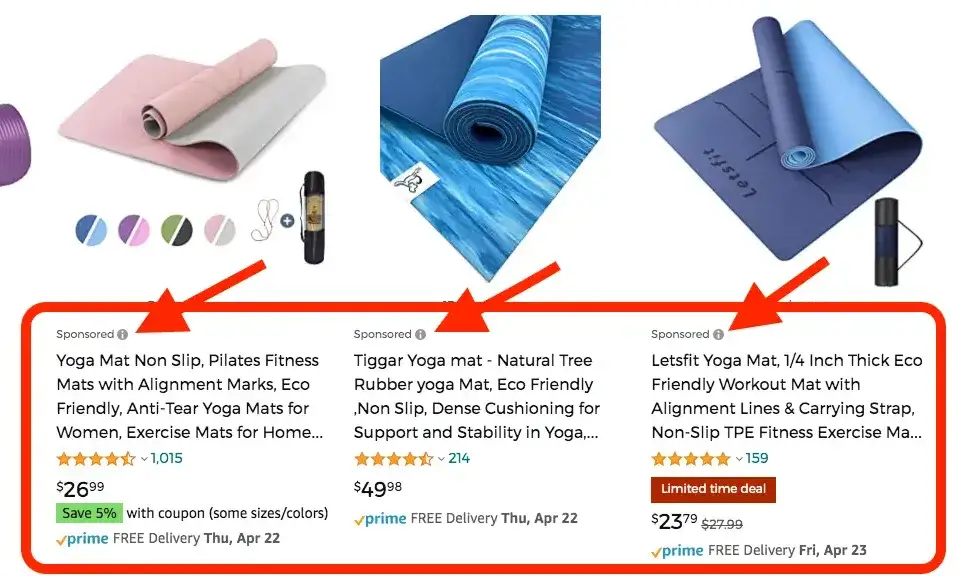 Mission: Improve visibility of individual products with ads that appear in search results and on product pages.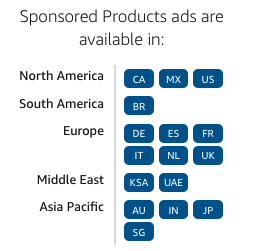 In all likelihood, Sponsored Product ads are the ad type you've been most exposed to on Amazon.
With Sponsored Products, there are two unique ways to set up your campaigns that determine where your ads will be displayed.
Automatic-targeting ads: This targeting method leaves the heavy lifting to Amazon. Similarly to Amazon's algorithm scanning a product listing to find keywords to index and rank for, Amazon automatically decides which keywords and/or products a product will appear under in an ad.
Manual-targeting ads: A more hands-on approach, where the seller decides which keywords or products to compete for through bidding.
For manual-targeting campaigns, sellers can bid on the placement of their ads in two ways:
Keyword Targeting lets you be seen in search results for desired keywords and is a way to generate traffic through search. Ideally, these keywords are relevant and accurate to your product for maximum conversions. For even more strategy execution, sellers can choose between exact match, phrase match, or broad match depending on how targeted the campaigns will be.
Product Targeting allows you to be displayed on a product detail page of another product and generate traffic from complementary or competing listings. For example, if you sell peanut butter, you may want to be displayed under competing peanut butter listings, or you may visible under an item that is frequently purchased with peanut butter, like jelly.
Pro Tip
It may be best to run automatic targeting ads and let them run for 7-10 days with a budget you feel comfortable with when starting. After the campaign has ended, dig through the reports to view performance by keyword or ASIN, and utilize that data to set up manual campaigns.
Viral Launch's Kinetic PPC tool helps with each stage of Sponsored Products. Featuring unparalleled Amazon data, easy-to-read reporting, and helpful campaign templates, Kinetic PPC is perfect for creating and managing Amazon ads like a pro!
Amazon Sponsored Brands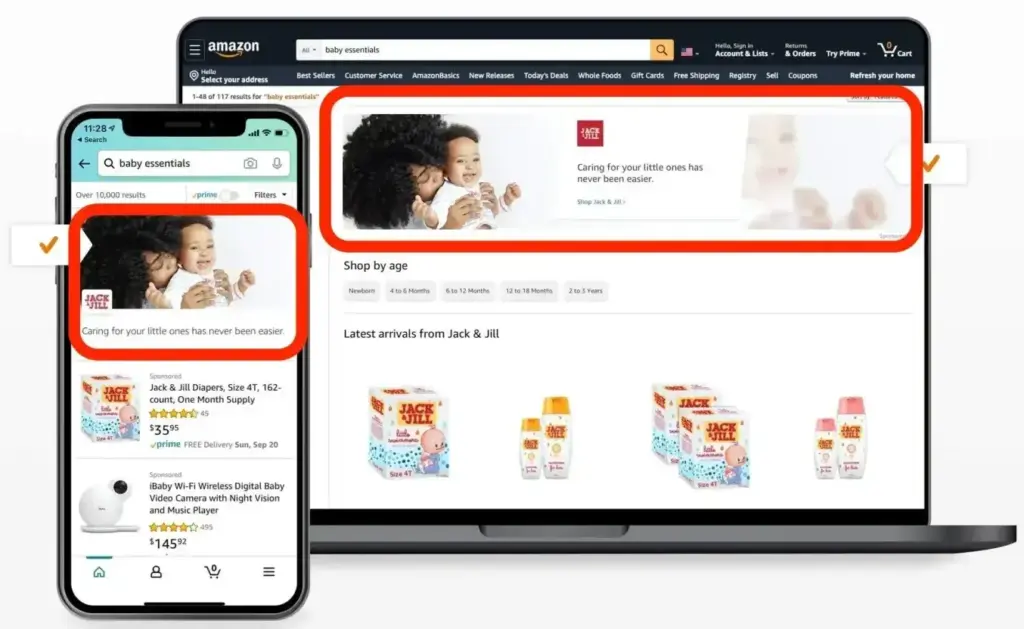 Mission: Boost brand awareness with your logo and a customized headline in ads that appear in search results.
Formerly known as Amazon Headline Search Ads, Sponsored Brands advertisements promote entire brands. Sponsored Brands ads allow for three formats to choose from; product collection, store spotlight, or video.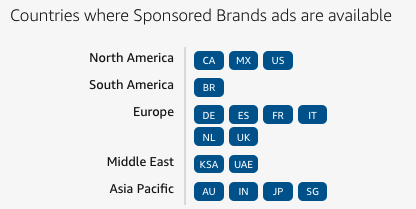 A typical product collection ad showcases a company logo, a slogan or tagline, and up to three products at a time for customers to view. If the customers likes what they see, they'll click on the product that stands out and be led to the product detail page.
This allows larger brands that specialize in a product market to build brand awareness and showcase multiple products at once.
Similarly, store spotlight ad types look similar but drive traffic to a storefront or subpage within a storefront.
Sponsored Brand videos present a unique opportunity to tell your brand story and at the same time, showcase how or when your products are used. Unlike other video ads such as Facebook, the videos default to autoplay, ensuring your ads are seen.
Know your audiences — Your content should be educational, demonstrative, and product-focused.
Show your product — Research shows that videos that feature the product prominently within the first second typically perform better than those that don't. Do not waste your chance to engage shoppers by fading in from black or starting with an empty frame. Hook them from the start!
Keep it brief and focused — Amazon recommends keeping the video length between 15–30 seconds to relay your message and hold customers' attention. Limit your content to just a handful of key selling points to ensure your message is received.
Optimize for the format — This video unit auto-plays without sound and runs inline in the search results with no option to go full screen. Your videos should work without sound, and you'll need to ensure that on-screen text can be easily read on a mobile device and isn't obstructed by the user interface that is positioned within the video area
Consider the loop — Once this video ends, it will automatically loop. Consider adding an end card to allow for some breathing room, or get creative and make your loop seamless.
Amazon Sponsored Display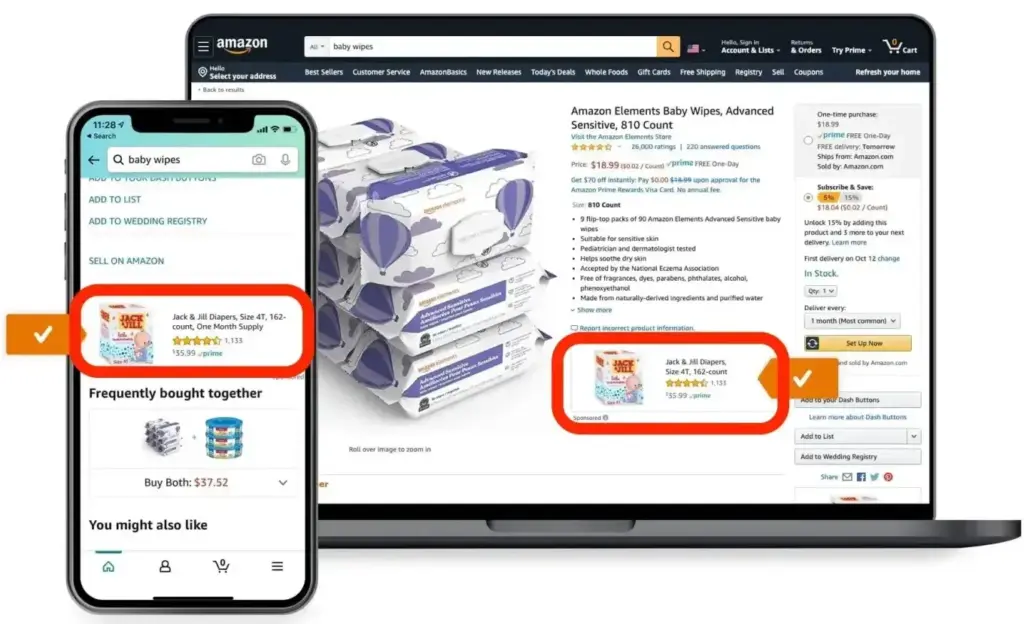 Mission: Grow your business by reaching relevant audiences on and off Amazon using this self-service advertising solution.
The most recent addition to the Advertising Console, Sponsored Display ads currently offer the unique opportunity to advertise on and off Amazon.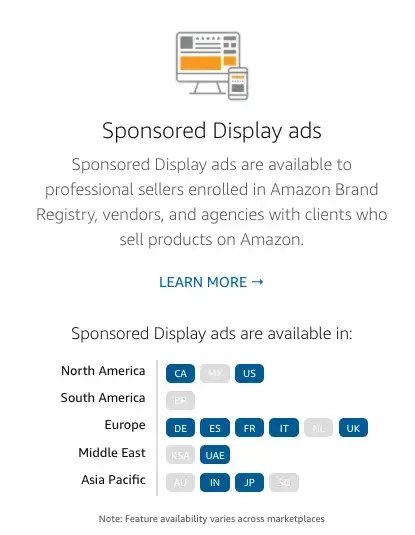 Brand registered sellers can choose from two targeting options: product targeting and audiences.
Like Sponsored Products and Sponsored Brands, sellers can run product targeting ads. In the same fashion as the other types of Amazon ads, sellers can pinpoint competing or complementary products. Regarding strategy, it's best to target competing products that your listing has an advantage on. Review quantity or quality, price, or a lack of captivating creatives are prime indicators to look for when hunting potential product targeting victims.
On the other hand, Sponsored Display audiences are a method of reaching customers with high buy-intent. Through Amazon, Twitch, IMDb, and Prime Video, Amazon tracks shopper signals such as interests, lifestyle, in-market, and life stage.
Without a doubt, this consumer information is PRECIOUS for highly targeted, highly efficient ads. At the moment, audience ads are the only way to advertise through Amazon outside of Amazon's digital walls, as they're displayed on third-party websites and apps.
Summary
Generating exposure remains absolutely critical to longstanding seller success. For the foreseeable future, advertising appears to be the best bet to earning visibility and driving profitable sales.
As Amazon Advertising continues to grow, sellers that master advertising will be handsomely rewarded. Those who don't will be facing an uphill battle against sellers picking up cost-efficient sales in droves through PPC. With record-setting revenue growth for Amazon and a system that rewards all who participate, Amazon Advertising is here to stay.
Now that you know the three main types of Amazon ads feel free to take the next steps! If you're ready to start advertising, best of luck on your PPC journey. If you could stand to learn more, enroll in our FREE Amazon PPC Playbook today!