Don't let Prime Day sneak up on you! With one of the largest shopping holidays of the year approaching, find how to prepare for Prime Day.
Amazon Prime Day 2021 is almost here! Amazon's signature shopping event — the 48-hour event kicks off June 21st — will surely be a smash hit once again.
For Amazon sellers, it goes without saying how massive of an opportunity Prime Day represents. Even though Prime Day 2020 was delayed due to COVID-19 and placed in a jam-packed holiday season, it became the largest grossing Prime Day yet, cracking over $10 billion in sales for the first time.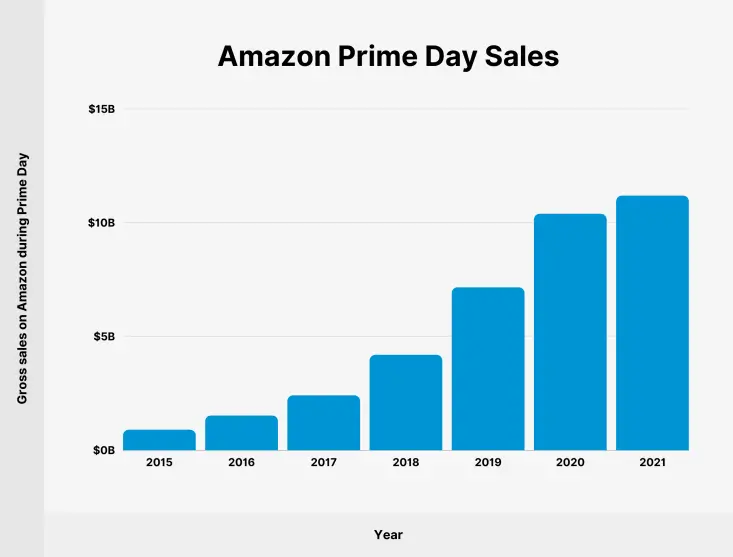 Of course, every seller wants to get a piece of the action. A successful Prime Day can feel like hitting the jackpot, delivering a windfall of profits as your business receives a massive influx of orders.
While the wave of sales provides the most exciting benefit, there are plenty of additional benefits that can serve as a catalyst for your business. As millions of Prime members search Amazon for Prime Day deals, their purchases can reasonably viewed as a way for sellers to increase their rank in a brief timeframe. On top of the opportunity to boost rank, sellers who capitalize on Prime Day traffic will likely garner more reviews as a result.
At Viral Launch, most questions we receive revolve around how to increase sales, boost rank, or generate reviews. Simply put, Prime Day offers the opportunity to achieve all three.
With stakes so high, the competition escalates in the lead-up to Prime Day. Conquering your market for this sales event requires more time and energy than during typical times. Below, we'll list a few ways you can set yourself up for a successful Prime Day as the big day draws nearer.
Set Up Your Deals
Don't forget about the fundamentals! At the most basic level, customers on Prime Day are looking for a deal. They want to see markdown prices they can't resist or put off for later.
The tried-and-true way to achieve that would be through Prime Exclusive Discounts. Just as the name implies, they allow your product to be discounted to Prime members. These deals must be at least 10% off non-member, non-promotional price.
Exactly how much of a discount you offer is entirely your decision, but take careful consideration of your best possible offering. Assume your competition will deliver their goods for markdown prices and strategize what it will take to make your product offering the most compelling.
Even if trimming your profit margin doesn't sound like fun, review the benefits we mentioned earlier that can provide a boost for your business. If you were seeking more reviews or want your organic keyword ranking to rise, even the smallest of profits could answer potential problems for your product that increases your chances at sustained, long-term success.
How to set up Prime Exclusive Discounts
In Seller Central, select Prime Exclusive Discounts within the Advertising tab.
Download the Discount Upload template spreadsheet. Then, fill in the spreadsheet appropriately with product and pricing information.
On the Prime Exclusive Discounts page, click Create Discount. Enter the name of discounts, date, and upload the completed promotion upload spreadsheet.
Optional: Review and edit the information of any products that fail the upload and submit.
In case you've never created a Prime Exclusive Discount or haven't done so in a while, be sure to check the eligibility requirements beforehand to ensure your products meet the criteria.
Monitor Your Keyword Ranking
As always, your product's organic rank remains a top priority. As Prime Day nears, your rank only grows more critical. For the most convenient keyword tracking, utilize a tool like Keyword Manager.
Tracking rank trends can inform you of plenty regarding your strategy and execution. On Prime Day, millions of customers will perform searches. Positioning your listing in prime digital real estate puts you in an excellent spot to win the day.
Make sure your rank isn't falling over the next few weeks to avoid the rug being pulled from under your feet during the big rush. Each spot represents a piece of the pie your business will receive on Prime Day. Doing whatever you can to stay on top of your ranking to maintain or improve your rank could pay off exponentially.
But it all starts with keyword tracking.
Also, closely monitor the placement and performance of your sponsored ads through June 21st. With sellers looking to accelerate sales before Prime Day, bids for keywords become more expensive. A bid that would normally win the top billing for a keyword may not land on the first page of search results.
You may want to increase your bids, or try a new strategy altogether. Perhaps bidding on low-to-medium search volume keywords provides a better return on investment at this time.
It's important to remember that this time is not normal. As a result, maintaining a "business as usual" strategy may not work. Those who recognize market changes and adjust appropriately will reap the benefits.
Keep An Eye on the Competition
When considering how to prepare for Prime Day, the competition plays a tremendous role in your actions.
Much like Texas Hold 'Em poker, you must consider your assets versus what your competitor may play. Think about the start of Prime Day as the final flip of the cards, when the better hand is determined and the winner is crowned.
Continuing the poker analogy, you never truly know which cards your opponent possesses. But like poker, you can read your opponent's "tells" to inform your decision-making and use it to earn the upper hand.
Unlike poker, you can eliminate much of the guesswork with a good competitor tracking tool, like Competitor Intelligence. Within Competitor Intelligence, you can enter a competitor's ASIN and instantly understand their strengths, weaknesses, and a deep dive into their performance.
By tracking over time, you can also see their performance in keyword rank both organically and in sponsored ads to know what moves they're making. In return, you can play defense and strategize appropriately to gain or maintain an edge.
Just as you're gearing up for Prime Day, so is your competition. Accessing crucial metrics such as organic and sponsored rank by keyword, pricing changes, seeing who owns the buy box, and many more may open your eyes to their strategies.
Now just imagine how much of an advantage knowing your competitor's thinking would be in poker…
Conclusion
With the amount of money and traffic driven through Prime Day, every second invested into optimizing your offering should be considered time well-spent. These are just a few ways on how to prepare for Prime Day.
Hopefully, at this stage, your inventory levels are prepared for a monster Prime Day. Also, your copy and product photography should already be optimized to maximize traffic and conversions. For those with the resources, Amazon Posts and Lightning Deals may also be intriguing ways to differentiate your product from the competition.
However, the clock is running out before Prime Day for drastic changes. With under two weeks to prepare, prioritizing your needs and wants first may be the way to go.
Best of luck to you in your quest to dominate Prime Day!
Want the latest Amazon news and updates sent to your inbox? Drop your email below!