The annual Amazon sales extravaganza has an official date, and it's closer than you think! Are you ready?
Every year, online shoppers eagerly anticipate Amazon Prime Day, a global shopping extravaganza filled with incredible deals and discounts. As the world's largest online retailer, Amazon never fails to impress with its Prime Day offerings.
On Wednesday morning, Amazon made the date official: Amazon Prime Day 2023 will kick off on July 11 and run through July 12, meaning the signature sales event is just weeks away!
Last year, Prime Day was larger than ever, with Prime members purchasing more than 300 million items worldwide and the bulk of those items being sold by independent sellers. In 2023, Prime Day promises to be bigger, better, and more exciting than ever before.
UPDATE: Another Prime Day On The Way in 2023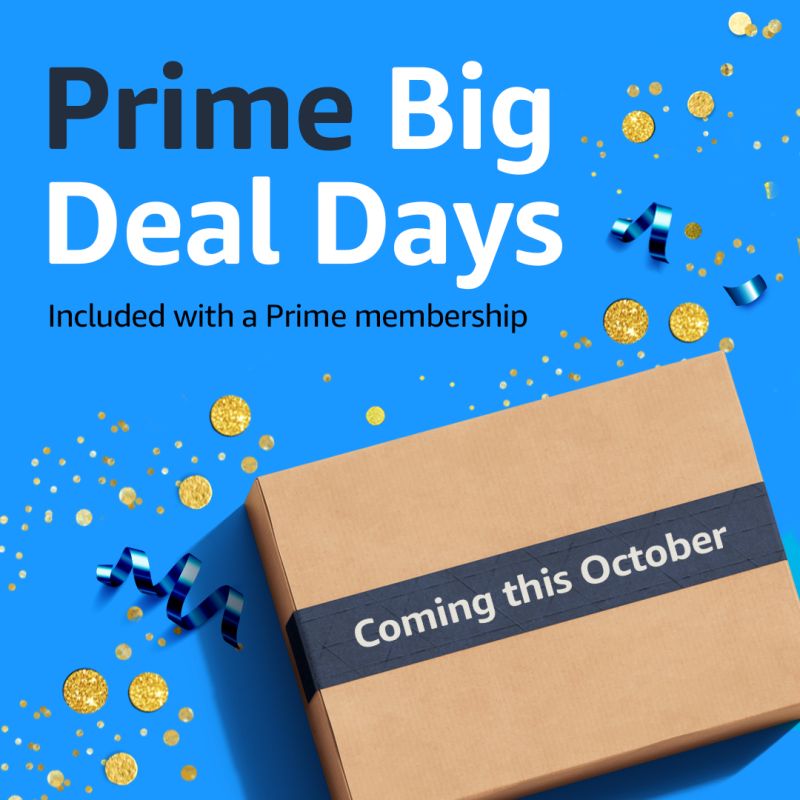 On August 8th, Amazon announced an October sales event—but not a follow-up to last year's Prime Early Access Sale!
Instead, the first-ever Prime Big Deal Days will take place at some point in October. At the moment, information surrounding the inaugural event remains sparse. However, given Amazon's history, we can assume it'll be a tremendous opportunity for Amazon sellers and shoppers alike!
The only details Amazon released about Prime Big Deal Days is that it will be held in October and will be exclusive to Prime members across marketplaces. Prime Big Deal Days will take place in the following countries: Australia, Austria, Belgium, Brazil, Canada, China, France, Germany, Italy, Japan, Luxembourg, Netherlands, Poland, Portugal, Singapore, Spain, Sweden, the U.S., and the UK.
Stay tuned as more details are unveiled, as it stands to be an early kickoff to the hectic holiday sales season!
What is Amazon Prime Day?
If you're an avid online shopper or an Amazon enthusiast, you've likely heard of Amazon Prime Day. This annual event has quickly become a household name and one of the most highly-anticipated shopping days of the year, offering incredible deals and discounts on a wide range of products for Amazon Prime members around the world.
First introduced in 2015 to celebrate Amazon's 20th anniversary and thank the shoppers who've made the company one of the most successful in the world, the event was a massive success.
Since then, the event has only grown more expansive. With more than 200 million Prime members today, the number of Prime members has quadrupled since the 55 million on the inaugural Prime Day. Each year, Amazon goes bigger and bigger, adding extra days, concerts headlined by Taylor Swift, and even more reasons to look forward to the day.
For Amazon sellers, the day can make or break a business's quarter during the summertime shopping lull. Not only can the day bring in a ton of cash, but it can also create a wave of sales to ride through the holiday season. Bundles of cash to re-invest in your business, an influx of reviews, and a boost to organic rank with a successful Prime Day are at stake, with effects that will be felt far beyond mid-July.
What Amazon Sellers Can Do
Prime Day attracts a surge in sales traffic, making it a prime (sorry) opportunity for FBA sellers to bring home the big bucks. As the stakes rise, it underlines the importance of being well-prepared to capitalize on the surge in customer demand. With only weeks to prepare, options remain limited, but there is plenty sellers can do to feel confident going into this high-pressure event.
Promotions
Everybody loves a good deal, right? Well on Prime Day, a stiff bargain becomes almost a necessity. Customers love Prime Day because of the markdowns and deals, so it only makes sense sellers participate by offering discounts and letting customers feel like they're getting a can't-miss deal. Keep an eye on competitors with a tool like Competitor Intelligence and what discounts they offer so you can stay competitive in your market when the deals dictate sales.
Inventory Management
Because Prime Day can exponentially boost sales, it's essential to ensure your inventory and fulfillment strategies are well-prepared. While it's likely too late to bolster your in-stock inventory, you may want to prepare for future orders. Analyze your past Prime Day sales data to forecast demand accurately and avoid stockouts if Prime Day proves to be a home run for your business. Work closely with your suppliers to secure inventory and plan for potential spikes in demand.
Product Detail Page
With the heightened competition during Prime Day, it's crucial to optimize your product listings to maximize visibility and conversions. Conduct thorough keyword research and incorporate relevant, high-volume keywords into your product titles, bullet points, and descriptions. Utilize high-quality images and compelling product descriptions to showcase the unique selling points of your items.
Make sure your listing is up-to-date and geared to take advantage of the spike in search traffic with LaunchGPT!
Our brand-new, state-of-the-art tool arrives just in time for you to maximize SEO efforts and increase conversions through generative AI tailored specifically for Amazon listings. Bring your product detail page to life in just minutes to optimize your product listing's copy.
Prime Day PPC
During Prime Day, customers actively seek out deals, making it an ideal time to increase your advertising budget and bid strategically on relevant keywords. Consider adjusting your advertising strategy to leverage Amazon's enhanced advertising tools, such as dynamic bidding and campaign reports, to optimize your ad performance.
Conclusion
Amazon Prime Day 2023 stands to be an extraordinary event that promises incredible deals, exclusive benefits for Prime members, and a seamless shopping experience. With an extended duration, global reach, and unbeatable discounts on top brands, shoppers can expect a week filled with excitement and savings.
Mark your calendars and get ready to embark on a shopping adventure like no other. Amazon Prime Day 2023 is just weeks away, with an opportunity for sellers to cash in with a monster performance during one of the most significant sales events of the year.