"If you know the enemy and know yourself, you need not fear the result of a hundred battles. If you know yourself but not the enemy, for every victory gained you will also suffer a defeat. If you know neither the enemy nor yourself, you will succumb in every battle." -Sun Tzu, The Art of War
At Viral Launch, we've spent several years developing Amazon tools to help you understand your business, markets, and products. Now, we're helping you to understand your competition like never before with our newest tool, Competitor Intelligence. As Amazon becomes an increasingly complicated marketplace, using every bit of data to your advantage is key to driving success.
With Competitor Intelligence, we're giving you more access to data through a powerful new research tool that allows you to analyze, tracker, and reverse engineer your most successful competitors. Analyze the strengths of your competition and rise to them. Analyze their weaknesses and exploit them. And most importantly, discover new ways to unlock the sales potential of your products.
The Powerful Benefits of Competitor Intelligence
Competitor Intelligence puts your competition's most valuable data in the palm of your hand.
Reverse ASIN 2.0
Competitor Intelligence begins by scouring billions of Amazon data points to find every keyword your competitor's product is currently ranking for in the organic and sponsored ad results. You can filter through this comprehensive list to quickly find their highest sales driving keywords. For example, by searching for keywords with at least 1,000 searches per month and where the competitor is ranking in the top 15 organic positions, you are able to quickly identify which keywords are likely driving the most sales for the product. Within less than a minute, you can find all of your competitor's most important keywords! Very powerful!

Unlike other reverse ASIN tools, Competitor Intelligence also grabs keywords that your competitor's product was ranking for historically. This paints a more comprehensive perspective of competitor's keyword and advertising strategy.
Thirdly, we identify keywords to your product market that your competitor is not ranking for but are still relevant to the product. This gives you direct insight into missed keywords that you can easily take advantage of to get a massive leg up on your competitor!

Compare To Your Products
In Competitor Intelligence you have the ability to compare a competitor's product to your own. This gives you the ability to quickly identify which related keywords your competitor is ranking well for that you are not even tracking! This makes it incredibly simple to identify weaknesses in your own product. Without this feature, it can be difficult to remember which keywords you are/are not tracking when analyzing a competitor.
Product & Keyword Notifications
Product notifications allow you to stay on top of your most important competitors with absolutely no work at all. Imagine getting a notification when a top competitor raises their price, making them a better target for your product targeting campaigns. Imagine getting a notification when a competitor runs a giveaway spiking their BSR, giving you time to boost your own sales with PPC, lower price, or a giveaway of your own. There's so many ways you can use product notifications to stay on top of your most competitors, all with a daily report on significant changes to your email inbox.
Keyword notifications in Competitor Intelligence allow you to get notified on changes to your competitor's keyword ranking daily or even hourly. This allows you to stay on top of other top sellers without having to check the keyword rankings multiple times per day.
With Competitor Intelligence notifications, you've never been able to stay ahead of the competition so easily.
Compare To Your Products
One of the largest downsides of switching to a new Amazon keyword tracker is having no historical ranking data in the new tool. You essentially are starting off without any historical data to understand how your list is currently performing.
In Competitor Intelligence, when you turn on tracking for a given keyword, we immediately give you access to our historical organic and sponsored ad ranking data for that keyword. Especially when analyzing a competitor's product for the first time, this can provide deeper insight into a product's historical keyword and sponsored ad strategies.
Seamless Integration With Other VL Tools
As with the rest of the Viral Launch software tools, we've built seamless integration into Competitor Intelligence making whatever tasks you are doing among the tools, that much simpler. For example, when you identify a new keyword you want to steal from your competition and begin tracking for your own product, you can click the "add to bank" option and the keyword will immediately be added to your keyword bank. No awkward copy in one tool and paste in another. 🙂
Powerful Keyword Metrics
With each keyword found, Competitor Intelligence gives you access to powerful metrics like search volume, historical search volume trends, opportunity score (a very important metric for keyword ranking), suggested sponsored ad bid cost directly from Amazon, is the competitor indexed, organic rank position (and history), and sponsored ad position (and history).
These powerful metrics combined give you deep insight into your competitor's keywords helping you to make more sophisticated and informed decisions for your own keyword strategy.
Competitor Intelligence Product Analysis
Competitor Intelligence begins by providing you with in-depth analysis on your competition, allowing you to view a side-by-side comparison on crucial stats like units sold, revenue, profit, and review quantity, rating, and rate. These comparison stats can assist you in measuring up to the competition.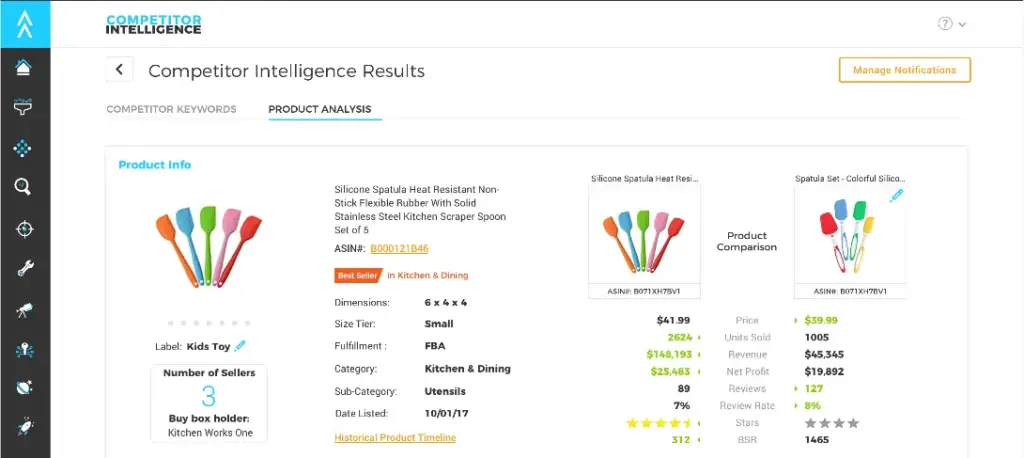 Additionally, you will be provided with historical sales and price analysis, cost breakdowns, discounts, and review trend data. By seamlessly integrating with Product Discovery, you're also able to see detailed statistics on your competitor's brand as a whole.
Harnessing the Power of Competitor Intelligence:
Part research and optimization, part reverse ASIN, and part product tracker, Competitor Intelligence brings a new level of data and analysis that can help you at any stage of selling on Amazon. By perfectly integrating with the Viral Launch platform, you can track performance of competing brands, add their keywords to your keyword bank, and review markets based on your competition's positioning.
Product Research:
Understanding your potential competition is key to understanding a market that you're looking to enter. When conducting product research, Competitor Intelligence can be utilized to isolate competitive listings and review their strengths, weaknesses, and overall approach to the market.
Using Competitor Intelligence, you can know which keywords are driving sales for top sellers in a market, allowing you to better understand your potential product and consumers, review any obstacles to your success, and understand a product's market as a whole, rather than just looking at a single search term. Because Competitor Intelligence also shows keywords for which your competitor is not indexing and/or ranking, it can also help you to identify gaps in the market (relevant keywords that aren't being focused on by competition), helping you to target low hanging fruit and drive additional sales.
Additionally, by tracking top performing products, you can keep tabs on your competitors through the sourcing process to ensure that you're aware of any market changes. You can set up notifications to be alerted to price drops, sales drops, review changes, etc. By continuously monitoring market stability within the context of your top competition, it can help inform you of any shifts in market conditions and allow you to formulate a proper strategy for entering the market.
Keyword Research, Listing Optimization, and Product Launching:
Reviewing competitive data can also help you to develop proper listing content through understanding what keywords are driving sales for your competition.
By seeing broad keyword ranking and ad placement for top selling products, you can gain an insight into which keywords hold the most priority for driving sales for your product market. This can help you to structure your listing to provide maximum indexing weight on high value search terms, increasing your relevance for these keywords.
Additionally, Competitor Intelligence makes it easy to view which keywords are not being exploited by your competition. By isolating terms with search volume that are not being emphasized by competing product listings, you can identify quick-win keywords that you can drive ranking and sales through without much contention. Using your copy to hit on these search terms can provide additional opportunity overlooked by your competitors. This feature is perfect for finding keywords to run giveaways on, or to target with PPC strategy with our new sales and rank strategy.
Long Term Use:
As your product becomes more established in the marketplace, Competitor Intelligence can provide you with valuable data to help you monitor your market and retain your momentum by keeping an eye on your competition for you.
Using Competitor Intelligence's notification system, you can be alerted to any changes to competing listings, allowing you to exploit, or respond to, any shifts in the competitive landscape. With keyword notifications, you can also be alerted to ranking changes, helping you to respond quickly to a dynamic marketplace.
Review the keyword data from your competition. Determine what keywords are underemphasized by your competitors, allowing you to discover untapped opportunities in your market to generate more sales.
Monitor your competition's advertising strategy. By understanding where your competition is spending on PPC, you can either attack it head on, to minimize their visibility, or circumvent it to target search terms that are cheaper and easier to drive traction through. Knowing where your competition is spending helps you to formulate an effective strategy around your own advertising.
By setting up notifications, you can have rapid insight into price changes, sales fluctuations and review updated. Having immediate access to this data gives you the upper hand to make adjustments to strategy or attack competitor weaknesses, adding increased efficiency to your strategy.
Wrapping Up: Amazon Competitor Intelligence
Competitor Intelligence by Viral Launch gives you the power to wield your competitor's data against them. By understanding competing products, you can understand the market and use it to your advantage. With side-by-side comparison metrics to review your strengths and weaknesses and robust keyword analysis to help you target your audience, Competitor Intelligence gives you the tools to drive success in an increasingly crowded Amazon landscape.
More than a reverse ASIN tool, Competitor Intelligence is the amalgamation of Viral Launch's pioneering data aggregation techniques, giving you the power to see what keywords your competition is targeting, what keywords they're missing, where they're driving sales, how they're spending on on advertising, and how your product measures up. Leverage this data to dominate your market and lead your product to success.
Give yourself the ultimate competitive edge with Viral Launch's Amazon Competitor Intelligence tool!