For even the most seasoned sellers, mastering the intricacies of Amazon can be difficult to say the least. Like with any online or internet-based venture, things change on Amazon sometimes seemingly overnight. It can also be difficult to get concrete information about some of their elements – especially Amazon sales rank, also known as Best Sellers Rank (BSR).
This metric is quite possibly the most disputed and researched element in Amazon's arsenal. Sellers truly have a love-hate relationship with BSR. Viral Launch's own CEO Casey Gauss made it his own mission to learn more about the mysterious metric by reverse engineering Amazon's algorithm. You can learn more about that in his Definitive Guide to Understanding BSR.
But for now, let's answer a few questions:
What is Amazon Sales Rank?
Essentially, Amazon Sales Rank is used to determine a product's popularity within a category. It actually exists for all products, even those that aren't part of a category. Products can have a sales rank of 1 to over a million. The lower your number is, the more sales your product is getting and vice versa. Basically, it's calculating the period of time since an item last sold, so if you want a low BSR, ideally you want the period of time between sales to be as small as possible. Just think of your BSR like your golf scorecard – the lower the number, the better you're doing.
You can find the BSR of any product in the Product Information section of a listing. As an example, I searched for a random product – in this case, a phone charger.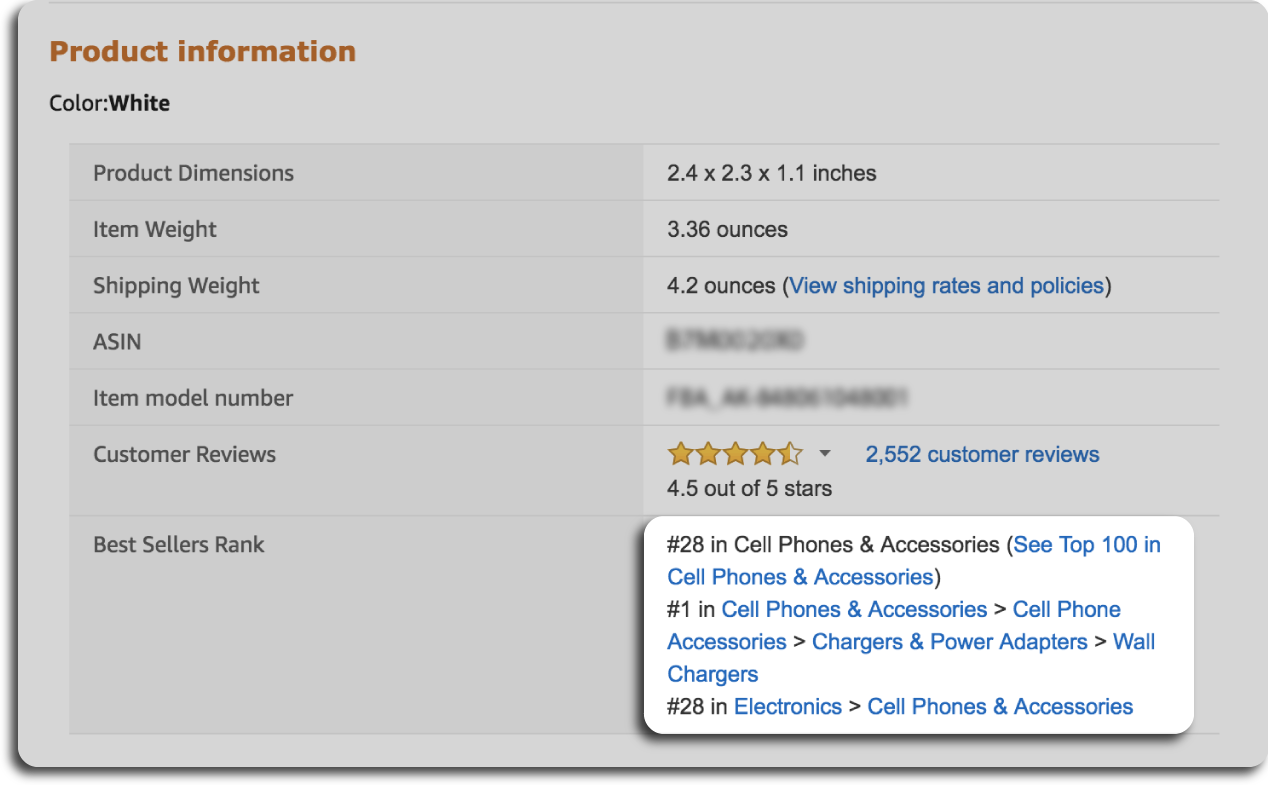 As you can see in the image above, you get quite a bit of info at a quick glance.
This particular phone charger's BSR is 28 in its main category of Cell Phones & Accessories. You also have the option to look at a list of the Top 100 products in that main category. Once you boil it down to subcategories, it ranks 1 and 28.
Why Does Amazon Sales Rank Matter?
From a seller's standpoint, BSR matters for a few reasons. For starters, it's an indication of how well your product is selling compared to competitor products, which gives you an idea of where you're at in the marketplace. So ideally, you want to have as low of a BSR score as possible.
Just remember, when looking at BSR for the products you're selling it's an indication of past sales. Think of it this way, does a report card from a previous semester impact your grades in next semester? No. It's just an indication of your past performance. So like a report card, BSR has no bearing on your future sales and won't directly help you drive organic sales. This is actually one of the biggest misconceptions about BSR.
For more info about BSR misconceptions, check out this blog about Busting BSR Myths.
How Can I Improve my Amazon Sales Rank?
Now that you know a little background about Amazon sales rank, let's go over some guidelines of how to improve it. The very best way to improve your Amazon sales rank is to make more sales. I know, that seems pretty obvious, but it's something newer sellers still struggle with. Here are a few ways to improve your chances at more sales:
Optimize your listing: Choosing the right keywords for your product is imperative. It's also important to make sure you include keywords in your listing, especially in your title and bullets. This will help your listing be seen by more people, increasing the chances of your product being bought. There are a lot of keyword tools out there, including Keyword Research

from Viral Launch, that can help you with this.

Create great copy: Along with including keywords in your listing copy, you also have to do a great job selling

your product to customers. Make sure to highlight all the important aspects of your listing and tell people why they should buy it.

Use professional photos: In addition to copy, product photography plays a huge role in increasing conversions. Many people think a few smartphone photos and some Photoshop is all you need and that couldn't be farther from the truth. Professional photography

can make a huge difference in selling your product to customers.

Run a giveaway:

Giveaways, or

Launches

, as they're called here at Viral Launch, are a way to increase your listing's ranking for a major keyword. In short, we target a major keyword associated with your product and do product giveaways – usually around 90% off – for a period of 7-10 days. As your product racks up the sales, it is organically moved up in rankings. While the goal of a launch is to improve keyword ranking (which is more crucial to generating organic sales), an improved BSR is frequently a side effect of a promotional campaign.

PPC Campaigns

: Pay-Per-Click Campaigns are essentially the "sponsored content" you see when browsing Amazon, Google or other search engines. Basically, you pay a small fee to search engines for a specific keyword. This helps get your product in front of more people who are searching for similar items.
One thing you don't want to do while chasing a lower BSR is intentionally miscategorizing your product in a less competitive subcategory. Some sellers try this tactic because they think it will be easier to achieve a lower BSR. However, we don't recommend this because it limits the product's visibility as many searches filter to a relevant subcategory. This means your product could be filtered out of valuable results.
Final Thoughts
Here at Viral Launch, part of our mission is making sure sellers have the best possible information about all things Amazon in their arsenal. That's especially true when it comes to a widely disputed, misunderstood and, frankly, confusing topic like Amazon sales rank. Is it important? Sure. It's great to know how your product is doing in comparison to others. But you should view BSR as more of a symptom rather than a cure. If your product isn't performing well compared to its peers, check out competitor listings. Try to see what they're doing right and you might find ways to improve your listing. Just remember, what your BSR is today has no bearing on what sales you'll make tomorrow.
Want the latest Amazon news, tips, and insights from experts sent to your inbox? Sign up for our email list below!