"Your Amazon Best Seller Rank does not help you drive future organic sales, in the same way that a report card from a previous semester does not impact your grades in a new semester. It is only an indication of the past."
In an effort to continue expanding our capacity for helping Amazon private label sellers solve their problems, achieve success, and increase profitability, we spend a good amount of time engrossed in a plethora of conversations across the various FBA/Private Label centered Facebook groups. As we've mentioned before, this is the true breeding ground for rumors, misinformation and miscommunication. It can get ugly. For young, novice sellers still trying to understand how to navigate the space, listening to rumors can lead to costly mistakes and sometimes even financial ruin (literally). We've seen it plenty of times. It's terrible, unfortunately, and becoming more and more common!
As a company that cares deeply for people and enjoys watching/helping people succeed, rumors/misinformation are extremely frustrating. This is especially true when we see "gurus" or service providers profiting off the misinformation. So, in our effort to help sellers succeed, we're doing our best to clear up miscommunications and rumors so you have all the information necessary to make informed intelligent businesses decisions to help you prosper!
Now to the subject matter.
The Amazon private labelling world has an obsession with the Amazon Best Seller Rank (BSR). Everyday we have sellers emailing in, wanting us to help them improve their BSR or help them to reach a specific BSR threshold. We see the same in the Facebook groups. It is completely unnecessary and is founded on misunderstanding. We explain how..
Myths Around Best Seller Ranking / BSR:
Amazon Best Seller Ranking (BSR) helps keyword ranking.

Amazon Best Seller Rank impacts sales.

"I need to improve my BSR"

Reviews are taken into account when calculating BSR

Keyword ranking impacts BSR

Listing price at the time of sale impacts BSR
What We See/Hear Sellers Saying About BSR in Facebook groups:
"My BSR increased, but why haven't my organic sales?"

"How can I improve my BSR?"

"My BSR is better than my competitors, but they are outranking me. Why?"
How Is Your Listing's BSR Calculated?
An ASIN's Best Seller Ranking is calculated solely based on the number of units sold over a given period of time. That is it.
Your BSR is not directly related to your listing's keyword ranking, price, quantity of reviews, or any other metric.
Sales estimation tools like Jungle Scout operate on this same premise. By looking solely at a product's BSR in specific categories, they are able to estimate that product's monthly sales volume with a decent degree of accuracy.
For example, if listing A sells more than listing B, listing A will have a lower/better BSR. It's as simple and rudimentary as that.
When describing Best Seller Ranking, I often use an analogy of a report card. BSR is like a report card showing how many units you sold compared to others in the same category. Just like a report card, your BSR is a representation of past activity. Your BSR does not help you drive future organic sales, in the same way that a report card from a previous semester does not impact your grades in a new semester. It is only an indication of the past.
Myth: Amazon Best Seller Ranking (BSR) helps keyword ranking.
Our Amazon product launches have uncovered the most contradictory evidence to the BSR assumptions. When running a promotion with a poorly optimized listing, we see a great spike in BSR (ex. #28,400 to #1,600), but see little to no movement in keyword ranking.
Example: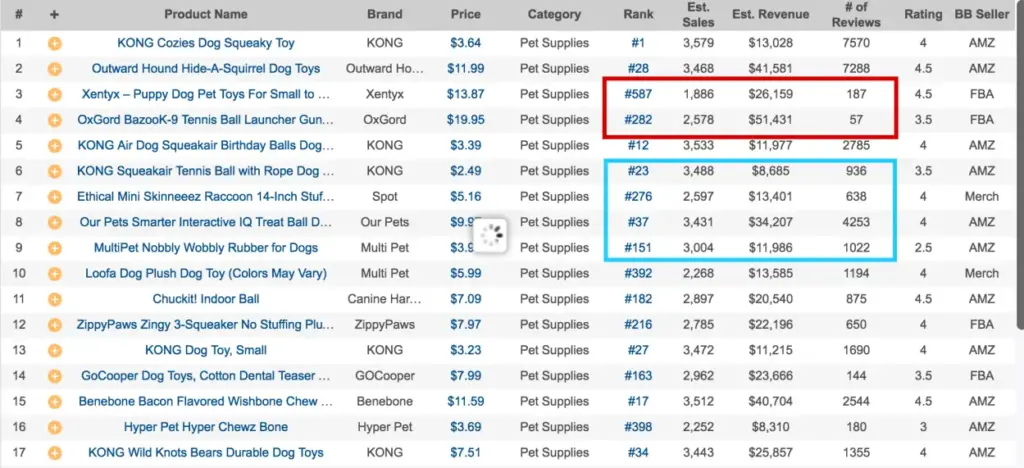 This is the Jungle Scout data from the search "dog toys".
As you can see, the two listings in the red box have higher Best Seller Ranks than the listings in the blue box. If BSR had a direct effect on rankings, we would expect to see a more uniform increase in BSR scrolling down the search results. Many searches will show similar results.
There are many factors being taken into account when it comes to keyword ranking and sales. It is especially difficult to properly attribute the cause of keyword ranking between increases and BSR and sales simply because BSR increases from sales.
Myth: Amazon Best Seller Rank impacts future sales.
Referring back to data we've obtained from our product launches, we've observed plenty of instances in which promotion increases a listing's Best Seller Ranking significantly but does not lead to an increase in organic sales for a variety of reasons. There is a lot that goes into improving a product's sales on Amazon, which is why we continually preach the importance of doing everything extremely well. Cutting corners leads to lost money!
Myth: Reviews are taken into account when calculating BSR
This is definitely false. The cause of this misconception again falls to misattribution. Reviews generally have a significant impact on sales (click conversion). Typically, listings on page 1 with more reviews drive more sales, which means their Best Seller Rank will improve.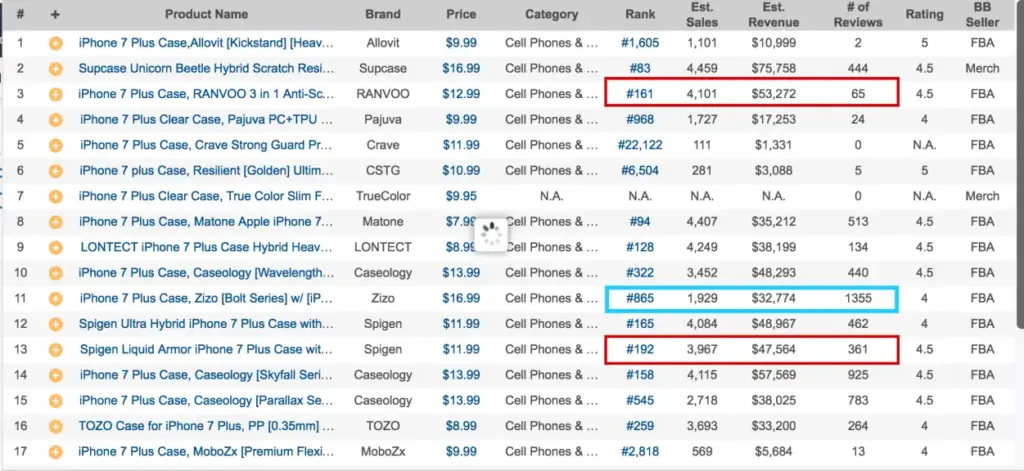 This is the Jungle Scout data from the search "iphone 7 plus case". (Update: we have since released Market Intelligence, the best Amazon product research tool in the galaxy, with sales trends, the most accurate sales estimates, and a star-rating validation).
As you can see, the listings within the red boxes have far fewer reviews than the listing in the blue box, however, their BSR is significantly better/lower.

Here is an example of a listing with over 1,000 reviews at a star rating of ~4.5 with a Best Seller Ranking of over 10,000.
If BSR was impacted directly by a listing's review rating and/or quantity, we would expect different figures.
Myth: Best Seller Rank is affected by a product's price at the time of sale.
There are a few key indicators to this myth being false. We can't rely solely on Jungle Scout data for reference as we don't know if their sales estimation algorithm is taking price into account or not. Simply looking through the search results at varying BSRs and comparing the current selling price is not sufficient as we don't know how many units are actually being sold. The question is, "Does the price at the time of sale have weight on calculating the BSR," not "Does your current price have impact on your current BSR?" If that were the case, raising your price would result in an instant improvement in Best Seller Ranking, which we obviously know is not the case.
Route 1: Looking at the BSR of similar ranking products with varying price points.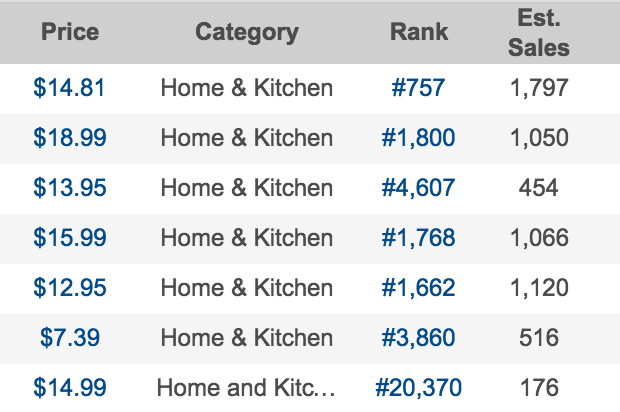 These are the search results for the keyword "coasters". As you can see, the second listing is 25% more expensive, yet has a higher BSR. The listing priced at $12.95 has a lower Best Seller Ranking than the $18.99, $15.99, and $14.99 options. Again this is not concrete proof but one example.
Route 2: Looking at actual sales data.
We mange a good number of listings by now. Going through a number of those product's sales and BSR history within the same category, we are able to see that regardless of price, the products fell within the same BSR range when sales were similar. If you have just a couple of products in the same category that sell fairly similar volumes, it is pretty easy to see for yourself.
How Can You Use BSR To Improve Your Sales?
Should you try to increase your BSR?
When we see this question, it is generally in reference to using promotional services to increase BSR, in which case the answer is no. Increasing your Best Seller Rank through promotional sales serves no direct purpose apart from pushing to obtain a best seller badge, which happens to be against Amazon's TOS.
Since Viral Launch has been in business, we've seen plenty of sellers get excited about an improvement in BSR driven by giveaways. From our perspective it's a no brainer. Of course the BSR improves. If sales are the sole factor in calculating your Best Seller Ranking, and you drove additional sales, whether at full price or at a discount, then of course the BSR is going to improve. And like we mentioned, that improvement in Best Seller Ranking will have no direct impact on future sales.
For example, (keyword ranking aside) if you gave a massive volume of units to help you reach a BSR of #2 in all of Health & Beauty, you would see no improvement in organic sales as a direct result. Customers do not find products to purchase by sifting through the browse trees, they purchase products after running a search, selecting an item, and then making a purchase.
Essentially, if you give units away at a loss with the intention of improving your Best Seller Ranking, you are wasting money. That is not a strategic move.
How BSR Can Help You Make Smart Business Decisions.
Using the Best Seller Rank metric is fantastic for estimating product's monthly sales. Even though current tools are not incredibly accurate, they are far better than pure guesses and can be extremely helpful when putting together launch strategies, optimizing your listing, and validating sourcing ideas. From our perspective, this is the only real use for this over-hyped vanity metric.
Should You Be Paying Attention to Your Product's BSR
Largely, no. If you are using BSR as a sales estimator for your own products, then you should look at your actual sales volume as shown in your Seller Central dashboard as those figures will be more accurate. Generally, the only benefit of watching your BSR is in comparing yourself to your competitors. Is your BSR increasing, but competitors' BSRs are not? Then you you need to make some adjustments to your offering/listing so you can continue selling at the same volume as your competitors are. Is your BSR increasing at the same rate as competitors? If so, this is typical of seasonal items. As sales slow for a sub-market, all competitors will see an increase in BSR.
Your listing's Best Seller Rank can fluctuate quite a bit over the course of a day, week, or month. The focus should really be on maintaining/improving search rankings, optimizing your listing, and improving your review funnel as these are the activities that will have an impact on your organic sales and ultimately your business's bottom line. Continually watching your BSR is like watching the grass in your yard grow, it's going to grow and at varying rates depending on external factors, but you watching your yard grow does not affect the process. It is only a waste of time. Being aware of your actual sales and responding to changes in the market or your listing are activities that will lead to better bottom line.
Conclusion
More often than not, rumors and misinformation are spread simply due to wrongful attribution. It's so easy to wrongfully attribute the cause of sales improvements, ranking changes, BSR changes, etc. simply because there are so many moving parts. Amazon is a complex animal. It is wrongful attribution that I hold as the culprit for a lot of the myths around the Amazon Best Seller Rank.
Know any other rumors? Have any questions? Am I wrong? I'd love to know what you think in the comments!