If you've thought about selling products on Amazon, the possibilities of what to sell can seem overwhelming. When you combine the 12 million products Amazon sells itself with all the third party seller products, there's over 300 million products already being sold. Anyone can create a Seller Central account and start selling items on the ecommerce site, but how do you ensure you find items that will become best selling products on Amazon? It isn't just luck.
It may seem like some of the top sellers are just taking a shot in the dark and hitting the jackpot when their product blows up in popularity, but this isn't true. Tons of research and planning goes into launching best selling products on Amazon. You have to know the market, where to source and the best methods to get your product to Amazon's warehouses.
This isn't as easy as choosing a random product and crossing your fingers that it will sell well. There is work involved, but we're here to help. Follow these 11 tips to find and source the next top selling products on Amazon.
1. Use a Product Finder Tool
It's possible to get ideas for products just by thinking about useful items in your own daily life. But a product finder tool, like Product Discovery from Viral Launch, will also give you helpful Amazon data about real products currently selling on the site.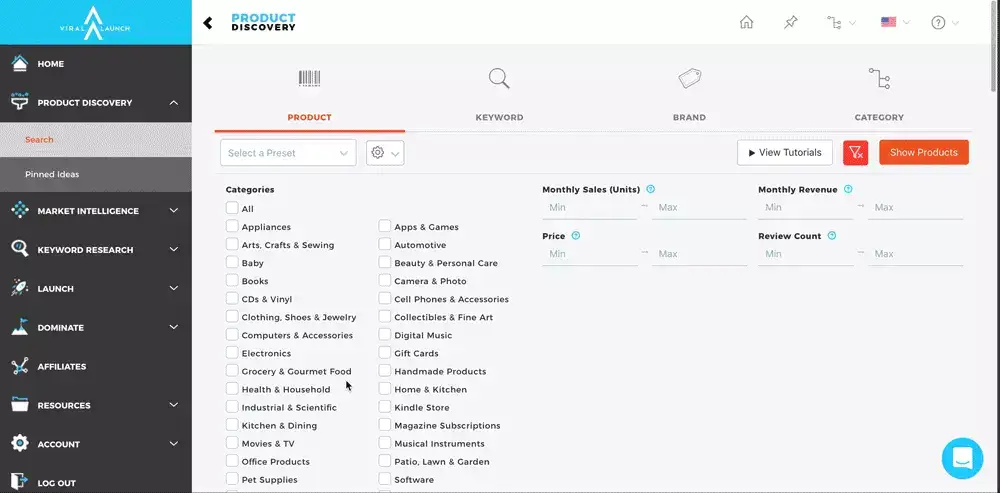 This tool allows you to search by product, keyword, category and brand and is loaded with advanced filters to narrow and personalize results to products that meet your exact selling requirements. If at first all the filters seem somewhat overwhelming, don't worry. There's plenty of tutorials to help you get started.
2. Complete Market Research
Finding a successful Amazon product relies heavily on the market research you do beforehand. You can't simply pick a product and charge in blindly without the proper knowledge. Take the time to do extensive market research before deciding on a final product. This includes learning about competitor products in the market as well as learning about past market performance and future market trends.
Using a tool like Market Intelligence from Viral Launch will allow you to view data on the top selling products in your market. Either search directly in the Market Intelligence tool or use the Chrome extension to gather data while using Amazon. All data about the top products will be pulled and organized in a matter of seconds, so you can quickly see all the information you need.
3. Look for Products to Source
Once you have settled on a product idea, it's time to start thinking about where to source your product. Many private label sellers use Alibaba to source their best selling products on Amazon, as the site allows them to get in touch with numerous manufacturers worldwide.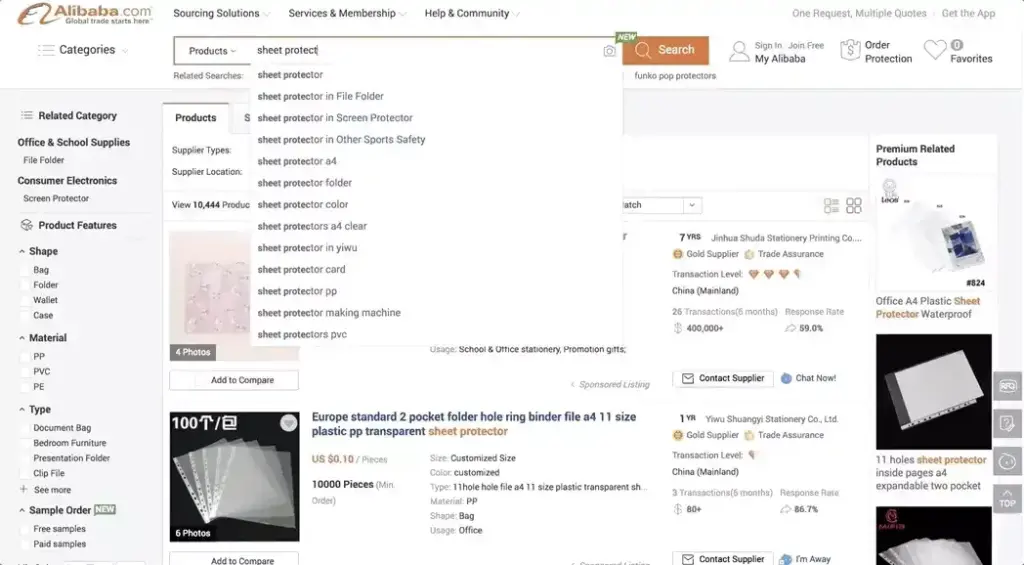 Alibaba allows you to search for a product and returns a list of manufacturers currently producing similar items. When you find a product you like, you can click the result to see detailed product and manufacturer information and get in touch with the supplier. Alibaba provides 3 quality assurance metrics that you should pay attention to when browsing for a product. Since you will most likely be working with international manufacturers, it's important to be cautious in every step as it is very hard to get international legal resolutions.
These quality assurance metrics include:
Trade Assurance –

This will protect you in the event of shipping or quality related disputes with a supplier. You're covered if products are not shipped on time or if products do not meet quality standards as agreed upon in the contract with your supplier.

Gold Supplier –

If a supplier on Alibaba is shown as a Gold Supplier, it means they have undergone a verification process that proves they are a registered legal business. While this doesn't necessarily mean the company is specifically reliable, it tends to provide more legitimacy.

Assessed Supplier –

Assessed suppliers on Alibaba have passed a verification process with independent inspection companies.
Alibaba allows you to automatically filter for products that fulfill these quality assurance metrics. It's a good idea to filter for each of these metrics as you browse through a wide array of product possibilities.
Also, as you begin looking at items to source, keep track of any that you think have the potential to become top selling products on Amazon and the cost of each unit. You can combine this cost with the referral fee and FBA fee charged by Amazon to get a better idea of whether you can sell this product profitably. Many manufacturers also have a minimum order requirement so be sure to pay attention as that will directly affect your initial investment.
4. Connect with Multiple Manufacturers
After you've identified some products you're interested in, it's time to start building relationships with manufacturers. It's important to reach out to more than one manufacturer in order to find the best product in a timely manner. We recommend reaching out to about 10 suppliers who have products that meet your requirements.
Be kind and courteous when contacting any potential business partner and be sure to understand cultural differences when working with international suppliers. Establishing rapport with suppliers can lay the bricks to build a lasting relationship for future product expansions. Also, be sure to present yourself as an established business owner, even if you're a first-time seller. If you come across as inexperienced, it's likely that you will not get the best price from manufacturers.
Below is a good example of the first correspondence you can send to manufacturers. This is just to give you an idea of some of the information you should try to gather. If you have any additional questions for the supplier, be sure to include them.
Dear [Manufacturer Name],
My name is [Your Name] and I am the owner of [Company Name]. We specialize in selling Health and household items through major online retailers and are currently interested in growing our product line. We're interested in learning more about your compact first aid kit [Include Product Link].
Before we make a final decision about which product best fits our needs, could you please provide me with the following additional information about your product:
– Can the products be packaged in custom packaging?
– What is the average manufacturing time for each order?
– How many of the products are shipped in each case?
– What are the dimensions of each case?
– What are the lead times for a sample and trial order?
I appreciate your time and am looking forward to your reply so we can take the next steps in the ordering process.
Thank you,
[Your Name]
Pro Tip: Checking Your Margin
At this point, you'll be getting direct quotes back from manufacturers on exactly how much it's going to cost for you to place an order for a certain number of units. As we said, manufacturers will also require minimum order quantities. You should evaluate, based on the minimum order quantity and the true margin for each product, whether you should still move forward with this product or try your hand at another one.
We've seen sellers get into markets, only looking at top line revenue instead of taking into consideration what the margin is actually going to be. You want to know for sure how much it's going to cost to get into your market.
Find out how much it's going to cost to produce each unit, then find out how much it will cost to ship your units to your desired destination. This will be your landed unit cost, and will involve the following:
How much it will cost to manufacture each unit

Shipping cost per unit (Total shipping cost / total number of units ordered)
So, for example, let's say each First Aid Kit costs $2 to manufacture. Let's also say the shipping (from the manufacturer to an Amazon Warehouse) comes to $600 total, with an order of 1000 Units. Our landed unit cost would be $2.6: ( ($600/1000) + $2)
After taking into consideration the Amazon Fees for selling this product, do the margins make sense for you as a seller? If so, great! Keep on moving forward. If not, no worries – keep on looking for a goldmine product!
We have a Podcast episode that will walk you through great steps to take with manufacturer negotiation and general best practices for sourcing products. Check it out here!
5. Order Samples
As you make first contact with the suppliers, take note of who gets back to you quickly or who is most responsive to any follow up questions you have, as these are good indicators of reliability. This will help you narrow your list of 10 suppliers to a list of 3 to order samples from. Seeing the product in person will help you make the decision of which option is best for your needs.
When ordering samples, you will likely be paying a much higher price for manufacturing and air shipment. Often, you can negotiate this expense into the cost of the first large order, but it will be required upfront before samples can be manufactured. Sample products typically cost between $100 and $200 including shipping, but will vary depending on size, weight and type of product. Most suppliers let you use PayPal for samples, which is a quick, easy and secure form of payment.
6. Compare Samples and Manufacturers
As your samples are delivered, inspect them closely for quality of materials and construction. Make sure that the product meets all of the specifications you required. Since you ordered samples from more than one manufacturer, now is the time to compare them to find out which has the potential to become one of the best selling products on Amazon.
Which product seems the best out of the group? Which supplier was easiest to work and communicate with? How easily can each product be packaged with your unique branding? All of these questions should play a role in your final decision.
7. Continue Watching the Market
During the entire sourcing process, you'll want to keep an eye on the market to ensure it doesn't take a sudden dive in sales or become oversaturated with competitors. If you've identified this market as one with good potential, there's always a possibility that others have figured it out too. So you want to be sure other sellers haven't rushed to this market and oversaturated it with options.
If you've continuously watched the market and all still looks good, it's time to take the leap and order your first shipment of products. You'll need to work with the supplier to get packaging options finalized, and to make any further adjustments you'd like to see in the course of your product's final production.
You'll also need to purchase a UPC for the product from GS1. This UPC can then be linked to an FNSKU with Amazon. While Amazon will sticker your inventory with an FNSKU, there is an added fee. It's usually more cost effective to have your manufacturer print the code on the product.
8. Ensure Shipment is Inspected
In order to ensure the quality of the product, it's always a good idea to have each shipment independently inspected. Items do not become top selling products on Amazon if they have defects or are of low quality, so this is an important step. You can either contract an inspector in the country of manufacturing or choose to do this domestically. Alibaba offers a feature to connect you with inspectors who will then document and photograph any defects. This will help correct manufacturing before your product is shipped.
Generally, we recommend getting an inspection done in the country that the product is manufactured in. Getting an inspection done in this way, from a trusted inspection service, allows you to catch any manufacturing mistakes before the products are on their way to Amazon.
9. Plan Ahead
Before ordering stock, you'll want to plan ahead for how much you need and the cost of each reorder. It's a good idea to try to plan for at least a 2 month run of inventory. The cost calculator built into Market Intelligence will help you get a basic idea of how much inventory you will need.
You will also want to get an idea of lead times to help you plan for future inventory. For example, if it takes 60 days from the moment you order your products to the time they are in Amazon's warehouse and ready for purchase, you will need to order inventory well in advance. Otherwise, you will be constantly running out of stock.
Make sure to also plan ahead financially. Keep in mind that you will not immediately be able to pull out your initial investment. If you invest $10,000 for a 2 month supply, but your resupply takes 2 months to arrive at the Amazon warehouse, you will really need $20,000 available initially.
This is because you might need to place your second order right as your first shipment is hitting inventory to ensure you can sell without interruption. Until you start steadily selling, your initial investment will be tied up in inventory reorder.
Amazon is a cash game, and often sellers underestimate just how much it's going to cost to keep up with demand. It's going to take time to develop an understanding around your own lead time, however we encourage you to keep track of lead time between each of your products. Finding the perfect balance between cash flow and making sure your products are in stock is difficult, but worth the time and energy to figure out.
10. Familiarize Yourself with Incoterms
International Commercial Terms (Incoterms) are commercial terms published by the International Chamber of Commerce (ICC) in order to facilitate agreements between buyers and suppliers. These terms are negotiated during your agreement with the supplier and will determine the logistics and liability of the manufacturing and shipping process.
The terms for transporting the goods can be negotiated using any of the following rules:
EXW (

ExWorks) – In this agreement the seller makes the goods available at their premises, but the buyer is responsible for transporting them. This places maximum obligations on the buyer and minimum obligations on the seller, as the buyer incurs the risk of bringing the goods to the final destination.

FCA

(Free Carrier) – This allows the buyer to choose a carrier to move the product. Once the seller has delivered the goods to the carrier, all responsibility is off them. The buyer takes over the responsibility of unloading the goods and reloading the goods at the carrier facility.

FAS

(Free Alongside Ship) – The seller's responsibility is fulfilled when the goods are placed alongside the buyer's vessel at the named port. The buyer incurs all costs and risks of the product from that moment.

FOB

(Free on Board) – The seller incurs all costs and risks of the goods until they are safely loaded onto the vessel and must also arrange for export clearance. The buyer is responsible for

marine freight transportation, bill of lading fees, insurance, as well as unloading and transportation cost from the arrival port to destination.

DDP

(Delivery Duty Paid) – The seller incurs all the responsibilities of delivering the goods to the named destination in the buyers country. Seller also pays all costs required to bring the goods to the destination including import duties and taxes. But seller is not responsible for unloading.
Shipping logistics can be extremely costly, especially for a new seller who is just getting started. For this reason, DDP is the most valuable option and is usually suggested as the best option to choose, if available. In this case, you would contact your manufacturer to see if they are able to deliver directly to either your own storage facility or an Amazon Warehouse. Most manufacturers now have the ability to do this, so asking to ship your products directly to Amazon is not abnormal.
Some sellers also choose to ship their items through a Freight Forwarder. If this is the case, typically sellers will either choose to ship using FOB or EXW. In each of these cases, your Freight Forwarder would pick up your products at your manufacturer's last point of contact.
11. Weigh Pros and Cons of Shipping Options
When shipping from other countries, you have two options: ship by air or by sea. Prices of both options will vary depending on the size of the order and the type of product.
Shipping by sea is always the least expensive option when compared to air, but is also more time-consuming. And there is a greater chance of product damage when shipping by sea. However, many sellers still choose this method in order to keep costs down. Shipping by air is usually not a profitable option.
We mentioned implementing the use of a freight forwarder before. You should consider whether you would like to have another third party involved or whether you would want to go through shipping logistics without another third party. Freight forwarders typically bring more visibility, simplicity, and trust when it comes to importing. The trade-off, almost always, is an extra expense.
Find Your Next Money Maker
Identifying a profitable idea and turning it into one of the best selling products on Amazon is a multi-step process that requires time and patience. Getting a product idea nailed down is just the beginning as sourcing the product requires the most effort. Take these tips, do your research, and find and source your next big product. For even more tips, take a look at our video series on How to Sell on Amazon. Get started with the first video below!