Your first FBA journey is going to be scary. You're in uncharted territory dealing with unfamiliar manufacturers who are hundreds, if not thousands, of miles away. Take a deep breath and keep your eyes on the prize — becoming a successful FBA seller!
As an Amazon seller, your main priority is sourcing and selling a quality product. Because without a quality product, you're facing an uphill battle right from the start. You'll likely see low sales, bad reviews and a lot of returns, which could put you in bad standing with Amazon and even lead to the suspension of your account. And oh yeah, you won't be making any money!
But how do you monitor quality control from another country? Sure you can hop on a plane to China and go do it yourself, but is that really feasible? This is where a third-party China product inspection service comes in.
Let's dig in deeper.
China Quality Inspection: A Crucial Step for Sellers
While you can contract an inspector domestically, it makes the most sense financially and logistically to hire a company in the same country where the product is being manufactured. This way, any minor damage or major defects can be corrected before the products are shipped to Amazon.
Regardless of whether a product is being manufactured manually or by a machine, innocent mistakes can happen — and they will. It's common to have a small defect rate on every order. You just don't want those products going out to customers! Hiring an inspector helps ensure only quality units are being sent to Amazon and only quality units are ending up in customers' hands.
Save Yourself Time and Money
To save on cost, manufacturers will often use cheaper, lower-quality materials instead of the more expensive ones. Avoid this issue by being very specific with your manufacturer regarding all materials, measurements, and packaging that your product requires. Give the same information to your inspector so he or she knows what to test and check for.
Refunds and warranties are rare in China and don't mean same things as in the US. If you don't discover a mistake or manufacturing error until you receive your product in the states, chances are it's not going to be fixed anytime soon. So how do you protect your products and save yourself time and money? As a general rule, it's recommended to do the following:
Tell your supplier straight away you're going to hire an inspector

Never work with a supplier who won't accept quality inspections

Have a firm purchase order and contract agreement in place

Withhold partial payment until an inspection takes place
Suppliers will be quicker to respond and make corrections if they haven't received the full payment yet. This gives you more leverage before you pay in full and are fresh out of luck.
Pre-Shipment Inspections
Identifying problems before they're fully packed and shipped out is much cheaper and easier to correct. There are typically two types of quality control inspections offered by third-party inspection companies:
Full Inspection:

A review of each and every product

Spot/Random Inspection:

A review of 〜10% of inventory
Obviously, a full inspection is going to cost more money, but in return you'll get greater peace of mind. For example, say you do a partial inspection of 100 pieces and they find 20 with defects. What now?
You could either move forward and accept the risk that 200 units out of your 1,000-piece inventory are potentially defective, or you could pay for a full inspection (on top of what you've already paid) to be completely sure. Your best bet is to order a full inspection and get the peace of mind they provide.
What are QC Inspectors Looking for?
During an inspection, your inspector will be looking at:
Quantity verification

Conformity check (style, color, label, packing, and shipping conformity)

Workmanship check (appearance and basic function)

Function check (more in-depth functionality)

Contract product quality
You want products to match all of your specifications as well as any quality standards set by the industry. You'll need to weigh the pros and cons of repairing or removing units with minor issues, but more severe issues should immediately result in your supplier repairing or remaking the product.
FBA Requirements
Another quality control check for FBA sellers to consider focuses on shipping and packaging. Amazon's FBA program has its own inventory requirements, including those for product barcodes, packaging and prep, shipment packaging, and shipment labels. Failure to follow these requirements could lead to extra fees or Amazon returning your product.
If you're not handling the packaging and labeling of your FBA products yourself, you must work with your manufacturer to make sure all of these requirements are being met.
Hiring a Pre-Shipment Inspector: Alibaba and Other Options
Aside from connecting you with an extensive directory of manufacturers, Alibaba can also connect you with professional third-party inspectors close to your supplier whose background and profile have been verified by Alibaba.com.
These inspectors visit the manufacturing facility in China and prepare a written report with pictures to verify that the products being produced and shipped meet industry standards as well as those specified by sellers. These detailed reports are typically ready to view within 2 business days and you can even track the inspection progression in real-time so you can follow along.
Inspections generally cost around $300 for each shipment and must be booked up to 3 business days in advance. Alibaba does offer deals for their inspection service, like this 50% off all inspections promotion for their annual #SuperSeptember event, which is shown below.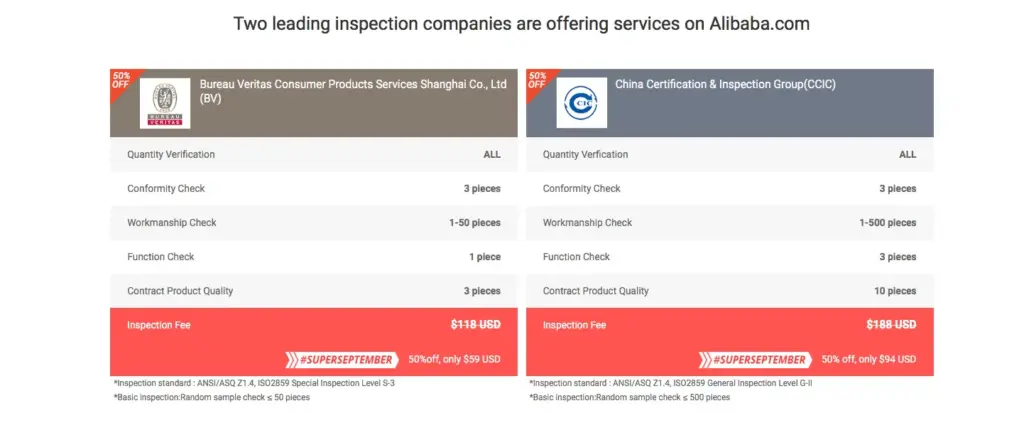 There are many other China product inspection or quality control inspection companies out there, and freight forwarders also offer inspection services.
Pro Tip: Look for Manufacturers, not Trading Companies
When you're in search of a manufacturer on Alibaba, verify that whoever you choose is actually a manufacturer and not a trading company. Trading companies resell items from manufacturers, whereas manufacturers are actually producing the items themselves. Look for this information on the company's Alibaba listing or check their business registration license.
Who Can Order Alibaba's Inspection Service?
Alibaba's inspection service is available to all Alibaba.com members outside of mainland China who have placed a Trade Assurance order. For those of you who haven't placed an order yet and are unfamiliar with Trade Assurance, this is Alibaba's free order protection service that covers buyers in the event of payment, shipping and product quality disputes.
To order on Alibaba.com, simply start a Trade Assurance order and select Product Inspection Service under Value-Add Service. After you make a payment, you'll be able to track your order and see the inspection status on the Trade Assurance page.
Ordering a China Product Inspection: Is it Worth the Money?
While ordering a China product inspection is optional, it's something that should be seriously considered when you're breaking down costs and examining profit margins. Think of it this way: if defective products end up in an Amazon FBA warehouse, you'll most likely have to pull all of your inventory to pick out the defects.
Then, not only will you be have to ship the products back to Amazon (again), you'll have to somehow dispose of the units if you can't donate or store them somewhere. This will undoubtedly lead to delays in current orders or even force you to make your listing inactive for a while, which is never good for meeting your margins and always bad for customer service.
Another issue you'll be facing is Amazon's order defect rate policy. Your ODR is determined by:
Negative feedback

Service chargeback
After these are all taken into account, Amazon divides it by the total number of orders during a given period to get an ODR. The Amazon recommended ODR is 1%, and they will suspend accounts with rates slightly above 1%. A rate much higher than 1% can be a cause for termination. You can find your ODR on your Account Health dashboard in Seller Central under the Performance tab.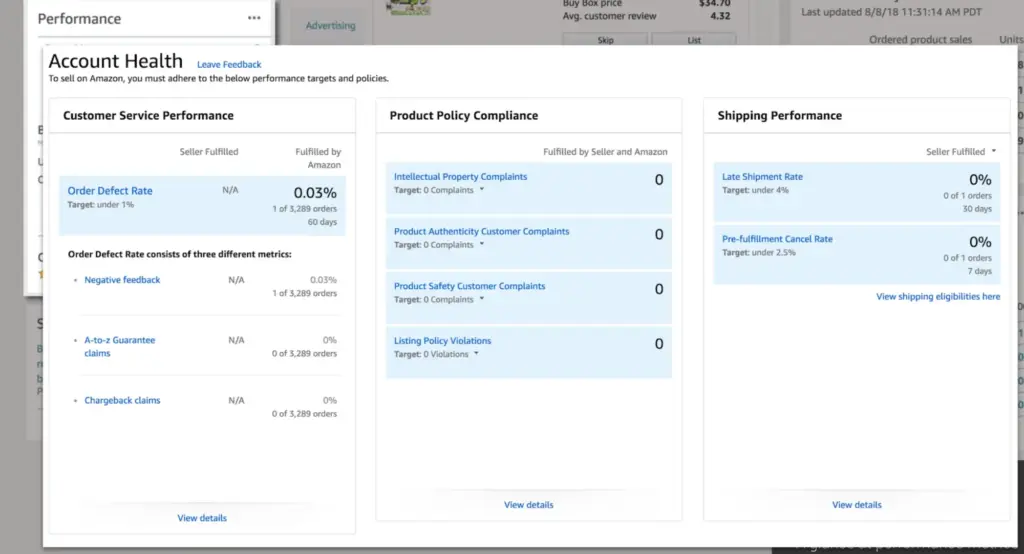 For sellers who only have a handful of orders each month, this could be a major issue as a single defective unit could skyrocket your ODR.
Inspections Keep Suppliers in Check
You don't slack off when you know your performance is being monitored, right? The same principle applies here: if suppliers know a third-party inspection is imminent, they're probably going to do a better job. Hold them accountable and don't let them cut corners! After all, they're not the ones going to suffer the consequences — you are.
You may be tempted to forego inspections as you build a long-term relationship with your manufacturer, but this typically isn't recommended. No matter how reputable and experienced they may be, problems can still pop up — the manufacturing process isn't an exact science. People (and machines) make mistakes!
A Quick Recap
A China product inspection can protect your brand's reputation, Amazon status and pocketbook. Are you willing to risk all of the above on something that could have been avoided?
Today's shoppers are also more vocal than ever and will absolutely let you know if your products aren't up to par. And as more and more sellers enter the space, having quality products can immediately set you apart from a sea of competitors.
As always, Viral Launch is here to help you in your Amazon journey. For tips on Amazon advertising, selling strategies and more, we encourage you to subscribe to our blog, check out our Youtube channel, and listen to our Follow the Data podcast.