In this Amazon FBA for Beginners guide, we'll walk you through how to sell on Amazon and give you six tips for success.
Wouldn't it be nice to generate a little extra income? Selling online has afforded many hardworking and driven people more financial freedom and in some cases, completely changed their lives.
In a recent study, it was estimated that 40 percent of worldwide internet users bought products or goods online several times a month. And that number continues to grow daily.
This has led many people to ask themselves: How can I capitalize on this e-commerce explosion?
One of the largest players in the space is e-commerce giant Amazon — a multi-billion-dollar company that has established themselves as the leading online retailer. But Amazon is more than just a store. It's also a marketplace where regular people – just like you and me – can become successful internet entrepreneurs and make passive income.
What is Amazon FBA ?
One of the most popular options for selling on Amazon is as a third-party seller through their Fulfillment by Amazon program, or FBA.
Whether you're a college student, a retiree, or somewhere in between, you can become an internet entrepreneur through Amazon FBA. In fact, more than half of the total sales on Amazon come from third-party sellers.
Amazon FBA is a popular option because many of the logistics of operating a physical business are handled by Amazon. This allows sellers to minimize their effort and maximize their time and (most importantly) profits.
Benefits of Amazon FBA for Beginners
For the sake of this Amazon FBA for Beginners guide, we're discussing how to sell on Amazon through the Fulfillment by Amazon program. There are other options (such as FBM) … but those are blogs for another time.
Like we covered briefly in the beginning of this blog, FBA means you send your products to Amazon and they store, pack, and ship your product to your customers. While there are, of course, additional fees with this strategy, there are also some serious benefits:
Prime perks:

All FBA products are eligible for Prime, which is a huge advantage for FBA sellers. An astounding 63 percent of Amazon shoppers are Prime members! In fact in 2018, it's estimated that Prime shoppers will

drive more than $117 billion in spending

. Selling through FBA means your products will be eligible for Prime free two-day shipping.

More trust:

Amazon has done a great job instilling trust in their business model and practices, which helps you as an FBA seller. When people see a product is Fulfilled by Amazon, they know it will arrive in good condition and on time (and if not, Amazon takes care of it).

Hands-off:

Scale your side-hustle into a full-time income. FBA gives you the ability to quickly scale without the difficult logistics of handling inventory and shipping out orders.
All these benefits, plus more, contribute to why FBA is a popular strategy for selling on Amazon that leads to incredible sales potential! Just keep in mind, as an FBA seller, you will have to get your products properly prepared for Amazon's warehouse. That means printing barcodes on products, packaging items per Amazon's requirements and shipping them into their warehouses.
So now you're ready to begin your FBA journey. But where do you start? Here are 6 steps for starting your online business and making your first sale.
Find Product Ideas
Now that you know a little bit about Amazon's FBA program, it's time to sign up as an Amazon seller. You can choose an Individual or a Professional Selling Plan. If you're hoping to sell more than 40 products per month, you'll want a Professional Selling Plan.
The next step is finding product ideas, and this is a really important step. One of the most popular ways to sell on Amazon is through Private Label. Private Label is when you choose a product, find a manufacturer, and then package and sell those products under your own brand.
Choosing the right product to private label and sell on Amazon is crucial for your success, and the process can be difficult and sometimes stressful. There are a whole host of factors to consider, like marketplace viability, popularity, price and profit margins. If you source a random product, you are essentially gambling on its success.
You want to ensure the highest probability of success by understanding the market's potential. For this reason, getting as much information as you can during your Amazon product research phase is essential.
So, you might be asking: "Where do I start?" Your first move should be to use product finding software that can help you determine the right market to enter.
This type of software will provide you with a personalized list of potential product ideas that align with your goals, so that you can quickly and easily understand which products will make you money and which ones will take your money.
Our favorite product finder is Product Discovery, which allows you to find individual products that meet your criteria, find keyword markets full of potential, discover successful brands to emulate, or search subcategories to find that next up and coming product. There are even advanced filters for the adventurous. This allows you to customize your research process and feel confident that you're seeing personalized results. But if you're new to this, don't feel overwhelmed. Pick a few filters that make sense to you, such as Category, Price, Sales, and Reviews, and filter through results to see what catches your eye.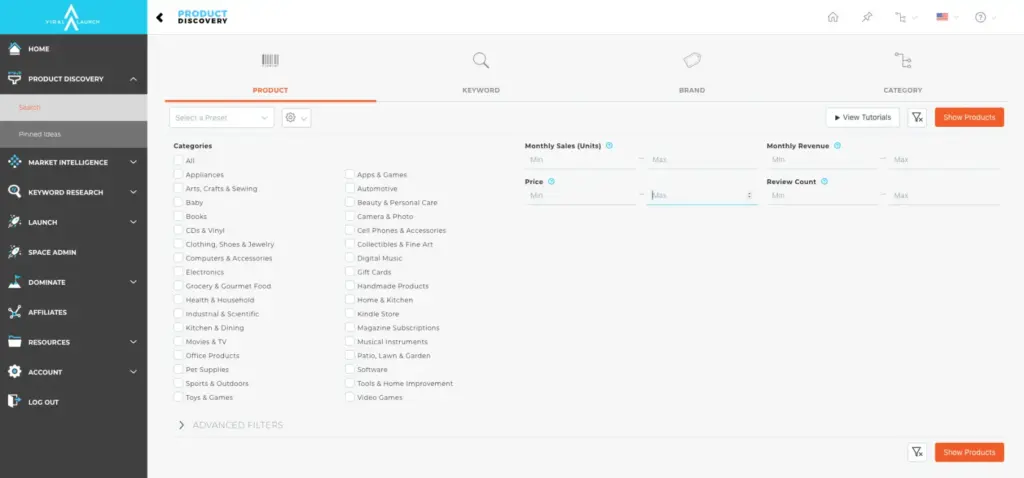 Once you've performed your search, you'll be presented with loads of useful data to help you find potential product ideas. Take a glance below at this example search.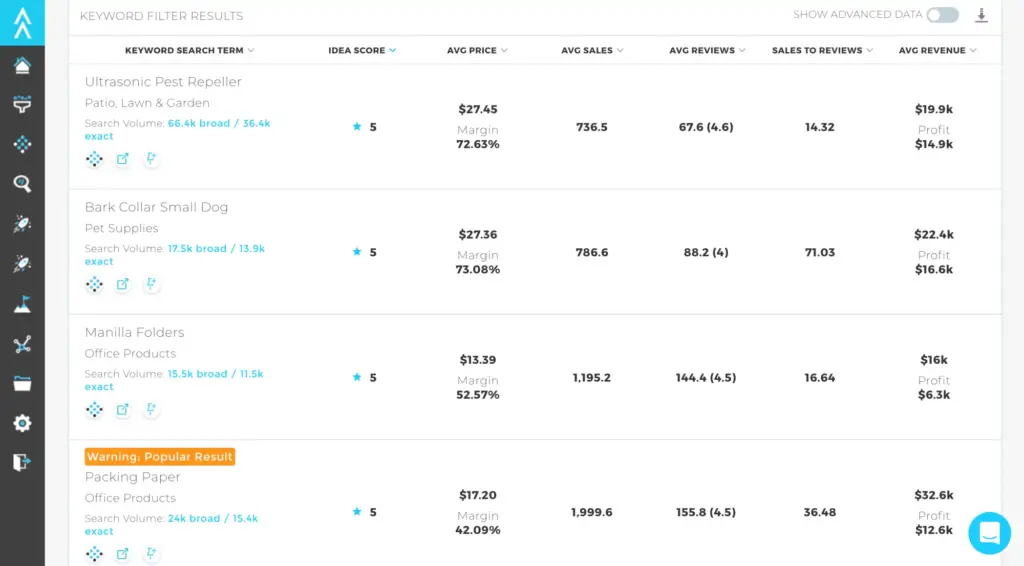 By using a product finder, you're given all the data and insights you need to find a list of potential products ideas and start your Amazon journey off right.
Want to learn more about Product Discovery? Check out this quick intro tutorial:
[youtube https://www.youtube.com/watch?v=U_utcG87xYE&w=560&h=315]
Validate Your Product
As you might have realized by now, research plays a huge role in whether or not your journey is headed towards success. After gathering a list of potential product ideas, it's time to dig deeper and validate your product.
One of the best ways to research each of your potential products and ensure yourself the highest probability of success is by using a market research tool. These types of tools help you to eliminate guesswork so you can avoid products that will lose you money.
Market Intelligence, a seller favorite, lets you verify demand for your product by looking at estimated sales numbers, keyword search volume, trends, and market conditions. You can also take a look at how top competitors have performed in the past and are performing now, as well as allowing you to look at potential barriers to entry like reviews, big brands, and high initial investment.
With all this information at hand, you should be able to identify a market full of products that, on average, have healthy revenue numbers and low reviews so it's easy for you to enter in and compete. It's also a good idea to look for markets that seem to be relatively stable, rather than chasing trends. While trend categories can be hugely profitable for those that get in quickly, the safer play is to look for markets with long term stability.
For evidence of the risk of trends, look no further than the fidget spinner. As you can see, there was a huge surge in sales, more sellers hopped on, price wars started, and when the trend dried up, many were left with inventory that was impossible to get rid of.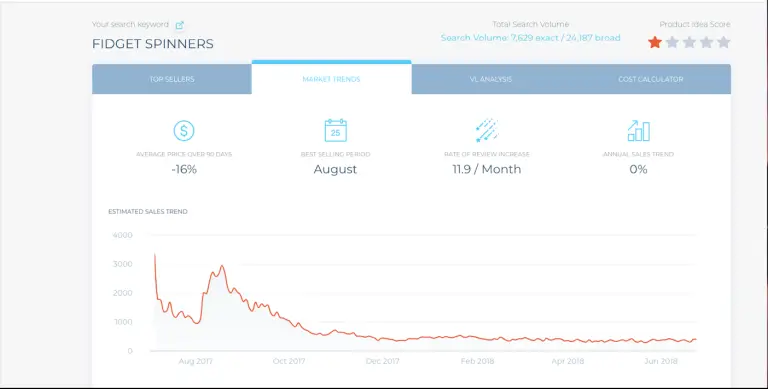 During this research stage you'll also want to begin thinking about developing a business plan, setting actionable goals and determining how much time, energy, and investment you really want to put into this business.
Keep in mind, during these early stages, you may need more capital than you anticipate. You'll need to pay for your product, shipping, listing, marketing, and eventually scaling. To get an idea for how much money you could make (and how much you may spend), use an Amazon FBA calculator.
Find a Manufacturer and Place Your Order
This next step is another big one. Once you've sifted through products and validated your market, it's time to actually get your product produced and ordered. After in-depth research, we recommend developing a list of at least 3-5 products with margins that align with your goals.
Next, you'll want to look into manufacturing channels. One of the most popular sourcing options for Private Label sellers is Alibaba.
Alibaba connects you with overseas manufacturers, allowing you to buy your selected products in bulk. Again, doing your research is imperative for picking a legitimate manufacturer to work with.
Alibaba has 3 quality assurance methods that can help you choose what manufacturers to work with:
Trade Assurance

: This is a free service that helps to create trust between buyers and suppliers. This will protect your money in the case of a dispute with the supplier over issues like product quality or shipment.

Gold Supplier

: This allows you to determine which suppliers have received a verification through Alibaba that proves they are a registered legal business. However, this doesn't mean every supplier with this verification will be 100% reliable, but it does help to lend more legitimacy.

Assessed Supplier

: Suppliers with this status means they have passed a verification process with an independent inspection status.
Especially for new sellers, we recommend contacting suppliers who satisfy each of those quality assurance checks.
Once you've identified a group of suppliers you're interested in working with, it's time to make contact and start inquiring about product samples. When working with manufacturers, you'll want to take note of their response times, clarity, communication, price, timeframe and reputation.
One of the biggest tips we can give you is to think about cultural differences when starting a dialogue with these suppliers. For instance, if you're working with manufacturers in China, they place a huge emphasis on building relationships. So with that in mind, you'll want to let them know you're interested in building a long-lasting business relationship. You'll also want to make sure to develop a personal relationship and be extremely courteous.
When talking with a manufacturer as a first-time seller, present yourself as a knowledgable business owner looking to quickly ramp up your production and sales. If you portray yourself as inexperienced, you might not get the best possible price from a manufacturer.
A good starting point for a first time seller would be to reach out to 10 or more suppliers, get samples from 3 and then buy a few of your top competitors' products from Amazon to compare your sample and their product.
To save yourself time, you can create an email template for first contacts that hit on all your major questions. Some things you'll want to ask are:
Time it takes to receive initial product samples

Time it takes to manufacture the product

What payment methods they accept (like PayPal) for full orders

Cost of shipping the product per unit to your location

Type of packaging that is used
Once you've collected and reviewed the samples, it's time to choose the supplier to move forward with and place your first full order. During this phase you'll want to determine package options from the supplier and obtain a Universal Product Code through a GS1 Company Prefix.
The next big step is figuring out how much to order. We usually recommend a first-time seller orders enough product for at least a 2-month run of inventory. To get a rough estimate of how much inventory you need, you can use an Amazon sales estimator showing historical trends.
In terms of shipping inventory from overseas, many newer Amazon sellers will use a freight forwarder. Flexport is a popular option among sellers as they handle all shipping logistics for you for one price, including pick up logistics, sea freight, customs, and more. Using a freight forwarder may be a bit pricier, but many sellers consider the cost worth it for peace of mind in the unfamiliar territory of shipping by sea and importing into the United States.
Create an Optimized Listing
Ok … so you've got your first product. Now it's time to list your product on Amazon and make your first sale. As an example, let's say you've decided to sell a first aid kit. Do you snap a picture with your smartphone, throw up a title that says, "First aid kit" and magically start selling? Not exactly.
The goal of an effective product listing is two-fold. You want to accurately depict your product while simultaneously incorporating important keywords to increase the number of people that see and purchase your product.
Think of it this way. You could write a beautiful, eloquent and accurate title, bullets and description of your first aid kit that truly explains why someone should buy it. But, if you don't include the keywords people are using when searching for that product, you're not going to be found. So all that great copy would be wasted.
Conversely, you could do in-depth keyword research and find 50 great keywords, throw them haphazardly into a listing and create a nonsensical mess. While you might pull in searches, chances are if someone can't understand what your product is or does, or it isn't accurately described, no one is going to actually buy it.
That means you need to find the happy medium of correctly incorporating keywords and accurately describing your product.
Luckily, there are tools available to help you find the exact keywords you should be including in your listing. You want to ensure that your keyword tool is using accurate Amazon-only data.
One of the most important metrics when deciding what keywords to use is search volume, or how many people are actually looking for that product every month. It's clearly important to find high volume keywords, but there a few other things to keep in mind. You also want to target high-opportunity keywords that competitors aren't using. And, you want to make sure that the keywords you choose are relevant to your product. If you end up ranking for a keyword that isn't relevant, you won't get sales.
Clearly, there is a lot of data here to keep track of. How do you make sure you've included all the keywords in the most vital areas your listing? One of our favorite tools that simplifies the listing creation process is called Listing Builder. This feature is included in Viral Launch's Keyword Research, a tool that allows you to easily gather a comprehensive list of keywords and write your copy on the fly. This feature helps you keep track of what keywords you've used and what you still need to incorporate. Once you're finished writing, you can then take your copy right into your listing for maximum indexation and conversions.
If you're not comfortable choosing where to put which keywords and writing sales-inducing copy, we recommend paying for a listing optimization service. Listing optimization services connect you with a team of professionally-trained Amazon copywriters who will write optimized content created for maximum visibility and conversions.
Now that you've got the written side of an effective listing down, it's time to talk about photos. Product photos are an extremely important element of your Amazon listing. Browsing on Amazon, you'll see some product photos that are of questionable quality at best. You want to refrain from using stock images, relying heavily on photoshop and using largely text-based images. And while you might think your iPhone photo of your product will suffice, you'll be surprised what a professional Amazon photographer can do for your brand perception, clicks, and sales.
Garnering reviews are also another massively important piece of an effective listing. Recently, there's been a lot of turmoil surrounding the topic of Amazon reviews. This is just one example of why it's always important to stay up-to-date on changes to Amazon's practices.
In short, think of reviews on Amazon as a sort of currency. It shouldn't come as much of a surprise that, in general, products with better reviews are set up for better sales. However, getting reviews can be difficult, and you want to make sure you follow Amazon's guidelines or you could face penalties.
One of the best (and Amazon-friendly) ways to generate reviews is through an email follow up campaign, which is used to ask for feedback and encourage reviews on customer purchases. Check out this video full of tips to generate more reviews:
[youtube https://www.youtube.com/watch?v=XNnj6K79hmw&w=560&h=315]
Just remember, Amazon has taken a hard stance against review manipulation, so at this point, it's better to take a conservative approach to gathering reviews to avoid the risk of suspension or being banned from selling completely.
Increase Visibility
So your product is in Amazon's warehouses ready to ship, and you've got an optimized listing for a great product. Have you done all that you can do to drive traffic and increase sales? Not even close! You still have plenty of options for driving traffic to your listing.
One of the most popular – and effective – ways is through what's called a PPC or Pay-Per-Click campaign. In short, PPC marketing is essentially "sponsored content" that you've likely seen when browsing Google, Amazon or any other search engine. What you do is pay a small amount of money to the search engine you want to advertise on for each click that your product gets. PPC can be a great way to get initial traction and place your product in front of even more people.
Another great way to get your product visibility on Amazon is through promotional giveaways, or what we call Launches.
It shouldn't come as a surprise; ranking on Amazon is extremely important. The higher up a product ranks on Amazon, the more eyes there are on the listing, which equates to more sales opportunities. Most shoppers don't make it past the first couple of pages – if that – when shopping for a product on Amazon. That's why page one positions for major keywords are so coveted.
Many sellers use promotions as a way to boost sales and drive more traffic to their listing by providing deep discounts on their product for a period of time. If you're interested in launching your product this way, check out our 9 common mistakes to avoid.
Another popular way sellers use to increase a product's visibility is by bringing in traffic from outside sources, such as running ads on Facebook, Google or other platforms that direct buyers to their Amazon listing page.
Manage Inventory
Managing inventory is a crucial step to maintaining a successful Amazon product. If you don't properly manage and track your inventory, you will find yourself out of stock and low on cash. Not to mention, being out of stock for too long can significantly hurt your rank, which can have devastating effects on sales in the long run.
When managing inventory as a seller, there are two important factors to consider – how long it takes for you to get a shipment from a manufacturer and how many units you sell per month, on average.
For instance, if you get your inventory 60 days (or two months) after placing an order from your overseas manufacturer and you're selling 1,000 units per month, you'll need to make sure you order at least 2,000 units. That would give you two months (or your lead time) worth of inventory. And if you have the cash, ordering a bit more will give you some cushion in the case of delays or an increase in sales.
Like with any business model dealing with physical products, selling on Amazon FBA Private Label means a lot of cash will be tied up in inventory. That's why managing inventory correctly is so important. If you don't, you run the risk of going out of stock without enough cash on-hand for a reorder when you need to.
I've Conquered Amazon FBA for Beginners – What's Next?
So now you've got your Amazon business up and running. Maybe you've just made your first sale or things are going great and you've already had to restock.
But as profits rise, so does that entrepreneurial spirit. This might lead to asking … what's next? You have a few options. One is to add another product to sell in the same or a completely different category.
Or, you might just want to stay with your first product and build profits for some supplementary income. Whatever you choose, make sure it's what's best for you and your goals. That's the best part of being your own boss, isn't it?
At its core, Amazon is an ecosystem that's constantly changing. That means you have to stay up to date on Amazon's Terms of Service and best practices. But luckily, there's no shortage of information about how to sell on Amazon for beginners or for experienced veterans.
Here at Viral Launch we want to be your go-to source for the most accurate and recent Amazon information. That's why we recommend you subscribe to our blog! Are you more of a visual person? Not to worry, check out our Youtube channel. If you're looking for a great podcast to listen to during your commute or while traveling, we suggest listening to our podcast Follow the Data.
You've got all of the tools to be successful at your fingertips. Now it's up to you! We'll leave you with one final thought about what you need to be successful in the form of a quote from Madam C.J. Walker:
"I had to make my own living and my own opportunity! But I made it! Don't sit down and wait for the opportunities to come. Get up and make them!"