Join the thousands of online entrepreneurs and learn how to create an Amazon Seller Account in a few quick and easy steps!
Are you looking to take the next step toward realizing your entrepreneurial dreams by starting an Amazon business? Don't know where to start? (Here's a hint: the Amazon Seller Central login page!) Before you start your Amazon empire, you'll need to create your Amazon Seller Central account.
With e-commerce thriving, Amazon's status as the dominant e-commerce platform, and their seller-friendly logistics offering, Amazon is prime (no pun intended) online real estate for entrepreneurially-minded individuals like yourself. On Amazon, the sky is the limit for starting a booming online business, and a great place to begin or expand your business.
To get started, visit the Seller Central Amazon login and sign-up page. Then, select the Learn More option near the top-right of the page to create your Amazon Seller Central account. You can either sign in using your Amazon customer login, or create a new login entirely.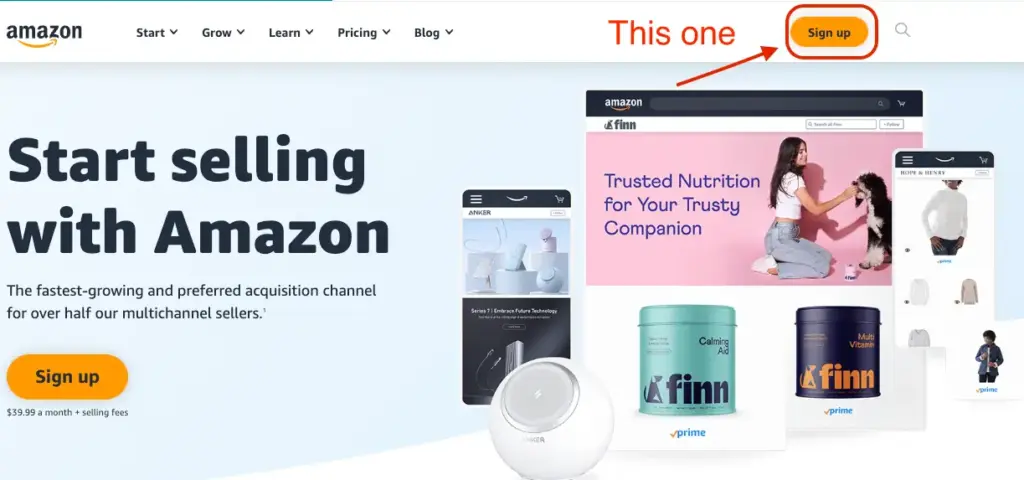 Choose your selling plan
Before providing any of your information, you'll want to do a little homework and decide which of Amazon's selling plans makes the most sense. For the most part, the Professional plan fits the need of serious Amazon sellers, but it all depends on your goals, resources, and where you are in your selling journey.
Individual
The Individual seller plan requires a $0.99 fee every time you sell an item.
This plan makes more sense for sellers still deciding on a product or totaling less than 40 units per month. Because of the per-item fees, the Individual plan presents a more cost-efficient option for anyone selling 40 or more items monthly. If you're still searching for a product or not ready to open up for business, this plan saves you a few bucks while ramping up your store.
The Individual seller plan also makes more sense for anyone testing the waters on Amazon with just a few products. This plan does not provide access to inventory tools, so anyone with a more extensive product catalog or volume of products would be better served on the Professional plan.
You can upgrade to a Professional account at any time once you've decided on a product or plan on increasing your sales.
Professional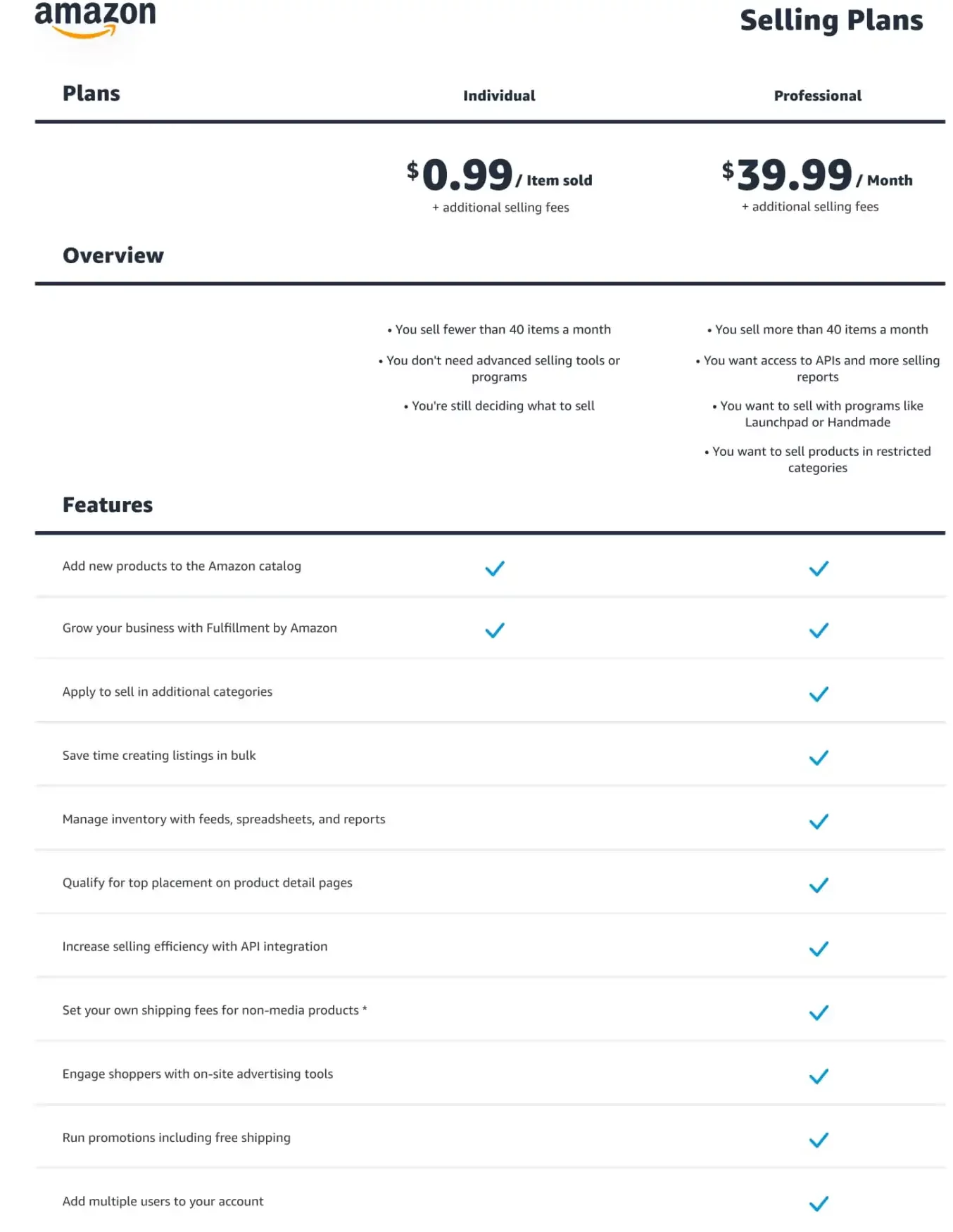 The Professional seller plan requires a flat $39.99 monthly payment, no matter how many items you sell within the month. In addition to the $39.99 monthly payment, Amazon collects a seller fee (a percentage of the total transaction that varies by product category) on each of your sales.
Additionally, sellers on the Professional plan gain access to Amazon benefits such as Brand Registry, which protects your business from fraud and abuse while allowing additional perks on your listing.
In short, the Professional plan makes more sense for sellers looking to create a brand on Amazon. On top of capping your monthly payment, the Professional plan offers access to the Amazon Advertising platform, qualification for top placement on product detail pages, promotions including free shipping and much, much more.
Both the Professional and Individual seller plans provide an opportunity to add new products to the Amazon catalog and to grow your business with the Fulfillment by Amazon (FBA) service.
What You Need
The signup process is quick and easy, but you'll need a few items to be approved when signing up. First, create your Seller Central Amazon login and begin the signup process.
In addition to the list of items required to provide below, you'll need to be a resident of these approved countries to be eligible for seller registration without further information.
Business email address or an existing Amazon customer account
Internationally chargeable credit card
Government ID (for verification purposes to protect sellers and customers)
Tax information
A cell phone and phone number
Bank account information for where Amazon can send your proceeds from sales
This information is requested in a five-part signup process in which Amazon takes Business Information, Seller Information, Billing Information, Store Information, and Verification.
While providing personal information online can be nerve-wracking, it's vital that Amazon be able to authenticate your existence and business for safe and smooth transactions between buyers and sellers.
Business Information
First, you'll need to provide basic information about your business.
If you haven't registered your business with your state or federal government, you'll need to before completing this step. You can register your business and receive a company registration number, or Employer Identification Number within 24 business hours if you're a United States seller registering with the IRS.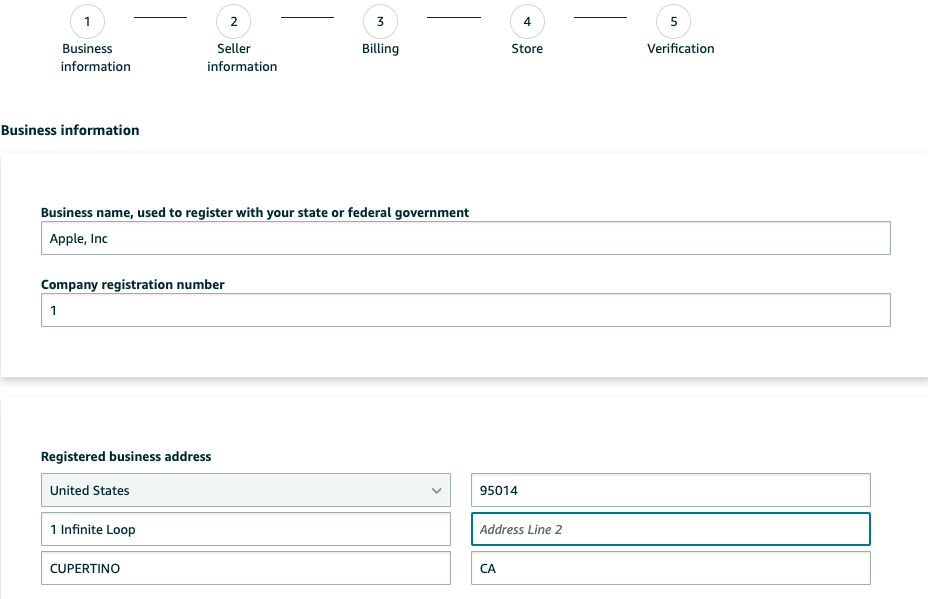 Amazon will send a one-time PIN to a personal phone number for verification before moving on to providing your seller information.
Seller Information
Next, you'll be asked to provide information regarding a point of contact for your business. In addition to the basics of name, location and verification, the form will ask to confirm if the contact is a beneficial owner or legal representative of the business.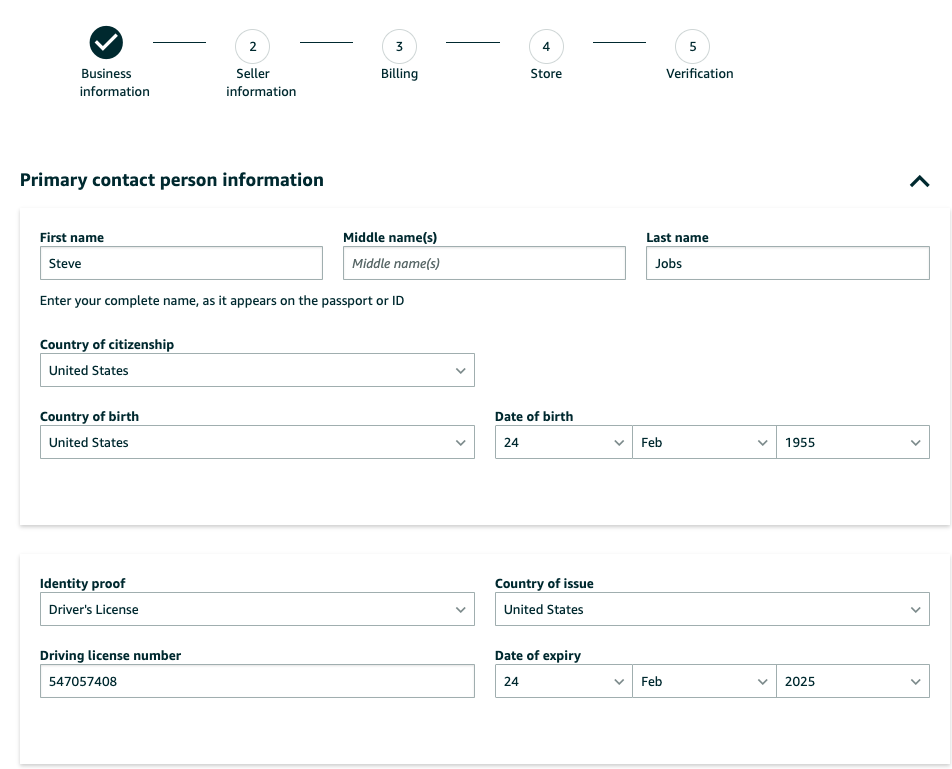 Unsure about these legal terms? No worries. Amazon provides FAQs about the process on each page to guide you through common roadblocks.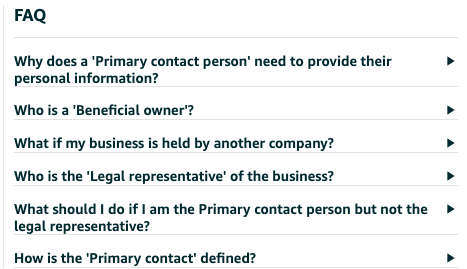 Billing Information
While making money is on the horizon, you must invest in your selected seller plan first! As with any online purchase, Amazon will need your card number, card expiration date, cardholder name, and billing address before finalizing the purchase. Your information may already be on file if you used the same Seller Central Amazon login as your Amazon customer account.
Store
You're this close to wrapping up seller registration! Before the final verification, Amazon asks you to include your store name and answer a couple quick questions.
The store name doesn't have to be your actual store name and can be a placeholder if you're undecided on a store name. You can update this field later, but if you have your store name ready, you might as well make it official.
Lastly, Amazon will ask if you have Universal Product Codes (UPCs) for all your products and if you're the manufacturer, brand owner, agent, or representative for any of the products you will make available on the platform.
The Final Verification
You're just a few clicks away. All that's left is to verify that you're a human to Amazon's standards. You'll need to upload a document with your name, date of birth, country of birth, and citizenship. At least two sources of verification, such as a driver's license, passport, or a recent bank account statement are needed to submit your seller registration.
Upload clear, high-quality images of your documents, and be sure your typed information matches to avoid roadblocks that can pop up during the online verification process. If you upload a recent bank account statement, remember Amazon is a global business and larger, more recognized bank accounts are likely to pass verification without issue than smaller local banks.
Conclusion
Once all this information has been submitted in the signup process, you should hear back soon once they've verified the information provided. You may be asked to meet with an Amazon Associate to verify your submission if additional verification is necessary.
After all this, you should be set up with your Amazon Seller Central account. Congratulations! You're ready to move on to the next stage of creating your online business.
If, for any reason, you encounter any errors or issues during your account setup, reach out to Amazon Seller Central support to check the status of any issues standing in the way of taking the next steps in starting your Amazon business. Feel free to sign in using the Seller Central Amazon login and explore all you can do in Seller Central.
What's next? Check out how How To Start Selling on Amazon: A Step-by-Step Guide below to move on to the next juncture of launching your online business.