If you're an Amazon seller, you already know that choosing the right product categories can make or break your sales. Some are simply more profitable than others, making it crucial to focus on those that are in high demand and offer good profit margins. In this blog post, we'll explore the most profitable Amazon product categories and provide some insights into why they're so successful.
Finding profitable product categories can be a daunting task, but it doesn't have to be. With tools like Viral Launch's Product Discovery or Market Intelligence, sellers can quickly and easily identify high-potential products and categories to target. These tools use data-driven insights to help sellers make informed decisions about which products to sell and which markets to target. By leveraging Viral Launch's expertise and resources, sellers can stay ahead of the competition and maximize their profits on Amazon.
From electronics to toys and games, we'll cover the categories that are making the biggest impact on Amazon and provide some tips for sellers looking to capitalize on these trends. So, whether you're just starting out or looking to expand your product offerings, read on to discover the most profitable Amazon product categories.
Top Amazon Product Categories
1. Electronics
When it comes to product categories that are consistently profitable on Amazon, electronics is certainly near the top of the list. Not only are electronics some of the most in-demand products on the platform, but they also offer sellers the potential for high profit margins. In fact, according to a recent report by Jungle Scout, the electronics category was responsible for more than $96.97 billion in sales on Amazon (US) in 2022, making it one of the top selling categories on Amazon.
Within the electronics category, there are a few specific product categories that stand out as Amazon trending products:
Laptops: These are a hot commodity, as remote work and online learning continue to drive demand for high-quality, portable computing devices.
Smartphone: People upgrade their devices seeking out the latest features and technology.
Smart home technology: Devices like thermostats, security cameras, and voice assistants are increasingly popular.
Gaming consoles
Headphones
Home theater systems

What's particularly appealing about selling electronics on Amazon is the potential for high profit margins. While it's true that some electronics can be expensive to source and ship, the demand for these products can make up for the extra cost. Additionally, many electronics have a high retail value, which means that sellers can mark up their prices and still offer competitive pricing.
Of course, it's important to research each product category and carefully consider factors like competition and seasonality before diving in. With the right strategy, though, electronics can be a very lucrative Amazon product category.
2. Health and Personal Care
The Health and Personal Care category has emerged as a growing segment on Amazon. With the increase in health awareness among consumers, this category has seen rapid growth in recent years. The convenience of online shopping and competitive pricing offered by Amazon makes it an attractive option for customers looking to purchase health and personal care products.
Some of the best-selling health and personal care products on Amazon include:
Vitamins and supplements: Vitamins and supplements category has seen steady growth in recent years, with a wide range of products from various brands.
Personal hygiene products: Shampoo, soap, and toothpaste, etc.
Medical equipment: This subcategory has seen significant growth on Amazon, with products like blood pressure monitors, thermometers, and nebulizers being among the best-selling items.
The Health and Personal Care category also has the advantage of the potential for high profit margins. Many of these products have a high markup, making it easier to generate a healthy profit margin.
However, researching products in the health and personal care category is crucial. As these products may be FDA-regulated, they could require specific labels, disclaimers in their product descriptions, and other selling requirements. Failure to comply with these regulations can result in legal consequences, such as account suspension or even lawsuits, making it imperative for sellers to understand and follow all necessary guidelines.
3. Home and kitchen
It is no surprise the Home and Kitchen category is one of the most profitable given the demand for products that make our lives easier and more comfortable. According to Amazon, home and kitchen products have been among the top-selling categories for several years. This category includes a wide range of products from small kitchen appliances to furniture and home decor. In 2021, the category saw a surge in sales due to the COVID-19 pandemic, as people spent more time at home and invested in their living spaces.
Some of the best-selling home and kitchen categories on Amazon include:
Home appliances: Air fryers, coffee makers, and blenders have been trending products on Amazon due to their convenience and functionality.
Cooking utensils
Home decor
Sellers can also utilize Amazon's Best Sellers in Home & Kitchen page to keep track of the top-selling products in this category and stay ahead of the competition.
4. Beauty and Personal Care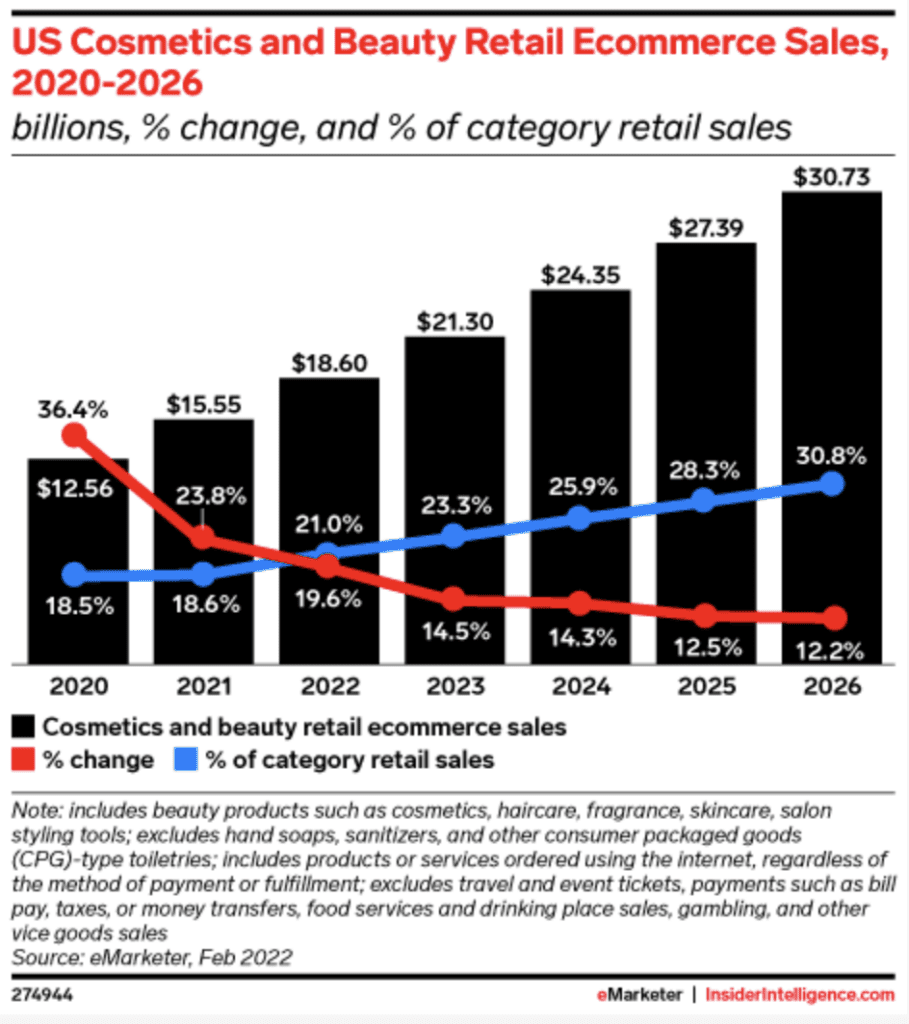 The beauty and personal care category is one of the fastest-growing and most profitable categories on Amazon. With the rise of social media and influencer marketing, people are being "influenced" to invest in high-quality beauty and personal care products. In fact, in 2022, beauty and personal care e-commerce sales more than doubled that of 2019.
Some of the best-selling beauty and personal care categories on Amazon include:
Skincare
Hair care: Hair care products, such as shampoos, conditioners, and styling products, are also in high demand, especially those that address specific hair concerns such as hair loss, thinning, and damage.
Makeup
With the right strategy, sellers can achieve high profit margins in this category by offering unique and high-quality products that meet the needs and preferences of their target audience.
However, it should be noted that some of these products may also be FDA regulated and require more intensive research. For example, the FDA's definition of a "medical device" is considerably vague meaning products like facial rollers and electric toothbrushes are regulated. Sellers should be aware of potential restrictions and requirements when selling products in the Beauty and Personal category. For more information on products that have been cleared by the FDA, check out Amazon's permitted products list.
5. Toys and Games
Toys and games have always been popular on Amazon, especially during the holiday season when people are searching for gifts for their loved ones.
The toys and games category is a diverse one, with products for children of all ages as well as adults who enjoy playing board games or building sets. The vastness and diversity of this category means more opportunity for sellers regardless of competition. According to eMarketer, the toys and hobby category on Amazon generated $33.38 billion in sales in 2022, and this number is expected to grow in the coming years.
Some of the best-selling toys and games categories on Amazon include:
Action figures
Board games
Puzzles
The potential for high profit margins in the toys and games category is significant, especially for products with a loyal fan base or popular licenses.
Final Thoughts
We've covered some of the most profitable Amazon product categories including, electronics, health and personal care, home and kitchen, beauty and personal care, and toys and games. Each category has its unique characteristics and offers potential for success.
However, this is just the tip of the iceberg. With Viral Launch's Amazon seller software suite, sellers can further research each category with real-time data to identify profitable opportunities and stay ahead of the competition. Choosing the right product category is crucial to step in the Amazon seller journey.
Whether you're new to Amazon or a seasoned seller, it's essential to stay up-to-date with the latest trends and research each category thoroughly to find the right product to sell. By doing so, you can increase your chances of success and thrive in the ever-changing world of e-commerce.