Discover how to build, grow and scale your Amazon business with the Market Intelligence, the best Amazon Chrome Extension for sellers.
Is your Amazon research process fully optimized? If you aren't using the Market Intelligence Chrome extension from Viral Launch, your product research regimen could likely use a boost! Utilizing Viral Launch's Amazon Chrome Extension for sellers can save you time, effort, and clicks while still providing the powerful data crucial to your business.
At any stage of selling on Amazon, performing product research stands as a constant task. While the data you value most might change, analyzing market trends and checking in on the competition is perhaps the one commonality all Amazon sellers perform, making it a distinctively important part of the selling process.
Due to the numerous data points, complexity, and tedious nature of digging into the data of individual products and segmented markets, it's no wonder why Amazon sellers often view product research as grunt work.
The importance of product research regarding an Amazon business's success is why we created Market Intelligence, packed with accurate sales estimates and virtually every key metric about the Amazon marketplace you could ask for. But why the Chrome Extension? It's simple: to streamline your product research process for maximum efficiency.
What is the Market Intelligence Chrome Extension?
It's exactly what it sounds like! The industry-leading Market Intelligence tool from Viral Launch has been a favorite for Amazon sellers for years. The Chrome extension lets you bring Market Intelligence directly to Amazon pages. Once you've installed the Market Intelligence Chrome extension and have an active subscription including Market Intelligence, you can skim through Amazon and pull up in-depth insights into the marketplace with the click of a button.
This tool provides real-time insights into competitors' sales and marketing strategies, including pricing, sales volume, and keyword rankings. Armed with this information, sellers can adjust their approach to remain competitive in the marketplace.
What data can I find in the Market Intelligence Amazon Chrome Extension for sellers?
AI-powered insights and billions of Amazon data points give a seller's advantage no other tool can provide. Access historical trends, monthly sales, monthly revenue, keyword search volume, and much more, all while browsing products on Amazon.com. You can use this data to make smart sourcing decisions, discover products that haven't been found, and start or scale your eCommerce business.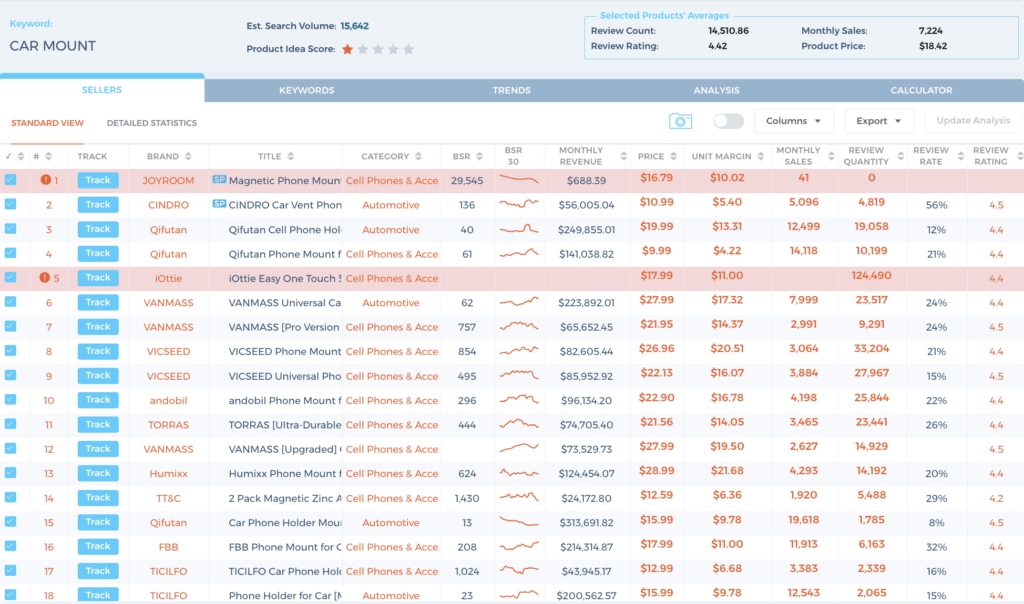 In the Chrome extension, you'll find five unique tabs: Sellers, Keywords, Trends, Analysis, and Calculator.
Sellers
The Sellers tab stands as the primary section of the Chrome extension, with the data points found in the standard Market Intelligence tool. When on an Amazon search results page or Product Detail Page, the extension populates information for that product that's been tracked over time. Brand name, monthly revenue, unit margin, monthly sales, and review quantity are just a fraction of the data in this tab. Additionally, you can track products with the push of a button, which will transfer to your Viral Launch account.
Keywords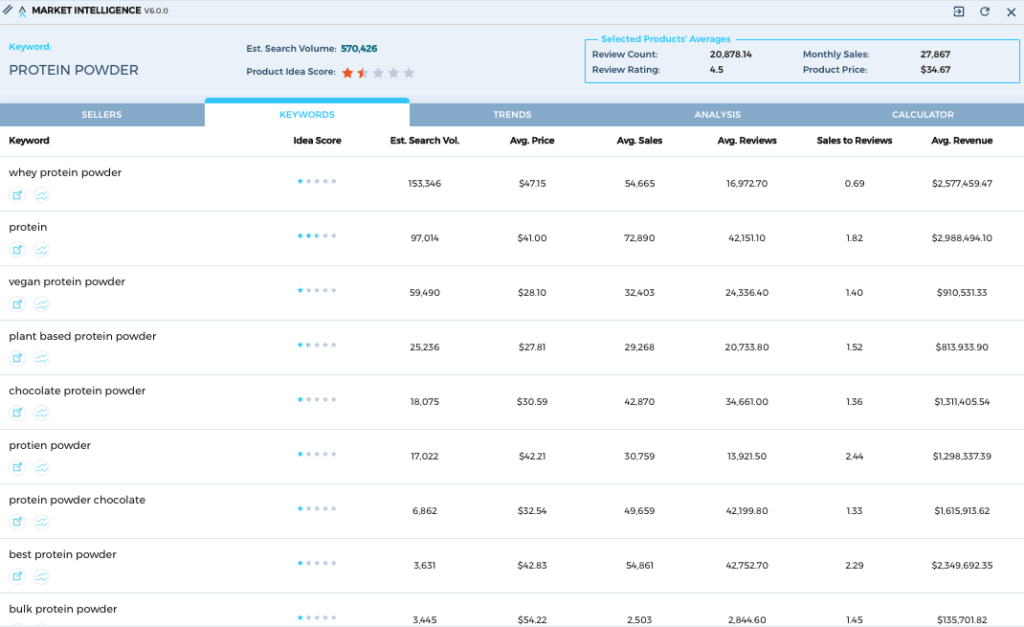 The Keywords tab takes information from our Keyword Research tool, showing a complete list of similar or related keywords on a search page. The most popular data point within Keywords is estimated search volume, with the most accurate estimates driven by our innovative data science. You can find the most popular keywords used to find products like the one you're searching for, along with the average price, sales, and revenues for each keyword market.
Trends
You can find quick-hitting information about the selected market in the Trends tab. You can quickly see any price changes, the best-selling period, and annual sales trends. At the same time, a chart with years of data tracking shows peaks, valleys, and stagnation points.
While performing product research, it's easy to make mistakes based on outdated data. As any seller knows, things change quickly. If a product generated sales and search volume in the past but is on a downward trend or has increased competition, your research can do more harm than good. The Trends tab seeks to help avoid these mistakes and help you get a better feel for the trajectory of a product or market.
Analysis
Like a great virtual assistant, the Analysis tab offers AI-generated insights into a market. You can find helpful tips, warnings, and alerts to help make you aware of issues such as seasonality, saturated markets, price declines, and more. Consider the Trends tab an extra set of eyes, offering an enhanced outlook on potential pitfalls. For example, the image below details that Amazon sells products in this market, a helpful tidbit when perusing a market.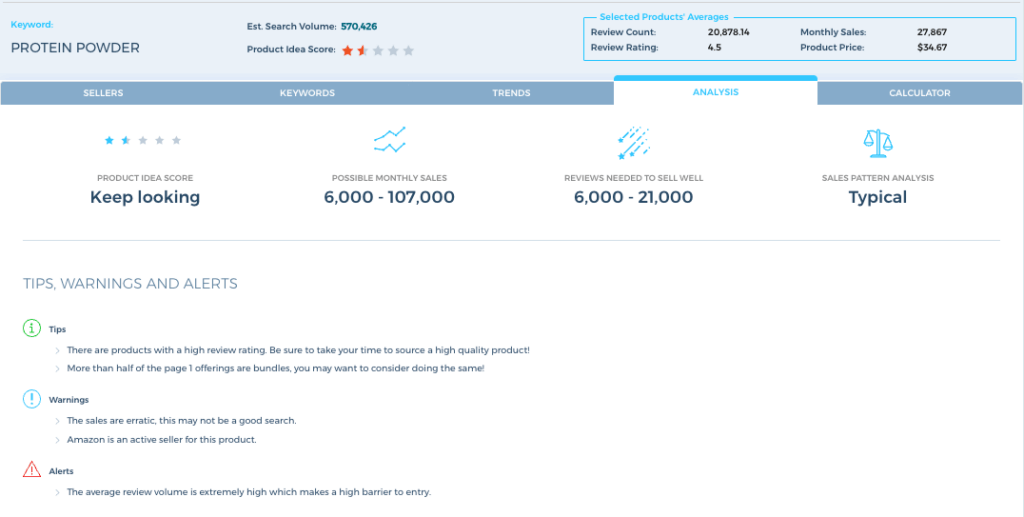 Calculator
The Calculator tab lets you calculate fees and potential profit per unit sold. This feature uses industry standards from our FBA Calculator and averages to deliver a rough idea about profitability. Since costs may differ for different sellers, you can edit the numbers if you have a more precise and personalized range of costs for a more accurate approximation.
How much does the Market Intelligence Chrome Extension cost?
It's free, sorta! Technically, the extension is free and available as an add-on to anyone in the Google Chrome browser. However, if you're not subscribed to a Viral Launch subscription plan, you'll quickly find the data inaccessible. Once installed and activated, you'll be asked to sign in with your Viral Launch credentials. After doing so, you're ready to take your research outside the Viral Launchpad.
Since the extension is free, it's something every Viral Launch subscriber should add to their browser extensions.
Conclusion
In summary, the Viral Launch Chrome Extension is a powerful tool for e-commerce sellers looking to streamline their research for maximum efficiency and convenience. With real-time data on product sales, revenue, and profitability, the extension has certainly become a popular choice for entrepreneurs looking to succeed in the competitive world of e-commerce.
Whether you're a seasoned seller or just getting started, the Viral Launch Chrome extension is a tool that can help you achieve your goals and grow your business on Amazon. Thus, if you haven't already, download the Market Intelligence Amazon Chrome extension for sellers today and incorporate it into your Amazon research tool set!