With Viral Launch's Market Intelligence Chrome Extension, discovering insights into product markets directly on Amazon has never been easier. And it just got even better.
In the latest version of our chrome Amazon extension, we've pushed major updates to conveniently elevate your product research to new heights!
Without further ado…
Introducing The Keywords Tab
We've added a Keywords tab with key metrics from our Keyword Research tool in addition to the four existing tabs (Sellers, Trends, Analysis, and Calculator). Open up the Keywords tab when examining a page of Amazon search results or on an individual ASIN's page, and you'll see the following updates:
Related Search Terms
Using our proprietary ARCS algorithm and powerful collection of Keyword Research data, the extension now provides related search terms for you.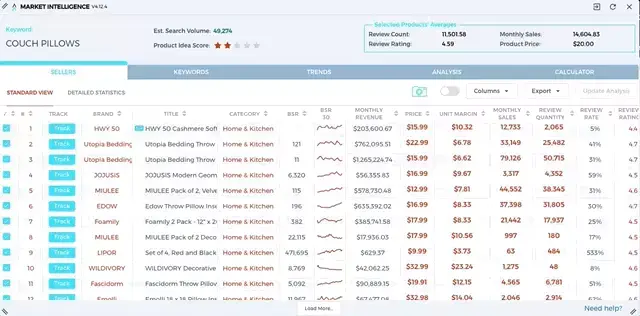 Too often, sellers make the mistake of performing product research under a secondary or tertiary search term instead of the primary keyword. With this feature, you can now avoid making that mistake by quickly comparing search volume estimates for a handful of the most relevant search terms for the keyword.
Google Trends Integration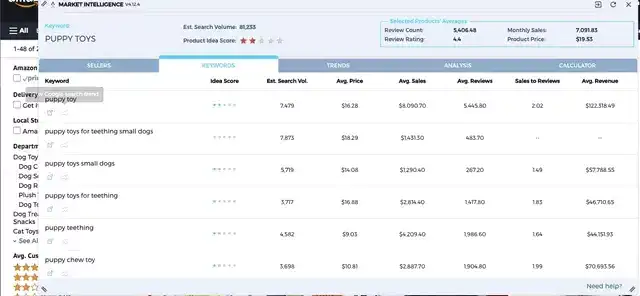 On top of receiving access to our Amazon search volume estimates, you can now check Google Trends to see how in-demand a search term is outside of Amazon. Under the displayed search term, just click on the Trends icon to see search interest directly from the company synonymous with search.
While we stand firmly behind Amazon search volume estimates being the most significant consumer demand indicator, we also believe the more data available at your fingertips, the better equipped you are.
Why do we recommend Amazon search volume estimates? Easy. While Amazon and Google are both search engines, they serve two entirely different purposes. Google's mission is to organize information and make information universally accessible; Amazon search takes you to a marketplace.
At the very core, Amazon searches are done with buyer intent, while Google searches are made to learn. However, Google trends data can help determine seasonal interest and provide another avenue of product research for the growing number of Amazon sellers expanding their brand beyond the confines of the Amazon marketplace.
Scout Your Competitors Like Never Before
We've incorporated our reverse ASIN lookup tool, Competitor Intelligence, into our chrome Amazon extension so you can uncover how an individual ASIN is performing across crucial keywords.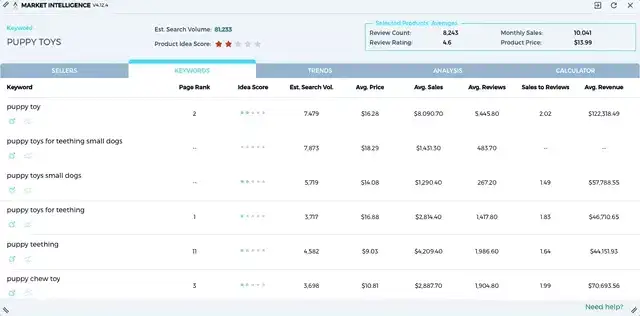 Now you can instantly dig deeper into the performance of competitors! Knowing where the competition is succeeding and where opportunities exist helps you stay one step ahead and fast-track your Amazon success.
For an even more comprehensive look into your competitors and how they're ranking on a keyword-by-keyword basis, be sure to add the competing ASIN into Competitor Intelligence for a deep dive into their performance.
The Market Intelligence extension is free to add to your Chrome browser. However, you'll need a subscription to our Essentials package to earn access to the abundance of impactful data that has helped thousands with their product research.
Lastly, drop your email below to receive the latest Viral Launch product updates and Amazon news in your inbox!