With Viral Launch's updated pricing plans, we aim to help sellers at each stage of selling on Amazon dominate in 2021 and beyond.
At Viral Launch, we're committed to providing you with the tools and data you need to dominate on Amazon! So it only makes sense that as Amazon continuously evolves, so do we.
From researching product ideas to sourcing materials to scaling your online business, each stage of selling on Amazon requires unique tools and data points to make intelligent, data-backed decisions.
As we aim to support Amazon sellers throughout their entrepreneurial journey, our subscription plans have been thoughtfully redesigned to meet Amazon sellers' needs at each stage.
Get Started With Essentials
You talked, we listened.
Formerly our Beginner's Research Kit, our new Essentials product research bundle receives a few significant upgrades. Due to popular demand, we've overhauled our product research bundle with two features previously unavailable: reliably accurate search volume estimates and our proprietary Product Idea Score.
Search Volume Estimates
Search volume estimates are a vital element of product research, as they're an incredibly powerful indicator of demand. At its core, Amazon operates as a search engine where searchers have a firm intention to buy.
In December of 2018, Amazon made changes to their data collection that prevented third-party providers from collecting exact search volume. With search volume estimates generated from an in-house data science team, we are extremely confident in the accuracy of our estimates.
Furthermore, if you're a seller with access to Brand Analytics, you can judge our accuracy by comparing our estimates to the Search Frequency Rank.
Subscribers to our Essentials plan now have access to this high-impact metric. In Product Discovery, feel free to set minimum and maximum filters for estimated search volume to find products with your ideal amount of demand.
Product Idea Score
Our Product Idea Score is a rating system of 1-5 stars that analyzes key metrics such as monthly sales, review trends, sales patterns, market competition, and much more into one composite score.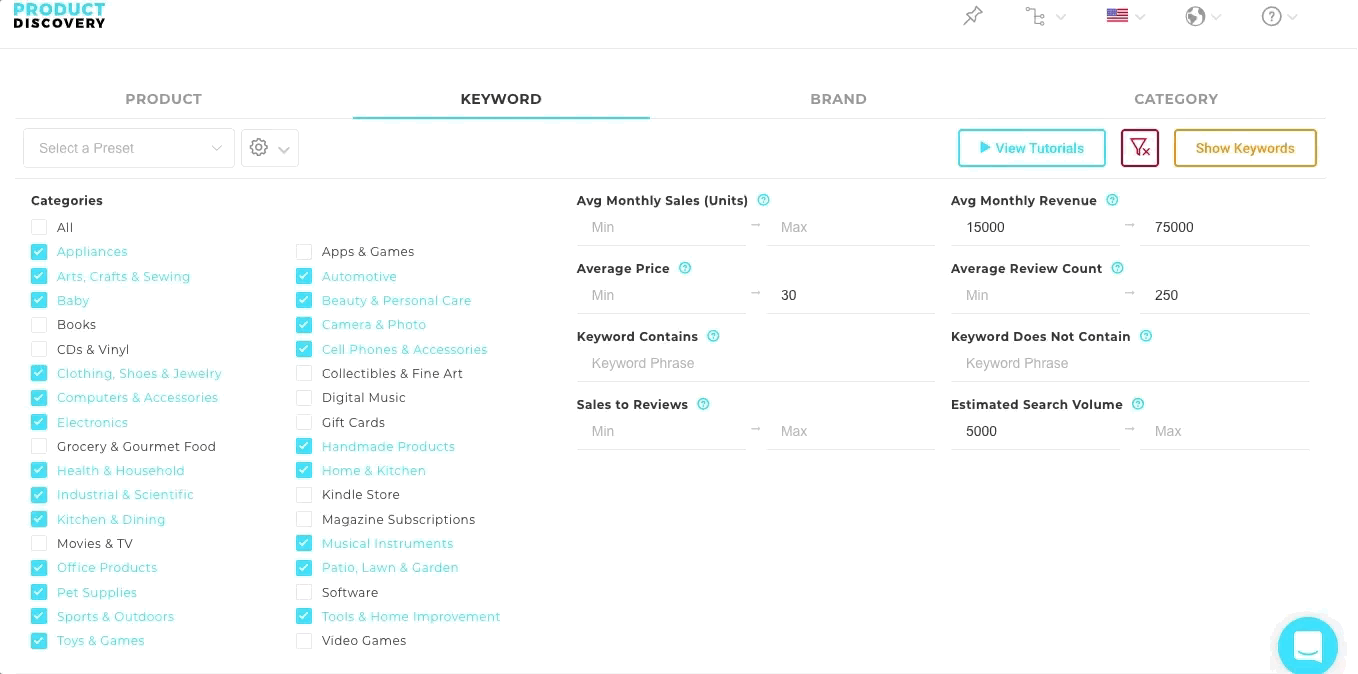 While not meant to replace thorough, intensive product research, the score is designed to simplify the product research process. We strongly recommend using the score as an indicator of if a product is worth further investigating.
Previously available exclusively to annual subscribers, this advanced metric is now available to monthly subscribers to our Essentials, Pro, and Pro Plus Ads software plans.
Product Discovery: Quickly uncover brilliant product ideas to start selling on Amazon! With 4 unique search types and plenty of filters, sellers can reverse engineer product ideas that align with their goals and resources.
Market Intelligence: Master your market to ensure your product's success! Gain access to the most accurate sales estimates along with price and review trend data to understand the market and validate product ideas.
The Viral Launch Pro Package
Our Pro plan retains all of the features that make it our most popular package, with a few upgrades.
Pro subscribers receive access to everything included in Essentials, plus full access to Keyword Research, Listing Builder, Competitor Intelligence, Listing Analyzer, and Keyword Manager. Additionally, Pro subscribers now can utilize the Product Idea Score.
We've also expanded the limits for Competitor Intelligence, Listing Analyzer, and Keyword Manager to allow sellers more data than ever! In addition to Product Discovery and Market Intelligence, Pro subscribers get the following tools and features:
Keyword Research: Eliminate the guesswork with the most accurate search volume estimate data available. Search for a product and instantly see a list of all related keywords with current and historical search data.
Competitor Intelligence: Know the competition better than they know themselves with our cutting-edge reverse ASIN lookup tool. Find out what they're doing right or wrong and use that info to optimize your listing, ads, and more.
Listing Builder: Craft an SEO-optimized product listing designed to convert with our time-saving tool. With a comprehensive keyword list and real-time feedback with our Optimization Score, create your listing's copy like a pro!
Listing Analyzer: Never miss out on a sale due to a lousy listing ever again! The innovative tool provides data-based feedback and performs a SWOT analysis to ensure every aspect of your listing is top-notch.
Keyword Manager: Uncover cutting-edge keyword analytics such as index checks, organic and ad rank tracking, search volume trends, badge notifications, and keyword scores.
The New Pro Plus Ads: Now With Kinetic PPC
Our renovated Pro Plus Ads package has been thoughtfully designed for Amazon sellers looking to effectively and efficiently scale their brand.
Formerly, our two highest-level tiers were Brand Builder and Kinetic PPC. We've merged them into one comprehensive package. As a result, Pro Plus Ads contains the full fleet of Viral Launch software to provide everything you need to take your Amazon business to the next level!
Pro Plus Ads subscribers gain access to Kinetic PPC, our time-saving tool created to optimize and simplify pay-per-click advertising. Generally, sellers are often scorned by PPC, with it being too complicated to understand, too expensive, or too time-consuming to be worth the opportunity cost.
Kinetic PPC eliminates or mitigates these roadblocks so you can run high-performing PPC campaigns to reach more customers, improve organic rank, and take your Amazon business to new heights!
Moreover, sellers on our new-and-improved Pro Plus Ads package secure access to every tool in our software suite, including all tools within the Pro plan and Kinetic.
KINETIC: Automate your PPC campaigns like never before! Set manual or automatic rules into place to end underperforming ads or scale-up successful campaigns and subsequently see easy-to-view PPC metrics to optimize campaign performance.
We certainly know that starting PPC can be daunting and filled with questions. No worries! We have plenty of resources to help you start advertising on Amazon. For instance, our Kinetic PPC education series provides fundamental knowledge and strategy to Amazon advertising.
Find Your Viral Launch Pricing Plan Today
Lastly, be sure to check out our updated pricing page with our new subscription tiers for more information. Start your free trial today to access innovative tools to assist with building your Amazon business.
Have any questions? Feel free to drop a comment or reach out to our customer service team at [email protected]!
Want the latest Viral Launch updates, Amazon news, and seller tips and tricks sent straight to your inbox? Just drop your email in the box below!