You want to start selling on Amazon, but you're wondering about Amazon seller fees? Seller fees include:
Per-item fees

Referral fees

Closing fees

Storage and shipping fees (if applicable)
The total fee depends on what products you sell and how you choose to sell them.
Selling on Amazon is an amazing opportunity for individuals looking to make money online. All you have to do is find a great product to sell, buy it, and put it up on Amazon. Oh yeah, and pay Amazon seller fees.
Amazon seller fees vary depending on the product you sell and the way you choose to sell on Amazon. If you sell under an Individual account, fees are different than if you sold under a Professional account. Fees also vary depending on how you ship your products.
Every selling option has its own set fees. So let's break them down.
Per-item Fees
If you are selling items on Amazon under an Individual seller account, you will be charged a $0.99 fee for each item that you sell. So if a shopper finds your product, adds it to the cart, and checks out, you're being charged $0.99. If a shopper finds your product and adds 3 of it to their cart and checks out, you're being charged $2.97.
If you're just selling your old textbooks or lightly used products from you garage, this fee is no big deal. You're probably just happy to get rid of what was taking up space in your house. But if you're selling products as a side-hustle or growing an entire brand, the $0.99 fee starts to add up and cut into your margins.
That's why Amazon offers another option. If you're selling more than 40 items a month, you will want to look into a Professional selling account. With a Professional account, you pay a flat fee of $39.99/month and have no per-item fees.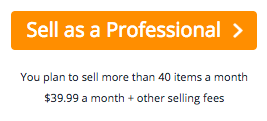 Referral Fees
The second fee sellers have to pay is a referral fee. Depending on the product category, the referral fees may be higher or lower. For example, Amazon device accessories have a 45% referral fee, but personal computers only have a 6% referral fee.
If you're selling an Amazon Echo charger, that means 65% of the selling price for that product goes straight to Amazon in referral fees. And if 65% of the selling price is less than $1.00, Amazon will charge you their minimum fee of $1.00. See the full breakdown of referral fees by category.
For orders that are packed and shipped by the seller, Amazon adds the shipping cost to the sale price before calculating the referral fee. For example, if you are selling salt and pepper shakers for $12.99 with $2.38 shipping charge, your referral fee would be $2.31.
Closing Fees
For all media items, sellers also have to pay a closing fee of $1.80 per item sold. Media categories include Books, DVDs, Music, Software & Computer/Video Games, Videos, and Video Game Consoles.
FBA Shipping Fees
Sellers who are part of the Fulfillment by Amazon program also pay FBA fees. Sellers are charged for storage, order fulfillment, and optional services like gift wrapping. This is in addition to the $39.99 they pay each month for a Professional Seller account, Referral fees and any Closing fees.
Amazon inventory and storage fees vary based on product size and time of year. If you have a standard size product, storage fees are $0.69 per cubic foot January through September and $2.40 per cubic foot October through December. If you have an oversized product, storage fees are $0.48 per cubic foot January through September and $1.20 per cubic foot October through December.
Amazon order fulfillment fees for your product depend on size and weight. Because storage and fulfillment fees are dependent on size and weight, these fees are important in your product selection process.
For instance, laundry baskets might look like a decent product market. But if the price point is about $24.97 and Referral fees are $3.75 and FBA fees are $18.62 because of the size and weight of the item, that leaves you with almost no margin. And then you still have to subtract the landed cost of the item.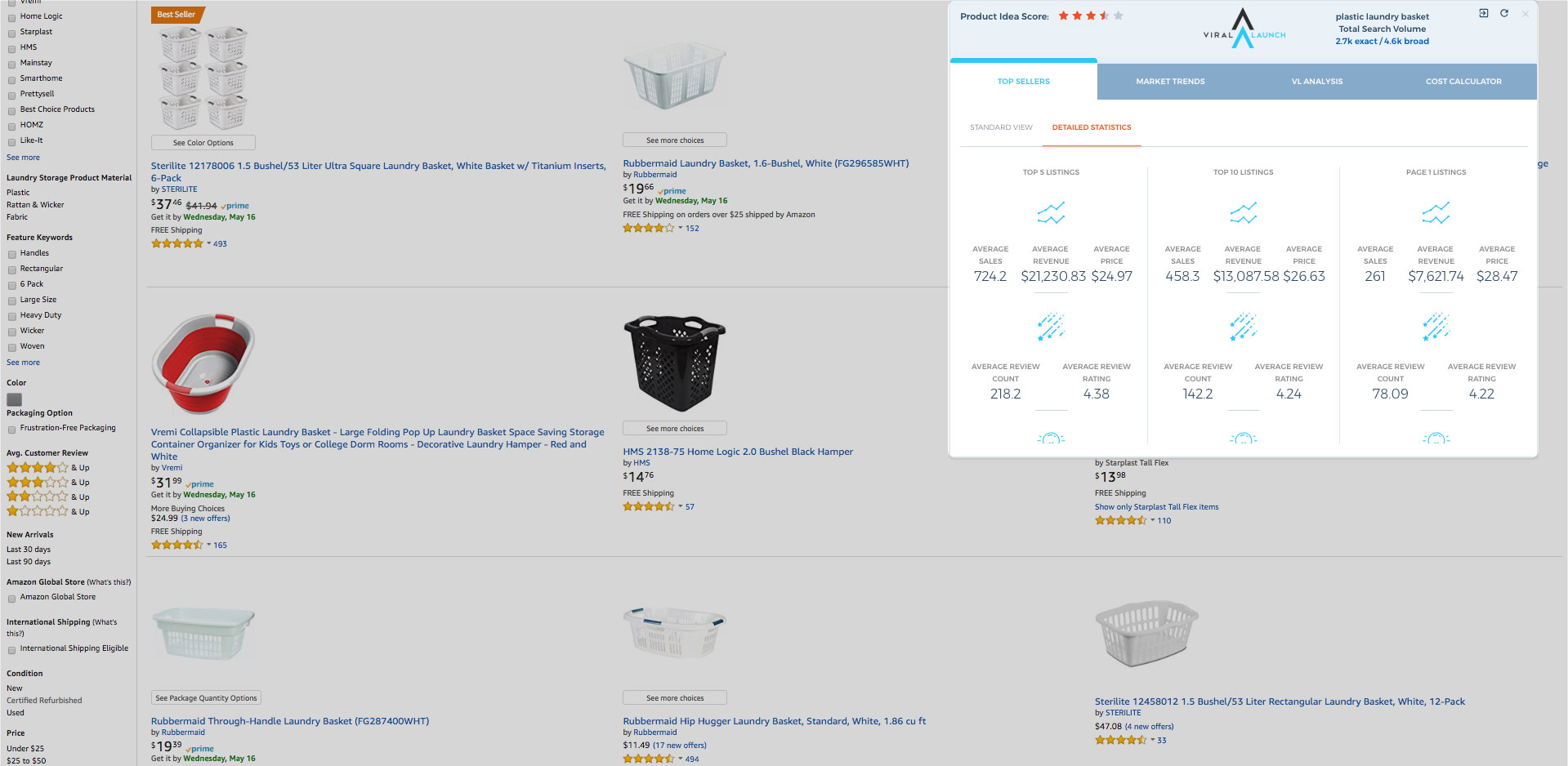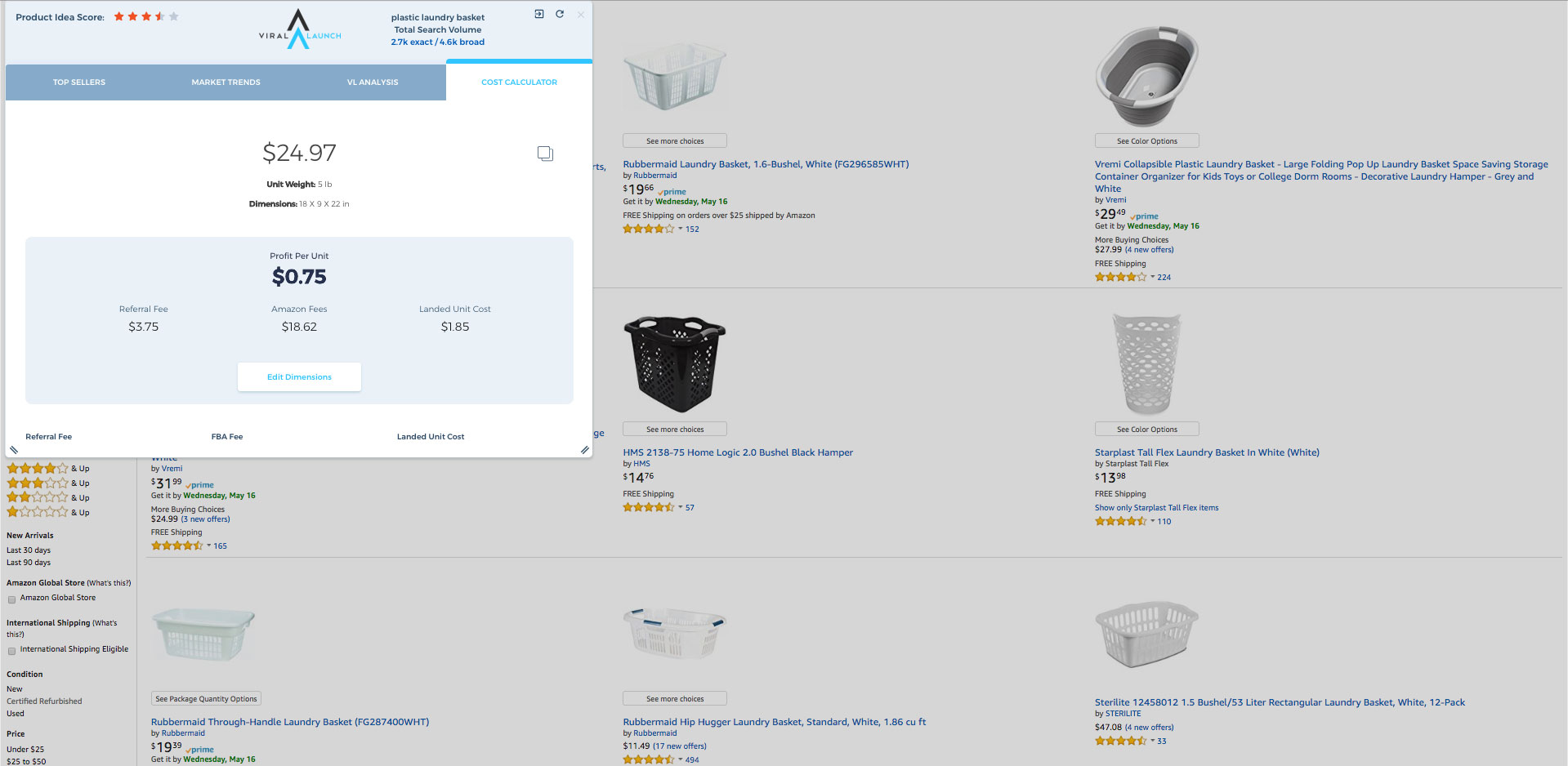 When you subtract Amazon seller fees and calculate profit, a market that once looked appealing with $13,000 monthly revenue may not match your goals anymore. You can use the Viral Launch FBA Calculator to see your potential profit after Amazon fees. Or you can access the cost calculator inside the Market Intelligence web app or Chrome plugin. Make sure you're getting the most accurate calculation by adjusting the size, weight, and landed cost of your product.