What items are at the top of your Amazon to-do list? When it comes to maintaining your sales, you should be dedicating a significant amount of time to tracking and improving your Amazon Sponsored Ad campaign performance. Identifying potential issues and fixing them before your campaigns start to perform poorly can save lots of time and headache in the long-run.
Let's dive into the most important metrics to monitor in your Sponsored Ads, and how you can add smart automation to increase your success rate on Amazon.
A Common Mistake Made in Amazon Sponsored Ad Campaigns
Constantly optimizing your ad campaigns is so important because Amazon's algorithms are designed to reward products that perform well, and even a single day with low sales volume will negatively impact your sales velocity. As a result, both your organic rank and paid rank will suffer.
As you're managing Sponsored Ads campaigns, it is very important that you pay attention to every single ranking movement, ensuring that you know when your ad is performing well. Getting this right will not only result in a well-performing campaign, but it will also help your promoted listing gain organic positions. (If your goal is to push organic rankings via sponsored ads, make sure that your listing is optimized for your targeted keywords before starting the campaign.)
Many advertisers fail with Sponsored Ads because they don't know how the platform works. They'll throw marketing dollars into this advertising channel without any sort of plan in place. One of the causes of this behaviour is that Sponsored Ads is one of the hottest topics in the Amazon space and every Amazon "guru" out there is trying to monetize this trend by selling information that is often not backed by data. The result is hundreds of new sellers starting to advertise on Amazon only because they've been told to do so, and they're afraid of missing out if they don't join the trend. Classic FOMO.
Guess what? This behaviour will get you in big trouble.
The Ad Strategy that Can Change Everything
Amazon's Sponsored Ads engine is run by a sophisticated algorithm. Understanding its mechanism is not easy, even if you have some previous experience running campaigns on Google Ads (formerly Google AdWords). There are so many moving parts that it takes just one of them performing poorly to jeopardize your whole campaign.
Many people make the mistake of thinking that building campaigns in Amazon's Sponsored Ads is just the same as in Google Ads. Unfortunately, this is not the case. While Google Ads is designed to drive traffic from different channels and optimize based on the trackable goals that you specify (eg. lead, purchase, view of a key page, etc.), Amazon's Sponsored Ads optimization algorithm is designed to favour ads that make Amazon more money.
This, of course, changes everything.
One of the things that I've learned over years of managing campaigns on Google Ads is that your campaign performance will only be as good as you are at managing it. For instance, the mistake that most people make with Sponsored Ads is to focus solely on ACoS which is not the best KPI (Key Performance Indicator).
For a campaign to be profitable, you need to first know your breakeven point. This is determined by your listing's conversion rate, cost-per-click and, of course, the maximum cost that you are willing to pay to acquire a customer (Max CPA). Once you have these metrics, you need to calculate your maximum cost-per-click that you can afford to pay to be profitable.
You can use the following formula to calculate your maximum cost-per-click:
The table below will help you to calculate what your Max CPC should be based on the metrics mentioned above:
Sale Price

=

The price at which your product sells or is sold at after its price has been reduced.

CoGS = Cost of Good sold including Amazon fees and various manufacturing costs.
Max CPA

= (Sale Price – CoGS = CPA) The maximum cost you can afford to pay to acquire a customer and break even.

Listing CR

= Your current listing's conversion rate (you can find this number in your

Seller Central's business reports

)

Max CPC

= The maximum cost you can afford to pay for a click and still make money.
This formula will change everything, as you will learn that, often, the keywords you're currently targeting are not the best-performing. Consequently, you will be more profitable if you focus on those that you can afford to buy clicks for (based on your max CPC).
Once you have this step figured out, the next big metric to monitor is your ad position.
If you are familiar with Google Ads, you probably know that one of the most popular bidding strategies is the "bid to position." In fact, Search Engine Land even wrote a script to automate this. Of course, having your ad show in position one is the goal for most advertisers, as this will not only increase the ad visibility but get you the highest CTR (ad copy plays a big role here)  which means more traffic. This rule is significantly more important with Amazon Sponsored Ads given that nearly 70% of Amazon.com shoppers place orders using a mobile device.
Keep in mind that higher position means, often, higher CPC so you have to focus on conversion rate optimization first (if you listing's conversion rate is low) and ensure that you can afford to pay a higher CPC that allows you to compete for position #1.
Now that you know how important your ad position is, it is imperative that you build and structure your campaigns in a way that allows you to achieve this result while minimizing your ad spend.
Keep Track of Your Ad Position
After testing this theory with outstanding results for the past nine months, we decided to build a tool that allows Amazon advertisers to monitor their ad position and receive notifications alerting you when your ad is losing positions. Keyword Manager shows exactly where your product is ranking so that you can precisely measure the results of your efforts. You can even view historical data to see where your ads are at now compared to where they've been in the past.
Alongside your Amazon Sponsored Ad rank, Keyword Manager shows helpful metrics such as Amazon's Choice Badge notifications, Amazon's relevancy score, search volumes, suggested CPC bids, organic rank position, whether or not you're indexed, and more. No other tool shows you these many keyword insights.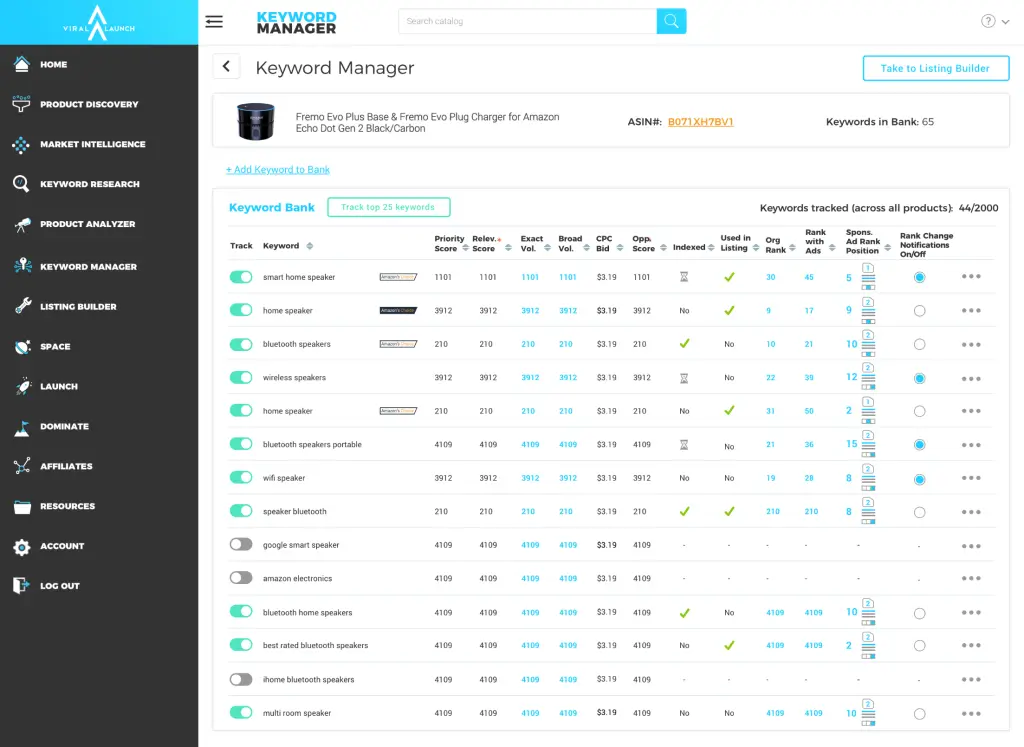 Try Keyword Manager out for yourself. Whether you're implementing a new Amazon Sponsored Ad strategy with profitability in mind, or you're monitoring your indexation and keyword rank, Keyword Manager equips you with the metrics you need to position your listing for success.