Since the inception of the Amazon FBA service in 2006, sellers on the platform vied for more opportunities to boost brand awareness and showcase brand offerings. Currently, one of the best ways to elevate your brand is by creating an Amazon Storefront (sometimes called an Amazon Store) for your online business.
In the fast-paced world of e-commerce, an Amazon Storefront offers online business owners a unique chance to make a lasting impression on potential customers. By harnessing the power of branding, storytelling, and customized shopping experiences, a well-crafted Amazon Storefront can set your business on a trajectory of success within the Amazon marketplace with a host of benefits otherwise unavailable.
Below, we'll dig deeper into what exactly an Amazon Storefront is, who it's for, and a step-by-step guide on how you can create one today.
What is an Amazon Storefront?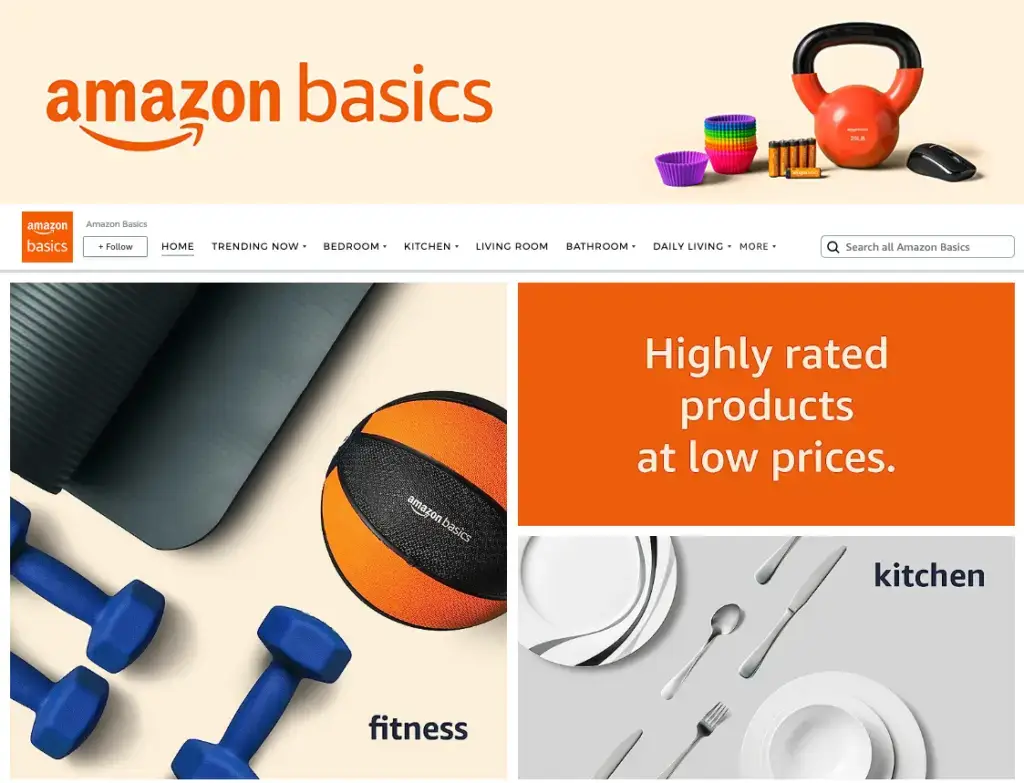 At its core, an Amazon Storefront is a dedicated, customizable space within the Amazon ecosystem that allows sellers to curate a branded shopping experience for their customers. Unlike individual product pages, which often lack personalization and cohesiveness, an Amazon Store empowers sellers to tell their brand's story, showcase a diverse range of products, and build lasting connections with their target audience.
As always, we highly recommend making use of every avenue made available when it comes to differentiating your product on Amazon. For an easy, streamlined customer shopping experience, Amazon restricts the sellers' space to showcase their products through images and copy. Because of this, the appeal of an Amazon Storefront becomes obvious, offering extra space to establish your brand identity and make a persuasive pitch to customers.
The advantages of setting up an Amazon Storefront are multifaceted. First, it enables sellers to reinforce brand identity by incorporating their logo, brand colors, and images that resonate with their customers. A compelling, cohesive brand story can elevate the shopping experience to foster brand loyalty and encourage repeat purchases.
Secondly, an Amazon Storefront offers the opportunity to showcase an extensive selection of products organized into various categories and accompanied by captivating content. By presenting their product offerings in a curated and visually appealing manner, sellers can effectively highlight each product's unique value, thereby boosting the chances of conversion.
Moreover, Amazon Storefronts allow sellers to gain valuable insights into customer behavior through robust analytics. Monitoring metrics such as page views, traffic sources, and conversion rates can offer deep insights into customer preferences and help sellers refine their marketing strategies for better results.
Who Can Create an Amazon Storefront?
Before you start setting up your Amazon Storefront, you'll want to ensure you have access! Sellers must have successfully signed up for Brand Registry, which requires a registered trademark and completing a form to gain access to the program.
The Amazon Brand Registry program is a strategic initiative to empower brand owners and enhance their control over their presence on the Amazon marketplace. By enrolling in the program, Amazon businesses gain exclusive access to a suite of tools and resources that enable them to establish and safeguard their brand identity, effectively manage product listings, and mitigate potential instances of unauthorized use or infringement.
In case you missed it, check out this complete Amazon sellers guide to brand registry.
In addition to the elements of brand protection, sellers in the program gain additional freedom on the marketplace not accessible to sellers not enrolled. Through a combination of advanced search and reporting capabilities, as well as a streamlined process for reporting violations, the Amazon Brand Registry program offers a robust framework for brand protection, fostering trust among customers and promoting a more secure and authentic shopping experience.
As long as you are in the Brand Registry program, you'll have access to create your very own Amazon Storefront at no additional cost! If you're not enrolled in Brand Registry but meet the requirements, feel free to sign up as soon as possible to begin enjoying an elevated seller profile, enhanced brand protection, and so much more.
How to Create Your Amazon Storefront for your amazon business
On top of being free for sellers enrolled in the Brand Registry program, setting up your storefront is incredibly quick and easy.
Log into your Seller Central account and hover over the Stores tab. A drop-down menu will appear and you must click on the Manage Stores option. All your brands in the Brand Registry program attached to your Seller Central account will appear. Each brand can only have one storefront, so you'll want to keep that in mind as you put together the page design. Click on the "Edit Store" button and you can get started building your store.
1. Add Your Brand Display Name
Simple and easy! Enter your brand name for display on your storefront. As Amazon points out in the description, leave out any extra phrases such as "Shop now" or "LLC." in your brand name. If your brand is "Taylor's Tool Shop, LLC.," you'd type "Taylor's Tool Shop" in this section.
2. Upload your Brand logo
Your brand logo will appear prominently on your page and potentially elsewhere on product pages, so ensure it's a clean, crisp, and high-quality image without distractions. If you don't have a brand logo, don't panic! Creating a killer brand logo doesn't have to be expensive or time-consuming. Check out our guide on How To Make A Logo & Build Your Amazon Brand and return once you've created the perfect logo for your brand.
3. Fill Out Your Meta Description
A meta description is a concise summary or snippet that provides a brief overview of the content on a web page. It's commonly displayed below the page title and URL. Meta descriptions serve as a preview or teaser for the content on the webpage, aiming to capture the reader's attention beyond the web page title and entice them to click through to the page.
Search experts like Search Engine Journal, Moz, and Yoast all recommend keeping your meta description around 150-160 characters, which includes spaces and punctuation.
4. Select Your Amazon Storefront Template
To make the creation process as streamlined as possible, Amazon includes three templates with default tiles for you to display your products in a sleek and clean appearance.
Marquee
The marquee template is designed to act as a brand or sub-brand gateway page. As you can see in the image below, the Storefront breaks down Amazon Basics into categories the shopper can click into to find what they're looking for. The Storefront serves as a page that displays a breadth of products in their catalog, organized thoughtfully for the shopper.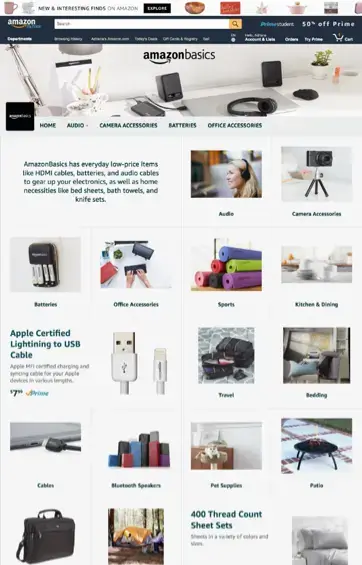 Highlight
The Highlight template aims to showcase products and related content in an easily sortable way for the customer, with a mix of product photos and lifestyle images to engage and attract customers.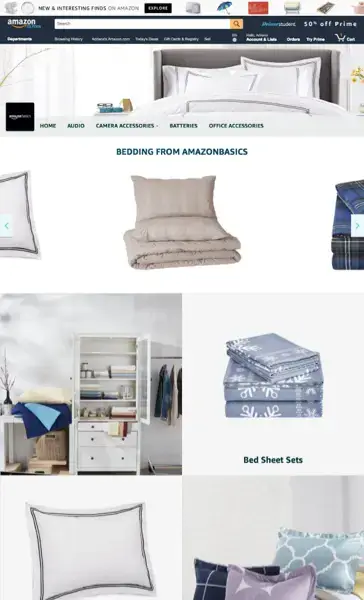 Product Grid
Last but not least, the Product Grid template displays many products at once, showing only the white-background image required for a main image. In this template, products appear similar to how shoppers are accustomed to shopping, with a clear primary image, price, review ratings, and shipping information to give potential customers a quick rundown of your products efficiently.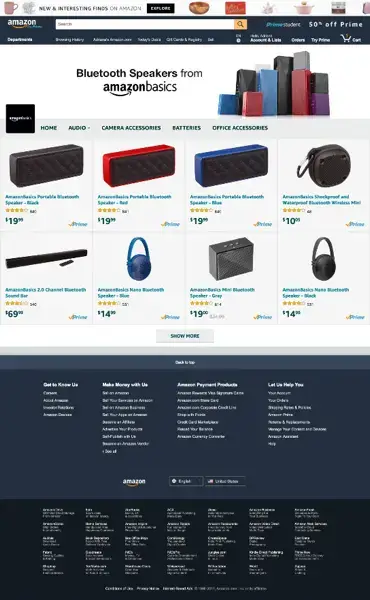 5. Customize Your Tiles
Depending on which template you choose, you'll be given an assortment of blank tiles to customize with brand assets to your liking.
Like Enhanced Brand Content, Amazon allows sellers to fill this space in several ways. Each tile can be filled with a product page, image, image with text, shoppable image, text, video, and background video.
How you customize your tiles depends largely on your preference and product catalog. If you manage various products across categories, the Marquee option lends itself to being a home base for your diverse range of items. Sellers with a more concentrated catalog may opt for the Highlight or Product Grid templates to focus on a more defined set of products.
No matter how you design your tiles, you'll want to ensure the pictures, copy, and/or video is professional quality all the way through. Pixelated, poor-quality images and videos and grammar-deprived copy with spelling mistakes do more harm than good, damaging your reputation and creating doubt in the minds of the customers you're aiming to entice.
Freemium tools such as Grammarly and Wordtune work wonders with copy. Likewise, Pixlr X and Canva offer similar enhancements for photo editing made simple.
How to Create Your Amazon Storefront As An Influencer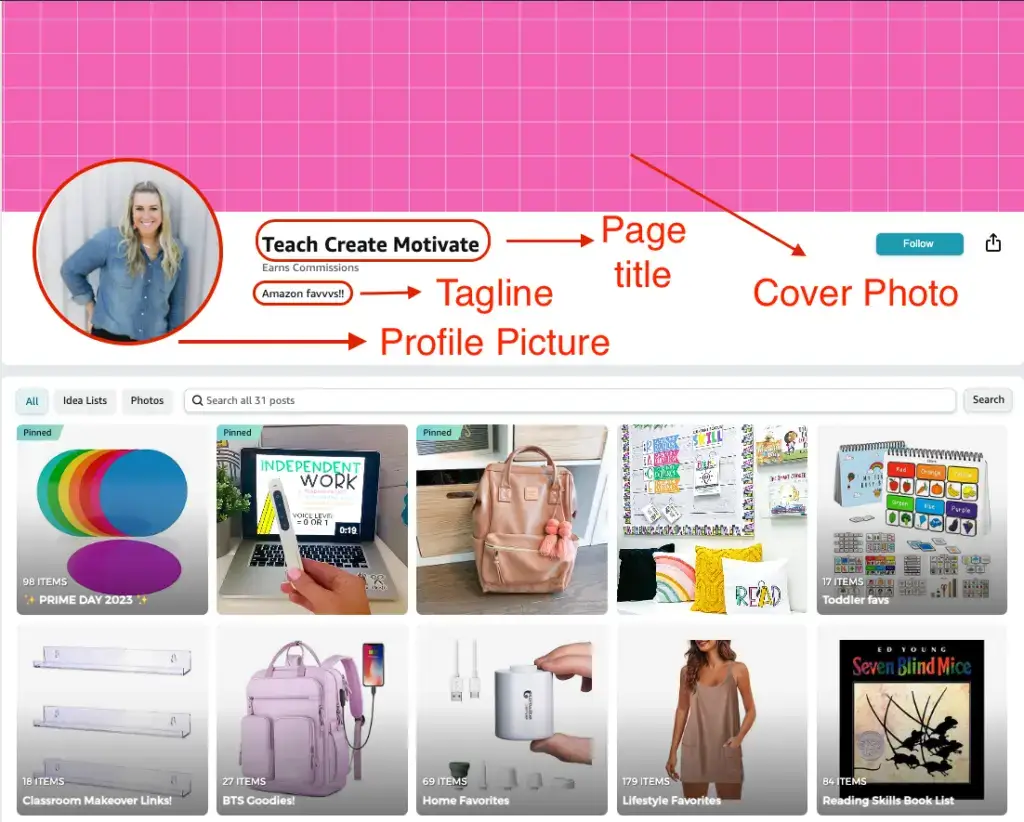 For those in the Amazon Influencer Program, an Amazon Storefront presents a tremendous opportunity to leverage your following organically and curate items to earn affiliate commissions on recommended and linked products. An Amazon Storefront allows influencers to share their favorite products, styles, or gadgets directly on Amazon, just a few clicks away for customers to complete a purchase!
The Amazon Influencer Program and Amazon Storefronts go hand-in-hand, an ideal space for influencers to promote products, collaborations and activate brand deals so they can diversify income streams for long-term revenue potential. Once enrolled in the affiliate program, influencers can create their Amazon Storefront on mobile or desktop, making it easy to create and customize the page to their liking.
If you're building your page on mobile, you must sign into the Amazon Mobile App with the email used to join the program. To get started, navigate to the "Update your Storefront" page. On desktop, go to the tab labeled "Your Storefront" to create or modify your page. For mobile users, you can find this by scrolling over to "Your Account" before clicking "Your Storefront" and, finally, tapping "Edit my Storefront" to start building your stellar storefront.
1. Update your profile photo
Like your personal Facebook, Twitter X profile, or Instagram, your page requires a profile picture. Since this page represents an extension of your professional brand, make sure your profile picture stands out and appears professional.
Don't have a logo for your Amazon business? No worries! Check out our guide for how you can create your logo and build your Amazon brand.
2. Update your cover photo
On the bottom-right of the page, you should see a camera icon. Tap this icon and choose a photo from your device to serve as the cover photo on your Storefront page. Amazon recommends choosing a photo with 1275px X 284px dimensions, allowing only images under 5MB.
Like the first step, these need professional, high-grade images that effectively communicate who you are and what you sell through your creative assets. While building your page, it should feel cohesive and exude an air of professionalism. Ideally, each space works perfectly on its own while connecting the rest of the page, so customers can pick up quickly on what your business offers and what it's about.
3. Add a page title
With your images set, it's time to focus on copy to complement your visuals. When creating your page title, consider it a space to let customers know who you are quickly. It could be as simple as a business name, product category, or social media handle. No social media network or Amazon trademark can be used in this section per Amazon requirements.
For example, a page titled "Tim The Tool Man Taylor's Top-Selling Tools from TikTok" would be rejected, but "Tim The Tool Man Taylor's Top-Selling Tools" would pass with flying colors.
4. Add a page tagline
This is where you get a chance to really flex your marketing muscle! On Amazon, there's very little space for branding, so this is the ideal place to whip up your very own "Just Do It," "Think Different," or "I'm Lovin' It" for your Amazon Storefront.
5. Save to publish
Once you've submitted the items above, all left to do is save to make your changes official. As always, we recommend reviewing each step before committing to ensure everything has been completed as intended. Congratulations! Your Amazon Storefront is ready to go live! Once Amazon approves of your store, you can start posting and more importantly, start earning.
Pro Tips & Helpful Tidbits
Tell Your Brand Story
This is your chance to make your storefront shine! When creating your product listings, the product comes first. By design, Amazon limits character counts on product pages to ensure the content describes the product and its capabilities, leaving little space to expand upon your brand. Consider utilizing your storefront as an "About" page on a website and connect your products if they make sense together.
Use High-Quality Visuals
Nothing leads to customers exiting out of a tab quicker than poor-quality visuals! Low-quality, grainy, or obviously photoshopped images can distract from the product and create an air of negative sentiment and a lack of consumer trust. On the other hand, employing vivid photos can serve as eye candy and improve consumer trust, attracting customers to learn more about your products.
Promotions & Deals
As always, customers love a good deal.
Remember, your Amazon Seller Storefront serves as a virtual storefront for your brand, and it's often the first impression customers have of your products. By following these tips and continually refining your storefront based on data and customer feedback, you can create a captivating shopping experience that drives sales and builds brand loyalty.
Create A Vanity URL
For influencers utilizing an Amazon Storefront, a brief vanity URL can make your page more memorable and easily accessible to shoppers. From the Amazon mobile app, you can create your own URL for your storefront by tapping Edit Storefront > Getting Started > Help & Support and selecting to request a new influencer handle. After that, you'll need to fill out and submit a brief form to finalize the change pending approval.
Wrapping It Up
In conclusion, an Amazon Storefront is not just a virtual storefront; it represents a powerful tool for sellers to build and showcase their brand's unique identity. By providing a captivating shopping experience, a well-designed Storefront has the potential to drive more traffic, increase conversions, and foster brand loyalty.
Above all, embracing the capabilities of an Amazon Storefront can prove to be a game-changer for sellers looking to stand out in the competitive world of e-commerce. An Amazon Storefront can help drive the ever-elusive repeat customer for continued sales while leveraging the success of one product to boost visibility for others.
If you're already enrolled in Brand Registry, creating your very own storefront is a no-brainer. If you still need to, there's no better time than now to get the ball rolling and enjoy the benefits of the Brand Registry program.