Building a Brand that Buyers Trust
You don't need a logo to sell on Amazon, but it is a worthwhile investment. Your logo is the building block for all other marketing materials, like business cards, social media, emails, and PPC advertising. It goes beyond seller ranking and reviews to establish a professional identity that buyers can trust. All private label sellers, regardless of fulfillment method, can benefit from learning how to make a logo.
Everything about your product and packaging sends a message to the buyer, but nothing speaks as loudly as your logo. Having one makes it easier to report counterfeit products (it is even easier if you are signed up for Brand Registry) and protect your reputation. Your logo is your biggest opportunity to prove your legitimacy and communicate your values, so you need to make sure that it is an accurate representation of your brand.
What Makes a Good Logo?
When consumers first come in contact with your brand, one of the first things they will notice is your logo. A well-designed logo keeps buyers interested and shows that you are committed to providing a quality experience for shoppers.
Effective logos typically follow these general principles:
Applicability
Your logo should speak for your brand, but it also needs to reflect the interests of your target audience. Pay attention to what works for your top competitors. Is there a specific style that seems to resonate with buyers? What do you offer that can differentiate your product from competitors? Answering these types of questions will ensure that your logo is both effective and, leading us into our next point, unique.
Uniqueness
It is okay to draw inspiration from current design trends, but your logo needs to set you apart from the competition. Badge logos, similar to the ones below, have become popular for their adaptability and compact style. A badge might be the best choice for you or it may not. Either way, you should not settle on a design just because it is popular at the moment. For example, younger audiences are particularly good at picking up when a brand is trying to be cool rather than authentic. Take the time to research trends to discover what best fits your brand.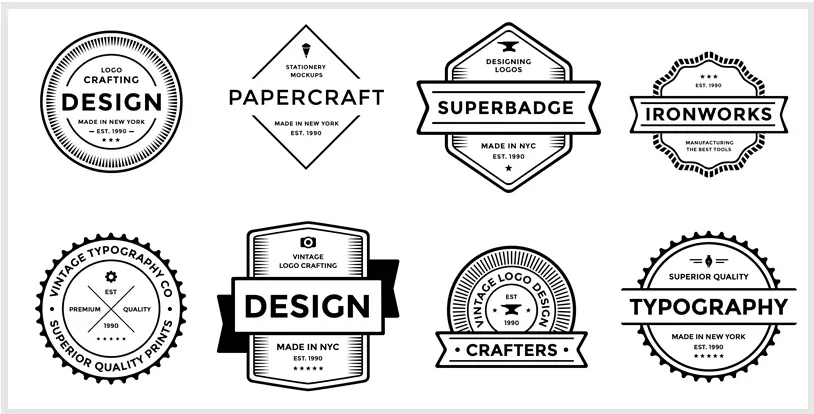 Simplicity
Your logo should be easy to read at a glance, so stay away from vague shapes and heavy lines that are too close together. Consider the Apple logo: an extremely simple shape, an apple with a bite missing, but eye-catching and memorable nonetheless. The IKEA logo is another good example of using basic shapes and complementary colors – an easy visual trick – to grab your attention. Try to stick to a maximum of two colors and shy away from overly complex graphics.
Scalability
You want your logo to be recognizable regardless of size. Use vector software like Adobe Illustrator, or save your design in different resolutions for scalability. Make sure the design works in black and white as well as color. One trick is to begin designing in black and white and then switch to color once you settle on a basic layout. If you are outsourcing your logo, the designer should provide you with several different file types for digital display and printing.

You want your logo to be more than just a pretty image. It needs to be memorable so you can stand out against the hundreds, or even thousands, of other sellers in your product market.
How to Make a Logo
There are lots of free tools available online that explain how to make a logo if you would like to do the design work yourself. Or, if you have space in your budget, you could outsource the task to a design firm or freelancer. Your decision will also depend on how much involvement you would like in the design process.
Do-It-Yourself
Use free design tools like

Canva

,

Piktochart

, or

Adobe Spark

, or pay for professional vector software like Adobe Illustrator. Most sites have blog posts or instructions on how to make a logo with their software. If you use a free site, you may have to pay to download high-resolution images for printing.
The main benefit is you are in complete control of the process, from sketching to final design.

If you want complete control but do not want to draw a single thing, websites like

SquareSpace

and

Logojoy

create logo prototypes based on your preferences and offer them in different resolution packages at varying prices.
Freelance
More pricey than doing it yourself but less costly than hiring a design firm.
You get what you pay for (less for quick, easy designs, more for high-quality designs).

You do not have much input beyond your initial proposal and a round or two of edits.
Design Firm
Most expensive option, but the highest quality of work.
You have little to no input beyond the initial consultation.

If you do not like the final product, you are out a lot of money.
It is always a good idea to know what direction your logo should take before paying for a branding package. Use one of the free design sites to create a mock-up so designers will have a clear idea of what you want.
Get a Second Opinion
It is easy to get caught up in the excitement of creating a logo and miss a crucial flaw in your design. Mistakes like this happen quite often, even for big companies or events.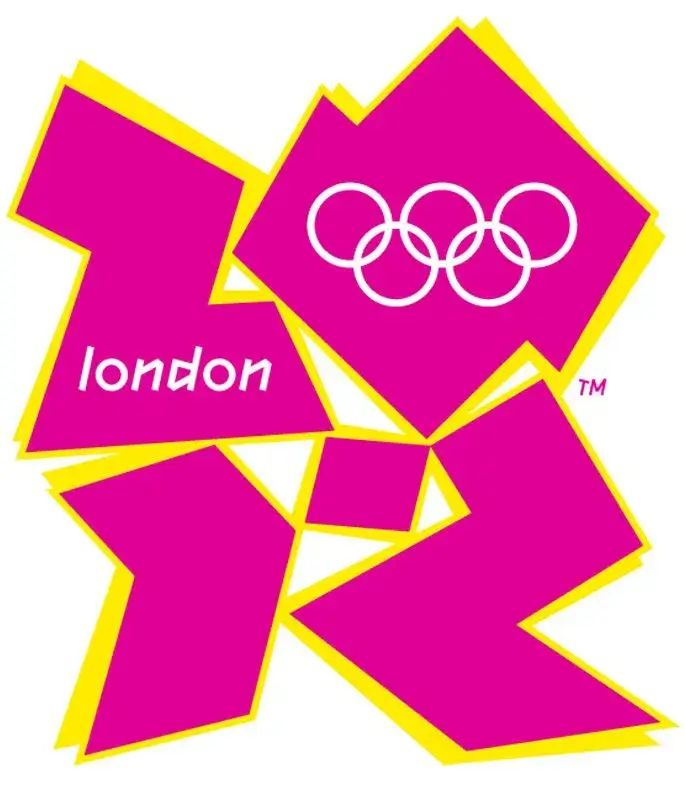 For example, the logo for the 2012 London Olympics was extremely controversial. Traditionally, Olympic logos have featured a popular landmark or recognizable symbol from the host city, so they celebrate the occasion while also advertising the location. The 2012 design may have been technically exciting, but many were angered by the lack of London specific imagery and did not consider it a true representation of the city. Because this logo alienated its audience, it has generally been considered a failure. Mistakes like this can easily be avoided in your design by getting a second or third opinion on your logo design.
How to Make a Logo for Brand Registry
Last year, Amazon rolled out a new and improved Brand Registry program that gives private label sellers an added edge on the market. Brand registered sellers can access advanced product page customization options and receive extra protection against counterfeiters and listing hijackers.
To enroll, you must have an active registered trademark that is the same mark as what appears on your product or packaging. According to Amazon, your trademark must be in one of these forms:
a stylized text-based mark (like the Coca-Cola or Google logos)

an image-based mark with words, letters or numbers
If you already have a logo that fulfills these requirements, all you have to do is register the design for a trademark.

Besides building buyer recognition, adding your trademark to your product or packaging provides an extra layer of security against hijackers who mimic your registered brand at a cheaper price. Once you report the hijacking, Amazon can typically remove the copycat listing in just a few hours. If Amazon needs more proof of infringement, you can order the hijacker's product and then send it to Amazon as proof they are not selling the same branded item.
A trademarked logo is an incredible addition to your marketing toolbox. If you have a larger Amazon store, becoming brand registered will give you the protection and visibility you need to grow your business.
Final Thoughts
The marketing needs of an online storefront are not the same as a brick-and-mortar retail store, but the same branding strategies apply. Creating a logo and registering your brand are two very effective ways to set yourself apart from other private label sellers and build customer loyalty. Here at Viral Launch, we want to provide you with all the information you need to become successful on Amazon. For more on Amazon selling strategies, we encourage you to subscribe to our blog, check out our Youtube channel, and listen to our Follow the Data podcast.