Amazon Enhanced Brand Content (EBC) is one of the most customizable tools in a private label seller's marketing toolbox. With EBC, you can add your own creative touch to your product listing to build brand recognition with high quality photos, graphics and video.
Two of the largest challenges for private label Amazon sellers are differentiation and instilling buyer confidence. First, your product must somehow stand out from the thousands of others in that market. Second, you must convince online shoppers that your product will fulfill their expectations, even though they won't have the chance to see the product for themselves until after it arrives at their doorstep. Luckily for private label sellers, Enhanced Brand Content can help with both.
What is Enhanced Brand Content on Amazon?
Enhanced Brand Content is a simple way to visually enhance the product descriptions of specific ASINs in your catalogue. EBC is one of several marketing services available to private label sellers, though it is currently only available for sellers who are enrolled in Amazon Brand Registry. EBC is still in a "promotional period" and is free to use – though that may change in the future.
Enhanced Brand Content is your chance to share special details, additional information and instructions that do not fit in your main listing. EBC is especially useful for complex products, new or innovative products, and products in highly competitive markets.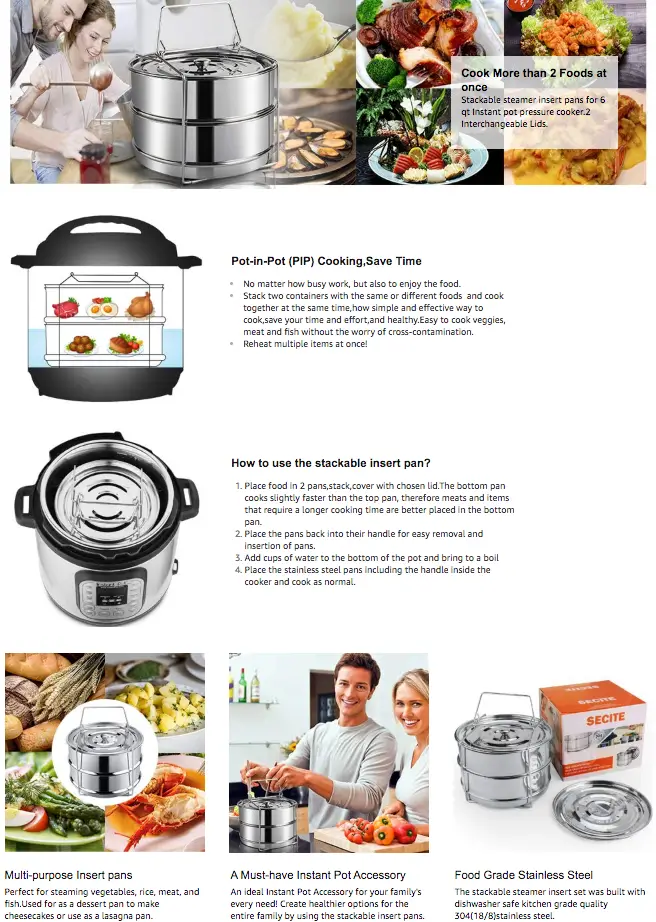 Your EBC differentiates your brand from other brands in your market – generic and name-brand alike. Using consistent colors and fonts across your registered ASINs will increase brand recognition and provide a more coherent look across your catalogue. If you are competing in a crowded market, well-designed EBC could be the deciding factor between you and your competitors.
Consider the example below. Stackable steamer inserts is a fairly competitive market with not a lot of variation between products. Which stackable steamer insert do you think buyers will choose, if everything else is equal: one with a block of text, or one that visually informs the shopper through the use of infographics, cooking tips, and in-depth instructions for care? Any way that you can set your listing apart from competitors can help you claim more market share.
Though the copy is not indexed by Amazon, EBC indirectly helps your ranking by providing extra details that make shoppers feel more confident about purchasing, thereby driving sales, increasing conversions, and potentially decreasing the number of returns. To help your listing's organic rank, remember to ensure complete optimization of your title and bullet points and add back-end keywords. EBC is indexed by Google, so do not forget to add alt text to images within your EBC modules to help rank higher in Google Search results.
How to Add Enhanced Brand Content to Your Amazon Listing
EBC can only be added to ASINs registered under your brand. In Seller Central, access Enhanced Brand Content under the Advertising menu and enter the SKU of the product you wish to enhance. If you choose a parent SKU, all variations will show the same EBC content.
Choose one of the 5 pre-made EBC templates or create a template of your own. Modules include text, images, images with text overlay, comparison charts, sidebars, highlights, and specifications.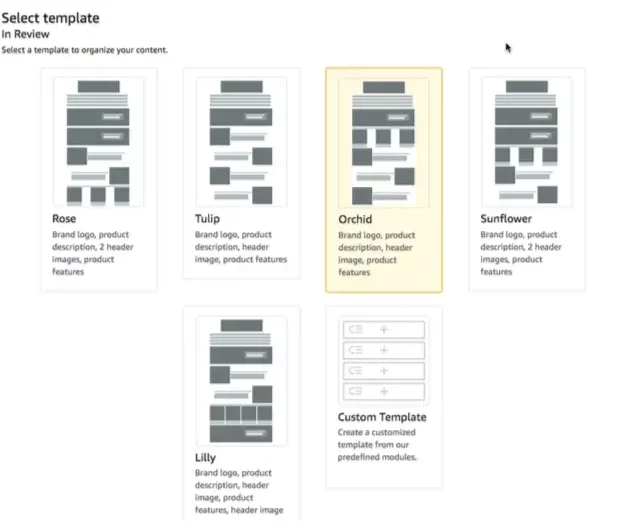 You can use up to 7 modules per template, but you are not required to use them all. It is far more important to provide high quality relevant photos and informational content. If you decide not to use all 7, Amazon will automatically reformat the content to make up for the extra space.
Not every template will work with the type and amount of content you have. For example, if your product has detailed instructions, choose a text-based module. If you have several infographics you'd like to use, choose a template that favors large images. You can always preview how the content will look and make any necessary changes before submitting to Amazon.

Photos or graphics must be equal to or smaller than the maximum size allowed per module. Text can be bold, italicized or underlined, and can include bullet points and numbered lists. Some content will cause Amazon to reject your submission, including but not limited to:
Contact information including addresses or numbers

Blurry or low quality images

Images with unreadable text

Warranties, guarantees, boastful comments or promotional claims (like "cheapest pepper grinder on Amazon" or "#1 best selling item")

Use of copyright, trademark or registered symbols

Grammatical errors, punctuation errors, misspellings, strings of all-capitalized words

Any violations to Amazon's Terms of Service or Selling Policies
Amazon will approve or deny your submission within 7 business days. If denied, Amazon will include suggestions on how to edit your content to remove violations. If approved, your EBC will go live on the product's detail page. You can submit up to 20 templates for review at a time.
Adding Video to Enhanced Brand Content
As of summer 2018, brand registered sellers can also add video content to brand registered ASINs. Video content appears with the main images tiles at the top of the listing. Short videos are a great opportunity to assure buyers that your product looks and acts as you say it will, and to share information with buyers who will not take the time to scroll down for the rest of the EBC. You do not need EBC in order to add video, but the more information you can provide buyers, the better.
Add video the same way you would add EBC: choose an SKU under Enhanced Brand Content in Seller Central, and then click Upload Video. Amazon may reject your video submission if it goes against their content policy. Once your video is approved, it will appear in your product listing in a few hours.
Final Thoughts on Amazon EBC
There is no single marketing strategy that guarantees overnight success, but combining Amazon Enhanced Brand Content with other proven marketing strategies can help you perform better in the long run.
Here at Viral Launch, we want to provide you with all the information you need to become a successful Amazon seller. For more on Amazon selling strategies, we encourage you to subscribe to our blog, check out our Youtube channel, and listen to our Follow the Data podcast.