There are many ways to make money on Amazon. Whether your goal is to simply make some extra cash or build an entire business from the ground up, Amazon provides incredible potential. You can choose to sporadically sell random household goods around your house or start a full-time private label company. And get this – you can even make money selling open box items on Amazon. Refurbished items are a great money maker as many shoppers are looking for deals and are willing to buy open box items to save money.
The Amazon Renewed program was launched in 2017 as one of Amazon's newest selling categories designed to bring refurbished items to its millions of customers. This exclusive seller group requires an application process and only those sellers that meet the outlined criteria are allowed to participate. Sellers who are approved are then qualified to sell their used items as "Certified Refurbished."
The criteria to sell on Amazon Renewed includes a combination of both quality and sales requirements. Becoming part of this group means less competition since members must be approved.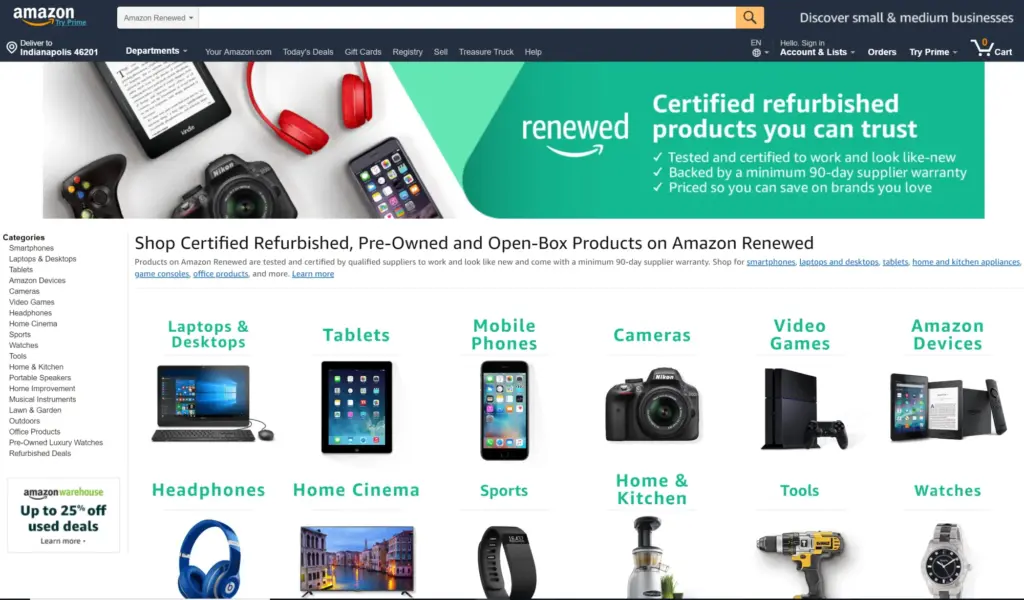 Source: amazon.com
What Types of Products Can You Sell with Amazon Renewed?
Amazon Renewed allows you the opportunity to sell refurbished products in many different categories across the E-commerce site. This means you can probably find a product that falls under your area of expertise. Refurbished items often refer to electronics, but they don't have to be. You can sell Amazon refurbished products in all of the following categories:
Laptops and computers

Smartphones

Tablets

Cameras

Video game consoles

Headphones and audio

Televisions

Office equipment

Home and industrial tools

Watches

Home appliances

Kitchen appliances

Automotive parts

Outdoor and sports

Musical instruments
Requirements to Sign Up and Get Approved
Becoming certified to sell on Amazon Renewed is no walk in the park. You're required to provide details of your experience selling "like-new" products, including sales data and more. Amazon will only approve you if you meet the following criteria outlined on their website:
You can supply invoices showing a minimum a total value of $50,000 in qualifying refurbished purchases in the previous 90 days from the date of the application. You may black-out the unit purchase amount on the invoices. Note that sellers intending to offer products related to Home, Home Improvement, Tools, Lawn & Garden, Outdoors, Kitchen, Sports, Toys, or Automotive, you may supply invoices showing a minimum total of $20,000 in qualifying refurbished purchases in the previous 90 days.

If you are an existing seller on Amazon, we require an ODR of 0.8% or less, with a minimum 700 orders in the trailing 90 days.

If you want permission to list factory refurbished items (with no manufacturer warranty) you need to submit a minimum of 8 images of a sample unit for product and packaging review (box in which the product will ship, inside packaging and padding, product from top and bottom, product from all four sides).

Your company provides a minimum 90-day warranty on all of your Certified Refurbished products

For approval to list on Apple and Samsung brands in Consumer Electronics categories (Excluding Wireless), we require invoices dated from trailing 90 days that total $100K in Apple/Samsung products (non-Wireless). For approval to list on Apple and Samsung brands in Wireless category, we require invoices dated from trailing 90 days that total $2.5 million in Apple/Samsung wireless products. Invoices have to be directly from a national Wireless carrier or retailer with over $5 billion in annual sales (Example: Verizon, AT&T or Target) or the manufacturer (Apple or Samsung). We also accept Wireless invoices from Assurant, Brightstar, PCS Wireless, and Vertex.
These requirements can be hard to meet, especially if you're just starting out. Sellers who don't meet this criteria are still able to sell their products on standard product ASINs in "used" condition. Selling products this way will give you the time to build up your business and eventually meet the demands of Amazon's Renewed program.
Finding Refurbished Items to Sell
If you're completely new to selling used items on Amazon and are wondering where to start, the first step is to do some research. Find products that are in demand by using a market research tool. Our favorite is Market Intelligence from Viral Launch.
This tool pulls data from all the top sellers on Amazon for a specific market. You can then use this data to help you identify markets with high demand, but low competition, as these are the best markets to be in. Look for products that are getting a lot of search volume. A low average review count also indicates that you could easily compete in this market as products with a high number of reviews often get the most sales.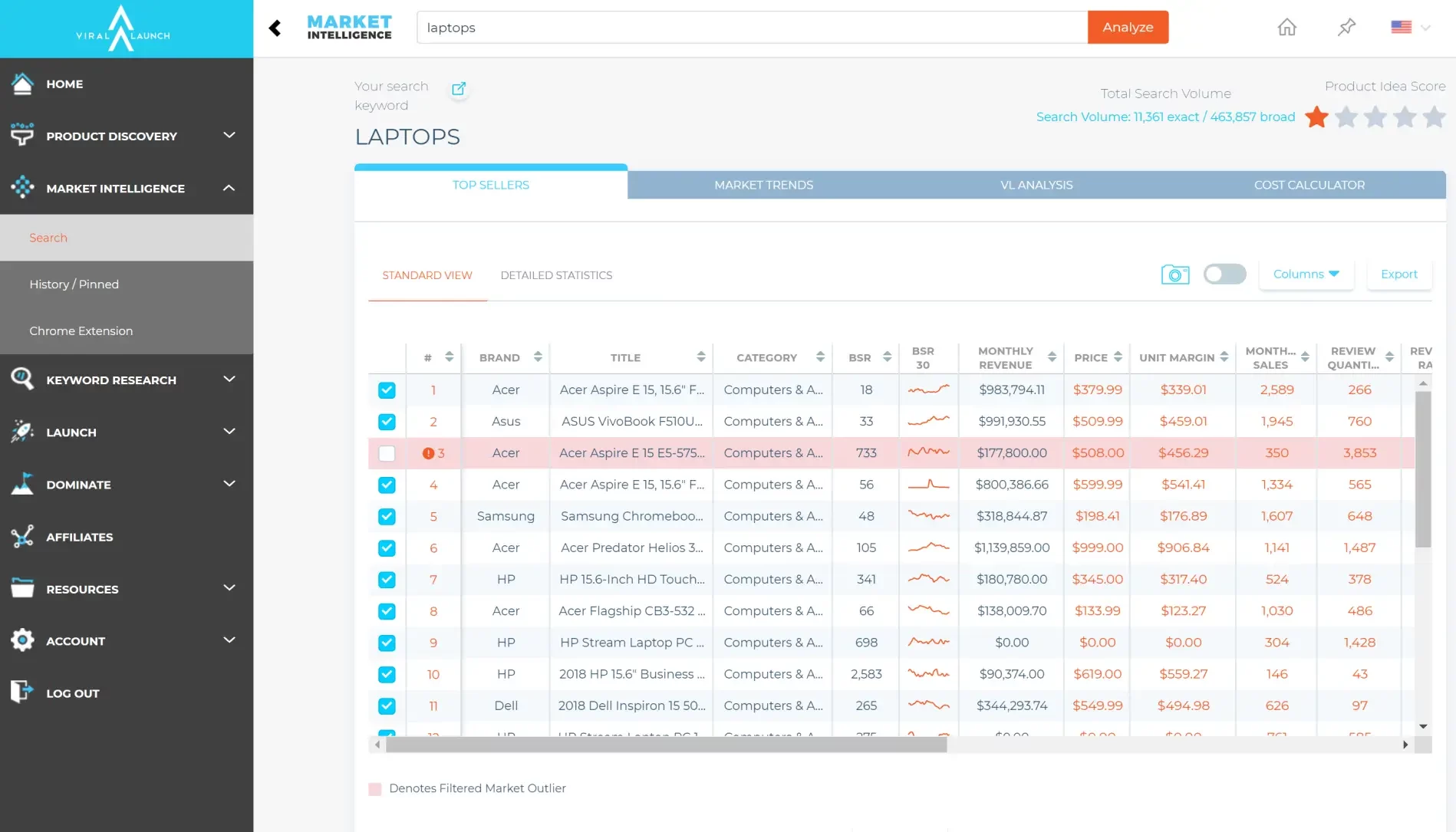 Once you identify a good product market, you have to source refurbished items to sell. Maybe you already have a connection to a manufacturer, but if not, one place to look is Alibaba. Just like finding new products on this online marketplace, you can also search for refurbished items to source. Alibaba can help you connect with manufacturers who offer open box items that you can then source and sell on Amazon.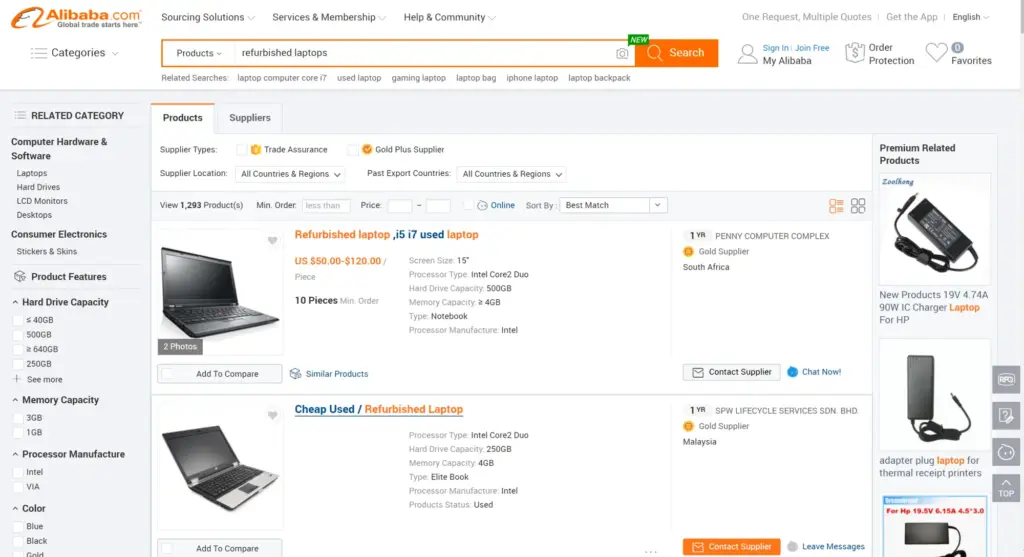 Source: Alibaba.com
You can also purchase refurbished items in bulk from various online liquidation companies. These companies work directly with retail stores to liquidate surplus inventory, which you can then purchase in bulk, often below wholesale prices, and sell for a profit. Many of these liquidation sites use an auction system with the products going to the highest bidder.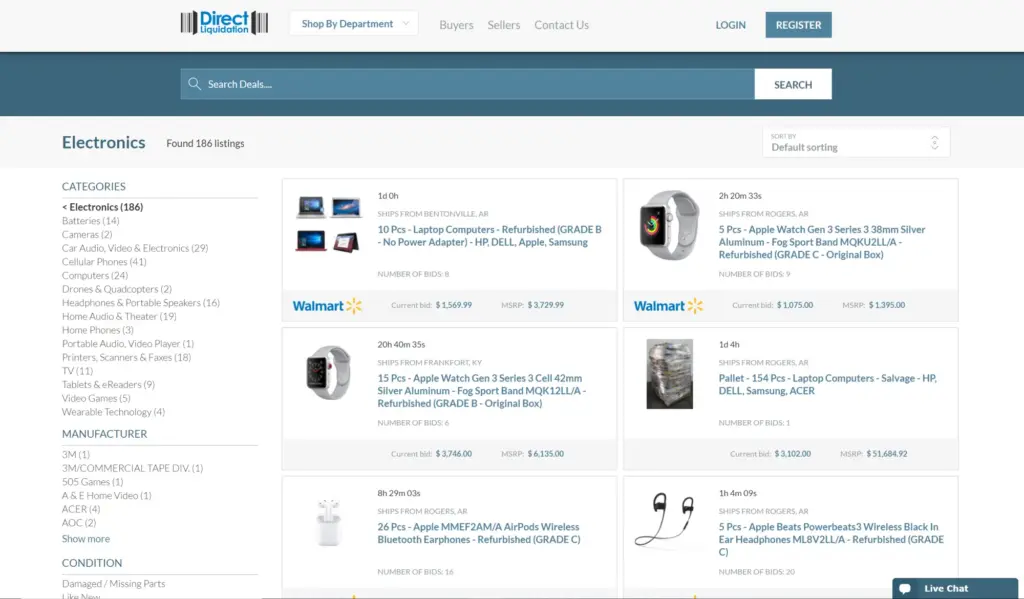 Source: DirectLiquidation.com
Advantages of Selling on Amazon Renewed
Selling any product on Amazon comes with a long list of advantages. First of all, this huge marketplace gives you access to millions of already loyal customers. Amazon has built a global platform that has the potential to bring high visibility of your product across the world.
You can also utilize their other capabilities, such as their fulfillment process, so you don't have to package and ship items yourself. By selling in the Amazon Renewed program, you get access to customers and also face less competition since only select members are allowed to sell in this category.
How to Drive Sales for Your Amazon Refurbished Products
Even though you face less competition as an Amazon Renewed seller, you still need to take steps to ensure your product will sell well. First of all, you'll need to set the right price for your item. Shoppers don't want to pay a high price for open box items, so it's best to shoot for a price that gives the customer a significant discount, but still allows you to make a profit.
Next, if you have control of your listing's content, you'll want to be sure your listing is optimized to get your product seen and to convert sales. You can use a keyword research tool to help you identify the highest volume keywords for your product market and ensure they're placed in your listing. Or you can even hire a professional copywriter to identify keywords and write the listing for you.
Start Your Amazon Renewed Journey
Amazon has tons of opportunities to make some extra cash or even start a full-fledged business. The Renewed program is just one of many. Take advantage of these tips and start your Amazon selling journey today! We'll be here to help you succeed whenever you need us.