Ready to ditch the corporate life and sell Amazon FBA (Fulfillment by Amazon)? Not sure how to get started?
Or maybe you're already selling Amazon FBM (Fulfillment by Merchant) and looking to make the switch …
If you're interested in FBA vs. FBM each program has its pros and cons. But ultimately, FBA provides an unmatched, hands-off selling experience with the ability to scale. For these reasons, many sellers prefer FBA to FBM.
FBA is a method of fulfilling products by having Amazon store, pick, pack and ship your inventory. Through FBA, Amazon even handles returns. Although there are additional fees, setup, and tax obligations, FBA makes it easy to quickly start and scale your business. lot of the content in this blog can also be found from our How To Sell series! Check out the video if you'd like to get started on your Seller Journey:
Why Would I Want to Sell Through Amazon's FBA Program?
You don't have to store boxes of inventory at your house.

One major benefit to selling FBA is that Amazon handles a good portion of the selling process, namely the most time-consuming portions. Although you still have to set up an

Amazon Seller

account (we'll talk more about how to do this later),

choose a product to sell

, list the product, and have the inventory sent to an Amazon Fulfillment Center, Amazon takes care of the rest of the process with FBA. So when a customer orders your product, Amazon handles the fulfillment logistics of picking, packing, and shipping. In

their words

, "You sell it, we ship it."

Once your products are ready to sell and in stock at Amazon's warehouses, they are automatically eligible for

Prime 2-day shipping

. Although it is possible to be a Prime seller through FBM, you must meet extensive criteria to be eligible. And with an estimated

112 million Amazon Prime members

, or about 62% of U.S. households subscribed to Prime in 2019, you can't afford NOT to have Prime shipping. Numbers like that are hard to ignore when it comes to the sales potential that Prime provides.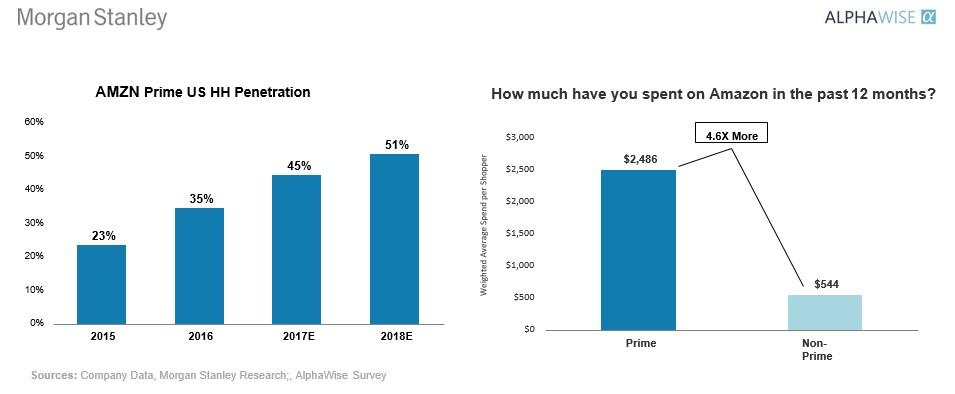 What are the Different Methods of Selling on Amazon FBA?
Now that we've established which program you should sell through (FBA), let's talk about methods of selling, or where to get inventory. There are many options, all of which appeal to different kinds of people. Some are more hands-on, while others allow for higher earning potential. Three of the most common methods include Retail Arbitrage, Wholesale, and Private Label.
Retail Arbitrage

– This is a process of finding discounted products in retail stores (such as Walmart, Target or Kohls) and reselling them on Amazon. To make it profitable, the items need to be bought at a significant discount and sold at a higher price on Amazon. You can sell other branded products using this method and it is often a lower risk option, since you can check before purchasing the items if you will be able to make a profit or not. You can also search liquidation stores or online sites for pallets of returned items that can be resold.

Wholesale

– To sell wholesale, a more unique method, you must find a manufacturer (local or abroad) and convince them to allow you to sell on their behalf. The smartest way to do this is to create an official business or LLC, acquire a wholesale license, then reach out to manufacturers/wholesalers to discuss a contract for selling their items. Getting the business to agree to providing you exclusive selling rights can lower your competition as well.

Private Label

– Private Label selling involves working with a manufacturer to produce items and add your own brand name and logo to the products. As long as there is no patent on the product model, you can legally sell under this method and even work with manufacturers to create product modifications or additions to make your brand's product stand out. Many private label sellers use

Alibaba.com

to connect with manufacturers, get samples, purchase inventory and more.
How Do I Get Started with FBA?
There are two account options when selling on Amazon: Individual and Professional. With Individual Selling Plans, you pay $0.99 per item every time a product is purchased. For those sellers making fewer than 40 sales per month, this may be more cost effective than paying the $39.99 Professional Plan subscription fee. These fees are on top of other FBA fees, which we'll get into more later.
If you haven't already created a Seller account, you will need to set one up. If you already have an account as an FBM seller, you can easily switch over to FBA inside your Seller Central account.
For retail arbitrage sellers selling FBA, you will need to add the product to your inventory in Seller Central and follow the steps to create labels for your items, which can be printed at home. Once you have printed labels, you can package different items in one large box to be shipped to an Amazon fulfillment center and print a shipping label for that box as well.
Keep in mind that you will need to pay for these shipping costs out of pocket, plus any materials needed for shipping (labels, boxes, tape, scale, etc.). Additionally, Amazon may require you to send inventory to multiple fulfillment centers depending on their inventory levels, which could increase your shipping costs.
Amazon does not require sellers to sticker products at the SKU level as long as you have a manufacturer barcode for the product. But other sellers with the same product (that are also "stickerless") could get mixed in with your inventory in an Amazon warehouse and could be picked up and shipped to a customer instead of your stock. If their product is used, lower quality or even counterfeit, you could receive poor reviews, a higher return rate or even be suspended by Amazon for counterfeit sales (even if the product is not actually your inventory).
If you choose to sell Private Label or Wholesale, you'll want to find a good product to source as well as a trustworthy manufacturer. Check out our podcast about finding a good manufacturer to make sure you make a smart partnership as well as our podcast about sourcing the right product to make a sourcing decision that meets your goals.
You can choose to label items yourself (following the method mentioned for Retail Arbitrage) as long as each unit has a scannable barcode or you can pay to have Amazon prep and label each item for an additional per-item fee. Fees can be as low as $.70 per item to as much as $2.20 per item.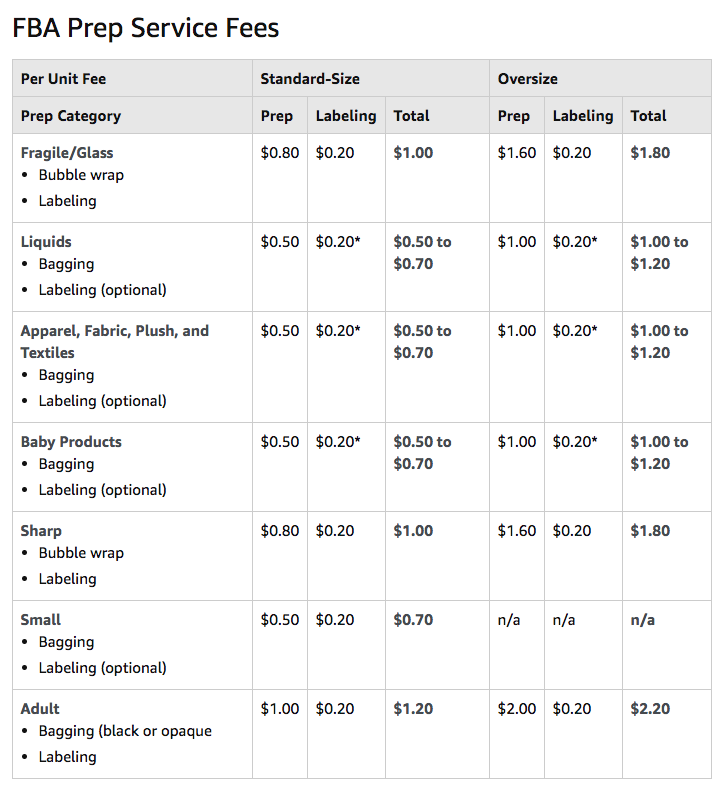 When your shipment is ready to be sent to Amazon, make sure you have an organized shipping plan that includes easy tracking so you can ensure your inventory makes it to the desired fulfillment center. To learn more about carriers who partner with Amazon to deliver shipment to their warehouses, visit their page featuring Partner Carrier options.
Once Amazon has your inventory and your listing(s) is live, Amazon will handle the delivery of purchased items to customers as well as customer service throughout the process. Sellers just need to ensure their item is always in stock and ready for customers to buy. Check out our blog on inventory best practices to make sure you never get behind or run out of stock.  
What are the Fees for Selling through Amazon FBA?
Because your inventory is stored, packed and shipped by Amazon when you sell FBA, there are additional fees associated versus FBM. Earlier in 2018, Amazon restructured their FBA fees into two fee structures:
Fulfillment Fees
Inventory Fees
Fulfillment Fees are per unit, based on the size and weight of each item and include the complete picking, packing, shipping and handling, customer service and return process for each item.
Monthly Inventory Fees are assessed per cubic foot based on the total size of your items. Inventory fees increase for Q4, so it's important to calculate your costs for each quarter. Below is a breakdown of Amazon's FBA fees. Make sure to double check your math with an FBA Calculator for help determining your costs before you source.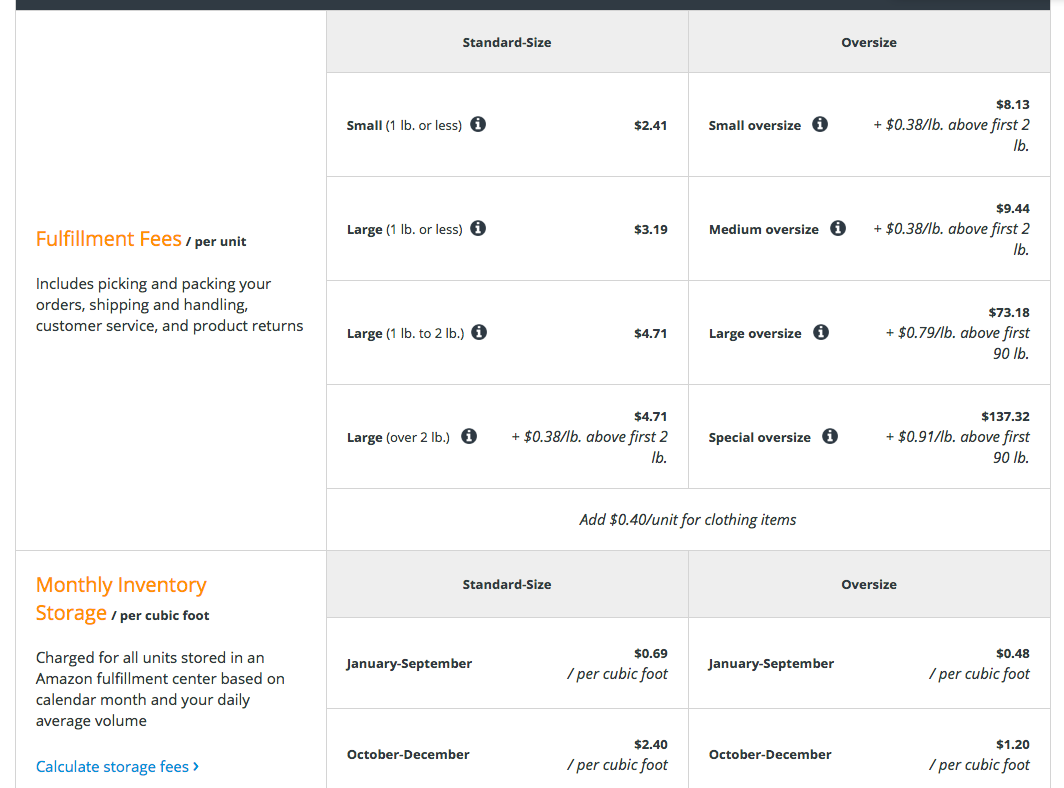 Other potential fees sellers could incur include long-term storage fees (if items in your inventory have sat in a fulfillment center for 6 months or more) and additional storage fees if you choose to participate in Amazon's Multi-Channel Fulfillment Program (more on this later).
Things to Keep in Mind as You Start Your Amazon FBA Business
Although there was once a time when online sellers could get away with not paying sales tax, those days have come and gone. In June of 2018, the United States Supreme Court ruled in favor of South Dakota in South Dakota vs. Wayfair, Inc. Now, one-by-one, states are starting to enact economic nexus legislation.
Because the decision is new at the time of writing this post, it will take some time for the effects to play out. We encourage sellers to keep an eye on internet sales tax by state, and stay informed on the latest news in Amazon sales tax. Sellers should connect with a tax consultant versed in online sales tax regulations to avoid slip ups or potential mishaps in their FBA businesses.
Multi-Channel Fulfillment
Did you know that you can fulfill orders from sales channels outside of Amazon.com through the Amazon FBA Multi-Channel Fulfillment Program? Rather than having multiple different inventory locations and shipping methods for your different online sales sites, store all of your inventory in Amazon's warehouses and let them pick, pack, ship and handle your items to customers, whether the sale is through Amazon.com or elsewhere. There are additional fees associated with the fulfillment process for multi-channel orders, but you can skip the headache of storing, packing and shipping your items and let Amazon do the heavy lifting.
If you are selling retail arbitrage or wholesale, the Buy Box is going to be very important to you. The Buy Box is the box on the right hand side of a listing page with the price, seller and shipping information as well as the "add to cart" button. If there are multiple sellers on a listing, they will be listed below the seller who has "won" the Buy Box. Since the majority of buyers purchase from the seller who has "won" the Buy Box, winning is critical to increasing sales. Although there are several factors considered to "win" the Buy Box, fulfillment method is a crucial component. And FBA sellers are significantly more likely to secure the Buy Box over other sellers.
If Amazon is handling the customer service for your product under FBA, you shouldn't have to worry about reviews right? Wrong! Reviews are a huge driver of sales, so whether you're selling wholesale, retail arbitrage or private label, bad reviews and a low star rating can tank your sales rate. And, with the ability to filter by star rating, too many bad reviews could effectively leave you out of a user's search results.
For private label sellers, positive product reviews are key to buyer trust in your product quality. If your product is similar to several others in the market, a better star rating could guarantee your product is chosen over your competitor's. For wholesale and retail arbitrage, positive seller reviews are extremely important to establishing trust in your brand's quality. Buyers want to hear from their peers if they can trust purchases coming from your seller account or if they should be concerned with used or damaged goods.
There's been a lot of talk around reviews and Amazon cracking down on review fraud, so making sure you don't violate Amazon's Terms of Service for reviews is vital to avoiding suspension. Check out our video about Amazon's recent "review crackdown":
Final Thoughts: Learn from Failure
Look, it's no secret – Amazon FBA can be a confusing and difficult platform to navigate. You're bound to make some mistakes. What's important is that you learn from your mistakes and minimize missteps in the future. Following our Amazon FBA guidelines is a good start, but to be truly successful, sellers should keep seeking out new information and staying up to date on changes.
There's an old quote that states: "Complacency is the enemy of progress."
Getting complacent or lazy at any stage of your FBA business journey is a recipe for disaster as it requires constant maintenance and upkeep to stay on top. By working hard and arming yourself with up-to-date information, you'll have the tools you need to achieve Amazon FBA success.