Product research is everything for Amazon FBA success. But many competitors, gurus, and "experts" neglect using Amazon search volume data despite its incredible impact. Why?
No matter where you're at in your FBA journey, conducting intensive product and market research is critical to your success.
With each stage of the Amazon selling process, the key performance indicators (KPIs) you rely upon will change, as each phase presents unique challenges. Knowing which data points to observe and consider during any decision-making process plays a significant role in your ultimate success or failure, especially for FBA beginners.
For most sellers, search volume data doesn't enter the equation for product research until you're building an SEO-friendly listing or exploring pay-per-click (PPC) advertising opportunities.
But waiting until after you've found a product to start paying attention to search volume data may be a major mistake!
How does search volume play such an important role in the decision-making process? Easy. It's a significant indicator of one of the most fundamental aspects of any business.
Search volume represents demand.
Outside of Amazon, businesses invest an abundance of time and money into research for demand validation.
What are people looking for? Where are they going for these items? How much inventory should we have in stock? What are interested customers willing to pay? Can I expect steady sales all year long?
With the right research tools, sellers can not only answer all of those questions but can actually reverse engineer product ideas based on years of exhaustive market data. Every metric tells a unique story, and search volume estimates tell the story of demand.
We can safely say this due to the nature of Amazon being a search engine solely for commercial purposes. Others may recommend utilizing Google search volume data for research, but there's a huge part of the equation you'd be missing out on by not using search volume from Amazon.
Searches on Amazon are made with the intent to buy
Check out your recent search history on Google. How many of those searches were made with the intent of buying something? Chances are, not many. On the other end, it wouldn't make much sense to search for something on Amazon without some level of interest in buying something.
So why make a business decision based on searches made with no intent to buy?
Outside of Amazon, Google Keyword Planner and AdWords are incredible tools for seeing what's generating buzz. From that, you can increase your visibility through PPC advertising outside of Amazon. But Amazon and Google serve two entirely different purposes as search engines.
Google organizes information and makes it universally accessible. Amazon is much more focused on commerce and making transactions as frictionless as possible for sellers and buyers.
Utilizing search volume data for Amazon instead of Google eliminates the guesswork of buyer intent. As a result, you can focus on the level of interest in your market directly from your audience.
Where can I find Amazon search volume?
Viral Launch's search volume estimates (available with any plan with access to Keyword Research) display search volume history ranging back years to keep an eye on product seasonality.
Every product is bound to have peaks and valleys in sales. But not paying attention to seasonality is an all-too-common rookie mistake.
For example, let's take a look at this chart for the search volume history of "kettlebell." If you were to have looked at search volume estimates in April or May of 2020, you might believe you've hit a grand slam product idea.
From this graph displaying years of search volume data, we can reasonably conclude traffic for kettlebells skyrocketed as gyms closed. As a result of COVID-19, gym rats worked out more at home.
As more people receive their home workout gear and gyms re-open, searches have seen a downtick in the previous two months and will likely continue regressing to the norm. While "kettlebell" receives a significant chunk of searches, it's a far cry from the peak outlier demand in the months after gyms started closing due to COVID-19.
Current search volume provides a zoomed-in snapshot of the moment, and historical search volume data delivers a more complete picture. Using historical search volume data allows us to increase the sample size we're drawing from for more accurate data.
Use search volume estimates to find and validate your niche.
As more and more household brands flock to Amazon and top-selling third-party sellers continue to mature, competing with dominant products is increasingly difficult due to saturation.
By no means does this mean that highly profitable products aren't out there, it just means the strategy for finding them has been updated to fit the current landscape of Amazon as it continues to mature as an e-commerce giant. And for aspiring sellers, it only intensifies the need for astute strategies and well-informed research.
Because of that, we recommend avoiding the oversaturated, uber-competitive markets that are difficult to compete within. While not impossible to succeed in a saturated market, more barriers to entry represent additional risk.
You can find our comprehensive deep dive into our recommended strategies for finding niches and performing product research in today's FBA climate here.
In a nutshell, finding niches is beneficial to sellers because they have an increased likelihood of success and an opportunity to own a segment of the market as both Amazon and your brand grow.
With this strategy, you'll want to avoid overly crowded markets while also making sure you have an audience. With Keyword Research, you can quickly ensure this by utilizing the Estimated Search Volume filter and setting your search parameters.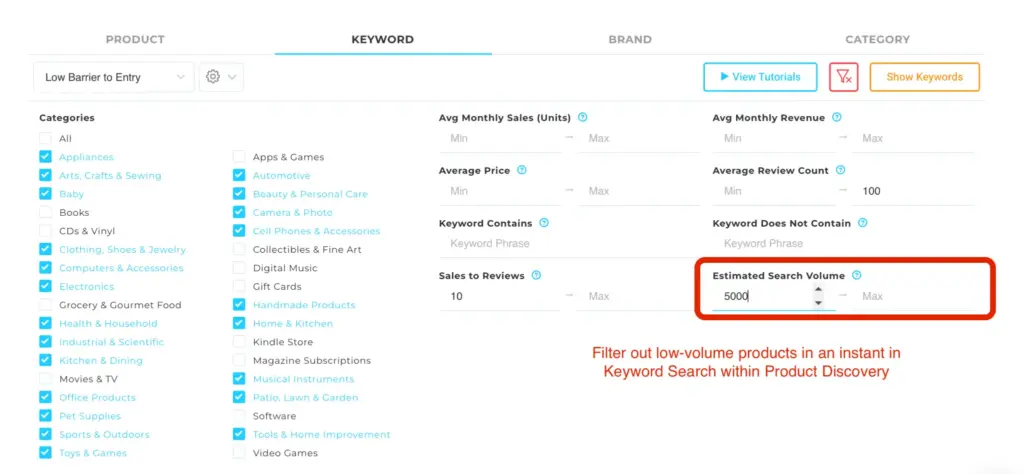 Utilizing the Estimated Search Volume filter in Product Discovery's Keyword Search is an excellent way to hunt for niches.
Once you've narrowed down your filters to match your goals, just click Show Keywords, and you'll be provided with a sortable list that includes estimated search volume as well as data including the average price, sales, reviews, and revenue in that keyword market. Those on annual plans will also see a Product Idea Score. This score incorporates multiple metrics into one score on a 1–5 scale for quick and easy validation.
Using your search parameters, you'll see a full list of keywords on Amazon that meet your criteria. This allows you to evaluate some of the most important elements of product research at once.
As you sift through the results, be sure to use market research tools such as Market Intelligence to further validate product ideas with data, estimates, and insights.
Use this powerful data to your advantage
Don't make the mistake of overlooking search volume data in your product hunt! Without tracking current and historical search volume for a product's seed keyword, you're vulnerable to critical oversights in your research.
At Viral Launch, we believe the most-informed decision is the best decision. Having reliable and accurate search volume estimates in your arsenal is an essential element of making the most informed decision possible.
Don't miss out on the valuable insights from Amazon search volume estimates! Add Keyword Research to your research plan for reliable search volume estimates and an edge over the competition!