By popular demand, Viral Launch's Product Discovery tool receives a handy update to refine your Amazon market research.
The most reliable, trustworthy data in the Amazon marketplace just got a little better. In Viral Launch's Amazon Product Discovery tool for finding untapped Amazon markets, users can now manually refresh the data for the latest, most up-to-date information available in Brand and Category searches.
Previously, the data displayed within the tool for Brand and Category searches may not have been the most up-to-date timeframe, depending on the search criteria. The out-of-date data shown in those instances were often for lesser-known brands or more niche products that did not meet the necessary benchmarks to update daily, as they do in Market Intelligence and our other insightful seller tools.
Now, you can ensure you're seeing the most comprehensive, up-to-date data with the easy push of a button. If the results displayed are more than 30 days old, simply click the "Update Analysis" button near the top right corner of your browser to queue up an update.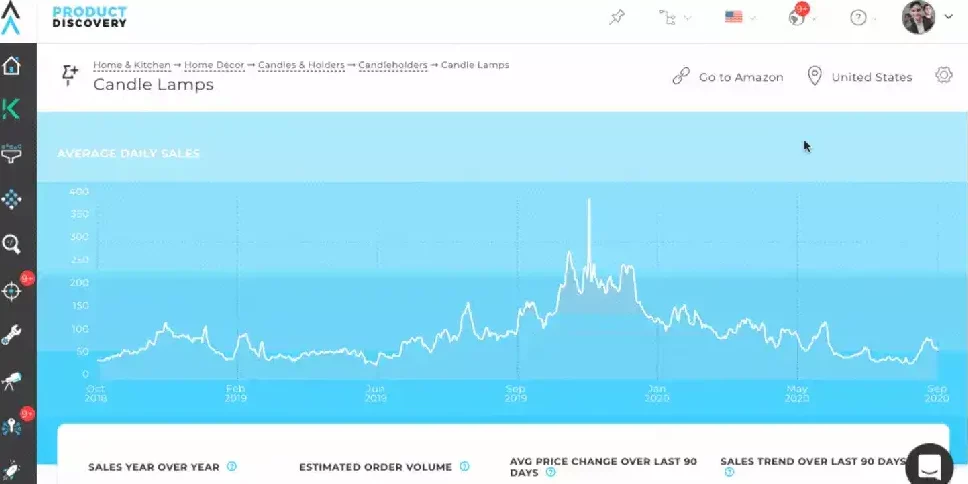 Upon triggering the update, Product Discovery will hunt and retrieve the data requested. Of course, once you start your Amazon research, waiting around isn't a part of your plans. While we fetch the data, you can pin your search and come back to it at any point to check the status and keep a history of your searches.
Whenever you're ready to come back to check the update status or see the up-to-speed results, just select the Pinned Ideas tab on the left menu, select your search type, and your full history of pinned searches will be available to peruse.

The update is currently live, so all users with access to Product Discovery can give their brand and category research a boost. Product Discovery is available within all Viral Launch software packages. If you don't have an active subscription, no worries! Sign up for your free trial today to join the action and take your Amazon market research to a new stratosphere.
To learn more about this new feature, contact us using the chat function or by sending an email with your request to [email protected].