When starting your FBA business, Amazon sales estimate data is among the most important elements of your Amazon research. This type of data will inform your decisions at nearly every step of the process. From what products to source to how much inventory you'll need and when to reorder, sales estimates will help keep you on the path to success.
As with most things in life, there's no surefire way to assure you'll be successful selling on Amazon. But with hard work, dedication and proper research, you can increase your likelihood of success. And luckily for sellers, there are a lot of options and tools out there that provide sales estimates, including the Viral Launch Amazon sales estimator Market Intelligence.
In this guide, we'll go over Amazon sales estimate data and why it is so important for the future of your online business.
Why Sales Estimates are So Important
Sales estimates are one piece of the puzzle when it comes to maximizing your potential for success on Amazon. But what makes sales estimates so important?
Amazon does not disclose the number of sales that products on the platform are making each day or each month. And without knowing which products are selling well, it's almost impossible for an Amazon seller to feel confident choosing a profitable product. But with sales estimates, sellers can eliminate the guesswork and ensure the highest probability of success.
With accurate sales numbers, sellers no longer have to randomly pick a product and hope for the sales to roll in. Instead, sellers can understand how the top products in a market are performing. With an idea of how many daily sales to project for their own products, sellers have invaluable insight into crucial questions, such as:
How much money do I need to invest in this product?

How many units of inventory do I need to order from my manufacturer?

How many products will I sell each month?

How much money will I make on this product?
Answering these questions and aligning them with your goals is the first step in your journey to success on Amazon.
Amazon sales estimate data is the cornerstone to choosing a great product to sell on Amazon. Here at Viral Launch, we understand your need for the most accurate data possible. We know that your business depends on it.
That's why our team has invested loads of time, money, and energy into crafting a comprehensive estimation algorithm. We've run over 30,000 product launches, and we lead the industry when it comes to interpreting how Amazon's algorithms work. And because of this, we are confident in our ability to provide you with the most dependable data in the industry.
When you access these sales estimates, you can be confident in your product selection and in your competitive research.
Sales estimates can also help you predict when you'll need to order inventory, so you can always stay one step ahead.
It can also be useful when determining potential profit for a product. Couple sales estimates with your Amazon FBA fees by using an FBA Calculator and you'll be able to get a better idea of how much money in total a product will potentially bring in.
[perfectpullquote align="right" bordertop="false" cite="" link="" color="" class="" size=""] Want to see Market Intelligence in action? Check out this tutorial: [youtube https://www.youtube.com/watch?v=VpvCqM_69BE&w=560&h=315] [/perfectpullquote]
How We Calculate Our Sales Estimates at Viral Launch
In order to produce the most accurate sales estimates as possible, we must be as thorough as possible in our estimation algorithms.
Our sales estimates, powered by Market Intelligence, are based upon historical data, which is a crucial component to the level of desired accuracy. By utilizing the billions of data points at our disposal, we've formulated a precise method of estimating sales. In our journey of crafting the most accurate sales estimation algorithm, we brainstormed all possible indicators of sales on Amazon's platform.
After much testing and trial-and-error, Viral Launch landed on estimating sales based on BSR, or Best Seller Ranking. Each product's BSR fluctuates on an hourly basis. While many sales estimators on the market will use current BSR, we know that because BSR changes frequently and sometimes drastically, this does not provide an accurate representation of sales.
For example, we watched a product's Best Seller Rank jump from 98,000 to 38,000 in one hour due to one sale. Then in the next hour it fell back down to 76,000. This drastic fluctuation is happening across the marketplace all the time. So, if you look at a product's BSR in the morning, it may be very different than the same product's BSR in the afternoon or evening. Looking at the current BSR to estimate the number of sales over the last month is like trying to predict the plot of a movie based on a single still frame. Without context, it is extremely difficult to guess correctly.
In order to build an accurate sales estimation algorithm, we built our system to take into account the vast fluctuations in BSR that occur all month. Rather than simply taking the current BSR into account, Viral Launch uses historical data through complex algorithms to produce comprehensive numbers. These sales estimates give a much more holistic view into a product's sales than a dangerous snapshot of data does.
We update our BSR-to-sales mapping algorithm each night to further ensure the highest level of accuracy. This way, our calculation remains consistent with the natural trends of the market, where other sales estimators lack.
To learn more about BSR and how we use it to estimate sales, read this Amazon BSR guide.
Because we are tracking BSR for hundreds of thousands of products on an hourly basis over days, months, and years, our tool is also the only one on the market that can show you trends across an entire market, allowing you to make the most informed decisions. Whether you're doing inventory planning for Q4 or simply looking at the trajectory of a trending product, Market Intelligence provides a 1,000ft view of the market for maximum insight and better business decisions.
How to Find Amazon Sales Estimates
Now that you know a little bit about why sales estimates are important and how we get the data, let's go over how to find them. First, head on over to Market Intelligence and perform a search.
For this example in the image below, we've searched for a random product: a first aid kit.
As you can see from the image above, after performing your search, you'll be presented with loads of helpful information.
One of the first columns sellers look at is Monthly Sales. This metric is a product's estimated units sold over the last 30 days. To gather this, we use a "comprehensive estimate," estimating sales based on averaged BSR each day.
By scrolling to the right, you'll find your sales estimates. You will also find "Next 12 Month Sales." This number denotes the estimated units that are projected to be sold within the next 365 days. To the right of that is "Next 12 Month Revenue," which is the product's current price multiplied by the projected future sales.
Keep in mind, you can filter and arrange your columns to present you with only sales and revenue data. Take a look at the image below, you can see everything from Monthly Sales to Next 12M Revenue in an easy to read format.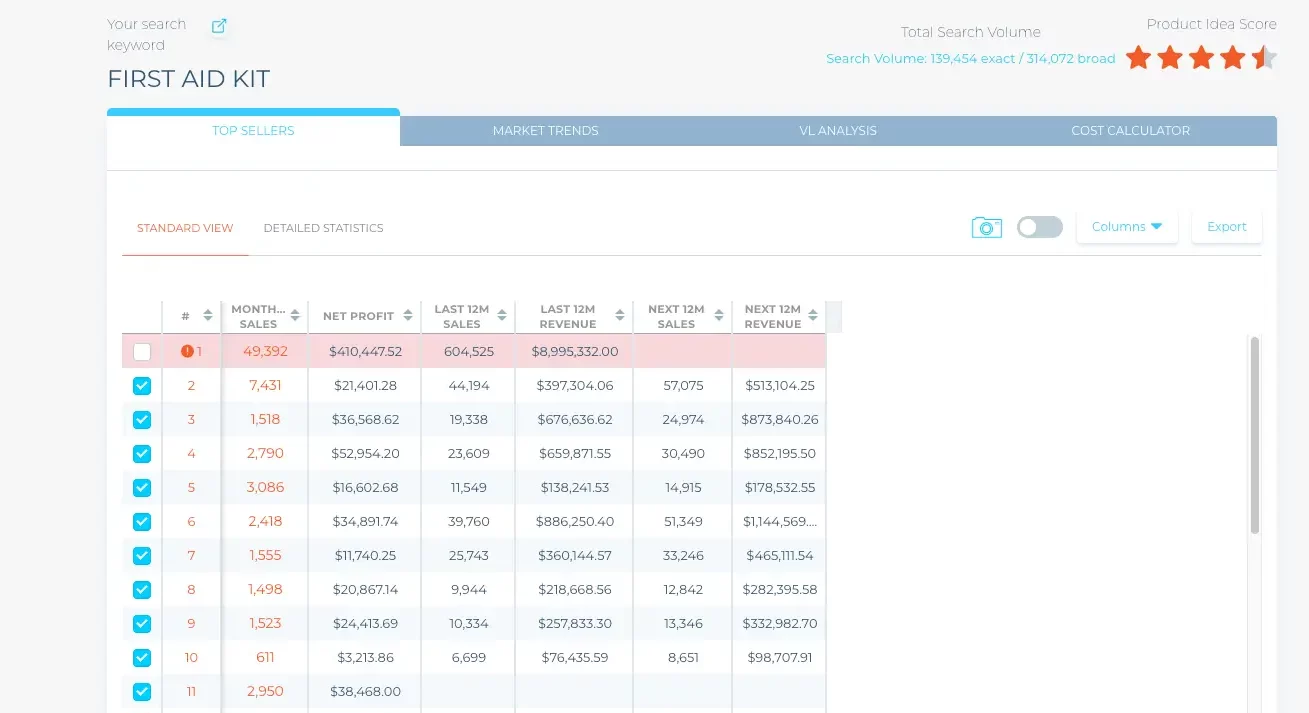 Market Intelligence also provides market trends, which averages the sales for the top sellers in the market. Analyzing the Amazon market trends for a potential product gives insight into how the product performs throughout the year on average. If you're looking at one product's past sales, you can't attribute peaks and valleys to seasonal trends with certainty.
Perhaps the product went out of stock or the seller drastically raised the price to cause a drop in sales. But by looking at the market trends as a whole, you can understand the market and what you are getting into by sourcing this product.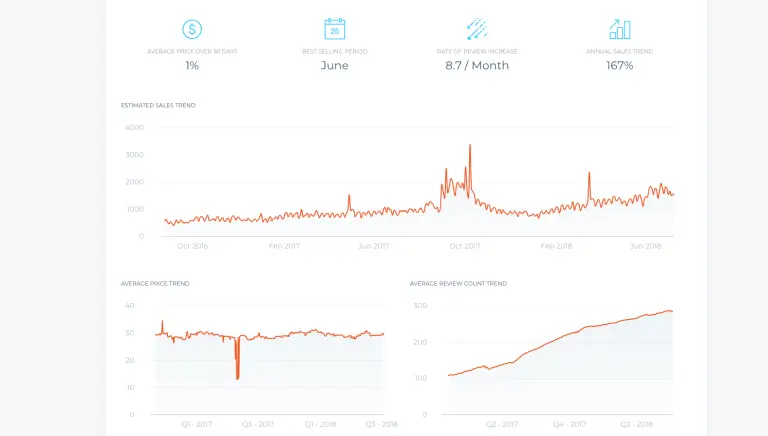 This historical data can give you an great idea of where a product has been, where it is currently at, and it can give insight into where the product is headed.
Final Thoughts
Hopefully you have a better understanding about what Amazon sales estimate data is and how Market Intelligence calculates them with precision. Amazon sales estimates are just one piece of the puzzle, albeit a pretty important one.
There's a lot more to learn about becoming an Amazon seller, but one of the biggest tips we can leave you with is to do your research. Whether it's for product sales, keywords, manufacturing or anything else, you have to make sure you've done your homework before jumping in.
Here at Viral Launch we'd love to be your source for all things Amazon — both in tools and information. We encourage you to subscribe to our blog, check out our Youtube channel or listen to our podcast Follow the Data.