There is a proven strategy for a successful product launch on the Amazon platform, and it's been around for a while. Here, I will outline an Amazon Product Launch Checklist that ensures success.
So many Amazon sellers still seem to get it wrong and are left wondering why their initial sales tanked during their product launch. I am about to share with you the EXACT product launch strategy that will generate sales, get your product listing ranked organically, and provide you with long-term sales momentum.
What Do You Need to Launch a Product on Amazon?
Many Amazon sellers overcomplicate the product launch strategy.
Instead of spreading yourself too thin and focusing on many different ways to launch, all you really need is:
High demand – low competition product
The strategy in this blog post
Viral Launch
Money to invest in PPC ads
High Demand – low competition product
You'll find a high demand – low competition product by using the Viral Launch Product Discovery Tool.
Having a product that has high demand and low competition will inevitably help you as you will be able to generate a lot more sales with less competition.
This Product Launch Process
Spreading yourself too thin and trying to do "all the things" whilst launching a new product will lead to overwhelm, frustration, and distraction from the methods that actually move the needle and lead to a successful launch.
Focusing on the 3 pillars in this post works. It's a proven method to increase sales, rankings, and long-term success with selling on Amazon.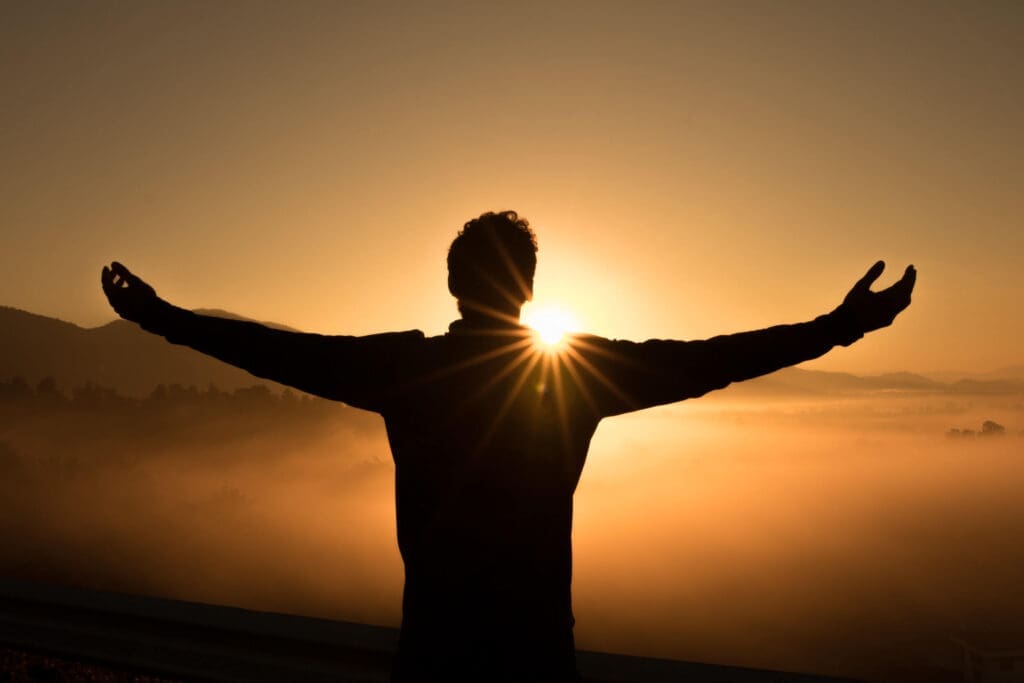 Viral Launch
Having the right tools for the job is essential.
Launching a product on Amazon without the following features in Viral Launch is like trying to build a house with a teaspoon:
Viral Launch Keyword Tool
Viral Launch Listing Builder
Viral Launch Competitor Intelligence
Viral Launch Kinetic PPC tool.
All of these tools are vital to helping you with your keyword research, helping you with listing optimization, competitor analysis, and running successful Amazon PPC campaigns.
What Is The Goal Of A Successful Product Launch?
The overall goal of a product launch on Amazon is to generate enough sales within the first few weeks to boost your listing's organic ranking.
The 3 main focuses of your launch should be on:
Click Through Rate (CTR) – otherwise known as Traffic
Conversion Rate – the % of clicks vs purchases on your product listing
Positive Reviews
All 3 pillars play a big role in getting your product listing in front of a target audience.
The reason to focus on these 3 tasks when launching a new product, is Amazon considers these 3 to be the highest determining factors when selecting which products should rank highest in the search results.
Ultimately, nailing the CTR, Conversion Rate, and collecting positive reviews is the highest priority when launching a new product on Amazon.
We want our customers to go through this process when looking for our products:
Search for your product using your target keyword,
Find your listing,
Click on your listing,
Make a purchase.
Then leave a review once they receive it.
If you can nail this simple process, your product launch will be a huge success!
Amazon A9 Search Algorithm
Amazon's search algorithm (A9) is what decides which products show up first in the search results for any given keyword.
The A9 Algorithm ranks products using the following metrics:
Click Through Rate (CTR) / Traffic
Conversion rate
Number of positive reviews
Here is how the A9 algorithm applies to the 3 pillars, and why you focus on these 3 aspects during your product launch.
1. Traffic
The number of customers clicking on your product listing is called your Click Through Rate (CTR).
Amazon crawls the following aspects of your product listing to learn how relevant your product is too specific search terms:
Product Title
Bullet Points
Back-end search terms
Product Description
Using the performance history of your product, the Amazon A9 algorithm prioritizes the search results and ranks them in order of the likelihood of a customer purchasing your product and being satisfied with it.
2. Conversion Rate
Your conversion rate is based on how many people clicked on your product listing and made a purchase.
If 100 people clicked on your listing, and 20 people purchased your product, your conversion rate would be 20%.
The factors that can influence your conversion rate are:
Price
Reviews
Main Image and other images
Your listing content
The higher your conversion rate, the higher Amazon will rank your product listing.
3. Positive Reviews
Positive reviews are essential to your success on Amazon.
Positive reviews provide social proof from previous customers, and they reassure your buyers that your product solves their problems.
Positive reviews also increase your conversion rate, which increases your ranking, which increases your traffic, which increases your chances of increasing your conversion rate.
See how the flywheel keeps turning if all 3 of these pillars are aligned?
The Ultimate Amazon Product Launch Checklist In 3 Simple Steps
Ranking on page 1 of Amazon isn't easy – but it is SIMPLE.
It's not a complicated process, but you do need to be consistent, focused and nail the following 3 steps:
Product Launch Checklist Step 1 – Create The Perfect Listing & Keywords To Increase CTR
Creating the perfect product listing is focus priority number 1.
The reason to focus on your product listing and Click Through Rate first is that a highly optimized and attractive-looking product listing will draw customers to your listing early on.
You can build your listing inside Amazon Seller Central, or you could fully optimize your listing whilst you build it using the Viral Launch Listing Builder: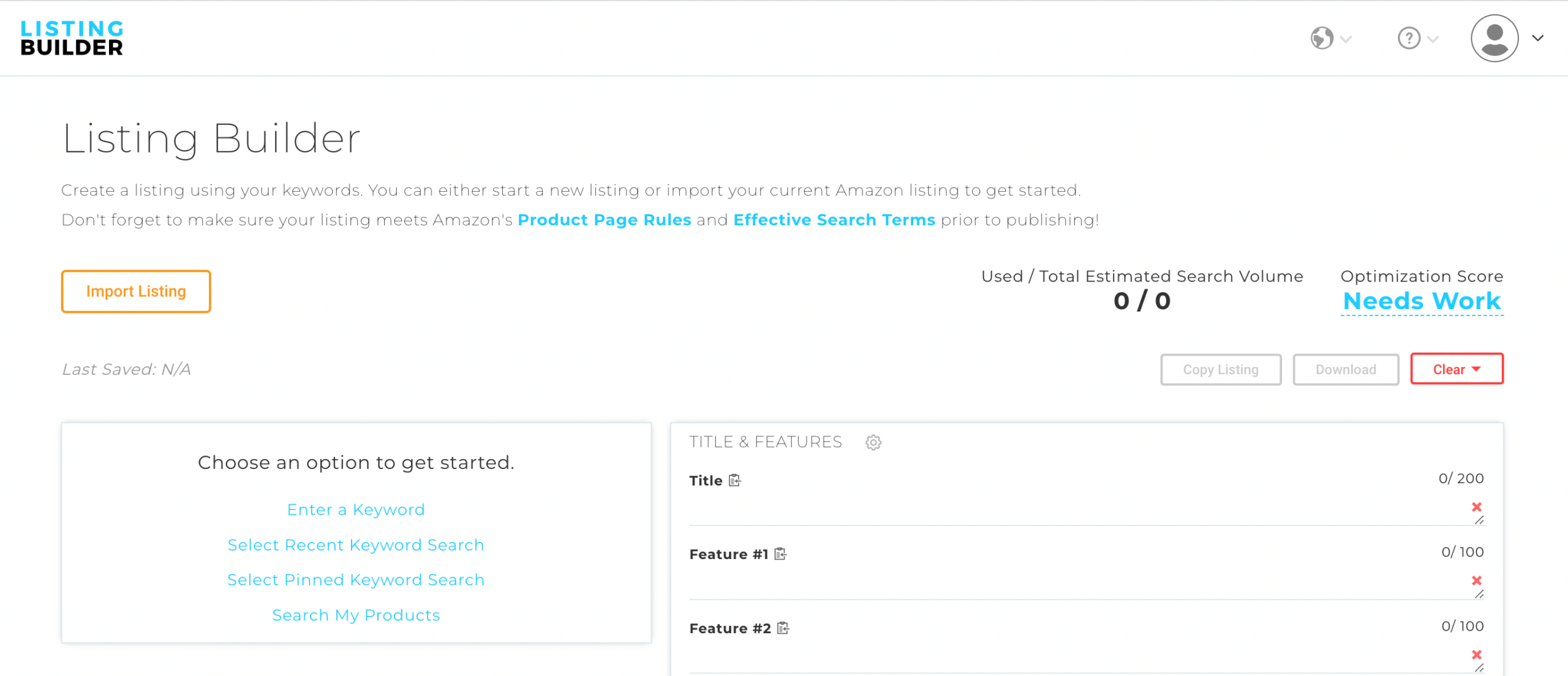 To create an optimized product listing, you need to perform keyword research to know what keywords to include in the product title, bullet points, and product description.
Product Title
Your PRODUCT TITLE is THE MOST important line of text on your entire listing!
This is your opportunity to tell your customers what your product is so they can easily find it in their search results.
It should also include the most relevant keywords at the very start of your title to help Amazon's A9 algorithm understand what your product is all about.
To find the keywords that your product listing needs to rank for, use the Viral Launch Keyword Research tool.
Some points to keep in mind when creating your product title:
You've got up to 200 characters, including spaces.
No promo phrases. eg FREE SHIPPING, or Buy One Get One Free.
You're allowed to use hyphens to create spacing, but no other characters for decorations. (! £ $ * [ ])
Try to avoid duplicating keywords
Product Images
The main image of your product listing should grab your customer's attention.
Your main image should have a white background, and showcase the best product features.
Bullet Points
The bullet points should be keyword rich, and highlight the main features and benefits of your product.
This is where you have a chance to capture your customers' attention and show them why they should choose your product over the competition.
Here is the best way to structure your bullet points:
BULLET POINT 1 – A benefit to your customer
BULLET POINT 2 – A benefit to your customer
BULLET POINT 3 – A benefit to your customer
BULLET POINT 4 – A benefit to your customer
BULLET POINT 5 – A promise to reduce risk to your customer
One trick that I use to know the best benefits to your customer, is to check out your competitor's product listing and head to the commonly asked questions section.
Here's how I find, and process this information:
Head to your top competitors' listings and find commonly asked questions about the product.
Find the common pros and cons and write them down.
Come up with solutions to the cons, and highlight the main benefits that are mentioned.
Include the solutions to the cons, and highlight the pros in your product bullet points.
Doing this will help to reassure your customers that your product will benefit them and solve their problems.
Product Description
The backend search terms are important for Amazon's A9 algorithm to understand what keywords your product should rank for and further optimize your listing on their platform.
Here is what your product description should do:
Summarize the benefits that we listed in our bullet points.
Reassure or convince our customers that our product is exactly what they're looking for.
Remove risk once again
Ask for the sale.
Use up as many of the remaining keywords that we didn't manage to use in our product title and bullet points.
Product Launch Checklist Step 2 – Generate Traffic and Sales to Increase the Conversion Rate
Getting customers onto your product listing is only half the battle.
The next step is to get your customers to make a purchase.
But first, let's focus on getting customers onto your product listing, and the best ways to do this:
Friends and family
Paid ads using Amazon PPC campaigns
During the product launch, the focus is on traffic sources that we can rely on and have full control over.
Other posts may tell you to look for external traffic by leveraging influencer marketing, relevant Facebook groups, review sites, or other social media platforms like TikTok or Instagram.
These are great methods to boost sales later on, but during the initial product launch, we want to focus on getting qualified customers (people who are actively searching for our product) onto our listing and making a purchase.
Friends and Family
Reaching out to friends and family is a great way to generate sales early on.
Make an email list of people that you know who may be interested in your product, or who would want to support you in your new venture.
Send them an email letting them know that you will soon be launching your new product and that they can purchase it at a discounted rate using a special discount code.
This is a great method, as you could send them a link as soon as your product is live, so you gain a spike in sales right away, and you could ask for a supportive review in exchange for the discount.
Here are some important considerations with this method:
Do not make a purchase or leave reviews within the same household as Amazon can trace this.
Having friends leave honest reviews is totally fine, but I wouldn't have family members with the same last name as yourself do this.
Make sure they actively search for your product, scroll and find your listing and make the purchase right away. This means you convert the sale for the right keyword, and the conversion rate is recorded as the purchase was made right away.
Amazon PPC Campaigns – Paid Traffic
The quickest way to get sales and conversions onto your listing is through Amazon's PPC campaigns.
Amazon's Sponsored Products (PPC) ads are a great way to grab the attention of potential customers in a short amount of time, and they can be highly targeted.
You only pay when someone clicks on your ad, so you are only spending money on customers who have an interest in your product.
This is a great way to quickly boost sales while also increasing the visibility of your product listing.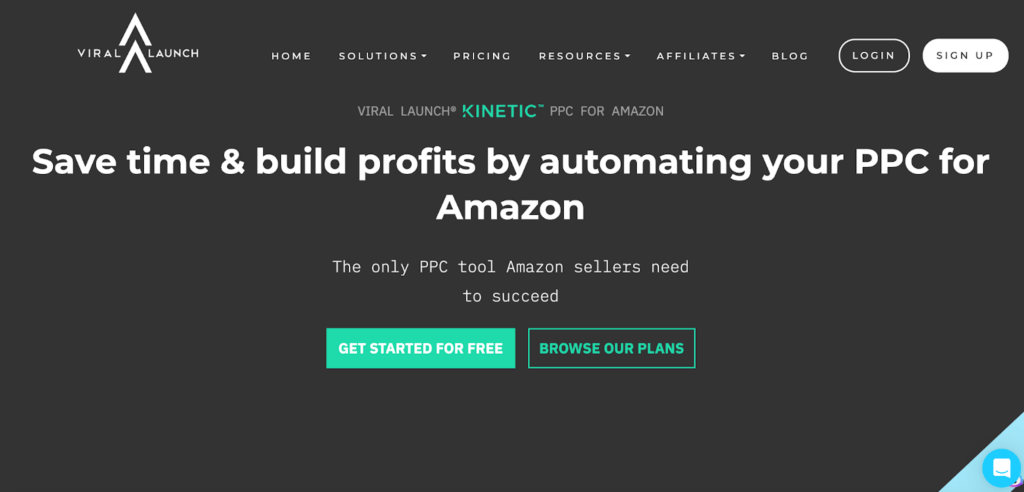 Using the Viral Launch Kinetic PPC Tool makes setting up your campaigns, running and optimizing them, and making sure you are maximizing sales super easy.
Once you have sales and conversions coming in from your PPC campaigns, make sure to keep an eye on them.
Make sure to check the performance regularly and adjust bids or add/remove keywords as needed depending on which ones are performing best for you.
Doing this will help ensure that your campaigns are optimized correctly and stay cost-effective.
Making The Sale
When you have traffic on your listing, the focus shifts to making sure they convert.
Using reviews, images, and videos are great ways to give customers more confidence in their purchase decision.
Make sure your product images are clear and professional-looking, as well as informative. Include multiple angles of your product so customers can get a full understanding of what they will be getting.
Videos are also great for showcasing features and benefits that might not be made clear just through the images.
Finally, reviews are super important when it comes to making sales on Amazon. People want to read reviews from real customers who have purchased your product in order to have which leads onto the final stage of the launch strategy…
Product Launch Checklist Step 3 – Collecting Positive Reviews
The third phase of the product launch checklist is acquiring positive reviews from verified purchases.
You can follow up with the family and friends that supported your launch, and ask them to leave a review around 48 hours after taking delivery of the item.
Another option is to create product inserts that your suppliers add to your product packaging.
It could be a small card saying thank you to your customer for their purchase, and letting them know that you are on hand to help with any potential issues.
You can also ask to leave a review too on this product insert.
Getting More Support With Your Launch
If launching a product on Amazon seems like it might be too daunting for you to go it alone, Viral Launch has a completely FREE course that walks you through the steps required to start an Amazon FBA business and launch your own products.
There are many FBA Courses available online, and they're worth looking into, but the Viral Launch course is a great place to start.
Conclusion: Amazon Product Launch Checklist
Launching a product on Amazon can be an intimidating task, but with the right strategy and tools, you can maximize the success of your launch.
It's really important to keep your launch strategy simple and focus on the pillars that will move the needle in terms of ranking on Amazon's page 1, and pleasing the Amazon A9 algorithm.
These 3 pillars to be included in any Product Launch Checklist are:
Click Through Rate (CTR) – otherwise known as Traffic
Conversion Rate – the % of clicks vs purchases on your product listing
Positive Reviews for social proof
Leveraging contacts that you already have, and running successful PPC Ads on the Amazon platform with the Viral Launch Kinetic PPC Tool is a great way to generate early customers.