Keyword Research just keeps getting better. The most powerful keyword tool in the galaxy now features an integrated Amazon Listing Builder Tool. Find the most relevant, high volume, high opportunity keywords for your product, and create a new listing or add to an existing listing. This blog will focus specifically on our new listing builder tool. If you're looking for a general introduction on Keyword Research, click here.
How the Amazon Listing Builder Tool Works
After running a search, simply select the high-volume, high-opportunity terms you want to use, and click the Create Listing button to get started. Selecting your keywords allows you to weed out any terms that may not apply to your specific product.
A hyper-relevant keyword list will be important as you write. Not sure which words to keep and which to save? No worries. You have the option to remove keywords within the Amazon Listing Builder Tool as you work.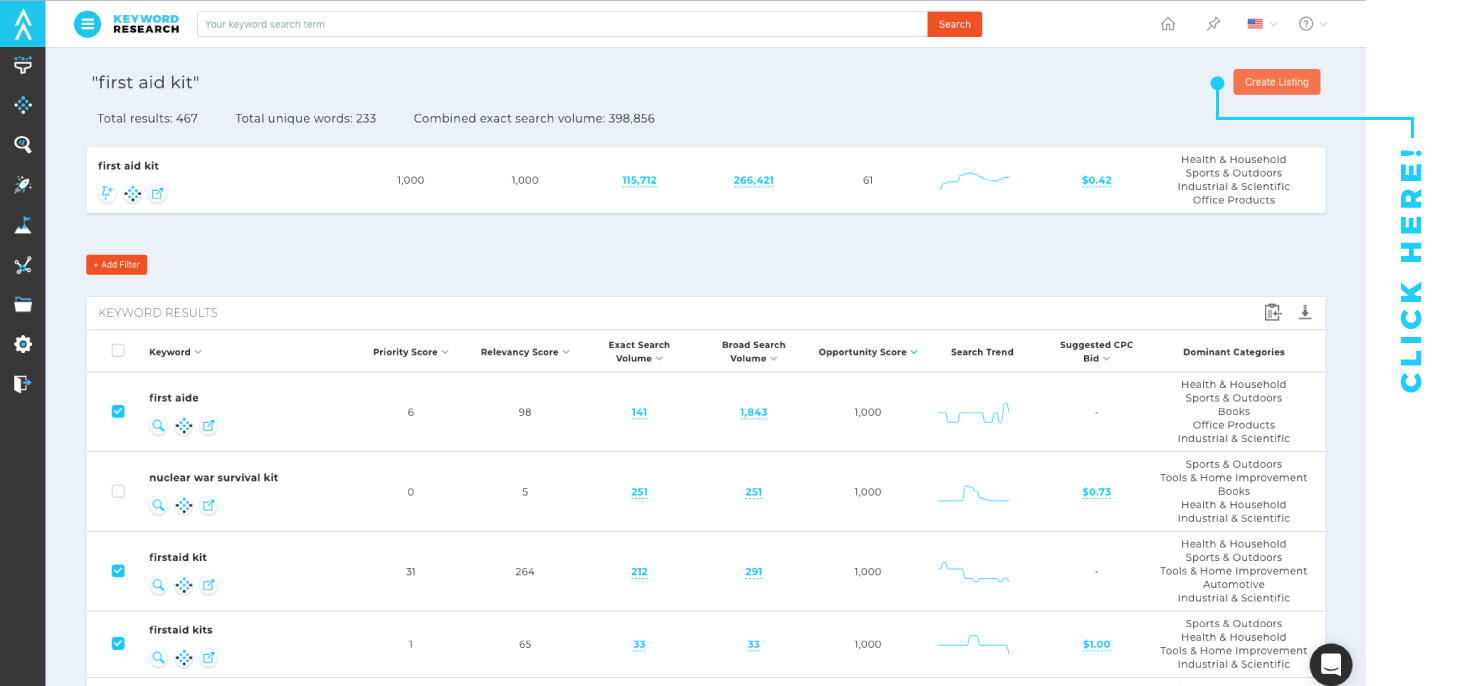 Inside the Amazon Listing Builder Tool, you'll see Total Search Volume and Used Search Volume for the keywords that you've selected. You'll also see an Optimization Score for the keywords you've actually captured in your listing and their placement.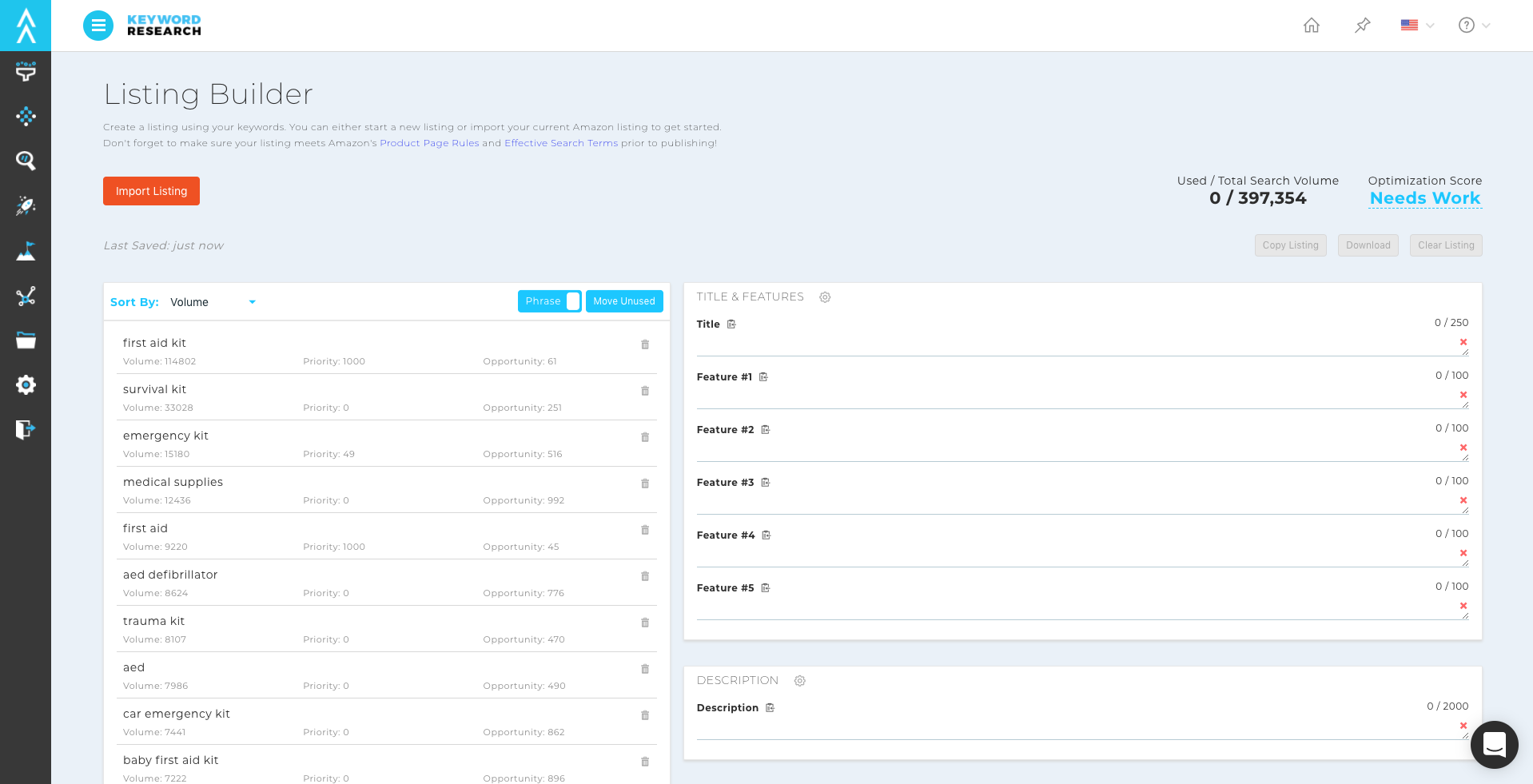 As you write your listing, your Used Search Volume will change and so will your Optimization Score. If you have really solid, full keyword integration, you'll see an Optimization Score of Perfect, Exceptional, or Great. And you should be capturing most, if not all, of the Total Search Volume for your product.
If your keyword integration is lacking, you'll see a score of Good, Average, Mediocre, or Needs Work. Click into the score to see a breakdown of the calculation including how much search volume you've captured in your title, bullet points, search terms, and description.
Import an Existing Listing
Our Amazon Listing Builder Tool provides sellers with an awesome opportunity to optimize existing listings. Using the Import Listing button, you can see how optimized your current listing is, find missing high opportunity, high volume keywords, and easily add these terms to your listing.
To import a listing, simply click the Import Listing button, and enter the ASIN of the product you'd like to work on. Your current listing content will appear in the corresponding sections. And you can see your current Used Search Volume and Optimization Score.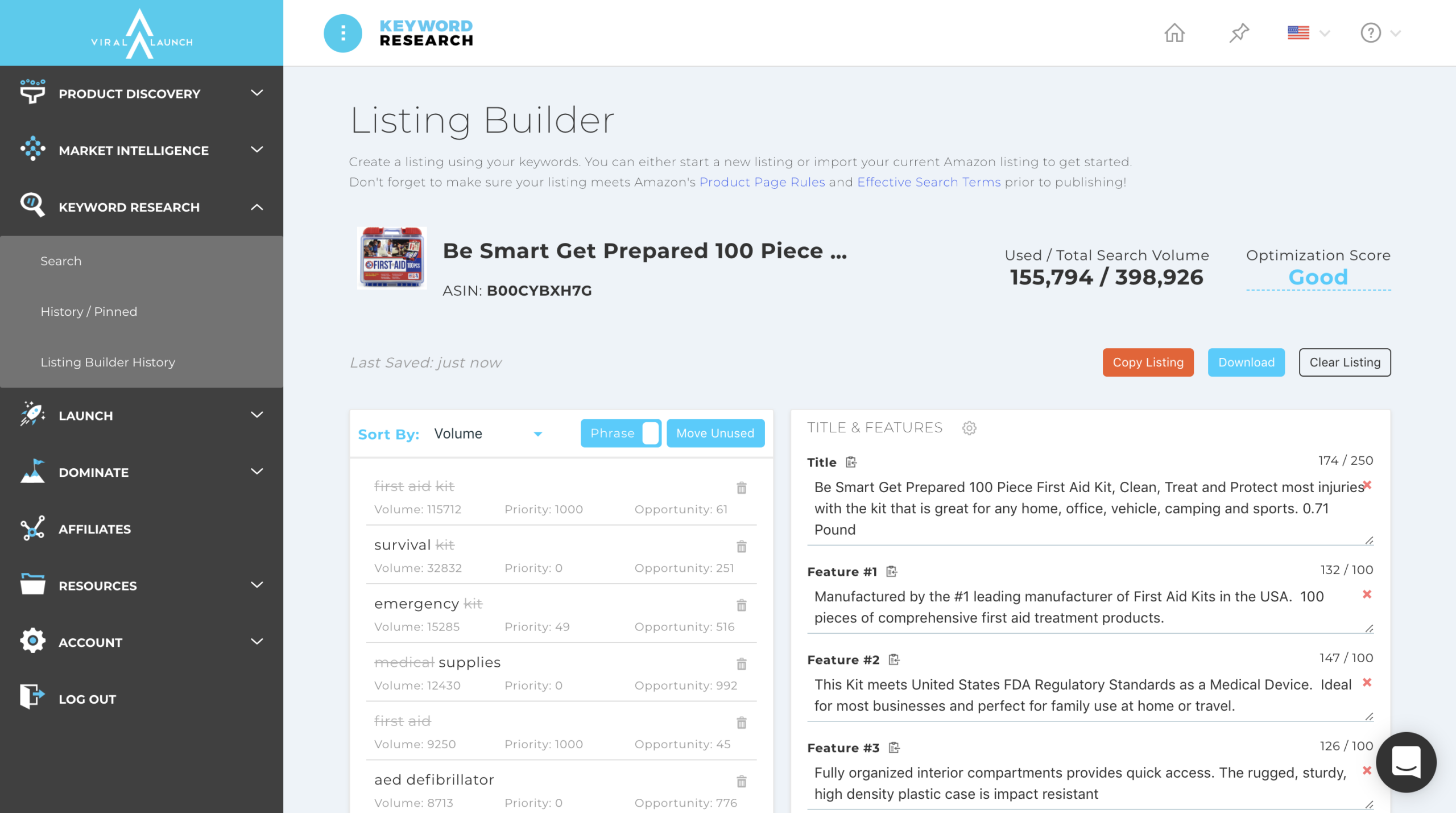 Not getting a very good score? Sort the keywords in your bank by Volume to see if there are any high-volume words you're missing. Then add them to your listing. Keep an eye on your score to track your improvement. Then, once you've captured most of the search volume, sort by Opportunity to look for words with little-to-no competition.
Customize Character Limits
If you're starting a new listing from scratch, make sure to adjust the character limits for your listing according to your Seller Central Account. To change the character limits, select the settings icon beside the section header and enter the character limits for your product. Not sure how to find out what your character limits are? Check out our quick and simple guide.
Organizing Keywords in the Word Bank
Once you have adjusted your character limits, you'll want to organize your keywords in the keyword bank. Sort by Priority Score, Exact Volume, and Opportunity Score so that you see the keywords you want to prioritize first. You also have the option to toggle between Phrase View and Unique View, which allows you to see individuals terms or complete search phrases.
When in Phrase View, you have the option to remove terms that do not apply to your product by clicking the trash icon. But be careful. There may be individual words within that phrase that are still important to your product. And that's where Unique View is really helpful. Make sure you're seeing and using every last keyword you can by scrolling through individual terms. You'll see the number of times that term was used in a search phrase to help you determine how important it is.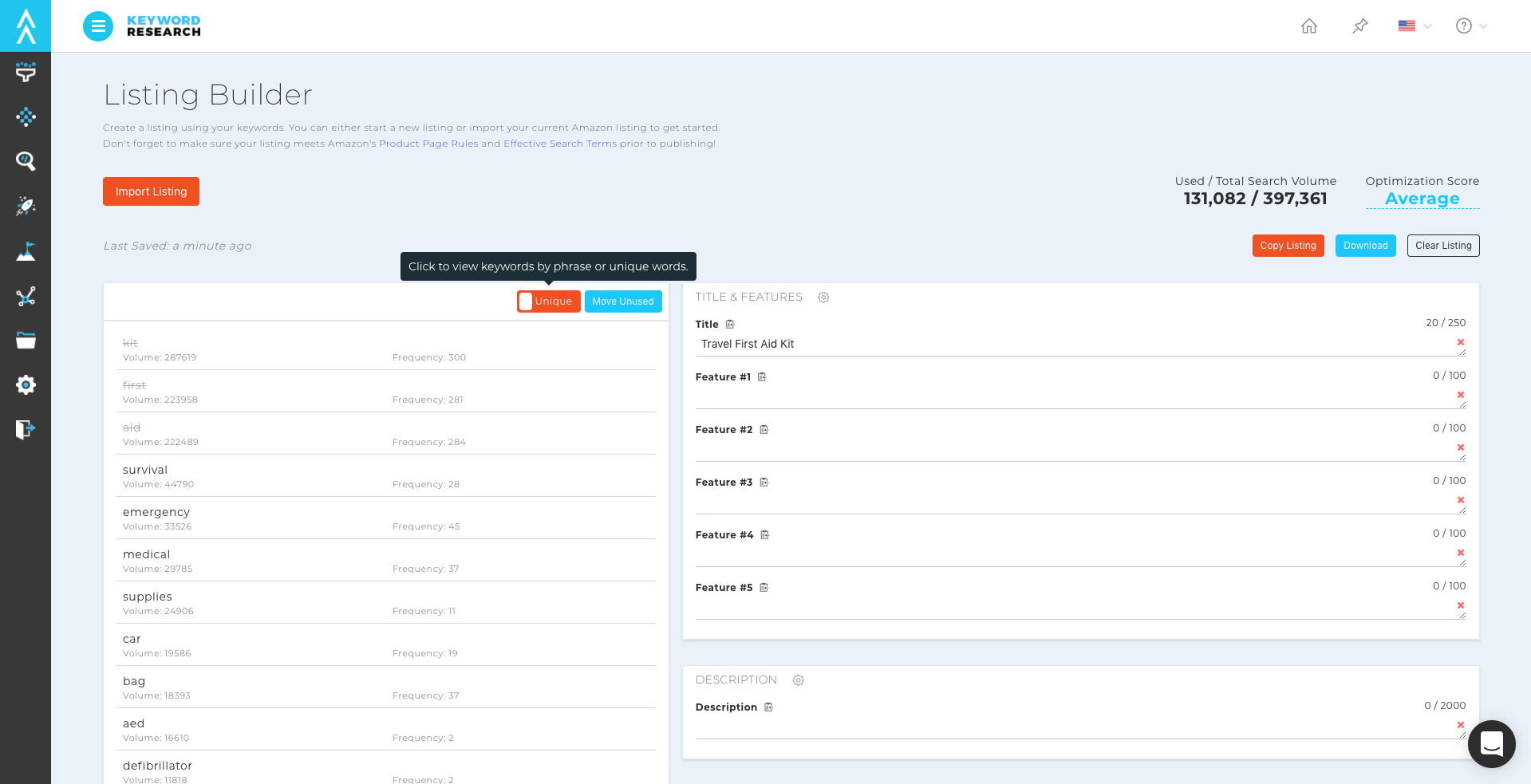 Using Keywords from the Bank
As you use the terms you collected from your search, you will see them grey out in the word bank on the left side of the screen. And once you use a term, for example first aid kit, it will grey out and cross out in all other phrases that contain it. So first aid kit for car will be partially greyed and crossed out, letting you know that you still need to use for car in your listing.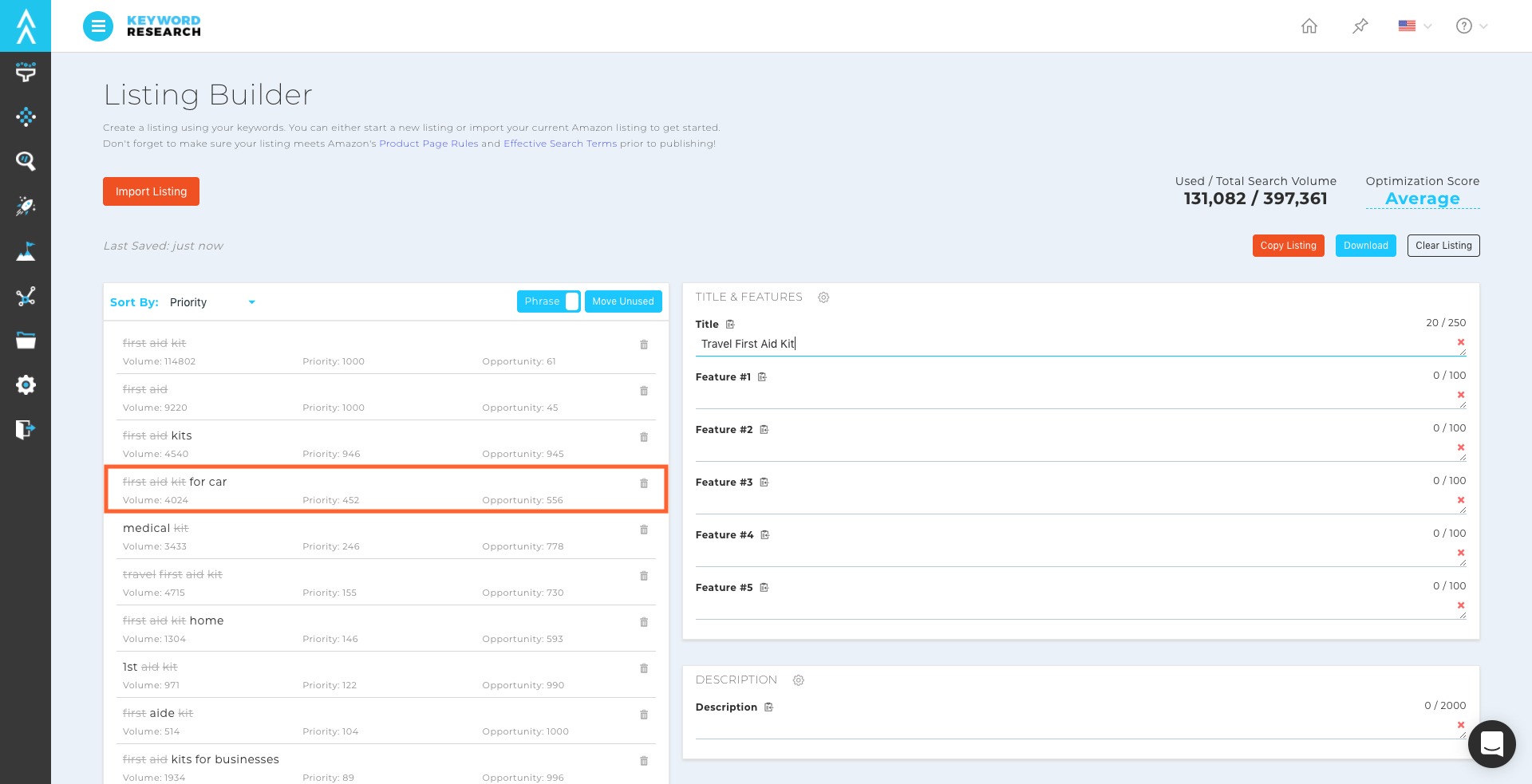 Ideally, you would use for car somewhere after the term first aid kit to maintain the phrase order. That's why we offer Phrase View, so you can see the phrase order and hopefully keep your keywords in that flow. For example, let's say you want your title to start:
Travel First Aid Kit
You can easily add in for car and get the whole phrase. And as long as first aid kit is used early in the title, you can fit the second half of other, similar phrases like first aid kit for kids.
Travel First Aid Kit for Car: Emergency Kit for Kids and Adults
You can get the most ranking power when you keep a phrase completely intact. Maintaining phrase order is the next best option, but eventually even that becomes an impossible puzzle too. You'll have to make choices about which phrases to maintain and which to split up.
These difficult choices are why creating an elegant, optimized listing that is still readable for your customers is so hard. You can get the most effective listing for your product and the power of Keyword Research in your listing without spending hours deliberating over which keyword to use and where to use them.
Would you rather leave your listing copy to the experts? Try our recommended Amazon product listing service!
Backend Search Terms
Once you have finished writing the visible content for your listing, you can add any terms that remain in your keyword bank to your backend search terms. Simply use the Move Unused button in the header of your word bank. Up to 250bytes of unused terms will immediately copy over into the Backend Search Terms section.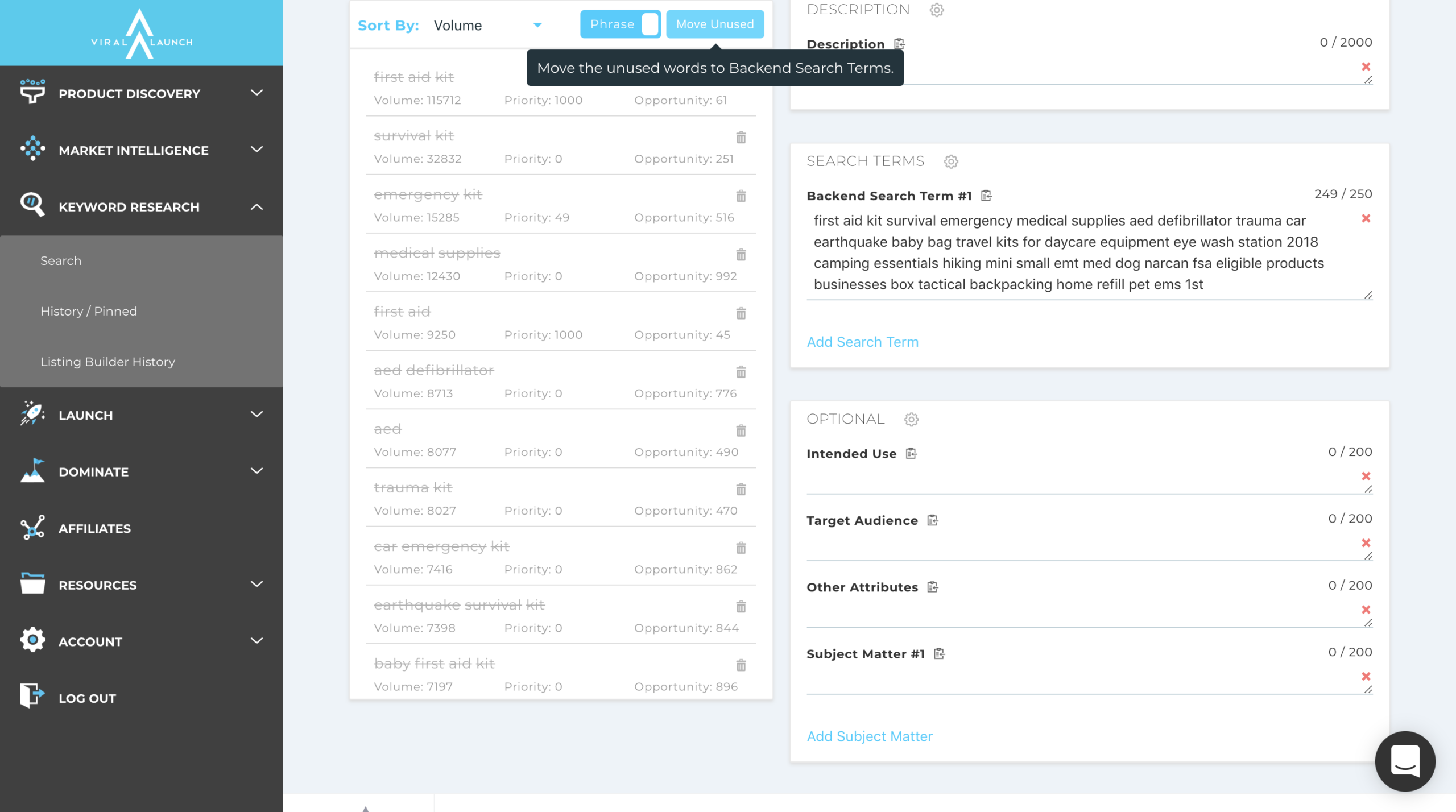 By default we only show one field for Backend Search Terms. Amazon is only indexing 250 bytes for this section, which can all fit in the first field. Based on our research into Backend Search Terms, there is no benefit to using the additional fields.
Saving and Exporting
Our Amazon Listing Builder Tool continuously and automatically saves your work. You can see the last time your work was saved under the Import Listing button. If you want to leave and come back to a listing, you can find it in the History tab under Keyword Research on the left-hand navigation inside the Launchpad.
If you are ready to use your listing, you can copy all content to your clipboard with the Copy Listing button below your Optimization Score or download the content as a CSV file. And if you decide you want to start over, you can delete the content from all fields with the Clear Listing button. You also have the option to copy or delete individual fields with the clipboard icon and the X at the far right side of each field.
How Do I Get the Amazon Listing Builder Tool?
The Amazon Listing Builder Tool in Keyword Research is available to all subscribers on Intermediate, Advanced, and Pro plans. Subscribe today, and start setting your listings up for optimal traffic and sales on Amazon with the most relevant, high-volume and high-opportunity keywords in the galaxy.
Already subscribed? Login to your account and check out Listing Builder