Having the right keywords in your listing is absolutely essential to being successful on Amazon, and that means keyword research is a crucial aspect of your strategy.

Whether you are just dipping your toes into the Amazon marketplace with your first product or are a veteran seller expanding your brand with new items, you can't afford to get the keyword part of the success equation wrong.

Keywords are a huge factor in the visibility of your product. The keywords in your listing index your product within Amazon's catalog. Then once sales are applied, your listing can attain keyword ranking.

In this way, keywords are responsible for getting your product in front of as many potential customers as possible. If your product isn't visible in search results when customers are looking for it, they won't buy it. Most listings don't feature critical keywords that can collectively cost sellers thousands of dollars in missed sales.

The problem is that until now there hasn't been a proper tool to help you easily determine which keywords are most relevant for your product. Existing tools provide pages of keywords that take hours to comb through and field results like "Baby reading glasses (19,500)" and "High heels for dogs (52,500)."
You could take a chance with those tools and miss important keywords, or you could use the newest Viral Launch tool, Keyword Research.

[perfectpullquote align="full" bordertop="false" cite="" link="" color="" class="" size=""]We're excited to announce the launch of Keyword Research, our latest software tool, and the best Amazon keyword research tool in the galaxy.[/perfectpullquote]
Using an extremely sophisticated set of algorithms, Keyword Research delivers a panoramic, comprehensive list of your market's most relevant search terms with accurate search volume estimates based only on actual Amazon data.
Keyword Research
Keyword Research for Amazon helps you easily decide which keywords and keyword phrases to place in your title, bullet points, description, backend search terms, and sponsored ads. It allows you to see the most relevant keywords, accurate search volume data, and historical search volume trends. You can also access an Opportunity Score and Exact CPC to identify keywords with high relevance and low competition.
No more time wasted on bad keyword results, no more fear of missing out on crucial keywords, no more doubt about keyword relevance, no more missing potential sales and revenue.
How do we do it?
Relevancy
We start off by scouring the deep reaches of Amazon for an exhaustive list of customer search terms related to your keywords by running a Reverse Market Lookup. Think of it as a master reverse-ASIN lookup that reaches across all your Amazon markets, taking all your top competitors into consideration instead of just one listing.
The result is an enormous pool of keywords related to your product, including horizontal keywords. Horizontal keywords represent your seed keyword without overlapping it, providing exponential advantage to your listing.
For instance, "strainer" is a horizontal keyword phrase for "collander." In order to ensure that each result is relevant for your product, we use our Market Relevancy Calculation which is a sophisticated set of algorithms that determine the relevancy of each keyword we've come across in our reverse-market lookup. You can easily sort by Relevancy Score to see your product's most relevant keywords first.
Search Volume Based Only On Actual Amazon Data
Keyword Research utilizes our industry-leading search volume estimates based only on actual Amazon data. Estimates are updated multiple times a week so you see fresh numbers every time you search. We also provide exact and broad match data to show you the potential impact of a keyword.
You get a list of the most relevant, high volume keyword searches on Amazon for a bird's eye view of your keyword's market footprint.
Historical Search Volume Trends
When researching keywords and choosing the right ones to promote your specific product, it's important to know where those keywords are in the market and where they've been. Keyword Research allows you to see the full market context around a keyword so that you can get a feel for how that keyword's performance could ebb and flow in the months to come.
Look at exact match and broad match historical search trend graphs to see if a keyword is growing or declining in popularity. Historical data gives you yet another edge over your competition.
Advanced Features
If you're looking to really increase your competitive edge, you might want to consider the Advanced subscription, which includes Opportunity Score and Sponsored Ad Bids. Opportunity Score ranks keywords on a scale of 0-1000 to show you markets where the exact keyword phrase has not been integrated into the front end of the top performing listings. Essentially, you can conduct keyword popularity research just by sorting by Opportunity Score.
Because high opportunity keywords are less competitive, these markets also tend to have lower quality listings. If you've got great reviews and good photos, the addition of a single keyword could bring in thousands more dollars in sales every month. Sponsored Ad Bids allows you to see bid costs so you can better understand competition level for every keyword on your list.
Both features help you target keywords that have an established, positive performance record in your market and pass on keywords that have been volatile. You'll spot high-opportunity, low bid, and trending keywords to put your product on the cutting edge of customer search.
Integration with All Viral Launch Subscriptions
Keyword Research seamlessly integrates with Market Intelligence and Product Discovery so you can see keyword insights no matter what Viral Launch tool you're working with.
Product Discovery, the best product finder in the galaxy, lets you input your dream product's sales revenue and review metrics to get a customized list of the potential products that fit your business aspirations. Filter to find markets that receive many searches but few sales. With the integration of Keyword Research, you can filter your results by Search Volume when searching for products via Keyword.
Market Intelligence, the most sophisticated Amazon product research tool and sourcing software in the galaxy, helps you validate product ideas so you source only money-making products. With the most accurate sales data estimates and product trends, Market Intelligence now also provides you with search volume for the market you're exploring.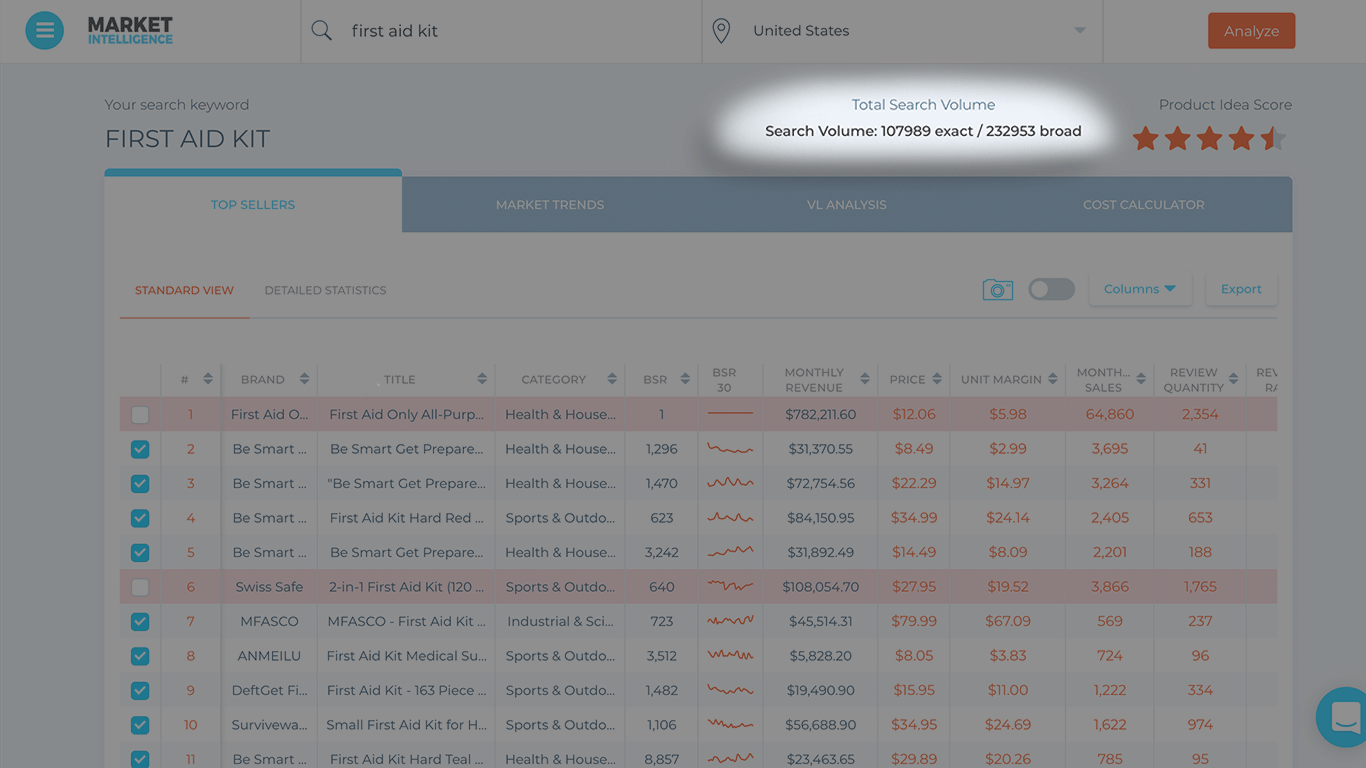 See Keyword Research in Action
Keyword Research brings you our industry-leading search volume estimates no matter which Viral Launch tool you're using, so you can put your product on the cutting edge of customer search and beat out the competition.
Whether you're just starting to research products, already have your product sourced and ready to go, or are coming up with your next money-making product idea, the Viral Launch suite of tools is here to serve you.
Never miss another keyword. Target the exact phrases customers are typing into the Amazon search bar, and get the most comprehensive and accurate keyword report in the galaxy when you subscribe to Keyword Research.