The saying goes that opportunity often looks like work. That's certainly been true of Amazon keyword optimization.
Paying for keyword results that may or may not be relevant, sometimes spending hours trying to decide which ones to put in your listing; it's exhausting.
Then there's fierce competition to think about. So many sellers have zeroed in on the same group of keywords, making those keywords competitive and difficult to rank well for. It's like if Google Maps showed only one Starbucks in all of Manhattan.
That store would constantly be packed with people and nearly impossible to place an order with. You'd probably use a different map to see all of the other Starbucks locations and visit one with the shortest wait possible to get your coffee immediately.
Amazon keywords are kind of the same in that the main keyword for your product is the one showing up on all the current tools. And that Amazon keyword is overcrowded. You have to decide if it's worth it to wait in line for a sale. And until now, there haven't been any other tools to show you the open keywords for your product. So you've had no choice but to wait and wait and wait for a sale in a crowded market.
But with the Opportunity Score feature in Keyword Research, the latest Viral Launch, game-changing software, you can identify all of the keywords that your competitors are not taking advantage of. While they're focused on the same group of overworked keywords, you can locate and strategically incorporate hidden gems. Core keywords they don't know about.
So, how does Opportunity Score work to help you get these keywords that you can immediately begin ranking for?
How Opportunity Score Evaluates Keywords
To put the most relevant and high opportunity keywords in front of you, Keyword Research runs a Reverse Market Lookup that reaches across all Amazon markets associated with your seed word. The result is an enormous pool of keywords related to your product.
Until now, a popular method of identifying important keywords was through a Reverse ASIN Lookup. A Reverse ASIN tool requires you to input an ASIN (product) or a list of ASINs. The tool then pulls a list of keywords that the given product or products are indexed for within Amazon.
The only problem is that a Reverse ASIN Lookup doesn't show you the full picture because it can't. A reverse ASIN lookup assumes that the listings associated with the ASINs have virtually perfect keyword use while ignoring the probability that the listing is almost always missing vital keywords, keywords that allow you to truly stand out in that market.
Keyword Research takes a widescreen view of a keyword's market performance by evaluating thousands of listings. It does a Reverse Market Lookup to find virtually every associated keyword and then runs each term through our Market Relevancy Calculation. This process ensures that you see all of your product's most important keywords without having to weed through the irrelevant ones.
How Opportunity Scores Are Calculated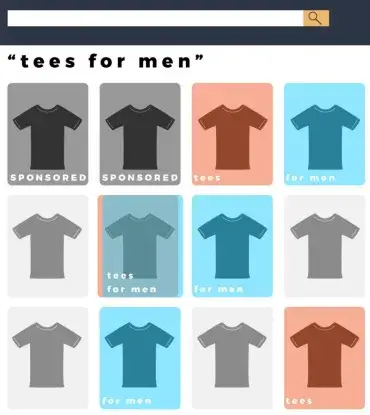 Let's look at a search result page for the seed keyword t-shirt to better understand how Opportunity Scores are calculated.
If you search the term "t-shirt" in Keyword Research and sort by Opportunity Score, "tees for men" comes up as a 1,000 Opportunity Score keyword. So what does that mean?
Basically we're looking at all t-shirt products and finding where tees for men is showing up. All of the orange-shaded listings have tees in their title but not for men. The blue-shaded listings have for men but not tees. And the blue-ish brown-shaded listings have tees as well as for men.
But since tees for men is a 1,000 score keyword, we know that tees and for men do not appear consecutively and may not even be in the correct order in the listing title. Since so few sellers have included tees in their title, and even fewer have included both tees and for men, the Opportunity Score for the phrase tees for men is 1,000. That perfect score means that 0 of the top 10 listings have that full keyword phrase in the front end (or the title, bullet points, and description) of their listing.
Opportunity Score sifts top sellers for a particular keyword, screens their listing content, and scans whether or not those listings are using that particular keyword. For the listings that are, it then weights them by identifying where the keyword is placed and in what context – title, bullets or description. This weighted system is what produces each keyword's Opportunity Scores.
How To Read and Implement Your Opportunity Score Results
You're looking for keywords with a high Opportunity Score and solid search volume. Anything north of 8,000 exact is a good mark to shoot for. But keep in mind that search results are relative to your product. For instance, product X's top keyword may have search volume of 1.5 million, product Y's top keyword may have search volume of 5,500.
Keywords with Opportunity Scores of 1,000 are obviously ideal but so are keywords with scores in the 700-900 range. What you're looking for is a balance of essential high volume keywords and high opportunity keywords that other sellers aren't prioritizing.
For example, if you're selling a flashlight, you must include flashlight up front in your title. But you can also include the phrase flash light, which has an Opportunity Score over 900 and high search volume. This allows your listing to catch searches for both terms and puts your listing in front of other sellers for the term flash light. More opportunity, for more searches and more sales.
And it's easier than ever to find high-volume, high-opportunity, keywords with our new filter feature. Create a custom filter for Exact Search Volume that is Great or Equal to the volume you're interested in, and apply it to your results. Then you can sort by Opportunity Score and see the highest opportunities with the highest volume.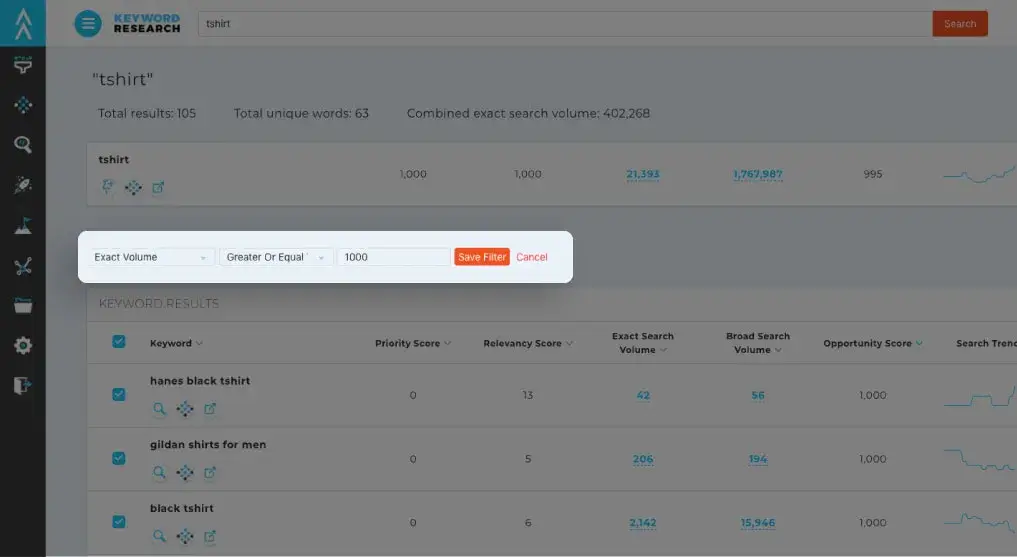 What Opportunities Can You Find Today?
With competition on Amazon continually increasing, you can't afford to miss opportunities to get ahead of the curve. Along with the accurate keyword results and monthly search volume that Keyword Research provides, Opportunity Score adds that turbo boost you need to shoot past other sellers in ranking, compete with even the best of the best in your category, and drive sales.
Start discovering keyword opportunities for your listing today with Keyword Research.