If you've been creating your own Amazon product listings using Amazon keyword tools, you know about frustration.
Trying to decide which product features will entice customers can be tricky. Trying to write for Amazon SEO is hard. Everyone seems to have a different opinion about how to deal with backend search terms.
And until now, doing keyword research has been anything but easy.
Thanks to sub-par Amazon keyword tools, you haven't been sure that the keywords you're putting into your listings or sponsored ads are any good. And you're worried that you're missing out on the right keywords.
You've literally been paying for other keyword tools to tell you bad information that you spend hours sifting through, and it's costing you impressions and sales.
That's why we created Keyword Research.
The new, cutting-edge, Viral Launch keyword research tool is designed to give you the most comprehensive list of relevant keywords. You get exact search volume from Amazon data along with historical trends. You can also easily find keywords no one else is leveraging using Opportunity Score and see bid costs to optimize your sponsored ads with Sponsored Ad Bids.
You've wasted time poring over poor results. Battled doubt that your keyword list is the best. Feared missing the right keywords. Wondered if missing those keywords is costing you sales revenue. No more.
When we looked at other Amazon keyword tools on the market, we found that they were causing 4 major problems. Here's what they were and how Keyword Research solves them.
1. Wasted Time
If you're an Amazon seller, one thing you really can't afford to waste is time. And, up until now, one of the biggest time-wasting aspects of creating your listing has been searching for the right keywords.
Maybe you begin with a shortlist of search terms that seem to best describe your product and its core uses. You collect terms you assume customers are using to search for products like yours. Plugging in terms to your Amazon keyword tools and then combing through pages of results for each is tedious. Before you know it, you've burned two hours and want to toss your laptop out the window.
Keyword Research streamlines this process by allowing you to enter just one root keyword and get all the keywords you need. You can adjust your keyword results by search volume, priority or relevancy. Then you can easily copy unique words, phrase volume pairs or all phrases, and paste them into any document for reference. You can even download selected results to a comma-separated values file (CSV) for easy data storage and transport.
Our extremely sophisticated set of algorithms quickly delivers a comprehensive list of your market's most relevant search terms. That means no more inputting 25 different keywords and having to make judgment calls on what to include and what not to include. Simply search and you're set.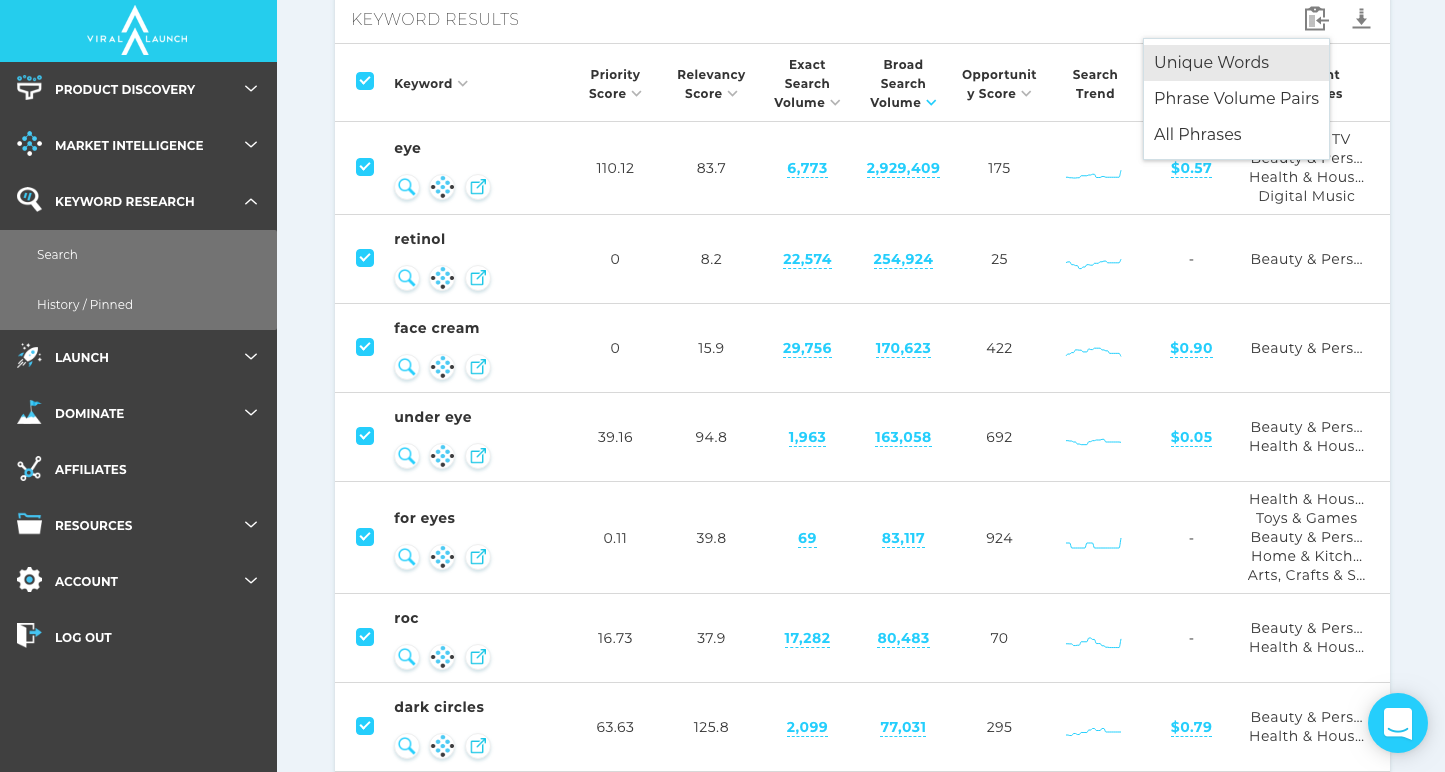 2. Irrelevant Results
After using other Amazon keyword tools, you've no doubt come away wondering if you're getting the most relevant, up-to-date results. Say you're selling a fish oil supplement. When "Fish oil diffuser (89,400)" and "Go Fish oil (30,100)" come up in the search results, you know your skepticism is justified.
Customers aren't actually searching for those products because those products don't exist, which casts doubt on every other keyword result on that list. Even performing a traditional reverse ASIN lookup for one ASIN misses some of your most relevant keywords and can yield irrelevant results that aren't important to include in your listing like "customer service."
Keyword Research uses Reverse Market Lookups, a master reverse-ASIN lookup that reaches across all your Amazon markets. Reverse Market Lookups take the listings of all of your top competitors into consideration instead of just one. And you get a list of the most relevant, high-volume keyword searches on Amazon for a panoramic view of your keyword's market footprint.
Say you're selling a trash can. When you search that phrase using Keyword Research, you get related keyword phrases like "kitchen trash can" and "stainless steel trash can," as well as horizontal keywords like "garbage can" and "trash bin" which don't actually include the seed term.
You won't get all of these crucial horizontal phrases with just one search in other Amazon keyword tools. And with horizontal terms like "garbage can" racking up over 40,000 searches per month, you cannot afford to miss out. Check out this head-to-head comparison of top Amazon keyword tools to see just how many terms they missed compared to Keyword Research.
Horizontal keywords help you cast a strategically wide net to catch as many customer searches as possible. This is exactly the type of advantage that can push you ahead of your competition.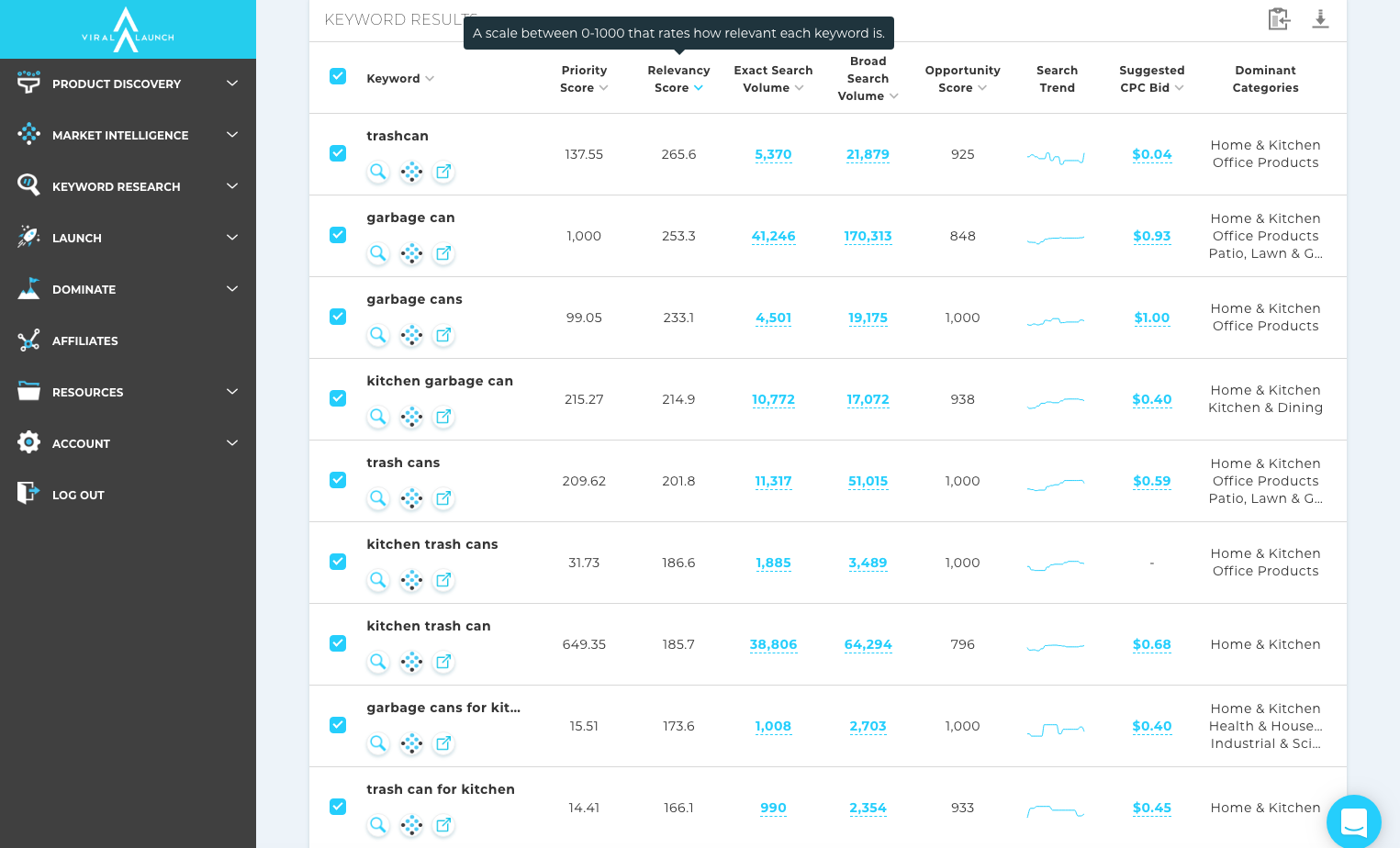 3. Inaccurate Search Volume
If "Fish oil diffuser" and "Go Fish oil" are showing up in results for other Amazon keyword tools, you should be doubting everything else on those keyword lists.
You can't feel confident that you're positioning your listing for success if you have to choose from results like that. Other tools source data from search engines like Google and Bing. That data reflects what people are searching on those search engines instead of what they're searching on Amazon, which functions in an entirely different way.
Keyword Research washes all of the doubt away. With accurate search volume based only on Amazon data, it shows you exact and broad search volume, two key metrics when prioritizing keywords for your listing. In descending order, exact search volume provides you with a full view of exact keywords searched over the previous 30 days. Broad search volume shows you the number of searches over the same period that contain a specific keyword phrase.
Using our trash can example, we can see that in the last month over 110,000 people searched for that exact phrase, while over 730,000 searches contained that phrase. This lets you know how many people are searching for the root keyword associated with your product, and how many times that root keyword is showing up in related searches.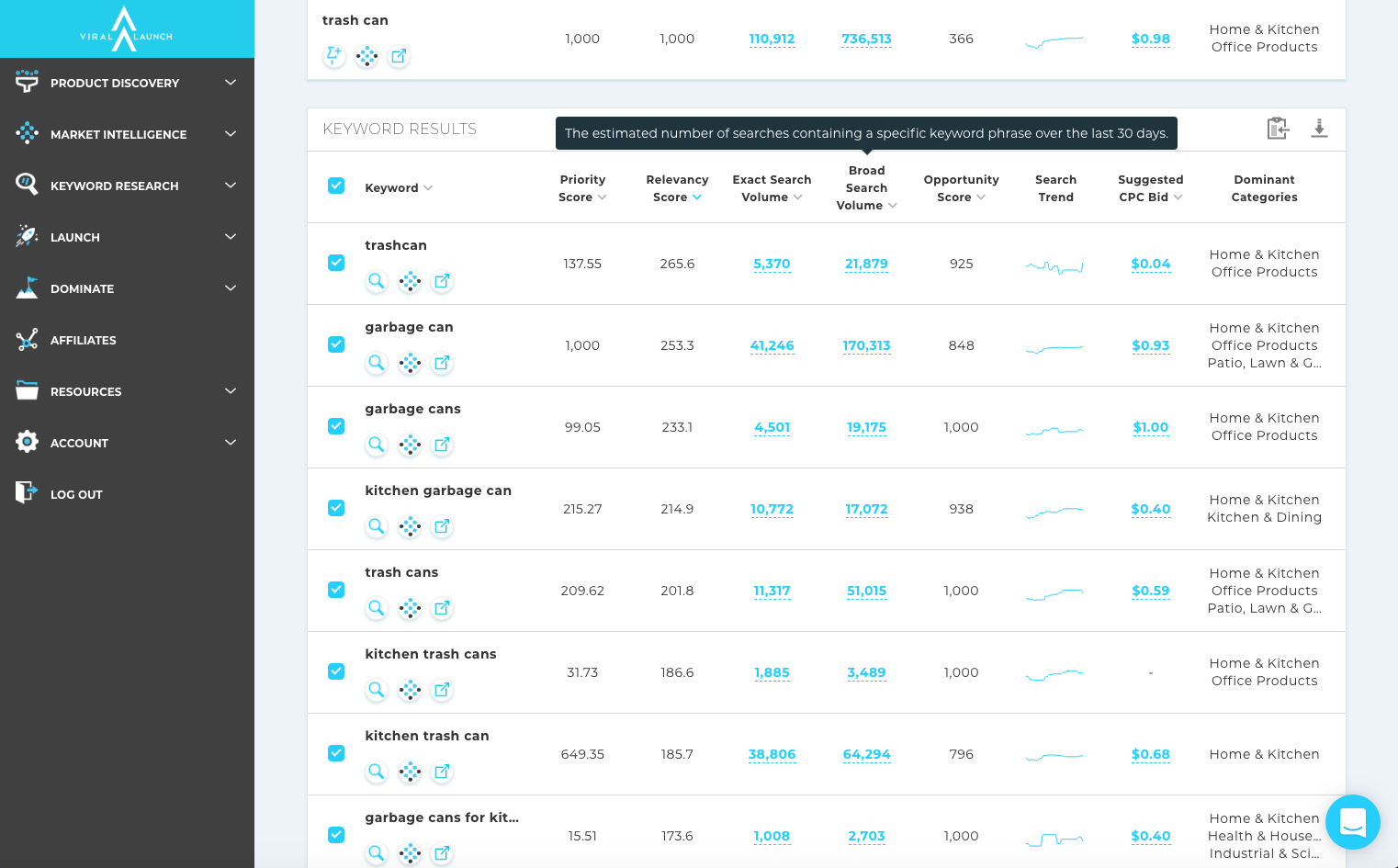 4. Not Enough Information
Many Amazon keyword tools offer nothing more than inaccurate search volume and a list of top categories for a keyword. With Keyword Research, we wanted to make sure sellers had all the information they needed right in front of them.
And with an Advanced subscription to Keyword Research, not only do you get the most relevant results and accurate search volume, you can also access key features designed to give you multiple advantages over your competitors. You can begin ranking for the right keywords, help maximize your listing's visibility, and drive more sales.
To help you do just that, we've sweetened our Advanced subscription with Search Volume Trends, Opportunity Score, and Sponsored Ad Bids.
Search Volume Trends allow you to see if a keyword is increasing or decreasing in popularity so that your listing. You can see trends for both exact and broad search volume. Some search terms may have less historical data than others, but as our database continues to grow, our historical data will as well.
Opportunity Score is a rating from 1 to 1000 that shows you markets where the ranking potential is high because the searched term is underutilized. Because high-opportunity keywords are less competitive, these markets may also have lower quality listings. This is a golden opportunity for you to gain sales.
Opportunity Score shows you keywords that have not been integrated into the front end of top performing listings, so you can incorporate them into your listing and begin ranking for them. Just a simple change can help you add thousands of dollars in sales every month. Read more about Opportunity Score and the other scores in Keyword Research.
No other keyword tool features anything like the Opportunity Score, which reveals gaps in the market that you can immediately take advantage of. And with updated data at your fingertips, you'll always know what the latest keyword gems are and in which market they've been hiding.
Sponsored Ad Bids allows you to see bid costs so you can better understand competition level for every keyword on your list. With these features at your fingertips, you'll spot high search volume, high opportunity, low bid, and trending keywords to put your product on the cutting edge of customer search.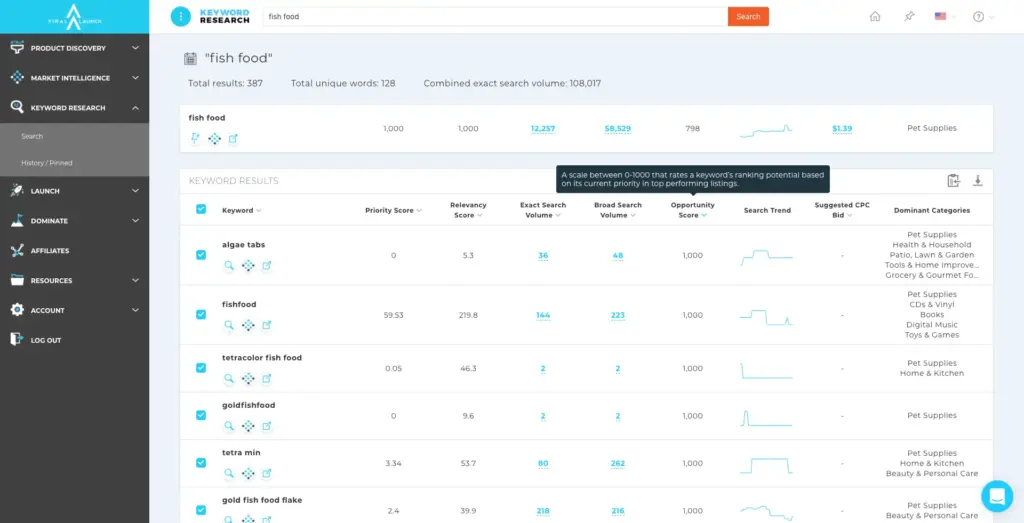 Keyword Research is the best amazon product research tool for sellers looking to capitalize on untapped opportunity. Make sure you never miss another keyword, and target the exact phrases customers are typing into the Amazon search bar. Subscribe to Keyword Research, get the most comprehensive and accurate keyword report in the galaxy.
Click here to learn more