Did you know that Amazon is the most visited online marketplace? This e-commerce platform earns about two billion monthly visits in the United States alone, followed by eBay (at almost 700 million) and Walmart.com (at nearly 400 million).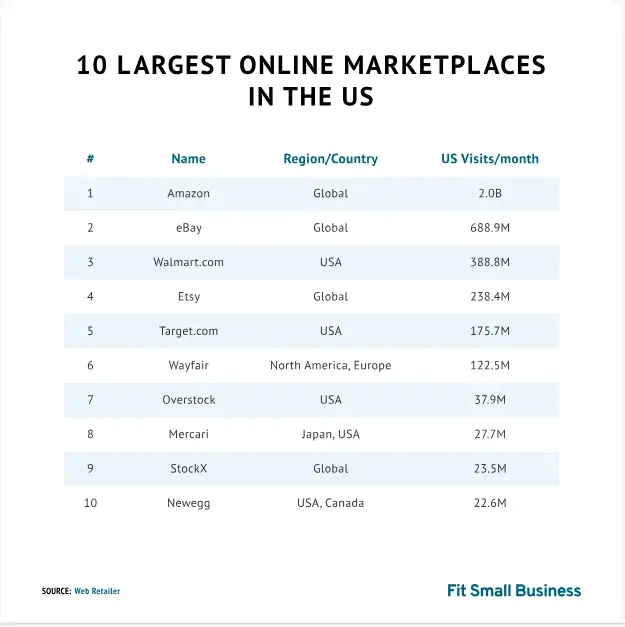 What does this mean? The Amazon platform provides entrepreneurs with limitless opportunity to sell their goods or items. That is, if you keep accurate, up-to-date, and optimized product listings that follow Amazons listing guidelines. So, how do you ensure proper optimization of your Amazon product listings? 
There are numerous Amazon seller tools at your disposal. You can use these tools to optimize your product listings and increase their visibility. However, beware of potential mistakes you can make while you're optimizing listings. These mistakes can be detrimental and hinder your search engine optimization (SEO) ranking, product sales, and business profits.
In this blog, we'll cover ten of the most common Amazon product listings errors. More importantly, you'll also learn how to resolve these issues.
Error #1: Inaccurate Product Descriptions
Product descriptions provide descriptive information and details about your product listings. These descriptions convey powerful messages and are a path to communicate directly with potential customers. They tell them what they need to know about your products and how they can help solve their problem. 
Nothing can be more frustrating for customers than to find your Amazon listing incomplete. But the worst thing they can encounter is incorrect product descriptions. Not only do they confuse and drive customers away, but inaccurate descriptions can also escalate to customer complaints.
Knowing how to create Amazon product descriptions is cruucial. If you're unsure how to create one, here's some helpful information:
Have keen attention to detail when drafting product descriptions.
Establish a quality assurance (QA) team tasked to conduct regular audits.
Update your product descriptions as frequently as possible.
Incorporate customer feedback into your product descriptions.
Jesse Galanis, Content Marketer at Furm​, suggests conducting a trademark search for Amazon product listings. "You want to ensure that the phrases, icons, and other elements used in your products are directly associated with your brand. They must not be related to other businesses and your competitors, lest you get sued for IP rights violations."
Error #2: Poor Quality Images
Did you know photos are the closest customers can get to experiencing your products on e-commerce platforms? That's why it's imperative to invest in Amazon product photography!
Few things can be more off-putting than low-quality images published on the Amazon platform. Do you think customers will will be interested in your product listings with poor images? Besides, product photography is one of the Amazon listing errors that can result in listing suppression.
So, how do you deal with product photography for your Amazon product listings? Consider the following:
Ensure you publish at least one photo of your goods or items.
Strictly follow Amazon's image guidelines (such as in terms of size and resolutions).
Invest in product photography by using high-quality tools and equipment.
Consider hiring a professional photographer to take images of your products.
Error #3: Misusing Keywords
Search engine optimization (SEO) can be used to improve product visibility and boost sales conversions. To begin, conduct Amazon keyword research to find words or phrases your target customers will most likely use when searching on the platform. Then, you can insert these keywords in your product listings.
Unfortunately, some sellers use any keywords anywhere in the product listings. They also tend to insert keywords multiple times, whether on the product titles, descriptions, or images. Note: Keyword misuse is one of the Amazon product listings errors you should avoid committing.
Suppose you're selling high-quality mattresses on Amazon and looking to boost their visibility on the platform. In this case, conduct keyword research and incorporate relevant words or phrases in your product listings. Fret not, as you can use SEO tools for keyword optimization.
Case in point: Include the keyword 'best mattress' in your product title, description, and alt images. However, avoid keyword stuffing by using this phrase sparingly. Keyword misuse can lead to penalties and negatively affect your SEO ranking, which defeats the purpose of using it in the first place. 
Error #4: Inadequate Title Optimization
Earlier, you learned how to optimize your producing listings using keyword research. A crucial part of Amazon SEO optimization is optimizing the title itself. Of course, the title is what your prospective customers see first. That can impact your product search and visibility.
Here's the problem: Some sellers don't pay particular attention to their product titles. They don't take ample time to make these titles striking and compelling without impacting conciseness. Likewise, they don't optimize them using the appropriate keywords.
That said, what better way to optimize your product listings than to add keywords to your product titles? Make sure to insert one phrase into each title. But while at it, ensure the product's relevance and accuracy. Ensure you closely follow Amazon's guidelines when drafting titles to avoid future penalties.
Error #5: Overlooking Competitor Analysis
Amazon is one of the leading e-commerce platforms globally. The platform provides you with the opportunity to reach out to a wide range of audiences. This means attracting lead prospects and converting them into actual paying customers.
But have you ever asked yourself: Why is my Amazon listing not showing up? You might have done enough to optimize your product listings, but your products still aren't that visible and prominent. Chances are, your competitors do better than you!
Shawn Plummer, CEO of The Annuity Expert, recommends conducting competitor analysis for Amazon product listings. "There's a need to see how the competitors in your industry present and price their products. From there, you can optimize your product listings and set reasonable pricing. That helps you get ahead of the curve in your niche."
Error #6: Not Utilizing Enhanced Brand Content (EBC)
Let's start by asking, what is enhanced brand content (EBC)?
As the name implies, EBC lets Amazon sellers enhance the content details of their brands and corresponding products. How? You can tap into rich media to make your product listings more detailed and attractive. You can even take advantage of AI chatbots for online marketing and product promotion.
Here's the problem: Many entrepreneurs and marketers aren't familiar with or ignore the power of EBC. Think of incorporating striking text and posting customized images. Consider comparing products and doing brand storytelling. They can kick your brand messaging and sales conversion up a notch!
Ryan Hammill, Co-Founder and Executive Director of the Ancient Language Institute, cites the value of storytelling. "Storytelling can convey a powerful message about your brand. Deliver content that subtly promotes your products or services and resonate well with your prospects. Remember, content is king in the digital world, which applies to the Amazon platform."
Error #7: Neglecting Customer Reviews
When it comes to product selling, online review are vital. Take it from these facts and figures:  A whopping 99.9% of customers read reviews when they are shopping online. Almost half of consumers trust online reviews more than personal recommendations from family and friends.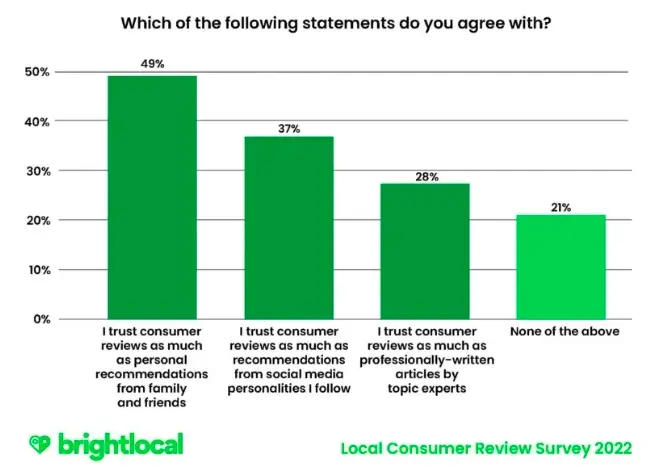 Image Source: 17 Online Review Statistics You Need To Know in 2023 (trustpulse.com)
It's important to take customer reviews seriously and include them into your Amazon listing conditions. Ignoring what customers think and feel about your products or services can be a recipe for business disaster. Be sure not to neglect reviews.
You can automate the review generation process with Viral Launch's Amazon review generator tool. This tool can collate and generate customer reviews about your brand, products, or services. From there, you can take two critical steps: post positive reviews and address negative ones.
But you're while at it, establish a system for monitoring, addressing, and automating reviews promptly. Here's how:
Create digital channels where customers can easily leave product reviews.
Monitor and manage customer feedback as quickly as possible.
Automate your process to collect, analyze, and report feedback efficiently and effectively.
Error #8: Failing to Update Inventory
Inventory entails regulating and monitoring your stock levels, which is important to selling on Amazon. The goal is to ensure you have enough goods or items for your product listings on the platform. On the flip side, you don't want to overstock your items and end up paying unnecessary fees.
Unfortunately, some sellers focus more on product listings but neglect updating their inventory. This Amazon product listings error can lead to discrepancies, making it difficult to monitor your stocks and track your sales. The worst thing that can happen is to lose sales due to Amazon penalties or out of stock products. 
It's imperative to set inventory management in place. Track your stocks and update your products accordingly. You can use automated tools for efficient product monitoring and the Amazon listing analyzer to analyze your sales performance.
Error #9: Poor Pricing Strategy
One of Amazon seller issues is poor product pricing strategy. Of course, you don't just price your goods or items randomly. There are several factors to consider, from your product quality to the industry competition.
Product pricing requires conducting comprehensive research and performing due diligence. We've listed a few steps below to help along the way:
Examine your goods or items in terms of quality and the value you offer.
Compare them with competitors in your niche
Leverage market intelligence and use pricing tools to correctly and accurately price your products.
Consider this: Nearly half of American households don't save enough for retirement. They might not be able to afford even necessities when they retire. Unreasonably high pricing can make it hard for them, so they won't likely purchase your products. 
Low product prices can cut into your business profits. Therefore, the key here is to check the standard market value of your products and price them fairly and correctly. And moving forward, monitor the market trends and update your product prices regularly.
Error #10: Not Adhering to Amazon's Listing Guidelines
As an Amazon seller, you must strictly follow Amazon's product listings and guidelines. While this ensures your product listing quality, these protocols guarantee customer satisfaction and level the playing field.
Unfortunately, some common listing mistakes that can result in poor visibility, potential penalties, and even legal ramifications. In the table below we've highlighted common listing violations and their consequences:
Common Violations
Overview
Consequences
Unauthorized Products
Selling counterfeit goods or items
– Listing removal
– Account suspension
– Legal action
Inaccurate Product Information
Providing incorrect or misleading details about your products
– Listing suppression
– Warnings
– Account suspensions
Intellectual Property Infringement
Copying IP rights
– Legal action
– Listing removal
– Account suspension
Listings Hijacking
Trying to control another seller's product listings
– Removal of unauthorized seller
– Warnings
– Account suspension
Review Manipulation
Publishing fake reviews
– Reviews removal
– Account suspension
– Account termination
Prohibited Products
Selling goods or items not allowed by Amazon's policies
– Listings removal
– Account suspension
– Account termination
Pricing Violations
Misleading pricing and price gouging
– Warnings
– Listing suppression
– Account suspension
You can use Viral Launch's AI enhanced listing optimization tool to optimize your listing and ensure you outpace the competition. Here are a few things you want to ensure are optimized:
Product Details: Ensure the accuracy of product information, including titles, descriptions, and photos.
Product Title: Use a clear, concise, and accurate title reflecting the product being sold.
Product Photos: Post high-quality images with white backgrounds and from multiple angles.
Product Descriptions: Write informative descriptions about your goods or items, detailing their features, specifications, and usage.
Product Conditions: Indicate the conditions of your goods or items, whether brand new, used, or refurbished.
Product Variations: Show the differences of similar products in terms of size, weight, color, and other factors.
Stock Availability: Make sure your product listings reflect the available stocks to ensure they are up-to-date..
Manufacturer Information: Provide accurate details about your brand. Include the accurate details of your products' manufacturer for the customers' reference.
Optimizing Your Amazon Product Listings for E-commerce Success
Amazon product listings optimization is crucial in selling on the platform. Not only does it increase your product visibility on the platform, but it also boosts your sales. Ultimately, it contributes to your overall e-commerce success.
But when doing so, consider theese ten Amazon product listings errors that we've outlined above and be sure to avoid them at all costs. More importantly, follow our practical tips on how to resolve them. All it takes is to use various Amazon optimization tools to automate and streamline your processes.
If you're ready to optimize your product listings on the Amazon platform, Viral Launch has all the tools and resources you need, from listing builder to keyword research to LaunchGPT. Get in touch with us today to see how we can help!