Don't you hate it when you're ready to source your next Amazon product but you cannot come up with any good product ideas? Same.
By using Viral Launch's new Market Intelligence tool, you can research and validate your product ideas through an in-depth analysis of different product markets. But, what good is a product research tool without any product ideas?
We'll walk through some creative methods for generating product ideas, and by the time we're through, you'll have an extensive list of potential product markets to plug into Market Intelligence! With just a little bit of time spent brainstorming, you'll be on your way to sourcing your next gold mine.
How to Generate Amazon Product Ideas
Before brainstorming product ideas, it's important to understand the basic criteria of a successful Amazon product.
Good products to sell on Amazon are typically:
Small, light, and durable

for lighter shipping and manageable returns.

$10-50

typically for good sales numbers and margins on Amazon.

High-margin

for a good return on investment.

Niche

for a more specific audience and potentially higher conversions.

Not dominated by a name brand

for more opportunity to grab market share.
These are just guidelines for your thought process but don't feel like you need to stay inside a box of specific criteria. If you think of a heavy product with great margins, that product may be perfect for you. Now, you're ready to brainstorm ideas.
We'll go over three creative techniques to help you generate product ideas for Amazon FBA.
Alibaba Catalogs and Storefronts

Niche Discovery Method

10 Ideas Each Day
Alibaba Catalogs and Storefronts
Right now in China, a supplier is manufacturing a product that has potential to make you thousands, maybe even hundreds of thousands of dollars. It's just up to you to find out what that product is!
A great way to discover product ideas is by looking through a supplier's complete product offering. This can be found in the supplier's catalog as well as on their Alibaba.com storefront.
First, send a message to Alibaba suppliers asking for their product catalog. Contact suppliers by running a search for any product and then clicking the Contact Supplier button.

Here's the message I sent to about 5 or 6 suppliers:
Hi there,

Can you please send me your product catalog? I'm interested in sourcing a product, and I would like to look through what you offer first. My email is [email protected]. I'll look forward to seeing what products are available from you.

Thank you.
Send a similar message, and you'll get a document back containing every product offered by that supplier. This is a great source of product inspiration! For example, a knee brace manufacturer sent back a multi-page document showing everything they offer. Here's one page from their catalog: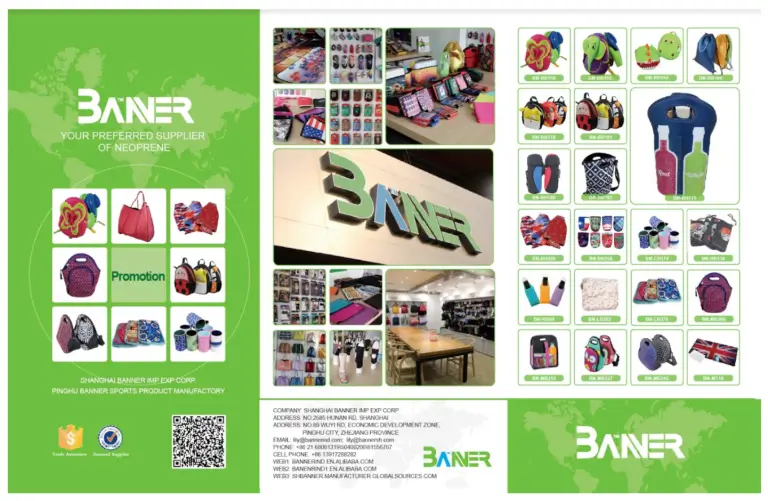 From this catalog, I found other product ideas, such as gymnastics grips (★★★★), lunch bag (★★★★), doormat (★★★★), and shin guards (★★.5). Many catalogs have a similar layout, and others will be a spreadsheet containing details about each product.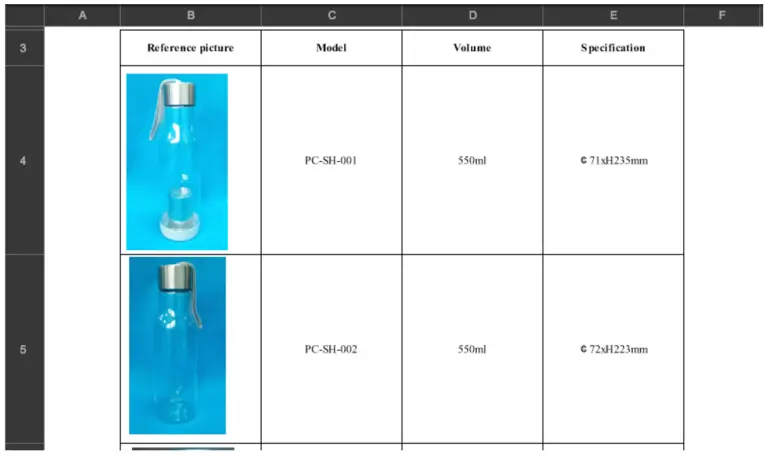 The product ideas you'll get from catalogs may not all be home runs, but looking through everything a manufacturer offers is a great way to get your creative juices flowing. Once you've got a list of potential product ideas, plug them into Market Intelligence to discover which markets are duds and see if you've come across a gold mine.
Another similar method is to visit storefronts on Alibaba.com. Find these by clicking on the Supplier's name in search results.

On the supplier's homepage, you'll see the products they offer. You can also navigate their products by the Product Categories tab.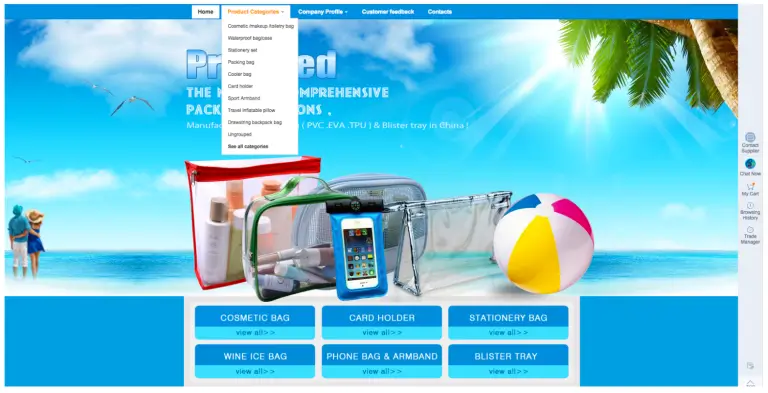 As you're combing through the storefront, you can plug the product ideas into Market Intelligence to research the market and determine if it's a good fit for you. One cool feature of Market Intelligence is the ability to run multiple searches, up to ten, at once!
You may find that some markets are oversaturated, but with enough searching around, you're sure to find your next money-maker.
With this method and the storefront shown above, here are some of the products I came across and did some quick research on: cosmetic bag (★★★.5), card holder (★★.5), ice bucket (★★★.5), and inflatable travel pillow (★★.5).
Niche Discovery Method
Put your thinking cap on. It's time to discover some Amazon product niches. This method can help you find smaller product markets within more popular categories. You may find some golden nuggets, and you'll likely come across some really goofy products. But bear with me here – sometimes finding the perfect niche requires thinking out of the box.
Collect Items
Get up, and go grab 7-8 items that fall within our "good Amazon product" specifications. As a reminder, those are products that are small, light, durable, $10-50, high-margin, niche, and not dominated by a name brand.
Today in the office, I've picked up a water bottle, straws, yoga mat, coffee cup, gloves, scissors, and a laptop case.
List Adjectives
Once you've got your items, get out a piece of paper and a pen. Write down ten common product adjectives. You can choose your own, or you can use these examples:
Mini

Large

Bulk

Travel

Personal

Industrial

For Kids

For Men

For Women
Search Combinations on Amazon
run a search on Amazon for each product that you collected in step one, with each adjective attached to it. For example, I'll search mini scissors, large scissors, bulk scissors, travel scissors, and so on. These search terms may seem a bit odd, but trust the process 🙂 Sift through the product results to see if you can identify a product niche within that search… maybe a product that you haven't thought of before.
Don't be afraid to veer off the path as you click through products and niches. You may just run into the perfect product opportunity.
When sifting through the search results for bulk scissors looking for interesting niches, I came across products like scissor caddy, rolling scissors, and desktop organizer. These are all potential markets that I wouldn't have thought up on my own.
Here are some additional niche product markets that I came across in my searches: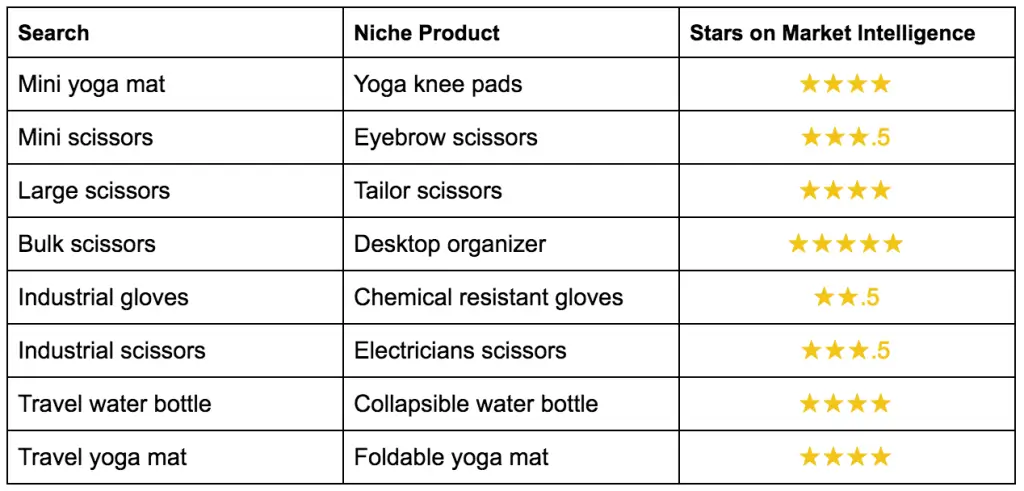 Write down your list of niches. Now, some of these products are going to be horrible products dominated by huge review numbers or marginal sales. But that's ok. Not every idea is going to be a home run.
After using this niche hunter method, you'll have a solid list of product ideas for your Amazon product research. I even found a 5-star product 😉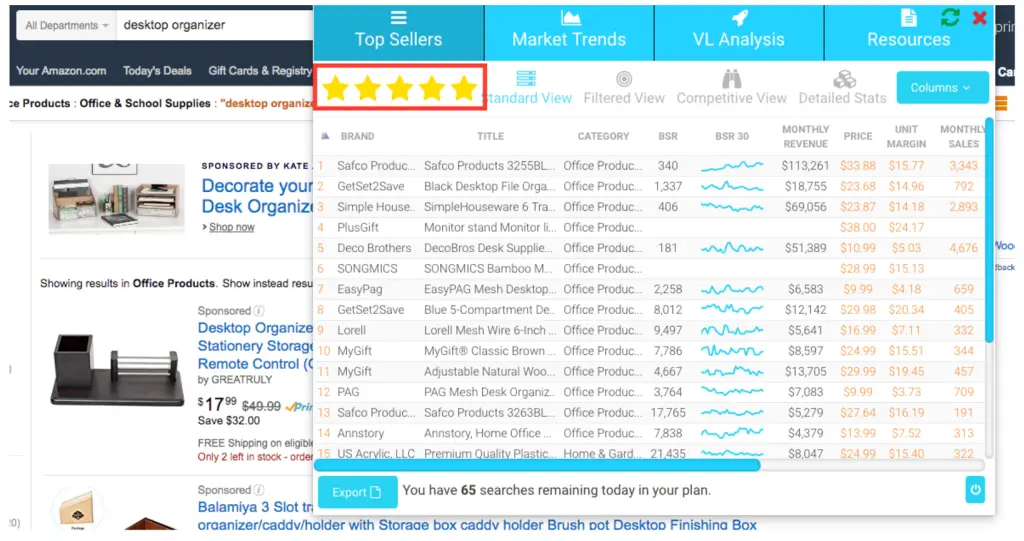 Plug your ideas into Market Intelligence, our Amazon product research tool, and see if you've come across a winner. You're now one step closer to determining what to sell on Amazon!
Want a tougher challenge? Head to your local Walmart, Walgreens, Target, or Home Depot and jot down the products you see that may be a good fit. Use Market Intelligence on-the-go on your mobile device, or go research-crazy when you get home!
10 Ideas Each Day
"You have to come up with a new way of thinking. A new way of having ideas, a new way of interacting with the outside universe. You're in crisis, it's time to change. Time to become an IDEA MACHINE" – James Altucher
James Altucher is a best-selling author, entrepreneur, and venture capitalist. Years ago, he found himself at rock bottom, so he started coming up with ideas to make a change. He would take his waiter's pad, go to a cafe, and write down 10 ideas each day. Some were business ideas, some were book ideas, some were solutions to problems he faced. In doing this, James strengthened his "idea muscle," and the results were twofold: he could always come up with ideas when he needed them, and he came up with some really good ideas.
To help you brainstorm Amazon product ideas, I want to challenge you to strengthen your idea muscle. You'll come up with good ideas, and after some time, you'll be a more creative thinker. Sit down each day without distraction. Pick a category, and write down 10 product ideas.
While this may seem easy, but you may discover that around number 6 or 7, your "brain starts to sweat," as James puts it. Think about it: when you work out at the gym, the muscle-building comes after you're comfortable. If you stop lifting the weight when it starts to hurt, you won't see results. When you're brainstorming, get past the difficulty and push yourself. And this is where you may find some of your golden nugget ideas.
And just like working out, you must make it habitual to make any sort of difference. Challenge yourself to do this every day, and after lots of practice, you'll become an idea machine. Of those hundreds of ideas, you'll likely find some ideas for good products to sell on Amazon after a bit of Amazon product research using Market Intelligence!
Here are some categories to get you started:
Coffee, Tea & Espresso

Pet Supplies

Camping & Hiking

Computer Accessories

Storage & Organization

Office Supplies

Sports & Fitness
Research Your Amazon Product Ideas
After you've gone through these exercises, you should have a list of potential product ideas. Now, you'll want to do some extensive research to determine which products will make the most sense for you and your Amazon business.
To understand whether or not a product market has potential, you'll want to take many factors into consideration. These include, but are not limited to: average monthly sales across the market, possible monthly sales if you were to source this product, the sales/review ratio, sales trends, price and review count trends, the best selling period, and the number of reviews needed to sell well.
Sounds like a lot of research? Well, it is. It is crucial to do your research and understand a market before jumping in. If you go in blind, you'll likely be blindsided and unsuccessful. But, if you know what you're getting yourself into, you'll set yourself up for success.
Luckily, Market Intelligence conveniently places all of the necessary information at your fingertips. You'll understand where the market has been, where it's at today, and where it's headed. Recognition of potential downfalls, trends, and crucial data pays off considerably. After looking through Market Intelligence, you'll be confident in your decision to source or walk away from that product.
Check out Market Intelligence for free and take the next step towards sourcing your next home-run product!