Viral Launch offers FREE split testing software to increase your product's profitability.
If you could make thousands of dollars more each month by changing your price, would you?
Consider these questions:
How did you choose which price to set for your Amazon product?

How did you choose which photo to use as your listing's main image?
If you're just guessing which price point and which image set is best, you could be missing out on (literally) thousands of dollars.
Up until this point, you've had to guess which listing elements are most profitable because third-party software is expensive, and you're on a budget. You haven't had a cost-effective way to determine how to best optimize your listing elements… Until now.
Listing Dojo by Viral Launch is FREE split testing software. Yes, you read that right.  Free, no strings attached. Our powerful set-and-forget platform allows you to determine which price point, images, title, and description make your listing the most money!
What is Split Testing?
Split testing compares multiple versions of a listing, through controlled experiments, with the goal of improving a metric, such as clicks or conversions.
Split testing is also known as A/B testing, but Listing Dojo provides more like A/B/C/D/E/F/G testing. In other words, you're able to test unlimited variations of each listing element! This way, you can be sure you have the most optimized listing possible for your specific market.
Amazon split testing is one of the most underrated ways you can increase your listing's profitability. Decreasing your price by a dollar or two could increase your sales by 10-40%!
What price point will drive the most clicks and sales? What main image will more people click on, and what image set will convert the best? Listing Dojo confidently answers these questions with hard data, taking the guess work out of it.
How to Split Test Your Amazon Listing (for Free)
1. Sign up for a free Listing Dojo account
Signing up for Listing Dojo is quick, easy, and free. You'll provide some basic information and authorize your Amazon Marketplace Web Service (MWS) account. This access will allow Listing Dojo to pull your product catalog, make updates to your listing, and pull sales reports. If you'd like to see clicks, sessions, units ordered, and total orders data, Listing Dojo can provide it all through gaining access to business reports in Seller Central.
From there, you can access your accounts, and you'll see your products right there, ready to go.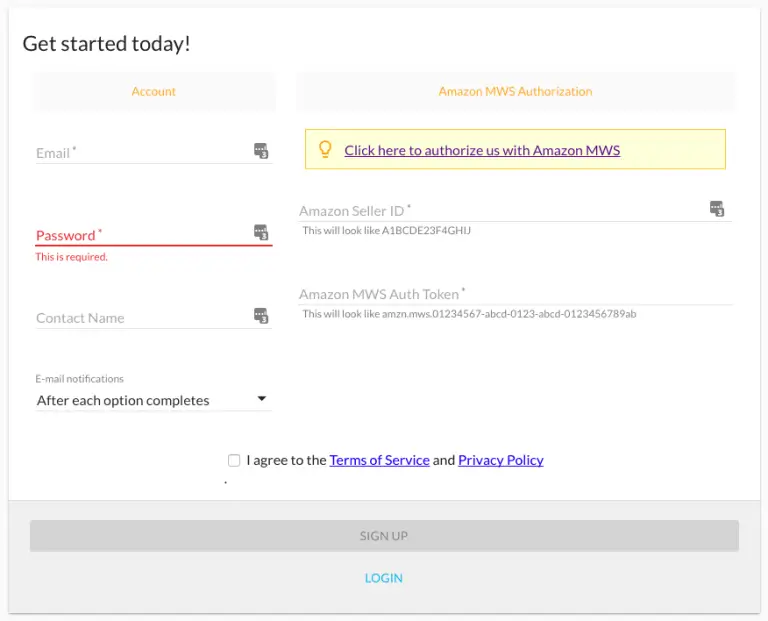 2.
Select your test element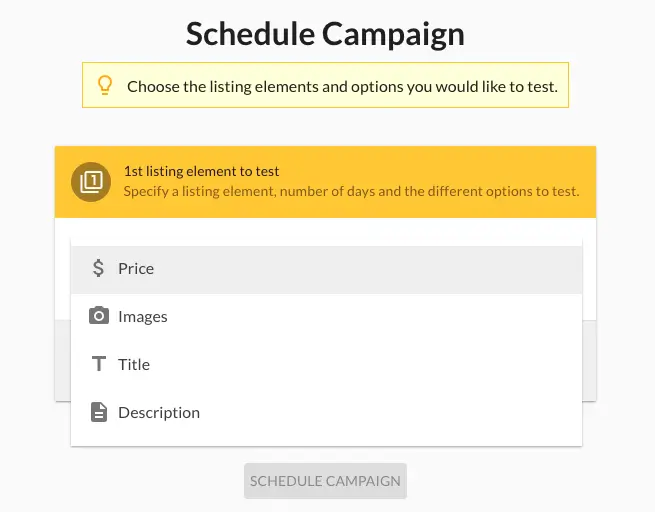 Choose which listing element you'd like to test: price, images, title, or description. If you're not sure where to start, we suggest testing your price first, as it is the simplest to test and can have one of the largest impacts. After price, we recommend split testing images.
Testing content (title and description) can be tricky, as this involves re-indexing and can have a negative impact on sales. This is a viable option if you're just getting started, but once you find what works for your content, we suggest sticking to it and running a launch to boost relevance for that keyword structure.
3. Create your campaign
Select the number of days each variable will run. You can choose from 1-31 days. We typically recommend running each variable for 7 days, as this covers every day of the week to eliminate as many outside variables as possible. Then, input your independent variables. We test a single element at one time, meaning we won't test price and images simultaneously. This allows for cleaner metrics about which item caused the gain or loss.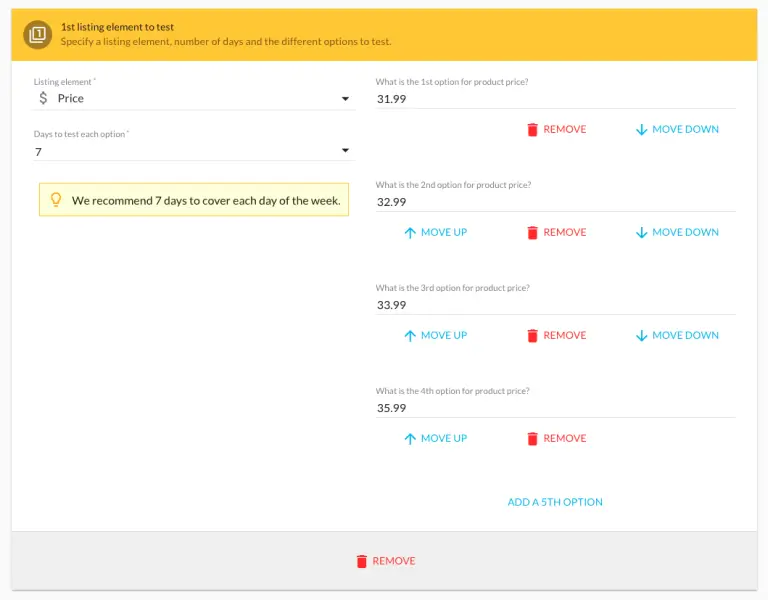 4.
View campaign metrics
Each time one variable finishes testing, you'll get a metrics report. This will detail exactly how that variable performed, including the baseline, which is what your listing is set at before running the campaign. Listing Dojo will show the data in two different ways: a side-by-side comparison, and a detailed performance of each tested price.
Comparison Chart
On the Comparison chart, you'll see the following Sales metrics for each variable:
Gross Total

: the grand total of all transactions

Gross Organic

: the grand total of all full-price transactions (excludes promotional sales)

Net Total

: gross sales minus fees and promotions

Net Organic

: gross full-price sales minus fees and promotions (excludes promotional sales)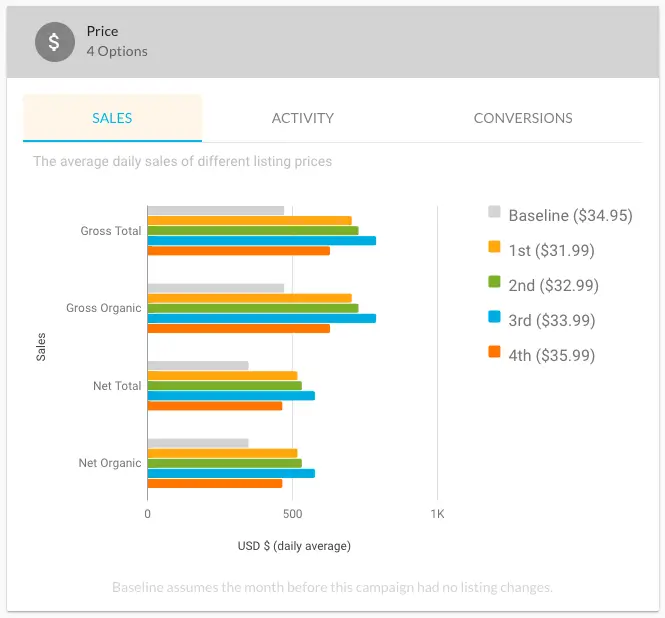 The Activity tab shows the average daily activity of different listing prices, including:
Page Views

: total visits to your listing.

Sessions

: visits to your Amazon listing by a customer within a 24-hour period. *A user may view your offer pages multiple times within a single time period, resulting in a higher number of page views than sessions.

Units Ordered

: number of units ordered.

Total Order Items

: the total number of orders for the given product.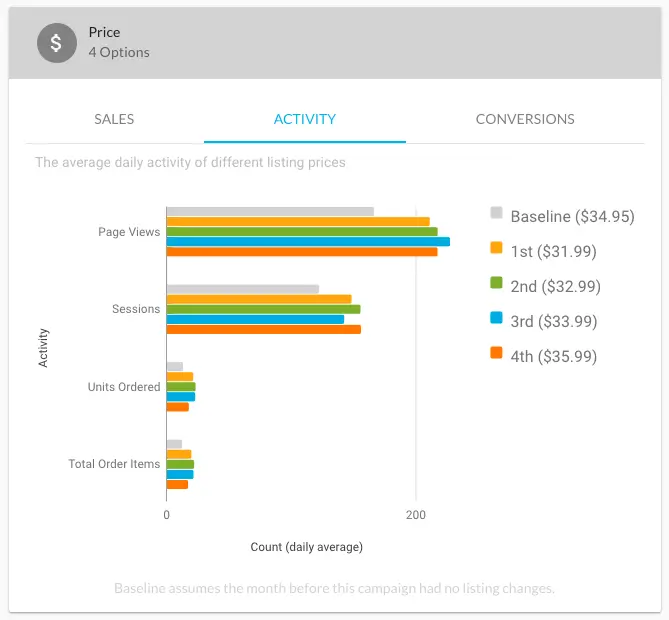 Finally, in the Conversions tab, you'll see the average daily conversion rate of the different variables. Conversion rate is the Total Order Items/Sessions.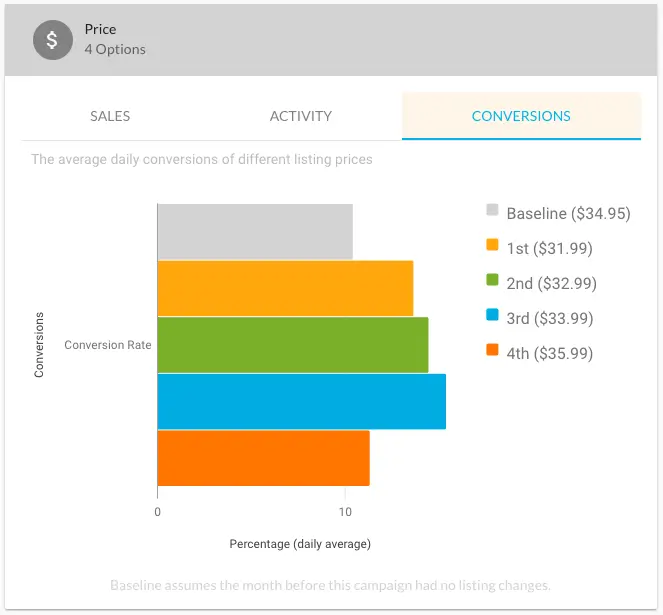 Note: to view the metrics in the activity and conversion tabs, you'll need to give us Seller Central access.
Performance Charts
Listing Dojo will show a performance chart for each tested element, including the baseline. You will see the order of the tests, the tested variable, the days tested, and comprehensive metrics. The metrics will be the same as those in the comparison charts, but they will be categorized by test element.
An additional metric included in the performance charts is the Change column, which shows the dollar or percent change in each metric from the baseline. These changes will be positive or negative and will give you insight into which test variable performed the best for each metric.
These charts are incredibly valuable for sellers looking to increase clicks and conversions! You'll know exactly how each test element performed, which will allow you to determine what variable makes your listing the most profitable.
4. Make more money
Implement your most profitable listing variations from your split testing, and watch the money roll in.
Why You Must Split Test Your Listing
Its insane value for absolutely free. Viral Launch offers Listing Dojo at no cost. You could be making hundreds to thousands more profit each month… Why not test it out and see – for free?
Train your listing to be more profitable with Listing Dojo. It's easy setup and easy money. So get to it!