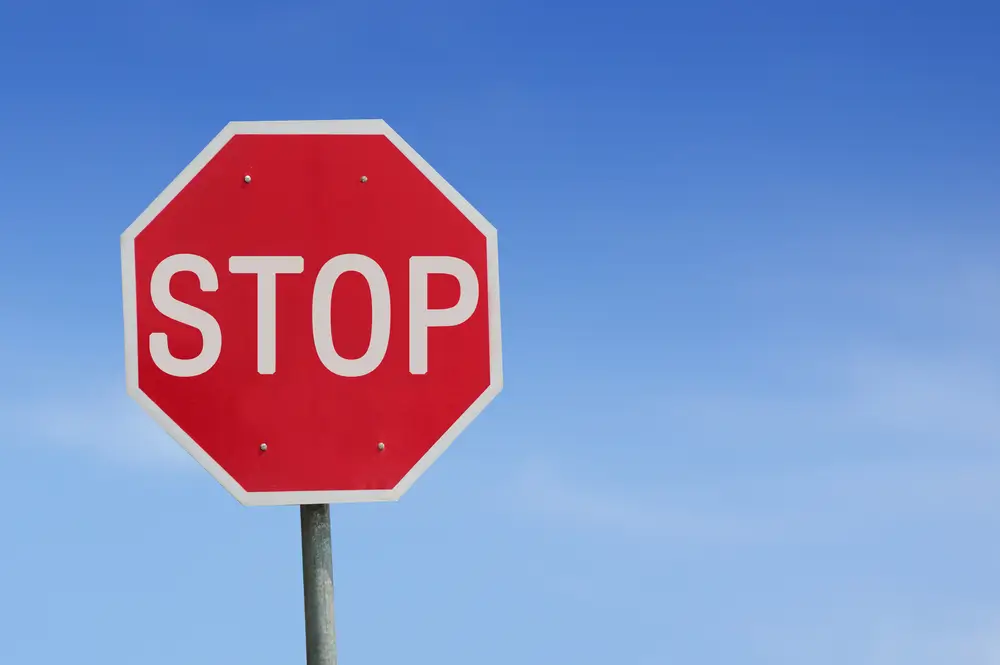 When you signed up to be an Amazon Seller, you agreed to a long list of seller policies and terms of use. Over time, the Amazon Terms of Service can become a distant memory and as Q4 ramps up, you may be looking for tactics to push your sales. In the flurry of the holiday season, it is easy to make a rash decision that might fall on the wrong side of the rules, risking future sales or your entire Amazon business.
Luckily, we are here to give you a quick refresher on the important policies and regulations to help keep your account safe. We have compiled an overview of Amazon Terms of Service, including code of conduct, selling policies and prohibited actions to jog your memory and help you avoid any questionable tactics.
Let's get started!
Seller Code of Conduct
Amazon strives to provide a safe and trustworthy online marketplace for millions of customers across the globe. They require sellers to adhere by a strict code of conduct to ensure shoppers trust their purchases and continue to return to the site. This code of conduct also protects you as a seller in that it keeps your competitors from using unfair tactics to outsell you and other rule-following sellers.
If Amazon discovers that you have violated their Code of Conduct, they typically take quick action. This can include suspending your seller privileges and/or removing you from the entire Amazon Marketplace.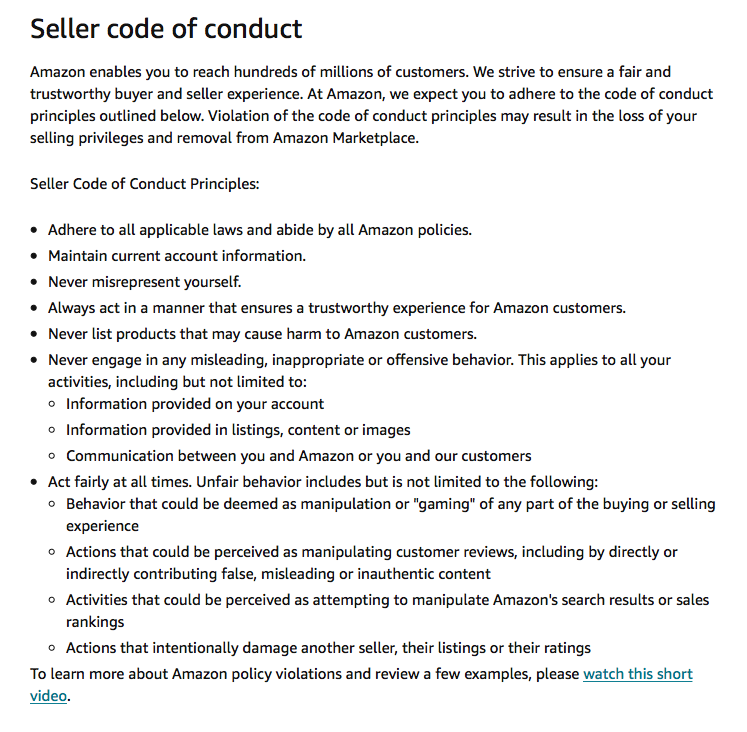 Amazon Selling Policies
In order to protect consumers, Amazon has rules and requirements on what types of products can be sold on their site. Be sure you are not planning to sell any questionable items on the marketplace. Amazon does not allow you to list products that:
Prohibited Seller Actions
Amazon prohibits certain actions by sellers in order to protect both sellers themselves and shoppers. The site does its best to keep the playing field level for all sellers, so any action that gives you an unfair advantage over your competitors is not permitted. Chances are if you are worried whether a tactic you are considering using may be against the rules, it probably is. Here is a quick recap of some prohibited actions:
1. Diverting traffic from Amazon
Sellers are not permitted to use any sort of language or web links that push traffic away from the Amazon website. This includes any advertisements, special offers or calls to action that encourage shoppers to leave the site.
2. Unauthorized business names
All business names must accurately identify the seller, must not mislead shoppers and must be a name that the seller is permitted to use (i.e. it cannot be a brand or trademarked name that you do not have appropriate permission to use). Business names cannot contain an email suffix (i.e. .com, .biz, .net, etc.).
3. Inappropriate email communications
Sellers are not allowed to send any unsolicited emails to customers other than those needed for order fulfillment or customer service. Marketing emails to customers are not permitted.
4. Improper use of customer phone numbers
Customer phone numbers are provided to sellers who fulfill their own orders so they are able to comply with carrier label requirements. These phone numbers must be handled in accordance with Amazon's customer personal information policy, which can be found in the Seller Agreement.
5. Multiple seller accounts
Sellers are not permitted to operate and maintain multiple seller accounts. If you have a legitimate business need for multiple accounts, you can apply for an exception by visiting the Contact Us section of your seller account. Click on Selling on Amazon, then select Your Account, then Other Account Issues. You must provide an explanation of your need for multiple accounts in your submission.
6. Misuse of the Amazon seller service
Sellers that upload excessive amounts of data repeatedly or use the service in an excessive or unreasonable way may face restricted or blocked access to product feeds or any other function they are misusing. Amazon decides what constitutes this misuse at their own discretion.
7. Misuse of ratings, feedbacks or reviews
Sellers are strictly prohibited from engaging in any action that may manipulate ratings, feedback, or reviews. This includes offering incentives to customers for their reviews or ratings, posting feedback to your own account, etc. You are allowed to ask for reviews in a neutral manner, but you are not allowed to ask for positive reviews. Sellers must also comply with Amazon's Community Guidelines when dealing with customer reviews.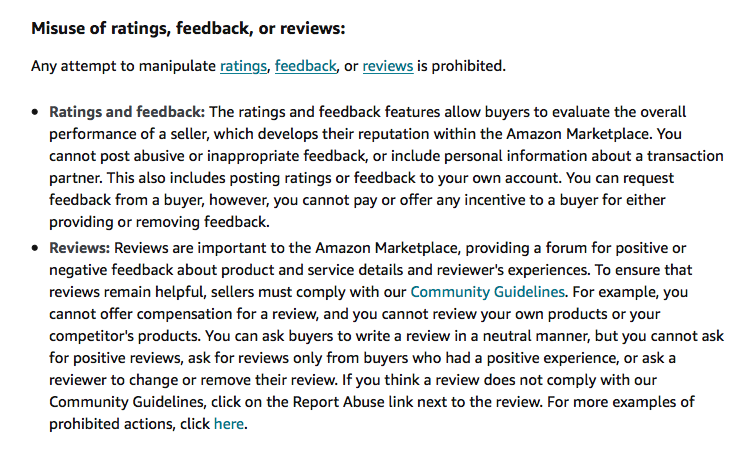 8. Misuse of sales rank
Sellers are prohibited from engaging in actions that manipulate sales rank. This includes soliciting or knowingly accepting fake orders, placing orders for your own products or providing compensation to shoppers for buying your products. Sellers are also not allowed to make claims about their sales rank in their product information.
9. Misuse of search and browse
Any attempt to manipulate the Search and Browse experience of shoppers is prohibited. This includes artificially stimulating customer traffic through internet bots, etc., providing misleading catalog information about your product, or adding product identifiers to hidden keyword attributes. Follow Amazon's guide to properly optimize listings in order to write your listing in compliance with Amazon's rules.
10. Misuse of product customization
Those products that are listed as being customizable must be able to deliver on this claim. Any attempt to manipulate custom functionality in a manner which bypasses existing Amazon policies or misrepresents customized products is prohibited.
Know the Rules, Follow the Rules
Amazon does not take violations of their terms of service lightly. At best, you may get flagged and temporarily suspended. At worst, you could be banned completely by the online retailer, stopping your cash flow and dashing all hopes of future sales.
Though it may be tempting at times to try questionable tactics to boost sales, it is not worth the risk. You may see some of your competitors breaking the rules to get ahead, and while they may not get caught immediately, Amazon almost always catches up to sellers who are abusing their terms of service.
We at Viral Launch are here to provide TOS compliant solutions to help your listing pick up speed and generate sales. From professional photography to optimized listings, we have data-driven resources and software to get to work for you.