As a new seller on Amazon, you're probably eager to break into the marketplace and start moving products. But there's one major challenge that stands in your way: competition. The Amazon marketplace is giant, and it's only getting bigger. As of the first quarter of 2020, third-party sellers make up 52% of paid units sold on Amazon, and that number will keep going up. Viral Launch is here to help with our Amazon Competitor Research software suite.
Just because the market is crowded, however, doesn't mean new sellers can't find an in. They just have to learn to use the competition to their advantage — with Amazon competitor research tools. A competitor analysis of Amazon is the best way for new sellers to maximize the effectiveness of their listings and get ahead of the competition.
Don't get stuck in a spot where you create a product listing and don't know what to do next. Learn to be savvy about the competition with a high-quality Amazon seller competitor analysis, and carve out a spot for yourself in the marketplace.
Enter the Solution: Competitor Intelligence
Our Amazon competitor research tool, Competitor Intelligence, gives you the best shot at cutting through that market chaos and finding success among fierce competition. Essentially, Competitor Intelligence allows you to compare your listings to competitors' listings by giving you an actionable Amazon seller competitor analysis to inform your strategy.
Get the Fullest Picture With Product Analysis
You can review how your product listing compares to competitor listings in the Product Analysis tab in Competitor Intelligence. You can contrast various information such as price, review quantity, review rating, listing copy, and images. This tool allows you to quickly see which keywords your competitors are ranking highly for — even if you're not tracking those keywords. This makes it simple for you to see where you have potential to create selling points against them.
For instance, can you offer a lower price, even if it's only temporary? Can you upload objectively better product photos? Is the quality of your product better? Product Analysis helps you isolate tangible advantages that you can highlight to drive sales.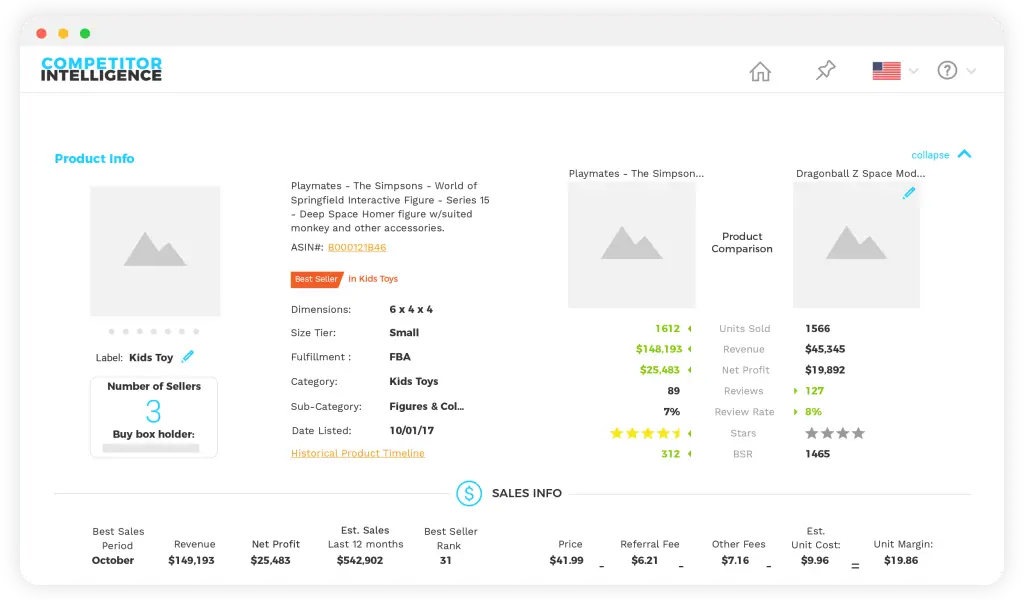 Keep Track of Competitors' Keyword Rankings
Then, you can do deeper competitor research to dissect competitors' strategies using the Competitor Keywords tab. Competitor Intelligence allows you to find competitors' most important keywords in under a minute. It shows you every keyword a competing product currently ranks for. Unlike other keyword research tools, it shows you what a competitor has ranked for historically. This gives you a more comprehensive view of a competitor's overall advertising strategy.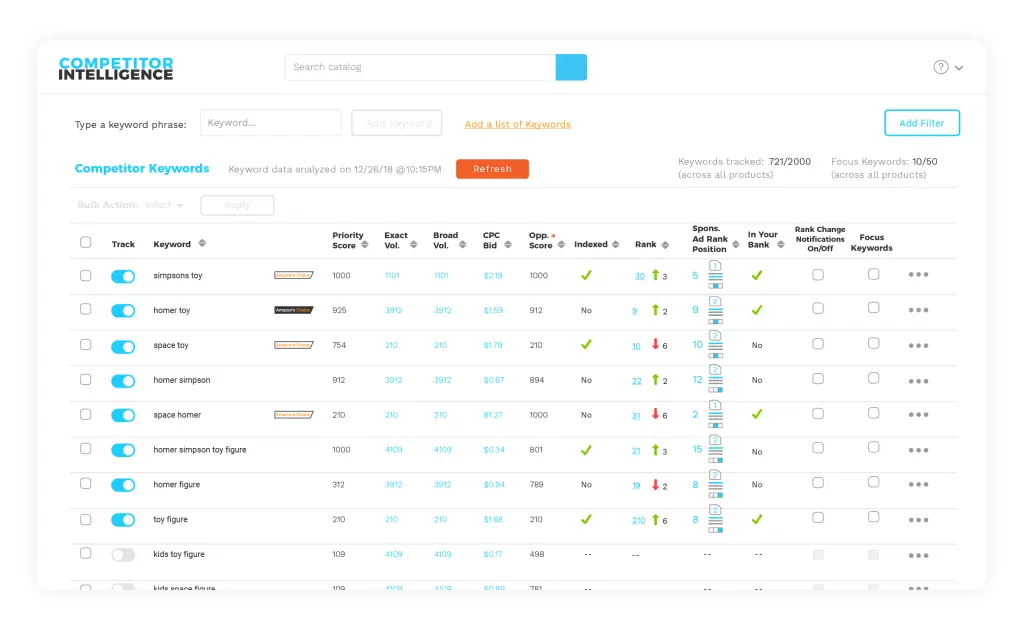 Now, as a new seller, it's unlikely that you'll be able to jump in right away and dominate those primary keyword areas, but you can use comprehensive competitor keyword data from Competitor Intelligence to find out which keywords competitors aren't targeting.
These lower-volume keywords may not necessarily have the same sales potential as the ones your competitors are targeting, but they can still drive some conversions for you at a lower advertising cost and with fewer competitors. As you gain visibility and drive sales through these keywords, you'll begin to generate reviews and raise your organic search rankings.
Over time, you'll build up your sales history and accumulate enough reviews to begin tackling some larger keyword areas and competing with the big guys.
Tracking Competitors in Real Time
Competitor Intelligence is also the only Amazon competitor research tool that updates you daily, or even hourly, on changes in important competitor data.
Product notifications alert you when a top competitor raises its prices, for instance, so you can take advantage of that as soon as possible. Keyword notifications also alert you when a competitor's keyword rankings change, allowing you to stay up to date at all times without having to manually check the competitor's rankings throughout the day. Competitor Intelligence is the only tool out there that will give you this real-time view of the landscape, and with it, you'll be able to react quickly and effectively to optimize your products.
Valuable competitor analysis on Amazon will give you insights into both how your products compare to other listings and how your competitors interact with the market. Competitor Intelligence offers this through unmatched product analysis and competitor keyword research.
It may be unrealistic to expect to jump right in and sell alongside your top competitors, but the right data can reveal the best opportunities. Once you're in, Competitor Intelligence will inform your strategy as you build your products up to the top of the increasingly crowded Amazon marketplace. And the earlier you start, the better.
See the tool in action today for FREE with a trial of the Viral Launch platform.