Optimizing your product listing for keywords on Amazon can quickly skyrocket sales and unlock your product's full potential.
There are plenty of ways to make money on Amazon, but for those who choose the FBA route, optimizing your listing for keywords on Amazon is a must regarding maximizing your opportunities for sales success.
Whether through organic search or the advertising route, understanding your product's popular (and less popular) keywords is essential to reach customers searching for your product.
That's why we created Keyword Manager, our comprehensive keyword tool that helps you stay on top of your keywords in every single way.
Quite simply, Keyword Manager is your go-to tool for all things keyword related. With stakes higher now than ever, it's crucial to ensure your keywords are on-point during the hectic holiday season.
All you need to do to get started is sign up for a plan that includes Keyword Manager and grant MWS and Seller Central authorization, and let Keyword Manager go to work with creating your personalized, all-in-one keyword dashboard.
What exactly does Keyword Manager do?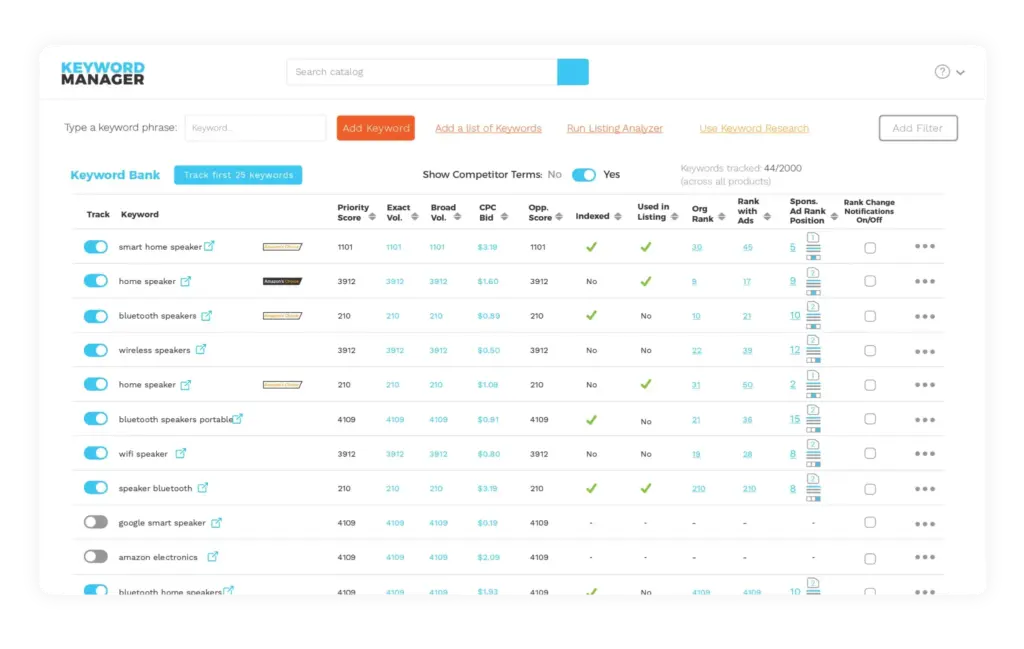 Keyword Manager delivers an encyclopedic list of keywords for your product, along with various metrics to help you understand, track and strategize your keywords like never before, all in one easy-to-view spot.
Consider it a digital checklist for all your keyword needs no matter where you're at in your Amazon selling journey.
Making sure your listing's copy includes all of your product's essential keywords, checking for indexation, finding organic and sponsored rank positioning, displaying badges such as Amazon's Choice and presenting the search volume for these keywords are just a few of the handy things Keyword Manager does automatically for each and every one of your products listed on Amazon.
How does Keyword Manager identify your most valuable keywords on Amazon?
That would be our revolutionary ARCS™ algorithm!
ARCS™ (ASIN Relevance and Conformity Semantics) programmatically determines the most relevant and important keywords for products on Amazon. Think of it like a reverse ASIN search on steroids.
The data science team at Viral Launch cooked up ARCS™ to evaluate up to 10,000 keywords and 500,000 products to determine the critical keywords for a given product.
This process plays an instrumental role in finding and sorting the keywords you should be most interested in regarding your product's performance. Of course, you can also manually add any keywords in Keyword Manager to ensure every last one of the keywords you care about is displayed.
What are the Keyword Manager Dashboard Metrics?
Priority Score
Priority Score is a rating from 0-1000 that indicates a keyword's importance based on search volume analysis. This score is based on our proprietary algorithms and is a good indicator for which words are most important to get into your listing. Of course, you want your highly-relevant, high-search-volume words in your listing.
Relevancy Score
Relevancy Score is a scale between 0-1000 that rates how relevant each keyword is to your seed keyword. To determine relevance, Keyword Research runs a massive Reverse Market Lookup. This is similar to a Reverse ASIN Lookup, but bigger and better.
Volume Estimate
The Volume Estimate metric showcases how often customers search for a given phrase on Amazon. Our search volume estimate numbers arrive via our Keyword Research tool and utilize a proprietary formula to determine search estimates over the past 30 days. When you click on the number, you'll find historical search volume estimates, which come in handy regarding seasonality.
CPC Bid
A suggested keyword's bid cost for Amazon's Sponsored Ads, based on our tracking and recommended best practices.
Opportunity Score
Opportunity Score is a rating from 0 to 1000 that measures a keyword's potential to rank based on a market analysis of each keyword's top-selling products. A low score means most competitors are using the term in their listing and thus low opportunity. But a high opportunity score means that the top 10 listings don't include the term (or some variation of that term) in their listing. Adding high-opportunity keywords to your listing is a quick and easy way to pick up some easy rankings with solid volume.
Used in Listing
It's as simple as it sounds! Is this keyword in your listing? Our Listing Builder tool lets you cross off keywords as they're added to your listing's copy, but this aspect of Keyword Manager works for already-written listings to ensure your listing is fully optimized for search.
Indexed?
Contrary to popular belief, utilizing a keyword phrase in your listing doesn't guarantee that it will index for the keyword in question. While it's most likely you will index for those keywords, there are exceptions. This column helps prevent blind spots for keywords in your listing that you're not indexing for, allowing you to move keywords into higher-priority places to achieve indexation and become eligible to rank.
Organic Rank
Where is your product ranking for this particular keyword? You can sort this column by your highest-ranking keywords to get a feel for where your products are the most visible without advertising. Also, an arrow pointing up or down may accompany the number in this column if applicable, indicating whether you're trending upwards or downwards lately. You can click into this number to see your ranking over time as well for a longer view into your trajectory.
Sponsored Rank
Running PPC ads? This column shows where your product is being displayed on search pages, so you can see how much bang you're getting for your buck and easily see how positioning impacts sales.
Never miss a beat when tracking keywords
During the busiest sales days of the year, Keyword Manager's keyword-tracking capabilities should be your best friend.
Of course, tracking keywords all year round should be on all Amazon sellers' radar, but the holidays and signature sales events raise the stakes substantially. Tracking keywords allows you to monitor your performance and manage your visibility virtually in real-time. By doing this, you can quickly limit the amount of ground lost when you drop in rank and optimize your offering while ascending.
It's as easy as 1-2-3 to start tracking keywords in Keyword Manager. Simply tick the box next to Rank Change Notifications for the desired keyword and customize your notifications in the following pop-up. Boom!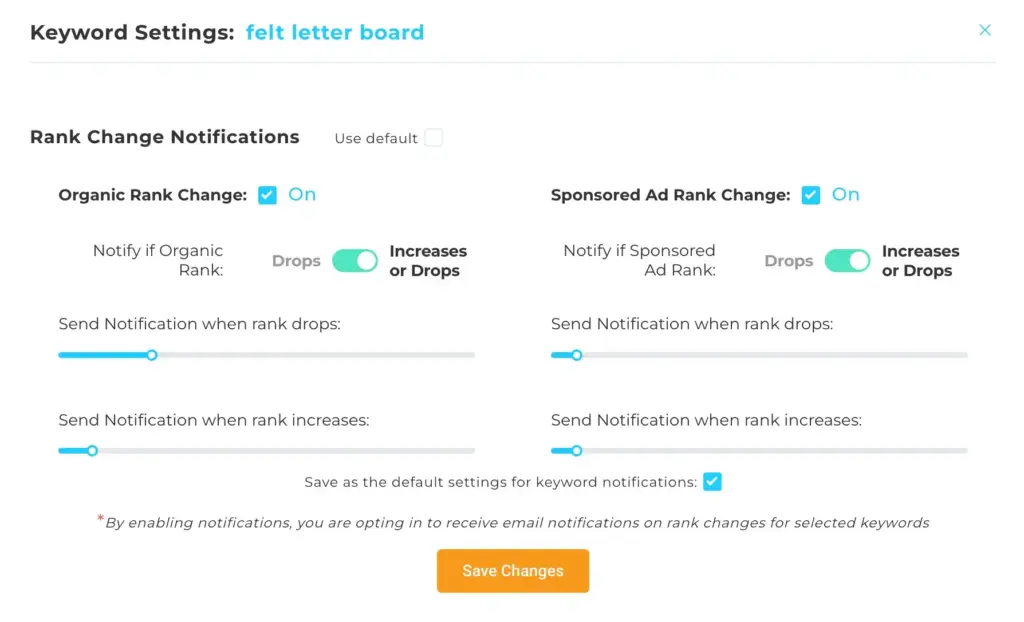 If you're not constantly checking your inbox, you can always customize your email app settings to ensure you receive Viral Launch emails as push notifications to ensure you're primed to act on these changes as quickly as you'd like to.
Since visibility is king on Amazon, this element is a no-brainer to stay on top of your game all year round, but especially during the busiest times of the year when things can change rapidly and have resounding repercussions.
Wrapping it up
Regarding tracking keywords on Amazon, nobody does it better than Viral Launch's Keyword Manager. Within the software suite, you can easily discover new insights, track performance, and take swift action to supercharge your Amazon business for peak performance.
During this holiday season and beyond, beef up your keyword game with the all-encompassing Keyword Manager to always be on top of your game. Once you've added your product to Keyword Manager, it's like adding a high-powered, mastery-level assistant to your team with handy tips for improving your business.
Get started today and make the most out of this holiday season and ride into 2023 on a wave of sales!
Get started for FREE with the entire Viral Launch software suite today!