Your introductory guide to Amazon Posts: Amazon's own social media-like platform that savvy sellers are weaponizing to amplify brand exposure and sales.
At Viral Launch, we get plenty of questions from Amazon sellers looking to optimize their FBA experience. By far, the topics of boosting sales, increasing visibility, and building a brand on Amazon are the most frequently broached subjects.
Methods to achieving these goals exist. However, they can be intimidating for sellers due to a combination of complexity, cost, and time-consumption.
Enter Amazon Posts.
With an aesthetic and interface similar to Instagram, Posts allows sellers to promote their brand and products to a potentially massive audience. Additionally, it's simple to setup and use, easy-to-understand, and best of all, it's 100% free!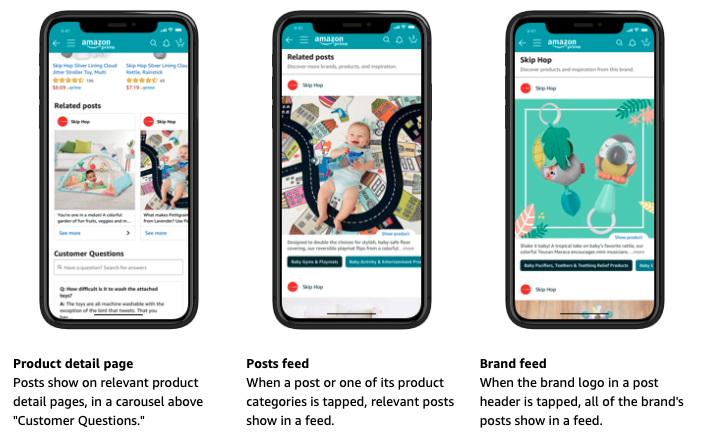 Instagram, TikTok, and Pinterest have invested heavily in integrating eCommerce into their social media platforms; Amazon already has a massive user base and eCommerce engine.
Although Posts is in beta, forward-thinking sellers are already building substantial follower counts and generating impressions by the thousands.
Unquestionably, sellers should familiarize themselves with Amazon Posts as soon as possible to start raking in followers and sales while building brand loyalty. With limitless potential, it only figures to become an even more significant aspect of the Amazon marketing mix.
To help you get up to speed, we've answered a few of the frequently asked questions about the powerful new feature below!
What is Amazon Posts?
Let's go straight to the source on this one.
Currently in beta, Posts delivers your brand story to relevant shoppers as they browse your categories on Amazon. Shoppers can click through Posts to explore your brand's feed, and discover product pages directly from your feed. Click through from your brand's feed to your product pages. Posts appear on the Amazon mobile shopping app (iOS and Android) and on mobile web.

Amazon
Mobile customers will be shown Posts for related products on the Product Detail page, presenting the opportunity to poach customers from rivals in the market.
Previously, sellers had to purchase this advertising space through PPC! Now, eligible sellers can do so for free.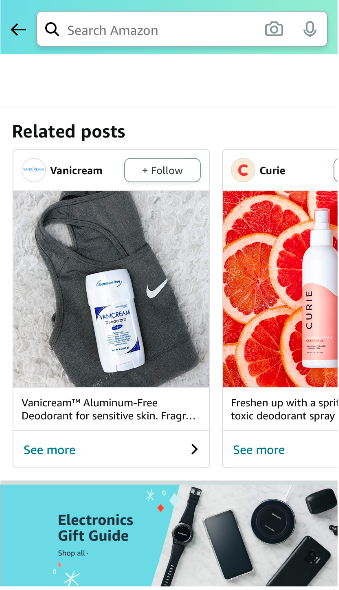 Additionally, Amazon states that systems are in place to automatically place your Posts in feeds and product detail pages based on relevance and customer engagement. Just post your content and they'll take care of the rest!
Who can use Posts?
At the present time, it's exclusive to sellers in the U.S. marketplace in the Amazon Brand Registry program. Sorry, international sellers!
How do I access Amazon Posts?
Eligible sellers must first set up a profile in the Advertising Console to establish your brand's feed. Follow these simple steps to start posting sales-inducing content that stands out amongst the competition!
To create a profile:
Go to Posts Publisher and sign-in using your credentials.
Click Create profile for the Store that you'd like to link Posts profile to.
Enter the appropriate information for your profile.
a. Profile name: The profile name is shopper-facing and filled in based on the brand name. You have an option to edit it.
b. Profile logo: Choose a 640×640 pixel or larger image under 100MB in RBG color format.
Select the checkbox for the Terms and Conditions and submit your profile for review. You can proceed with creating a Post while the profile is under construction.
To create a Post:
In Posts Publisher, click Create Post.
Upload an image: Choose a 640×640 pixel or larger image under 100MB.
Write a caption for your Post.
Add the ASIN related to your Post. If the ASIN is out of stock or there is no image on the product detail page, your Post will not be shown.
Submit Post for review. Before submitting, review all of the information to ensure each aspect is as desired.
Once you've submitted a Post, it goes into Amazon's review process before going live. Within the Posts Dashboard, you can track the status of your submission. Typically, the review process takes no more than 4 hours.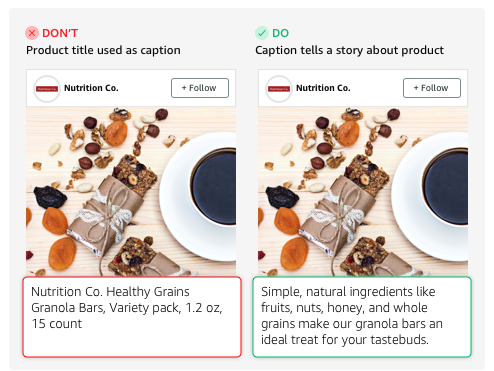 Is there any way to monitor the performance of my Posts?
As a part of the Amazon Advertising Console, you're able to track multiple metrics to gauge performance. Viewable impressions, engagement, and engagement rate in the console inform you of your reach.
Perhaps more importantly, customers have the option to follow your brand on Amazon. Furthermore, this allows a chance to retain customers and build brand loyalty like never before!
Should I be using Amazon Posts?
As veteran sellers know, any possible edge you can get on your Amazon competition can make a tremendous difference in your bottom line. With this in mind, a successful seller leaves no stone unturned in their pursuit of growth and eCommerce dominance.
Amazon's simple and uniform shopping experience is one of many reasons why it's the eCommerce platform of choice. Consequently, the uniformity in presentation, sellers are given few options to stand out. Because of this, all opportunities to distinguish your product should be explored and exhausted to maximize your chance at longstanding success.
With Amazon Posts, sellers get a golden opportunity to differentiate themselves with creative, inspiring content. Presently, too few sellers are taking advantage of this, making it a market inefficiency you can leverage into exponential brand recognition and growth.
If you're already utilizing Instagram or other avenues to promote your business visually, you're likely already doing a bulk of the work. All you need to do is set up your account and let the followers, impressions, and purchases flow in.
For your brand to have an opportunity to be promoted under competing listings at no cost is genuinely an unheard-of opportunity and should not be ignored! If we're allowed to speculate, we hypothesize it may not be free forever.
Don't let this opportunity go to waste! Sign up for Amazon Posts as soon as possible to take your brand to the next level.