Spooky season is upon us! It's that time of the year to hit up haunted houses, carve those pumpkins and pass out handfuls of candy to the trick-or-treaters celebrating the horrifying holiday. Here are a few of the standout Halloween trends, as told by Amazon data.
Halloween staples such as superheroes, iconic horror villains and fabled figures deliver that distinctive fall feeling. From the scary to the cute to the funny, Halloween is a choose-your-own-adventure when it comes to dressing up. But every year, Halloween trends serve as a time capsule as to what captivated people through pop culture.
While one of the more fun holidays, make no mistake: Halloween is still big business. In 2021, Americans spent around $10.14 billion in one way or another for Halloween. Analysts expect that number to grow in 2022 to an estimated $10.6 billion.
At the intersection of pop culture and business is Amazon, where millions are spent on costumes, candy, decorations and anything else to add to the spooky spirit.
Utilizing search volume estimates and sales data from Viral Launch's Keyword Research and Market Intelligence tools, let's take a look at the hottest Halloween items of 2022.
It should be noted for context that the graphs displayed below will appear lower this year than in previous years due to the numbers being a rolling average of the past 30 days.
Amazon Halloween Costumes
It's the season of the witch
It should be no surprise that this time of the year brings the witching season. The most popular search on Google ranks as one of the most popular searches on Amazon as well. With a rolling average of 100,000 estimated searches over the last 30 days, it's already more searched than any year before 2021.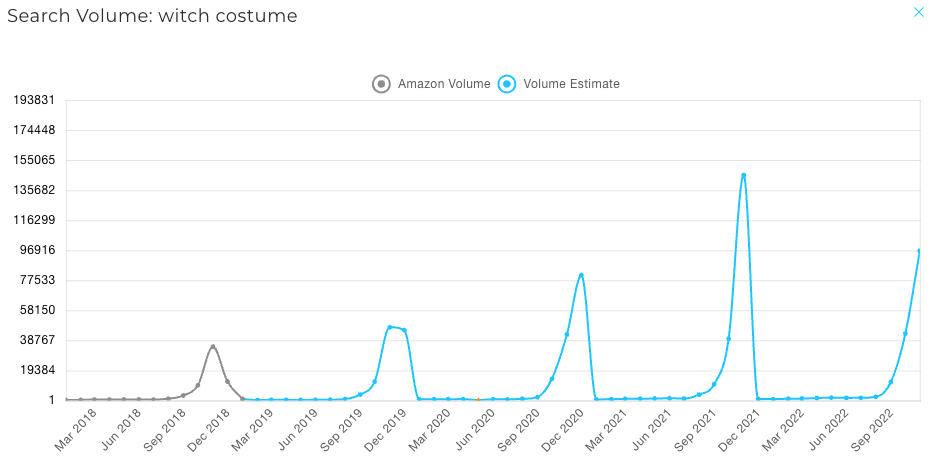 As the last-minute shoppers continue to come in and the heart of Halloween shopping season becomes a larger chunk of the weighted average, it will challenge 2021 for one of the witchiest Halloweens yet.
Even amongst superheroes, Spider-Man reigns supreme
Who doesn't want to be a superhero, even just for one night? Kids and adults alike love putting on their cape and gear of their favorite superhero or supervillain and celebrating Halloween.
But in 2022, the popularity of one superhero stuck out.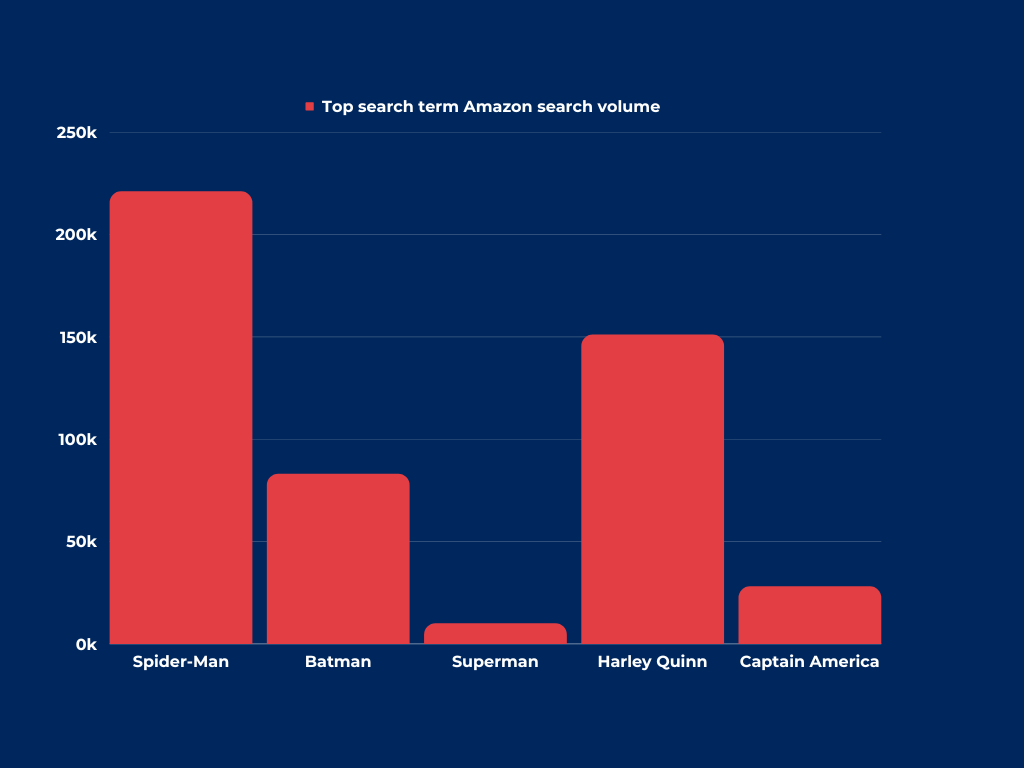 Spidey senses are tingling on the web, or at least on Amazon. While the margin may surprise, Spider-Man's popularity should come as no surprise. The three highest-grossing superhero movies of all time (Avengers: End Game, Avengers: Infinity War, and Spider-Man: No Way Home) all feature Spidey. Additionally, 2018's Marvel's Spider-Man video game ranks third on the list of best-selling PlayStation 4 games of all time.
A series of record-setting movies and video games over the past few years shows Spider-Man stands as popular as ever, skying high above the rest of his superhero buddies and counterparts with a solidified status as one of the most popular Halloween trends.
Stranger Things enters iconic status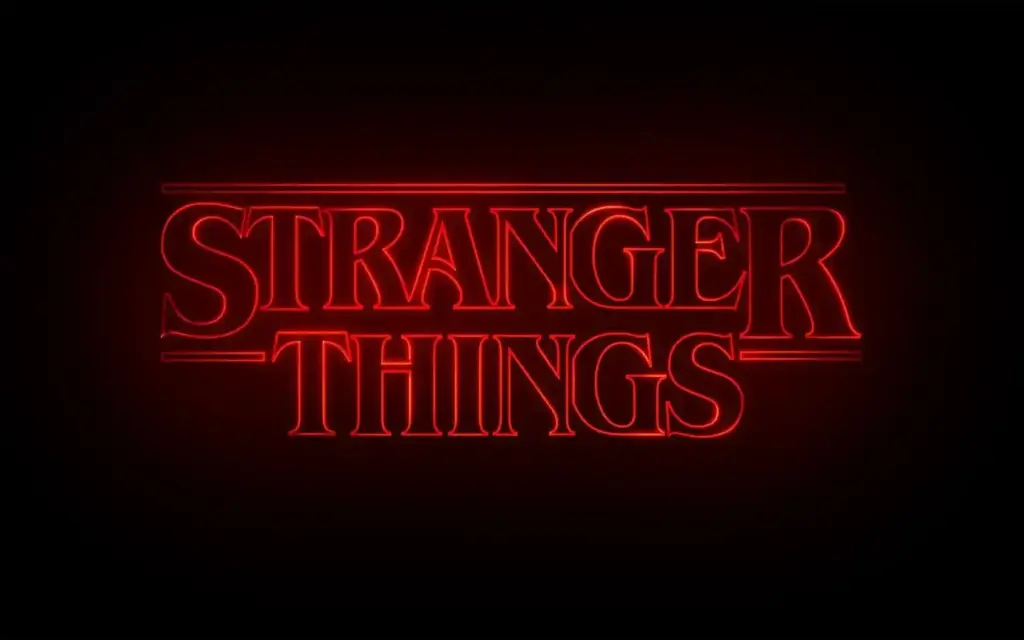 In today's state of the world, it's likely more difficult than ever for pop culture phenomenons to exist with staying power. Today, a younger person likely has as many streaming app subscriptions as their grandparent had television channels to choose from. And that's not even counting the millions of videos on Youtube you can watch (with ads, of course) for free.
However, Netflix's Stranger Things appears to have entered the zeitgeist in a way few, if any, new programs have matched. After an almost three-year hiatus, the sci-fi fiction series returned in a major way in May of 2022.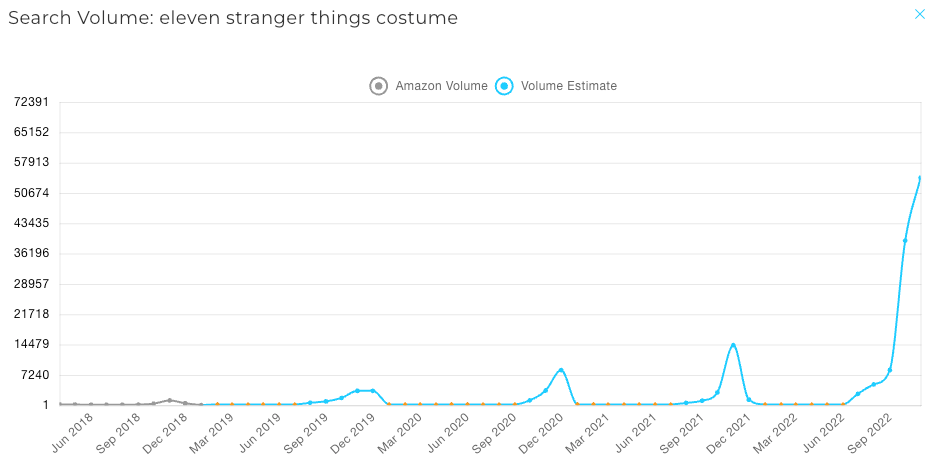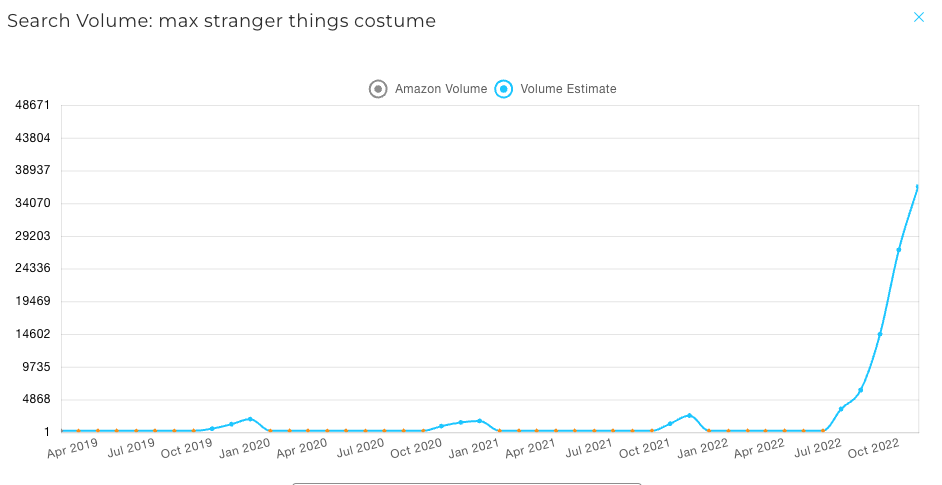 Even as the show entered the mainstream, 2022's season 4 clearly took the fandom to a new level. After seeing the show catapult Kate Bush's Running Up That Hill song and Metallica's Master of Puppets album back on the Billboard charts by merely being featured on the show, it only makes sense that the show would make an impact on Halloween.
Amazon Halloween Decorations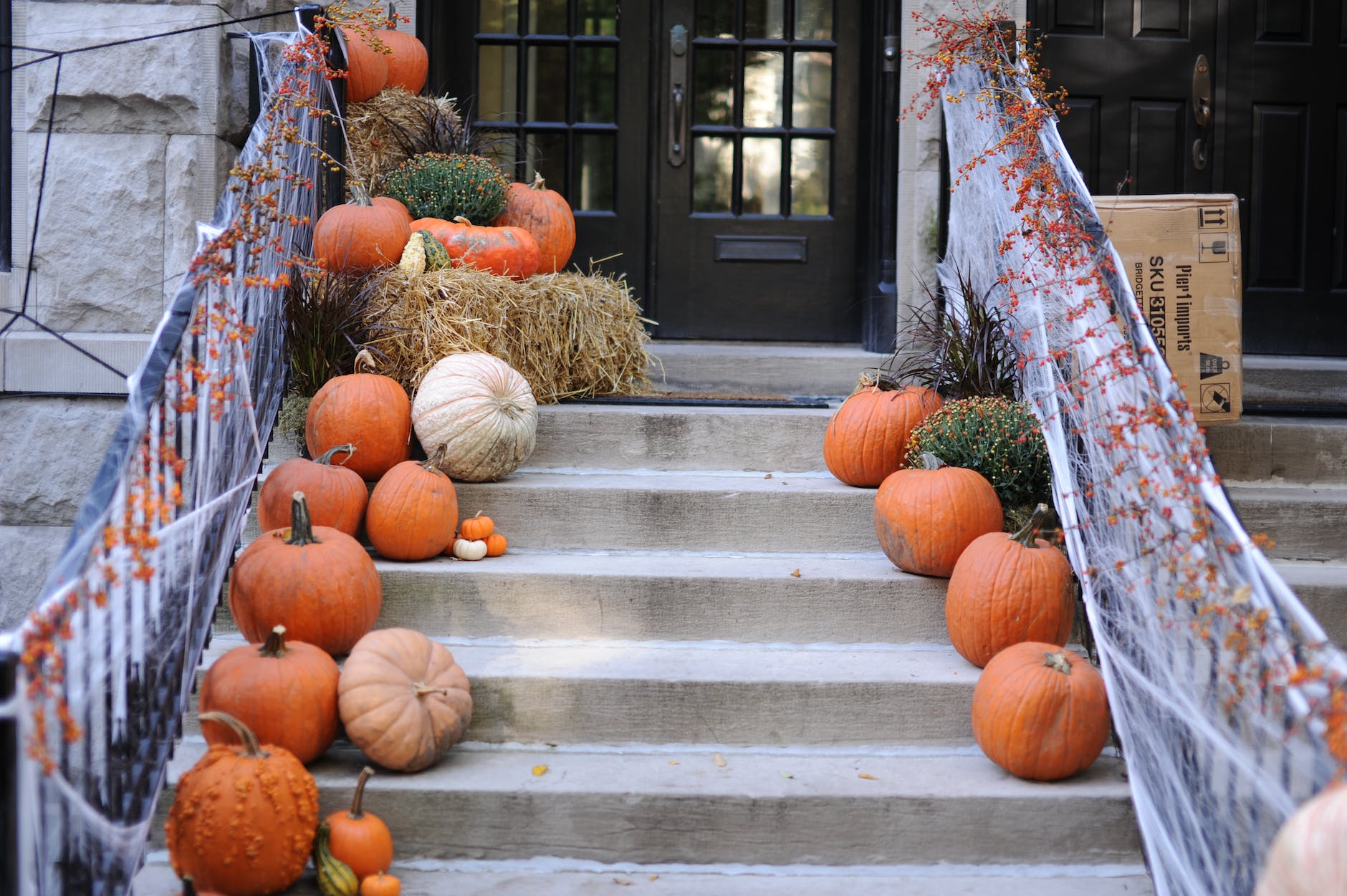 Data and Trends
People are flocking to Amazon like never before for Halloween decorations. With 590k estimated searches over the past 30 days, the volume eclipses last year's all-time high of 558k searches for "Halloween decorations outdoor".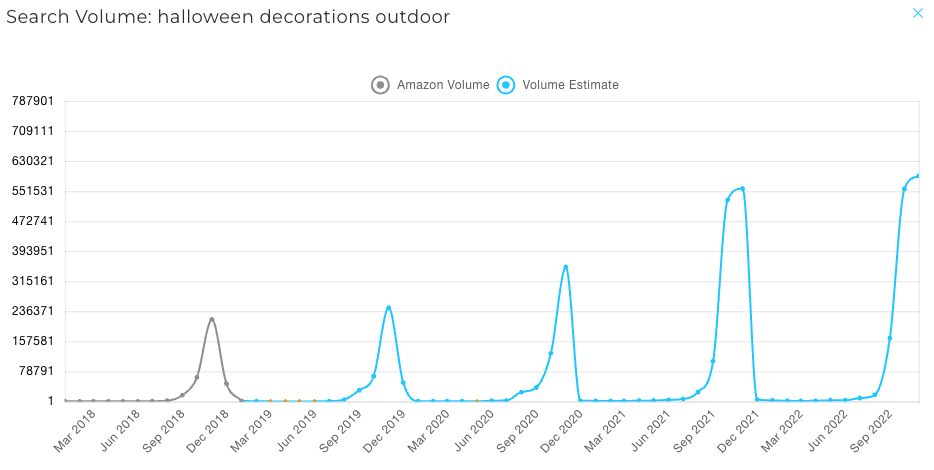 The chart's repeating peaks and sustained valleys are perhaps the perfect representation of product seasonality.
While the number will likely increase as the average includes a time period closer to the holiday, it's notable that the last two years have more than doubled the pre-pandemic tally of 246k in 2019.
More treats than tricks
For trick-or-treaters looking to fill up their sack with sweets, you're in luck. If the estimated search volume is any indicator, this Halloween appears primed to be a gold rush.
Searches for "candy variety pack" are at the highest level since we began tracking search volume, and likely the highest ever on Amazon. Top searches for specific brands of candy include Reese's Peanut Butter Cups (37.9k), Skittles (36.1k), Twix (14k), and Snickers (13.5k).
With a solid assortment of sugary goodness available for the taking, there's something in store for every trick-or-treater's taste buds.
Key Halloween 2022 takeaways
In addition to checking in on the hottest Halloween trends that make this year unique, we can learn quite a bit about the broader Amazon market with this information. With many Halloween items at or near all-time highs that dwarf search and sales results from pre-pandemic levels, we can make a few inferences as to why.
Although the pandemic-peak reliance on Amazon appears to be dwindling, the increased number of Amazon shoppers can be seen in the immense increase over the past 3-4 years.
Just four years ago, Amazon reported passing the 100 million Prime members mark. Today, that number sits above 159 million. The pandemic certainly pushed people to Amazon more than ever, as businesses closed and Amazon became essential to many.
Seasonal products certainly aren't for every seller, but the market for seasonal products on Amazon provides more opportunities than ever.
As we move into the busy holiday season, we'll only learn more about Amazon's status in the world of commerce and just how dominant the marketplace can be.