The Amazon 2020 Year in Review: Examining the products that defined the past year.
"What was it like living in 2020?"
We'll likely be tasked with answering that question at some point in the future. And oh boy, how would we begin?
Undoubtedly, we've all had our own unique, personal experience with 2020. But collectively, you can tell the story of 2020 through consumer trends. What were we looking for and buying? What was popular in 2020 like no time before?
Behind the year's hottest items lies a story about a year for the history books. Shoppers bought more items on Amazon than ever before, an important benchmark that tells a story of its own. Responsible for nearly half the items sold online, Amazon is a powerhouse packed with an almost unlimited trove of insightful data.
Using Viral Launch's comprehensive software suite, including tools such as Keyword Research and Market Intelligence, we've tracked Amazon trends via sales and search volume.
Using that information, we've compiled your Amazon 2020 Year in Review, with the data on the year's hottest items.
The COVID-19 Pandemic
Face Masks
What a difference a year makes. Remember when "face mask" conjured thoughts of a football helmet, Halloween accessory, or a part of a beauty routine? Man, those were the days.
With an estimated search volume that lingered around 240,000 searches per month for nearly two years, we can't accurately say the phrase itself came out of nowhere.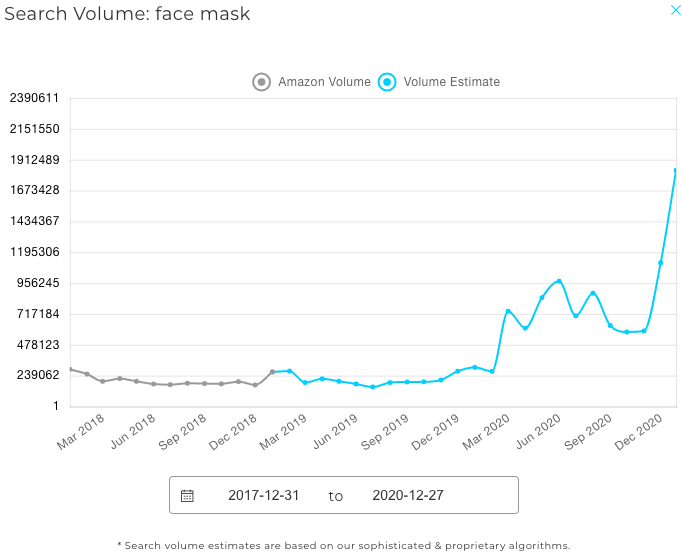 But the reasoning behind this search began to change and take on a whole new meaning starting in February as COVID-19 infiltrated the country. As towns, cities, and states mandate the wearing of masks to contain the virus, demand is higher than ever as we enter 2021.
With over 1.8 million searches this month, face masks may be as popular of an item that Amazon has ever had.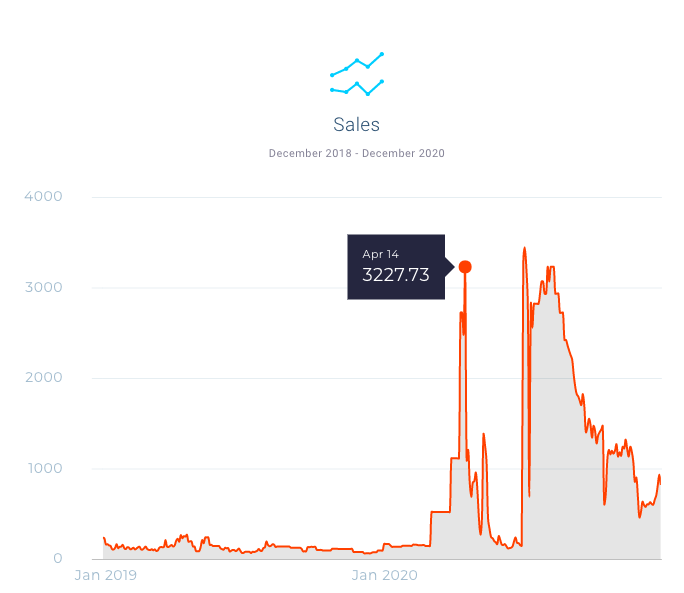 With the influx of searches, sales skyrocketed.
In the image on the left, we see sales estimates for a top-selling face mask listing dating back to January 2019. For the entirety of 2019, they sold between 100-200 units per month. Since late March, they've sold over 1,000 units per month for much of the year.
Many of the top sellers for the product just started selling in the past few months, as longtime sellers were wiped out of inventory quickly due to boom in demand. As the need for face masks has persisted, it's allowed newer sellers to enter the market and find success.
But face masks were far from the only COVID-related product to rise to prominence in 2020…
Hand Sanitizer
We imagine no two products paired more often than face masks and hand sanitizer for the year.
Unlike face masks, there was no redefining "hand sanitizer" this year and it's a product that has always experienced consistent sales. But clearly, the demand climbed exponentially in the wake of COVID-19.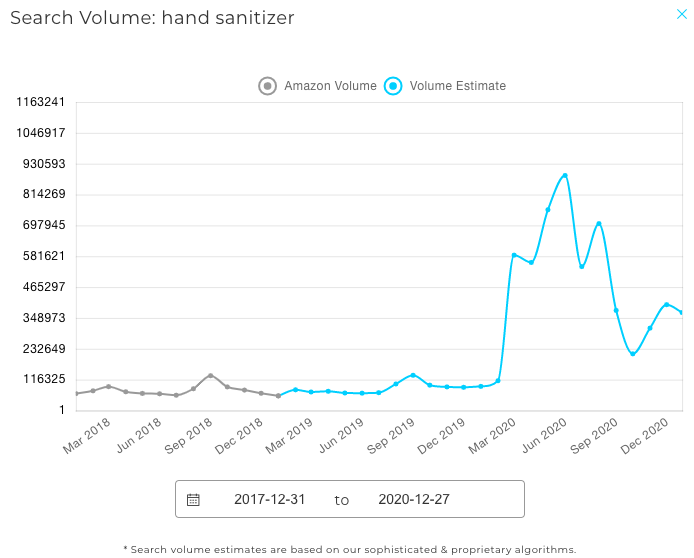 Brands such as Germ-X, Purell, Rubbermaid, and Amazon's Solimo were at the forefront of the pack to take on the massive amount of traffic looking to kill 99.9% of germs.
However, even the major brands couldn't have been prepared for the onslaught of sales. As showcased in the image below, sales stagnated for months on certain listings, almost certainly due to providing enough inventory to meet the insatiable demand.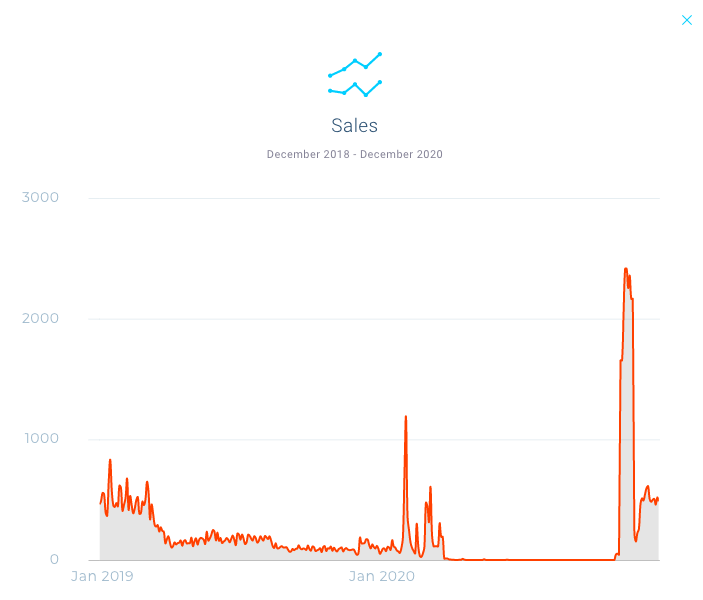 At Home Products
But COVID-19 had a much larger imprint on our buying habits than directly stopping or killing the virus through masks and sanitizer.
Due to the abrupt changing of our world, we had to adjust our everyday habits on the fly. Of these changes, finding alternatives to the gym has been one of the more impactful ones on Amazon. Whether because of gyms closing, restrictions on gym-goers, or people preferring to not using shared equipment, the home workout market has been on a tear.
If you've tried purchasing at-home gym equipment over the past few months, you're well aware of this.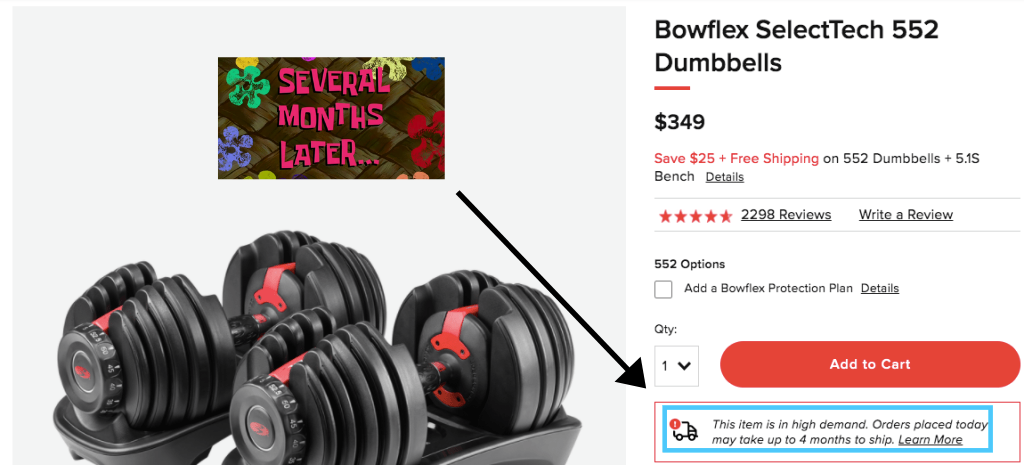 Hoping to avoid the dreaded "quarantine 15" weight gain, many gym-related products have seen a dramatic upswing in interest on Amazon. Across the board, searches for treadmills, dumbbells, adjustable dumbbells, and jump rope have all experienced nearly four times as much traffic at its 2020 peak compared to pre-COVID demand.
Additionally, work life shifted from the office to remote for many companies. In recent months, it's become apparent that work-from-home is here to stay. Workers have begun to turn their at-home work station from makeshift to one that better fits their long-term needs, the market for traditional office supplies has grown substantially.
In the last quarter of 2020, the following home office products have seen a dramatic increase in demand; office chairs, desks, desk accessories, and HDMI cables to get that time-saving double-screen action going.
Here's to 2021's Year In Review centering around getting back to normal as we defeat the virus and get back to normal.
2020: The Year TikTok Broke Through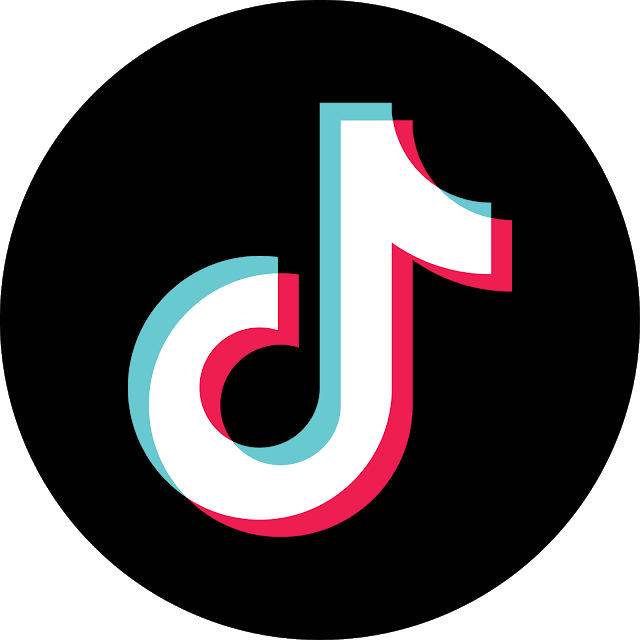 In a more typical year, 2020 would be known as the year of TikTok.
Once upon a time, the lifespan of a social network platform was brief. One day there's a brand new app that your cool friend is touting. The next, it's gone the way of the dinosaur. When was the last time you updated your Myspace Top 8? Made any cool Vines lately?
Facebook, Instagram, and Twitter all have a decade or more under their belt. Snapchat isn't far behind. With the massive amount of money bankrolling these social networks, it had been a while since a new social network materialized that could compete.
From government intervention to surpassing 100 million U.S. users to the rise of content houses dedicated to TikTok stars, the app has solidified itself as Gen Z's breakout social media.
Even before TikTok announced eCommerce integrations to allow merchants a larger presence on the platform, the rise of TikTok trickled into consumerism.
The Ring Light
Once an accessory for photographers and select content creators, the ring light became a must-have item for TikTokers this year. Peaking during the holidays, over 1.6 million estimated searches were performed for the product.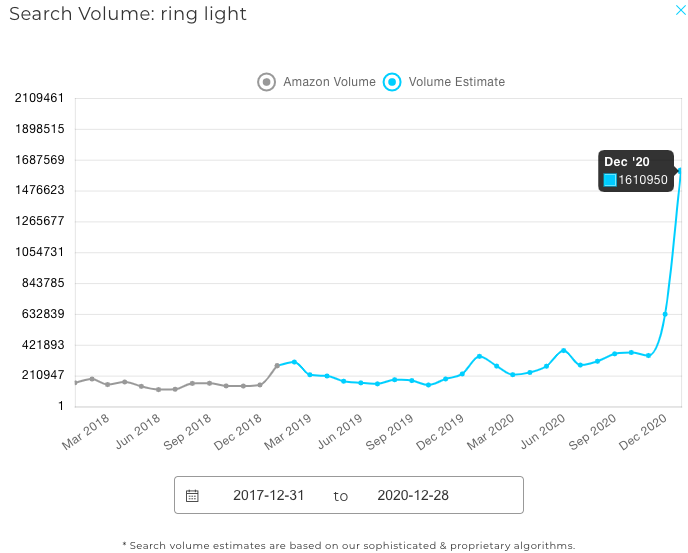 While searches for "ring light" peaked at the end of the year just in time for the holiday season, "ring light with stand" made a considerable leap in April and May before a holiday push.
Likewise, green screens saw a rise thanks to TikTok and it's feature to use any backdrop with a handy green screen. As TikTokers pros like Jason Derulo and Will Smith use green screens for content gold, they rushed to Amazon to get one of their own.
Evidenced by over 440,000 estimated searches in December (compared to 106,000 in January), green screens were on everyone's holiday wishlist.
Pop Culture Trends of 2020
As we spend more time indoors than ever, the year saw a rare shift back to the monoculture. With so many different sources of entertainment available, finding shared experiences through pop culture became a rarity. In a time where we were around family and friends less than ever, pop culture events of the past year gave us ample conversation topics, even if those conversations were through text, social networks, or Zoom.
Here are the shows, events, and games that helped define the past year.
The Netflix Standouts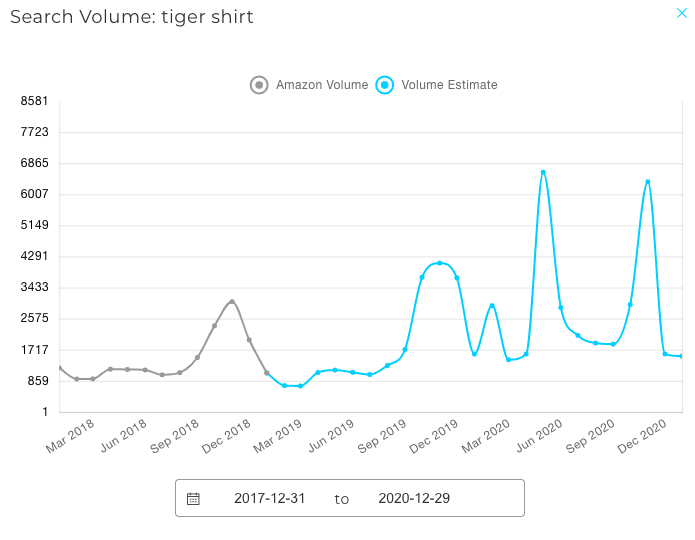 With how long this year has felt, it may be difficult to believe that Tiger King: Murder, Mayhem, and Madness came out in March. But it's true. Just as the coronavirus forced us indoors, Joe Exotic and Carole Baskin entered our lives and became the modern-day Hatfields and McCoys.
Released on March 12th, the day between the WHO declaring COVID-19 a pandemic, the docuseries provided much-needed entertainment and comic relief as we headed indoors.
But Tiger King was far from the only blockbuster hit from Netflix. In the last few months of the year, The Queen's Gambit became the most-watched scripted miniseries in Netflix's history. The drama, set in the 1950s and 1960s, renewed interest in the strategy-based board game.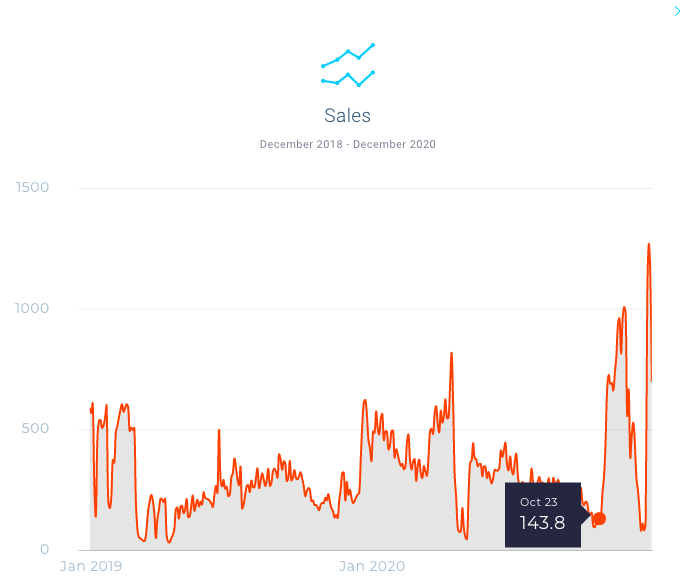 Premiering on October 23rd, searches and purchases have spiked for chess-related terms. In September, searches for "chess set" totaled 41,868. As the show's rise in popularity coincided with the holiday season, searches were up to 345,245 in December. But the holiday season alone can't be attributed to the uptick in searches for the phrase, as December 2018 and December 2019 each had between 105,000 and 120,000 searches.
The Queen's Gambit's popularity and the resulting blitz of traffic and sales prove selling the right product on Amazon at the right time can be incredibly rewarding.
The Kobe Effect
On January 26th, the world lost NBA legend Kobe Bryant in a helicopter accident that took the lives of Bryant and eight others, including his daughter Gianna. Around the world, millions of fans lamented for the fallen icon.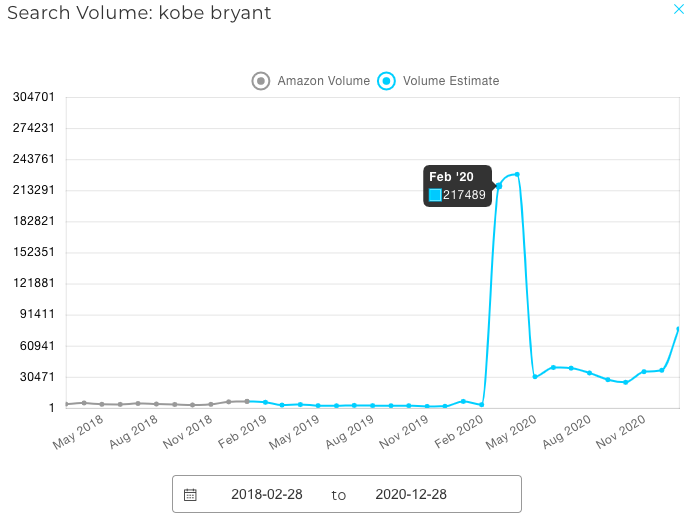 Just before COVID-19 changed American life, countless fans of "The Black Mamba" gathered outside of the Staples Center in Los Angeles, where Bryant provided so many memories throughout his storied career. Fans adorned the area surrounding the arena with murals and items to memorialize Bryant.
As fans grieved, people sought Bryant gear to show their allegiance to Bryant was as strong as ever.
While Amazon typically isn't the go-to source for athletic apparel from signature athletes, fans flocked to the eCommerce retailer looking for available merch. Much of Bryant's signature merchandise is through the NBA or Nike, both of whom exclusively sell in their own stories.
However, part of Bryant's allure is that he wasn't just a typical athlete. You can find the five-time NBA champion's autobiography, series of children's books, and much more on Amazon.
Sports In 2020: Checking In On The Champs
Search volume trends for champions in the four major U.S. professional sports leagues mirrored the popularity of each sport in recent years, highlighting that football is America's true pastime. Below, you'll find each 2020 champion's peak monthly estimated search volume.
(NFL) Chiefs: 174,757
(NBA) Lakers: 82,758
(MLB) Dodgers: 41,967
(NHL) Tampa Bay Lightning: 38,959
Even as teams played in empty or sparsely packed arenas, fans showed their support from afar.
The Gamers Level Up
Similar to TikTok, 2020 was a new high score for gaming. With more time spent indoors and next-generation XBOX and PlayStation consoles, it's no surprise that competitive and casual gaming alike powered up. Amazon-owned Twitch, a streaming platform used primarily for gamers, nearly doubled the amount of content watched from Q3 2019 (2.5 billion hours) to Q3 2020 (4.7 billion).
The 2020 Console Wars
The latest battle of the Console Wars, with the XBOX Series X and PlayStation 5 consoles releasing in the last quarter of 2020. Due to production and manufacturing delays causing a stock shortage, many gamers are still refreshing their browsers in hopes for a restock.
Because of this, gamers are searching for the consoles at an astronomical rate. But which console wins in our 2020 year in review?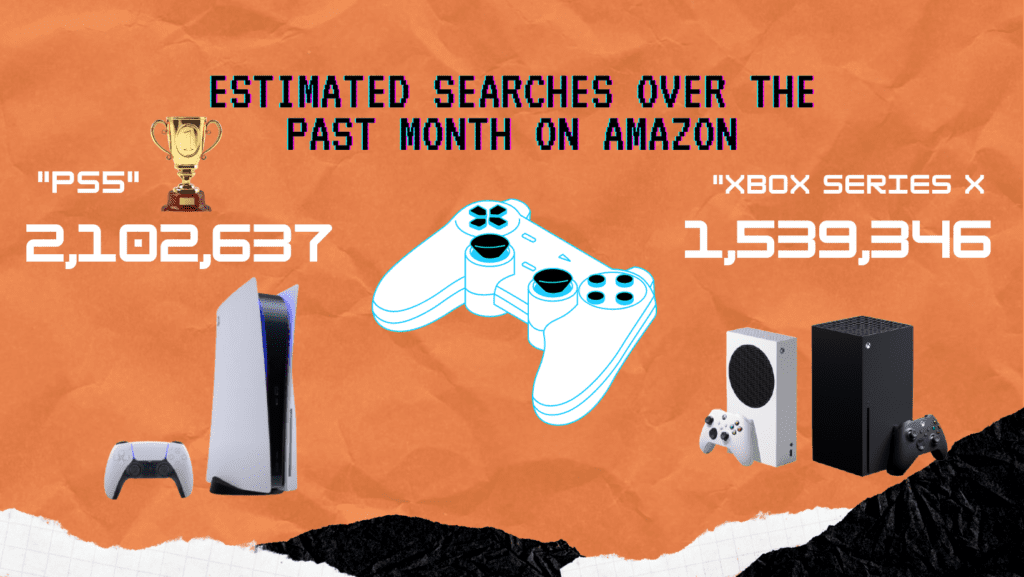 During the most popular shopping season, Sony's Playstation 5 is holding a steady lead over its counterpart from Microsoft. Hopefully, more and more gamers can make the switch to next-gen as more consoles become available.
For reasons good and bad, 2020 has been a year for the books. As the ball drops in Times Square signaling the beginning of 2021, we at Viral Launch wish you a happy new year!
Thanks for checking out our Amazon 2020 Year In Review! Did we miss anything you think belongs on the list? Feel free to start your free trial with Viral Launch to dig through the data on your own! What was your favorite trend of 2020? Drop a comment below and let us know!
Want to make money by selling on Amazon? Learn from the experts in our totally FREE seller course!