Attention ghouls and goblins, Halloween 2020 is almost upon us! Carve up some pumpkins, flip on your favorite horror movie, and rock out to Monster Mash.
In these unprecedented times, it's increasingly difficult to know what to expect of Halloween 2020. However, consumers are shopping on Amazon more than ever, and Viral Launch has tools for Amazon sellers that accurately estimates metrics such as search volume and sales for products.
After taking a deep dive through our trove of data, we've found quite a few insightful trends for Halloween 2020.
1. Fewer People Are Dressing Up
If Amazon search trends are any indication, fewer people will be donning costumes compared to previous years.
As you might expect during a widespread pandemic, people are less likely to go out. In many places, the get-togethers will be limited and the number of attendees will be slim, so it makes sense that fewer people will be putting on a costume.
Compared to last year, searches for "Halloween costumes" on Amazon have been slashed nearly in half. Despite Halloween falling on a weekend, adult costumes don't seem to be selling as well at traditional retailers either.
2. Shoppers are still buying tons of candy.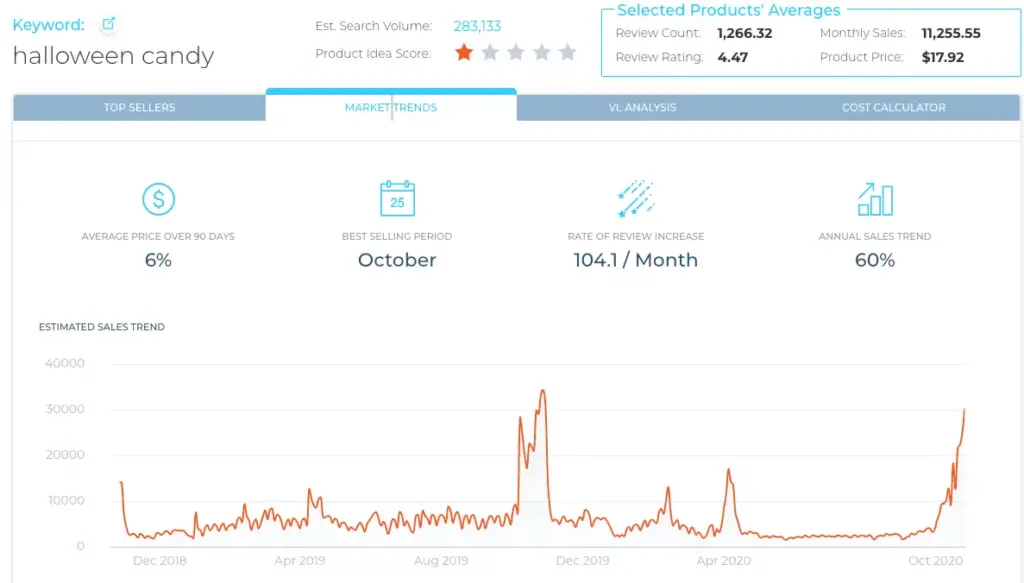 Despite the drop in people dressing up, candy is still being purchased by the boatload. Bulk boxes from Reese's, Hershey's, Mars, and other assorted all have multiple variety packs fetching over 10,000 estimated monthly sales.
Unfortunately, we're also picking up historic Halloween sales of candy corn. Yuck!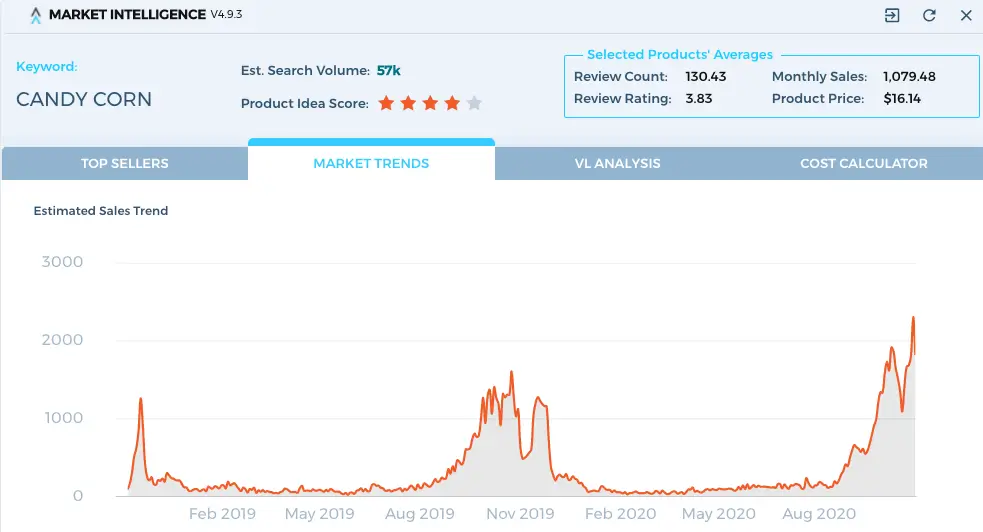 3. People are decorating like never before.
Just because people aren't dressing up as much doesn't mean they're not in the holiday spirit! While there is still time to receive Prime-eligible items, searches for "outdoor Halloween decorations" have doubled from 2019's search estimates, from 141.4k to 288.6k at last check.
Among the items you're most likely to see in the yards of more festive folks are a 6'0 hanging cocoon corpse (13.2k monthly sales), a set of window decorations with bloody handprints (just under 10k monthly sales), and a pack of cautionary yard signs with stakes.
Of course, you'll see your fair share of scary skeletons (a combined estimated search volume of over 600k) and Halloween lights (324.4k searches over the last 30 days) to get those signature Halloween vibes.
4. Pumpkin carving kits are selling frightfully fast.
Piggybacking off the increased interest in decorations, pumpkin carving kits are among the hottest items this month on Amazon.
On the first page of search results for the phrase, six of the top 20 results that appear showcase low quantity warnings, a sign that these items are selling even faster than the sellers anticipated.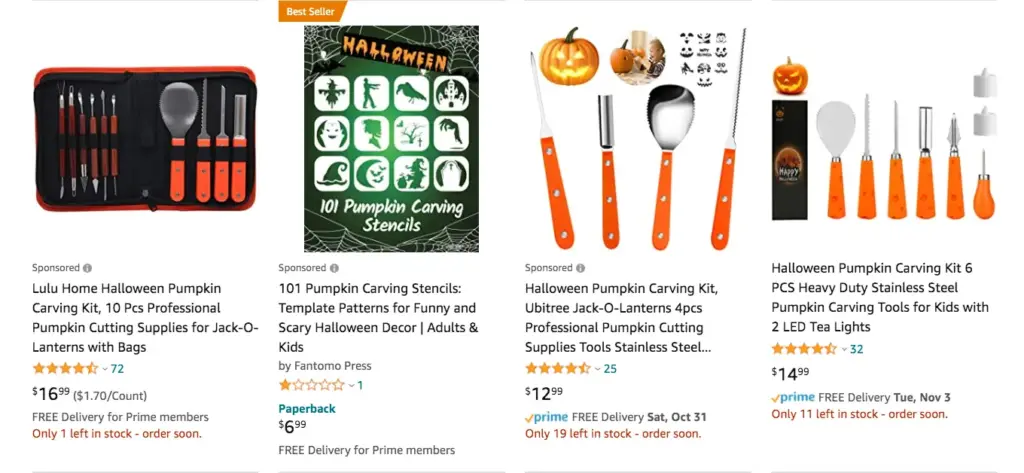 During the 2019 Halloween season, estimated daily sales for the market peaked at 5,269. This year? 7,453.
Whether it's the fun of carving with friends or family, or showing off your creativity and craftiness, nothing gets you in the spirit of the holiday quite like making a Jack-O-Lantern.
Pro tip: once finished carving, save them to make a salty, tasty treat.
5. The Tiger King (and Carole Baskin) are roaring.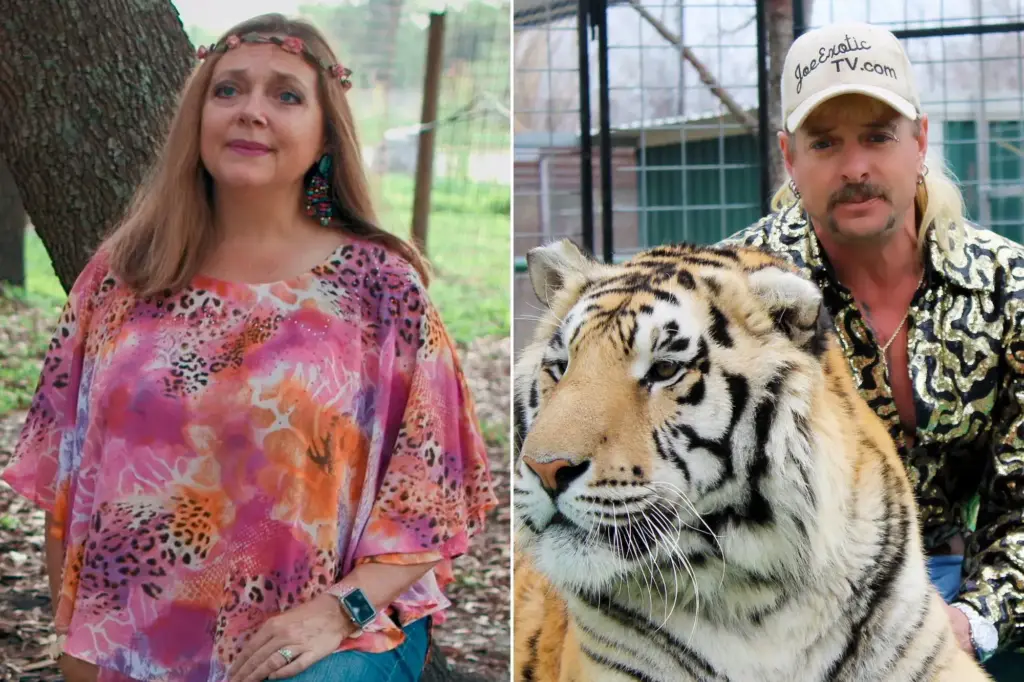 Thanks to Netflix's Tiger King, archenemies Joe Exotic and Carole Baskin are the biggest new stars of 2020. The true-crime documentary was released mid-March, right as COVID-19 began to make its impact felt in the United States.
Tiger King resonated uncannily due to a perfect storm of timing, enthralling characters, and internet memes. So it comes as no surprise that people are lining up to be the big cat adversaries for a night. So it comes as no surprise that people are lining up to be the big cat adversaries for a night.

Our Keyword Research tool notes that there have been an estimated 42.1k searches for "Joe Exotic costume" over the past 30 days. The tool also pulls search data for related keywords and notes that there have been an estimated 30.4k "Tiger King costume" searches, and just under 10k "Joe Exotic wig" searches. Hopefully, the people who aren't purchasing their mullet wig are saving money by growing their own.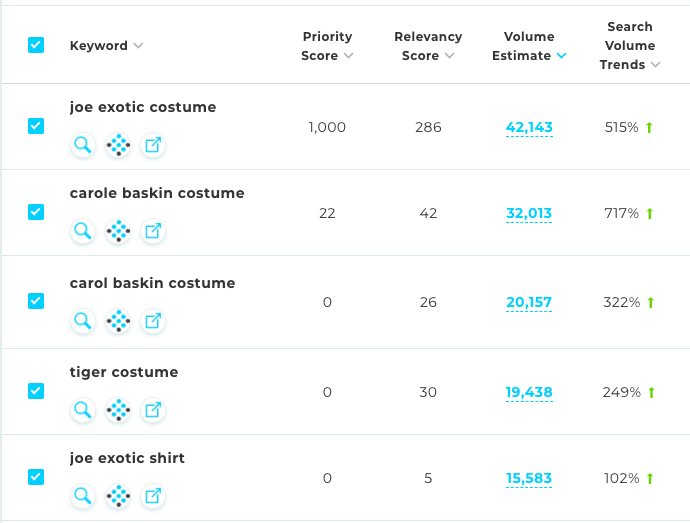 While people flock by the thousands to dress as Mr. Exotic, the Tiger King himself will be donning a prison jumpsuit on Halloween as he serves his sentence for Murder for Hire and Animal Abuse.
Don't be surprised if you see some of these cool cats and kittens out in the wild for October.
6. Move over Fortnite, "Among Us" is 2020's top choice for gamers.
Seemingly every other month, there's a new viral game capturing the attention of the nation. And what is Halloween but a look at what's popular in the culture in a given year?
If consumer trends are the measuring stick, Among Us has far surpassed the popularity of Fortnite in 2020. In 2018, Fortnite Fever peaked swept the nation, with nearly 615k searches for Halloween costumes. While that number diminished in 2019, Fortnite maintained its place at the top of gaming costumes without an adversary to take the throne…until now.
Among Us has captured the hearts and thumbs of the nation. Released in 2018, the popularity of Among Us skyrocketed in 2020 as Twitch and YouTube streamers opted for the game. Based on the premise of working with Crewmates to find Impostors, the multiplayer game has been the most downloaded app for iPhones and iPads this month.
For the unfamiliar, the costumes are noted for looking like spacesuits and the more ambitious trick-or-treaters may take on the shape of the game's avatars, which is reminiscent of a jelly bean.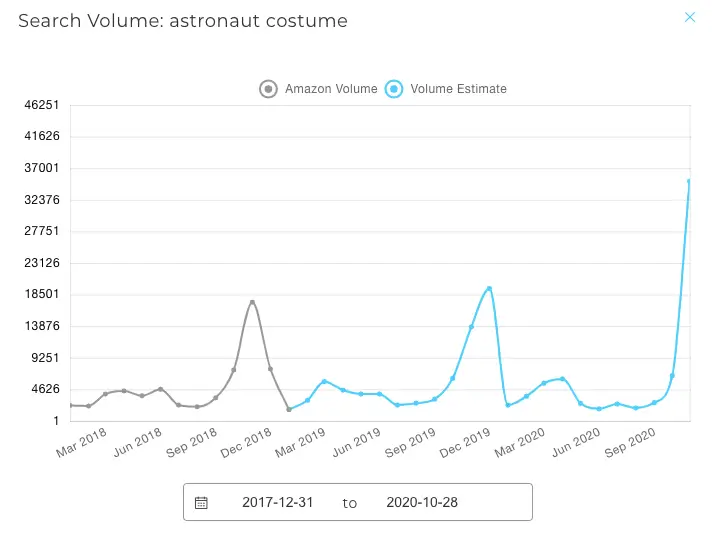 Searches for "Among Us costume" are soaring in October, with 66.9k. Meanwhile, "Fortnite costume" is receiving just 17.5k searches over the past month.
7. PG-Rated Halloween movies are dominating slasher flicks.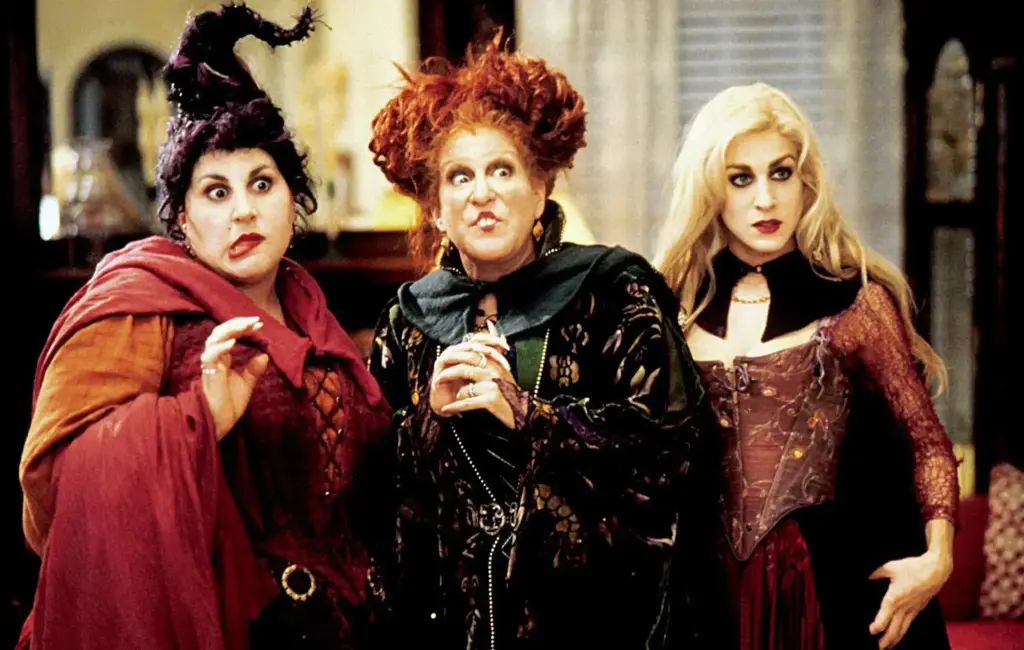 Halloween movies are typically thought of as scary horror movies with terrifying characters such as Freddy Krueger, Jason, or Chucky. But it's the PG-rated movies people are watching the most.
Debates on who Hollywood's best Halloween character rage on, and it's…Bette Midler?
Hocus Pocus, a 1993 film starring Midler and Sarah Jessica Parker, leads the way with an astounding 283.3k searches over the last 30 days. Packs of face masks depicting the stars faces are making a killing, with nearly $24k in revenue over the last month. Disney's Halloweentown (117.9k) and Ghostbusters (84.4k) are also being searched for at a rapid rate over the past month.
Meanwhile, the fear-seekers are searching for Scream (64.4k), Nightmare on Elm Street (57k), and Chucky (43.2k) to fulfill their fix for frights. While we're sure Jason Voorhees and the Halloween franchise is a favorite, it's impossible to attribute searches for "Halloween" to the franchise.
For more Halloween 2020 trends, create a Viral Launch account and start a free trial to get started.
Be sure to share any spooky finds or holiday plans in the comments and enjoy Halloween 2020 responsibly!