Despite mounting concerns about inflation, Amazon Prime Day 2022 staked its claim as the "biggest" Prime Day in Amazon's history, according to Amazon.
At this point, it should come as a surprise to no one that Amazon Prime Day stands out as one of the premier shopping events on the calendar. But the shopping holiday further solidified its spot even further with a blockbuster 2022 showing.
Setting sales records in 2020 and 2021 in spite of a global pandemic that wreaked havoc on supply chains and created an uncertain future on the shopper side, Prime Day continued to prove its status as a market force in the face of inflation concerns in 2022.
Prime Day 2022 Fun Facts
Prime members worldwide purchased more than 100,000 items per minute during this year's Prime Day event.
Customers in the U.S. used Prime Day to celebrate summer, purchasing more than 1.2 million pairs of sunglasses and more than 1 million swimsuits
Some of the best-selling categories in the U.S. this Prime Day were Consumer Electronics, Household Essentials, and Home
Prime members worldwide did the most shopping from 9 a.m.—10 a.m. PT on Tuesday, July 12 during the entire Prime Day event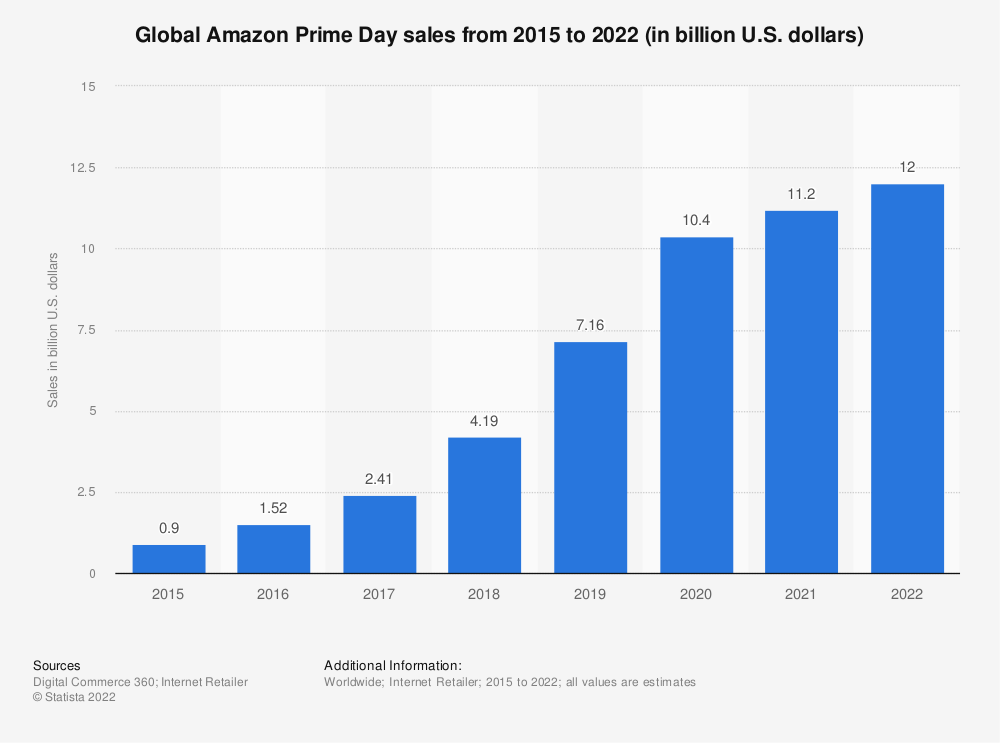 As the ever-changing market ebbs and flows, it's apparent Prime Day has become unassailable as a sales mega-event that brings billions of dollars into the Amazon marketplace during what was previously a lull in the retail calendar.
Zeroing In On The Prime Day Sales Bump
Using Viral Launch's Keyword Research and Market Intelligence tools, we can get a more zoomed-in view of how the Prime Day bump can impact a product market.
For example, let's look into a top-selling product that goes hand-in-hand with the millions of swimsuits and sunglasses: water bottles. More specifically, the insulated water bottles that keep your drink cool when the weather heats up in the summertime.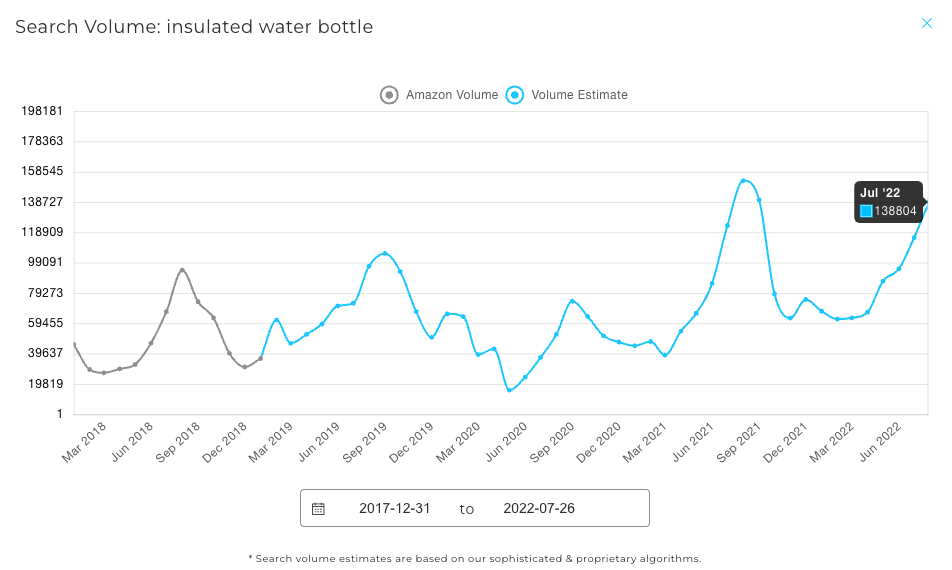 It's safe to assume that the warm weather of the summer will lead to scorching sales of insulated water bottles, but Prime Day boosts interest in the product to a new level.
In the image above taken from Market Intelligence, you can see a small dip before Prime Day, followed by a sizable uptick in sales from customers thirsty for a good deal.
The data detailed in the Estimated Sales Trend graph represents the average monthly sales using the previous 30 days for a running average. The quick rise in sales after July 12 that continues to grow before a small drop represents the 30 days of sales including the two-day Prime Day.
As a marquee sales event, Prime Day represents a tremendous opportunity for third-party sellers to break through and prosper like never before.
"We were thrilled to be part of the Amazon Prime Day promotion of small businesses, and we experienced a 326% increase in sales during Prime Day."

Renee Manzari, founder and CEO of Livity Yoga, a sustainable yoga brand based in Baltimore, Maryland.
This quick infusion of sales can be a huge boon for a profitable summer with long-lasting results. In addition to escalating sales, Amazon businesses can ride the wave of sales towards receiving coveted reviews to boost consumer trust and see a rise in organic rank to boost visibility as the holiday season approaches.
Small and medium-sized Amazon sellers crush Prime Day
Amazon's Small Businesses to Win Big Sweepstakes, which ran from June 21st through the conclusion of Prime Day on July 11, brought massive sales to smaller online businesses, resulting in more than $3 billion in sales on more than 100 million items. During the promotion, customers were incentivized to shop with smaller storefronts by receiving entries into sweepstakes for prizes such as an all-expenses-paid trip to the Super Bowl and exclusive merchandise, among other rewards.
The promotion's existence and substantial success lend credence to Amazon's commitment to smaller and medium-sized sellers, as they have repeatedly stated that smaller businesses are an essential part of their greater success.
"We made a bet that bringing selling partners into our store would not only be a win for customers … but it would also be a win for small businesses …"

Dave Clark, CEO Worldwide Consumer, Amazon
Time and time again, Amazon is sure to call out and create programs targeted at helping smaller businesses succeed. Between 2019 and 2020, Amazon invested more than $30 billion in various programs, services and tools for the growth of its small businesses.
In Amazon's Q2 2022 earnings report released on July 28, Amazon reported third-party sellers account for 57% of all items sold on its platform, the highest percentage ever reported.
Is Now Your Time To Get In The Game?
With so much positive momentum for third-party Amazon sellers, there may not be a better time than now to get off the sidelines and venture into the world of selling on Amazon.
As e-commerce continues to assert itself as the preferred method of shopping and Amazon Prime's subscriber base in excess of 150 million and growing, it's clear Amazon's robust marketplace is the place to be for those looking to try their hand at entrepreneurship.
For those interested in starting their own online business, sign up for your free trial of Viral Launch's comprehensive software suite, with invaluable insights and sales data to kickstart and maintain your Amazon business.
And don't forget to check out our handy guidelines to becoming an Amazon seller to help you understand the Amazon terrain and avoid common roadblocks on your journey to entrepreneurial success. With years of experience closely tracking and monitoring millions of Amazon products and assisting thousands of sellers succeed in the Amazon marketplace, we've got the goods to fast-track your booming online business.