The newest feature of Brand Registry 2.0 has arrived: Amazon Stores. Here, Viral Launch will explain how to make an Amazon Store and take advantage of the new Brand Registry updates .
Amazon is constantly introducing benefits to their Brand Registry program: trademark/copyright protection, Enhanced Brand Content, and now the ability to create Amazon Stores.
What are Amazon Stores?
According to Amazon, Amazon Stores is a free self-service product that allows brands to create single or multi-page Stores to showcase their brand value and product selection. Features of Amazon Stores include:
Own a unique Amazon web address (amazon.com/your-brand)

Create multiple pages to showcase your product catalog

Start with pre-made mobile and desktop layouts

Receive traffic from Amazon search and detail pages
Each Amazon Store page is made up of a header, footer, and content tiles in between.
How do you set up an Amazon Store?
To access Amazon Stores, login to your Seller Central account and click Storefronts > Manage Stores.

If your brand is enrolled in Amazon Brand Registry, you'll see a "Create Store" button. If your brand is not enrolled, you will see a "Register a brand." button, as only registered brand owners are eligible to create Stores.

If your brand is registered, you'll head to the Store setup page. First, you'll add your brand's logo and then select your page template. There are four template options:
Marquee

: designed to act as a brand or sub-brand gateway page.

Highlight

: showcase related products and related content.

Product Grid

: display large number of products.

Blank

: customize your own layout.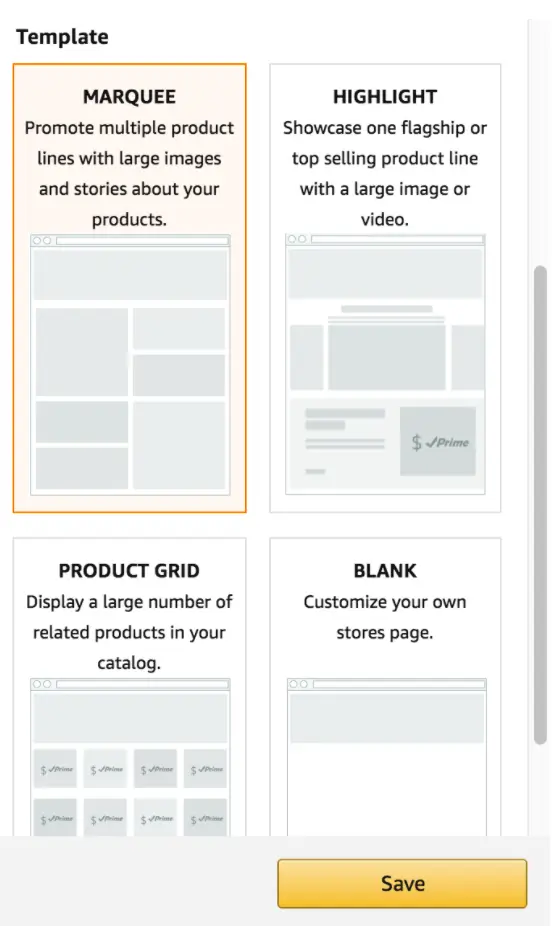 With a template selected, you can edit everything in the Amazon Store builder. Amazon outlines the Amazon Store Builder this way:
"

Page Manager

: used to create, select, move, and delete pages from the Amazon store.

Preview Window

: provides a live view of the current page. It can also be used to select a tile to edit in the Tile Manager.

Tile Manager

: used to add, edit, move, and delete tiles from the Amazon store. Tiles options include product, text, video, and image.

Status Bar

: provides the current moderation status of the Amazon Store (not submitted, in progress, approved, or failed) and displays any error messages."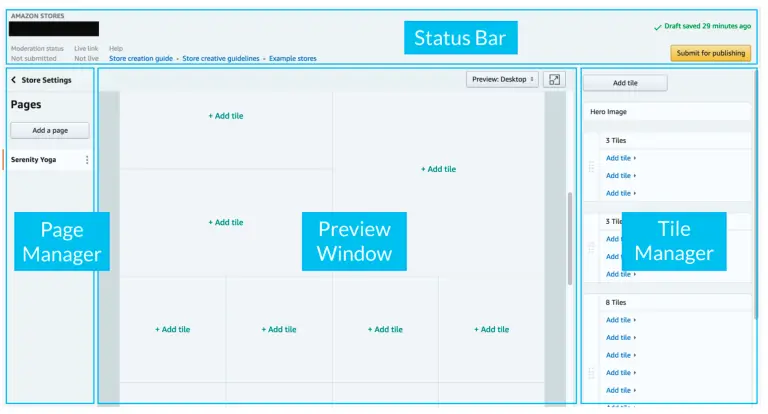 As you're editing, you can preview your Amazon Store to see what it will look like. Once you're happy with your Store, you can "Submit for publishing." The review and approval process may take several days, and you cannot edit your draft during the moderation process. To avoid a Store rejection, follow the Amazon Store Brand Guidelines.
For a more detailed breakdown of Amazon Stores, brand guidelines, and how they work, check out the Amazon Stores User Guide.
For inspiration, check out Amazon Basics' Store, which is a great example of Amazon Stores in action.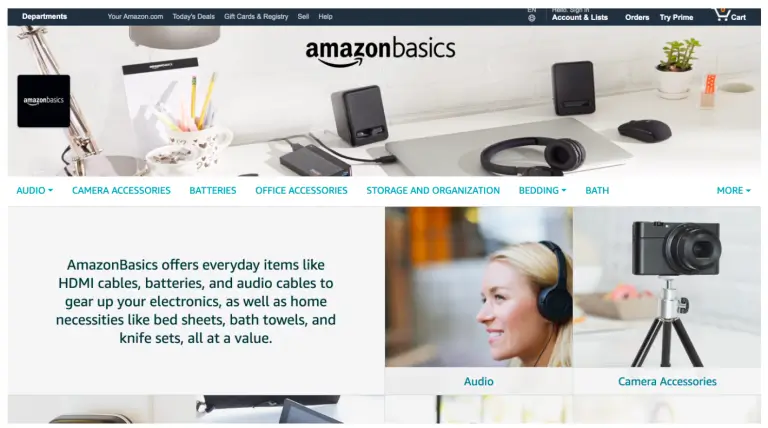 What does this mean for sellers?
Amazon's main priority is its customers. It always has been, and it always will be. Let's be honest… the overall aesthetic and UI/UX of Amazon isn't the best in the world. So it's no surprise that the company is rolling out features that will enhance the shopping experience.
Honestly at this point, we're not sure how Amazon Stores will affect the overall shopping experience. Right now, a shopper finds what they are looking for by typing in a search term, looking through results, and selecting a product that fits their needs.
However, it would make sense that Amazon is setting up for an additional way to drive traffic through these storefronts in order to make the shopping experience more enjoyable. After all, Amazon does advertise that Amazon Stores will "build a new shopping experience." Here at Viral Launch, we are just really interested to see how brands building Amazon storefronts will change the Amazon shopping experience.
Is Amazon taking a note from Macy's by including branded sections located throughout the store? In case you haven't noticed, Amazon has been actively making changes to the shopping experience already. When searching keywords such as mens watches or womens shoes, Amazon no longer shows search results directly.
Will Amazon start to identify "trusted" or "popular" brands for particular product markets, such as a search for vitamin c serum resulting in a few popular brands plus a few search results? We're interested to see.
This could be Amazon's way of weeding out sellers who aren't serious about their business and rewarding those who are. After all, Amazon is a better place for consumers when their merchants are serious about providing a good product from a good brand.
For this reason, take advantage of Amazon Brand Registry, if you've been reluctant to pull the trigger thus far. Along with the brand protection, brand support, and access to EBC, the program allows for Amazon Stores, which could become increasingly valuable as Amazon continues to evolve.
Resources:
Example of an Amazon Storefront
Enroll in Amazon Brand Registry
—
What do you think of this new feature for Brand Registered sellers? We'd love to hear your thoughts and questions in the comments below!