Mark it down everyone — Amazon Prime Day 2018 is believed to be July 16. Said to start Monday at noon and go until midnight on Tuesday, July 17, Amazon Prime Day 2018 will be 6 hours longer than last year's, which in turn was 6 hours longer than the previous year! More time, more deals seems to be Amazon's new Prime Day motto.
So Prime Day is back, but will it be bigger than ever? Chances are good, especially since Jeff Bezos recently revealed just how many subscribers Prime has (more than 100 million globally!) in an annual letter to Amazon shareholders.
And since every Black Friday, Cyber Monday and Prime Day has been bigger than the last as their market share continues to increase, it's pretty safe to say Amazon Prime Day 2018 will be history in the making for Amazon – or at least until its next big sales day.
Single-day sale events like Prime Day have become a global trend with tremendous success for retailers. Just look at China's insanely popular Singles Day, which takes place every year on 11/11 and has become the biggest commerce day in the world.
In 2017, the Alibaba run event experienced a new record of $25.3 billion in sales. For comparison, Amazon made an estimated $1 billion in sales last year on Prime Day.
While incredible deals make these special retail events shopping sprees that can't be missed, many people also participate just to be part of the pop culture extravaganzas both have become.
Recapping Amazon Prime Day 2017
In 2017, Amazon said Prime Day had more new Prime members join than any other day in its history. It was also the largest single sales day in Amazon history until its 2017 Cyber Monday stole the crown and is, to date, the eCommerce giant's biggest sales day ever.
For Prime Day 2017, Viral Launch set up interactive graphs to compare Prime Day sales to a 30-day baseline average. These graphs allowed the seller community to see sales trends for all categories combined, along with many individual categories, including common Private Label categories like Beauty & Personal Care, Health & Household, Office Products, etc.
Last year, our largest tracked seller saw a whopping 6,000% increase in sales throughout the 30-hour window.
This 6,000% increase was measured against a sales baseline from the 2 weeks leading up to Prime Day. We took an average of the same 30-hour period of time 2 weeks earlier in order to compare sales on Prime Day. The baseline gave us a feel for exactly how big the sale influx really was.
Using data derived from our product research software, Market Intelligence, we estimated a ~252% Prime Day sales increase across all of Amazon compared to baseline sales across all categories.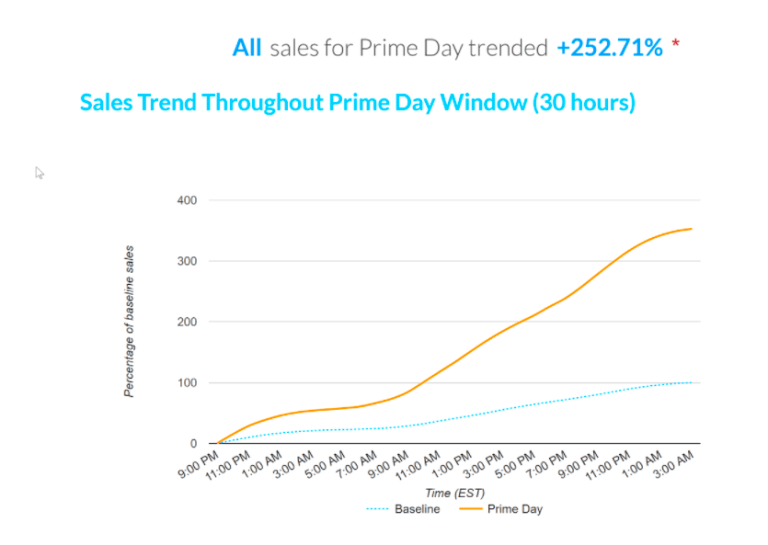 Our prediction and the final numbers Amazon reported show how truly massive last year's sales were. Check out more of our graphs and data from 2017 Prime Day sales trends.
Preparing for Amazon Prime Day 2018
Since its start in 2015, Amazon Prime Day continues to be an incredibly profitable sales opportunity for sellers. Wondering how you can prepare for and capitalize on the influx of traffic on the fast-approaching Prime Day 2018?
Get started now by tightening up your listings and making sure they're fully optimized and ranking on Page 1 for relevant, high-volume search terms. Visibility is key! When those Prime Day shoppers hit the site, you want your products to be the first ones they see.
Promotional sales are a great way to help boost your ranking and visibility. Schedule a product launch just before Amazon Prime Day 2018 to drive exposure and improve your sales history, both of which significantly impact ranking. Not sure how to run a promotion? Talk to a Viral Launch Amazon Seller Coach and get a custom strategy.
With so many deep discounts, Amazon Prime Day makes customers come in droves. We learned from our data last year that many new sellers saw a 1,000% increase in sales. Take advantage of the influx in traffic. Polish up those listings, and schedule your launches today.
Looking Ahead to Prime Day 2018
We know the final sales numbers are likely going to be huge, but what about the deals themselves? What are the best discounts, and what items will be flying off the shelves?
The Amazon Echo Dot was the 2017 Amazon Prime Day best selling product. We'll have to wait and see what item takes the title this year, but Amazon devices typically have big discounts and are in high demand. Watch out for deals on Alexa, Echo, Show, Spot and Dot devices, Kindles, Tap speakers and Fire TVs and tablets.
Instant Pot multi cookers were another 2017 Amazon Prime Day top seller, and there are many deals happening right now, with more deep discounts likely on the way.
The biggest discounts are expected to take place on Tuesday, July 17, but there are already reports of some early deals.
It'll also be interesting to see how Amazon's acquisition of Whole Foods last August will play out, especially since Amazon Prime members can now get discounts nationwide.
Prepare for and stay on top of sales trends for Amazon Prime Day 2018 with Viral Launch. Also, remember to download the Amazon App now to get notifications when special giveaways become available leading up to Prime Day.
Have you marked July 16 down in your calendar yet? It's shaping up to be a big — dare we say historic? — day. Enjoy!