What is the key to success on Amazon? It's a pretty simple process when you break it down: source a great product, set up a listing to convert, and get in front of shoppers. To get your product in front of shoppers, one service we offer is called product launches, which increase your visibility on Amazon and put you in a position to sell. The Amazon selling process can be tricky and product launch mistakes are not something any seller wants to experience.
Here at Viral Launch, it's our goal to help you succeed every step of the way. We run over 200 launches each day, and we've seen some awesome successes and some unfortunate failures. To help you learn from past mistakes, we'll share 9 common product launch mistakes to avoid when running a promotion with Viral Launch.
What is a Product Launch?
When it comes to achieving rank on Amazon, sales are king. With Viral Launch promotions, we drive sales to your listing through product giveaways. We do this to promote brand awareness, which passively increases keyword ranking. For a launching period of up to 12 days, a seller will give a number of discounted units, typically for 85-95% off, targeting a specific keyword. As these sales are attributed to the keyword, the listing will move up the ranks. The goal is to reach page one, increase the product's visibility to shoppers, and ultimately increase organic sales!
One-time-use coupon codes, coupled with a Max Order Qty. of 1 allow buyers to purchase one unit at the discounted price. At a pre-determined launch time, the product goes up on our buyer site, where everyday Amazon shoppers grab their favorite coupon for the day. The shopper is sent to your product on Amazon and purchases with his or her coupon.
The launch results typically take a couple of days to take effect, but you should start to see a change in rank anywhere from day three to day seven of the product launch. Once you're ranking, after the promotion is completed, it's up to the listing and reviews to convert well to maintain rank. If you've got a fully optimized listing with great photos, a great price, and a competitive number of reviews, you'll be in the perfect position to outsell your competition – woohoo!
Check out our How to Sell on Amazon course, which will walk you through how to set up a launch step-by-step.
9 Most Common Product Launch Mistakes
We've run over 14,000 launches and have seen countless product launch mistakes. Big… Small… We've seen them all. Here are some common errors to avoid when setting up your launch in the Launchpad.
1: There Was No Consultation with a Seller Coach.
Access to a Seller Coach is a free resource to sellers who want to utilize Viral Launch services, and our Coaches are experts in all-things Amazon. When sellers do not consult with a Seller Coach, the results are typically not as great, simply because Coaches know how to best optimize a launch. Our coaches have experience and data from thousands of launches and have seen plenty of successes and failures. A coach will work with a seller to analyze the product listing and determine an effective launch strategy, specific to that product. A launch will be most successful with the guidance and recommendations from a Viral Launch coach, so we definitely recommend getting in contact with the team! Email [email protected] for a coaching consultation.
2: The Launch is Too Short.
We recommend launching for no less than 7 days…we've found it's the sweet spot. A 3 or 4 day launch likely won't establish the necessary sales history to increase your product's ranking. On the other hand, a 10 day launch may require that you give away more units than necessary. With a 7-day launch, you'll build up some credible history without giving excessive amounts of inventory.
3: Not Enough Units are Being Given Away.
To rank on page one for a target keyword, a seller must match or exceed the sales of the top sellers. When the number of promotional units is too small, the listing will not rank on page one for the target keyword. You must match or exceed the number of daily sales that the top sellers are moving, so if you give 10 units/day, and page one sellers are seeing 30 units/day, you will not land among them. In this case, you'd want to give 30-35 units/day so that Amazon would recognize that your listing is competitive with top sellers. Market Intelligence, our Amazon product research tool, can help to determine the number of units necessary to give away during a launch. In the Launchpad, when you enter your targeted keyword, you'll find our Beta Launch Success Coach to help you to estimate the number of units needed to give per day to rank among the top sellers. For further instructions or to create the most optimized launch strategy possible, contact one of our Seller Coaches who are eager to help!
4: Too Many Keywords are Targeted.
Far too often, sellers target multiple keywords, not understanding how this will affect their rankings. Let's break it down: Targeting multiple keywords dilutes the giveaway in a sense. For instance, let's say you're running a launch and giving away 200 units over a 7-day period. Take a look at the graph below: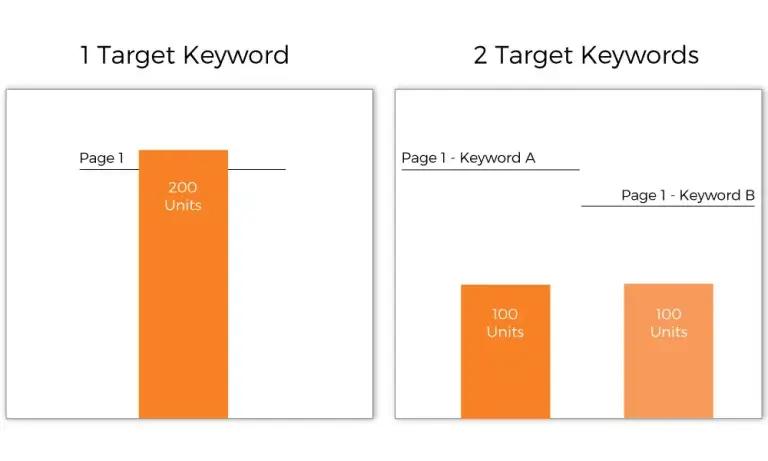 With a launch targeting one keyword, all 200 units are attributed to that keyword. In this example, the necessary 200 units for this keyword will boost the product to page one because it's matching the ~200 weekly sales that the top sellers are seeing. With the same launch targeting two keywords, the units are split in half so that only 100 units are attributed to each keyword. In this example, 100 units towards each keyword would not rank the product on page one for either keyword. Since page one sellers are moving around 200 units/week, a 100 units launch won't convince Amazon's algorithm that you're competitive with those top sellers.
In this scenario, it would be best for the seller to only target one keyword, so that the desired ranking can be achieved. Or, the seller could give more units overall and to have a better opportunity to rank on page one for both keywords. Essentially, the more keywords you target, the more units you should give away.
5: The Coupons are Not Active When Tested.
After submitting a launch, it will show as pending approval from our team. Around 3:00pm EST on the afternoon before the launch goes live, our team will test one coupon. If the coupon is activated and set up correctly, we will approve the launch. If there is an issue with the launch, we will deny it and send you a message with the reason as to why.

When a promotion is created in Seller Central, Amazon requires a 4-hour window before activation. We strongly suggest inputting the launch after this 4 hour time frame so that there is no chance your coupons are inactive by the time we check them. Even if we check your coupons just one hour before they go live, we will have to deny the whole launch. To avoid coupon issues, we only approve launches with live coupons, so be sure that your coupons are live by the time you've submitted the launch for approval!
6: The Giveaway Price is Too High.
We typically recommend a giveaway price around 90-95% off retail, and our buyers are accustomed to seeing products around $1-$3. We want to be sure that we've got the best shot at moving the necessary inventory so that your launch is successful. For a more specific pricing suggestion, simply ask one of our coaches who would be glad to give you a recommendation.
7: The Max Order Quantity Isn't Set.
This can turn out to be a very costly mistake. Before the fall of 2016, Amazon offered the option to set up $ off coupons. Setting these up, along with one coupon per customer and one-time use options, made it so that one customer could only get one product. It was fairly simple and straightforward.
In November of 2016, Amazon took away the $ off option for promotions, leaving % off as the only way to create coupons. In Seller Central, when you set up % off coupons, there is no way to set up a promotion that will allow you to restrict a customer from being able to grab 999 units with one coupon code. In order to protect your inventory, you need to set the Max Order Quantity to 1 for each SKU that the coupons apply to. If your Max Order Quantity is not set when running a promotion, you are putting your inventory in major jeopardy. This step cannot be overlooked!
We're able to set your Max Order Quantity programmatically in our system through accessing your MWS account. Check out our video explaining how to protect your inventory in the Launchpad.
8: The Listing is Not Optimized.
Last but certainly not least, your entire listing (and especially your title) should be fully optimized before a launch. This is for two main reasons: ranking and conversions.
Ranking

: Your title needs to be strong in order to fully utilize the launch. Although launches target one keyword, each sale is funneled through every keyword in the title. That means every word is fair game for a ranking boost with sales. With a fully optimized title, you'll see a boost for multiple relevant keywords as sales flow through your title.

Check out our blog post on How to Optimize Your Amazon Listing for Maximum Keyword Ranking

for more detailed information on that topic.

Conversions

: Your entire listing should be optimized with the goal of the highest conversion rate possible. This includes your price, photos, and copy. Once the launch has placed the product on page one, it's completely up to the listing to convert well organically and maintain rank. Each listing element must be up-to-par to keep up with the top sellers. You don't want to lose rank after all of the time and effort it took to achieve it!
9: The Listing Doesn't Convert Post-Launch.
We often get the question, "How long is my ranking going to stick on page one after the launch?" It isn't about sticking. It's all about converting. Too often, we see sellers waste money by running a launch to achieve rank, ultimately to fall right back down due to a lack of organic sales. Maintaining rank is all about converting organically post-launch.
If page one sellers are seeing ~25 units/day on your specific keyword, you must continue selling competitively with them to maintain your page one rank. After a launch, if you're only seeing 5 sales/day, your listing is going to slide down into the abyss of unseen listings. This is why we put so much emphasis on putting the time, money, and effort into having a listing that converts pre-launch. You'll want to position your listing for success, so that it can sell competitively once it's reached page one. The goal is to sell the necessary number of units (~25 in this example) each day at full price after the launch to be competitive with the top sellers. Then, you too will be a top seller!
Conclusion: Avoid Product Launch Mistakes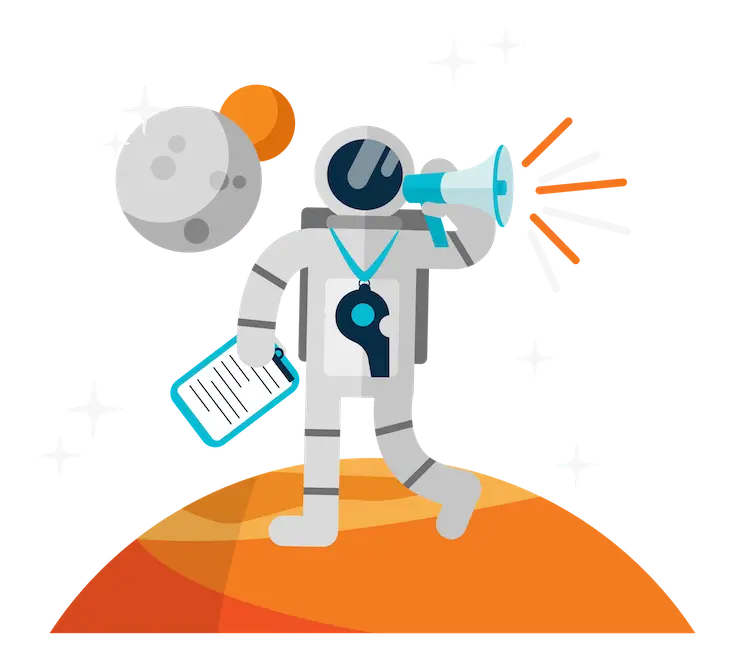 Running a promotion definitely isn't a small investment; we understand. That's why we want to be sure that you fully utilize your launch! Learn from others, and avoid these product launch mistakes when setting up your promotion in the Viral Launch Launchpad.
And as always, for more specific and tailored suggestions, we strongly recommend contacting one of our Seller Coaches by sending an email to [email protected]. Happy selling!