Amazon Advertising can be a complex topic, but Viral Launch's Amazon PPC platform Kinetic simplifies your performance so you can stop wasting money on inefficient ad spending and maximize profits.
In a recent update, Amazon announced certain ASIN-level metrics added to their Brand Analytics dashboard in Seller Central.
"With the launch of ASIN view, you can measure the search performance of a specific product by metric, such as clicks or conversion rate, within a selected time frame."

– Amazon Seller Central announcement
Before this addition to the Brand Analytics suite, you could only find ASIN-level data and metrics through Viral Launch's Kinetic PPC tool. While the addition certainly assists sellers, it's a far cry from what Kinetic is capable of when it comes to capabilities like data fetching and rule-based automation that optimize your campaigns at the ASIN level.
Optimize your Amazon PPC campaigns at the product level
Kinetic's main benefit is the ability to make rule-based automations that trigger when a set of selected criteria is met. These capabilities provide endless possibilities. With pre-set rules to get beginners pointed in the right direction and plenty of custom rules for PPC experts, it truly is the single tool for newbies and PPC wizards alike.
For example, suppose you're running an ad and want to target keywords with small-to-medium search volume because they're less expensive than their higher-volume counterparts but fear overspending on low-volume. In that case, you can set your limits on search volume estimates and create campaigns that automatically shut off if a certain level of unprofitability is met.
On the other hand, suppose a campaign for another product is absolutely crushing it. You can set it up for successful campaigns to increase spending for your best keyword or ASIN-targeted campaigns and appear more frequently in your most successful positions.
In either condition, Kinetic's product-level PPC data and automation assists sellers with skyrocketing their most successful campaigns and halt unprofitable ones.

With integrations from the rest of the Viral Launch suite pulling invaluable data such as search volume estimates, suggested PPC bids and recommended keywords, Kinetic provides critical data points to make your campaigns easier to run and much more data-informed.
Not to mention your most crucial, personalized sales data points can be quickly discovered in Kinetic. PPC Sales, PPC spend, RoAS, ACoS, conversion rates, organic and sponsored rank and much, much more are all automatically tracked for your campaigns and can be seen at the product level for PPC.
All of this data goes a long way when it comes to running your ad campaigns. Not only does this simplify the data to make more data-informed decisions, but they also assist with seeing why and how they're succeeding or not. In an easy-to-view, easy-to-navigate platform, you can see the performance at a very broad level, or zoom in for a more granular view of how your product performs for specific keywords and similar or complementary ASINs.
Start improving your PPC performance today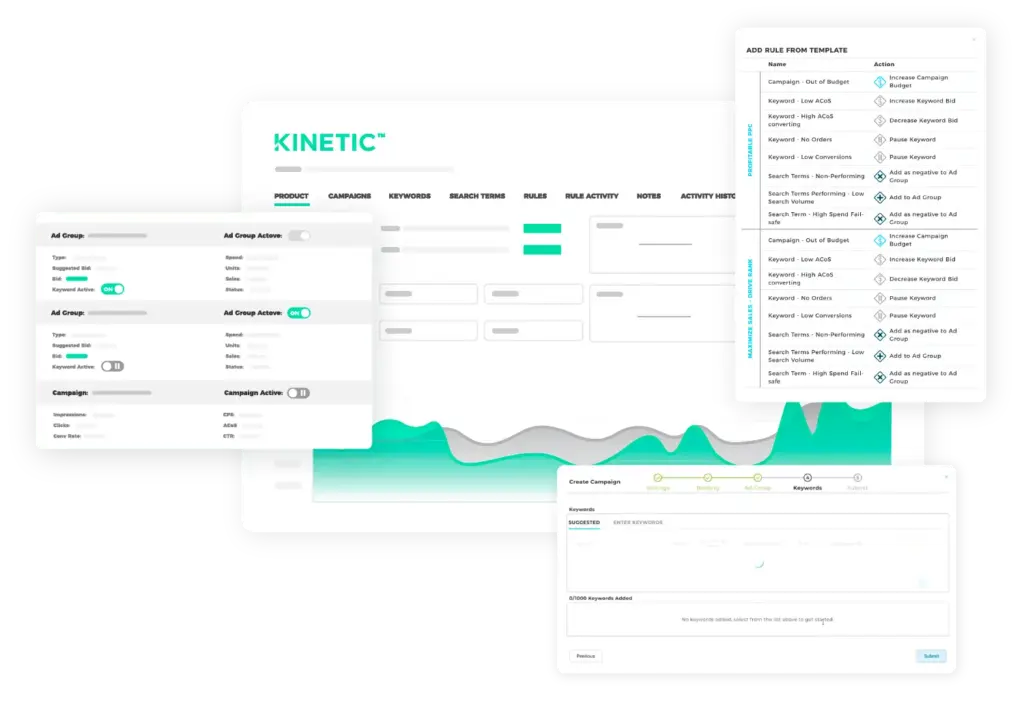 While Amazon's recent addition of displaying product-level PPC performance in Brand Analytics marks a step in the right direction, it's only a fraction of the data, automation, integration with other tools and strategic assistance provided within Kinetic.
Kinetic makes it easier than ever to supercharge your PPC campaigns and understand your product performance like ever before. For more information, check out our guide on How To Use Kinetic PPC for your first step in becoming a PPC guru.
As PPC becomes an even more significant tool in the Amazon seller arsenal, it's even more critical to have the intelligence advantage. Now that every brand-registered Amazon seller has easy access to ASIN-level data in Brand Analytics, it's as critical as ever to gain the edge with the advanced metrics and actionable automations available in Kinetic.
Want to stop wasting advertising spending and run more efficient campaigns? Of course you do! See what Kinetic can do for you! Sign up for your free Kinetic trial today to start running more efficient, more profitable campaigns.