As an Amazon seller, your main goal is to get your product in front of as many buyers as possible. But with competition high, where do you even start? Thankfully, there are several Amazon advertising tools designed to help sellers promote their products.
From sponsored ads and video ads to storefronts and more, sellers have plenty of options for how to advertise their Amazon products and brands. In this guide, we'll cover what each of these advertising options are and how you can use them for your business. But first, let's discuss a big change Amazon recently made to its advertising platform.
What's in a Name? Amazon Advertising Rebrand
Come with me on a journey through time and space to August 2018. It was a different, more confusing time in the Amazon ecosystem. Back then, Amazon sellers looking to advertise their products had to wade through three different marketing channels and decide which one was best for their business. Amazon offered AMG (Amazon Media Group), AMS (Amazon Marketing Services) and AAP (Amazon Advertising Platform) as their three marketing pillars.
However, the disjointed nature of having multiple advertising platforms was seen as unnecessarily confusing to a lot of sellers. Many people found it hard to decipher where you needed to go to run the types of ads you wanted with so many different acronyms and platforms.
In September 2018, Amazon began phasing out the three-headed monster of AMG, AMS and AAP, opting rather to combine them all into one advertising platform. Now anything that has to do with advertising on Amazon falls under the umbrella of Amazon Advertising.
Head over to Amazon Advertising if you're looking for any of these services or features: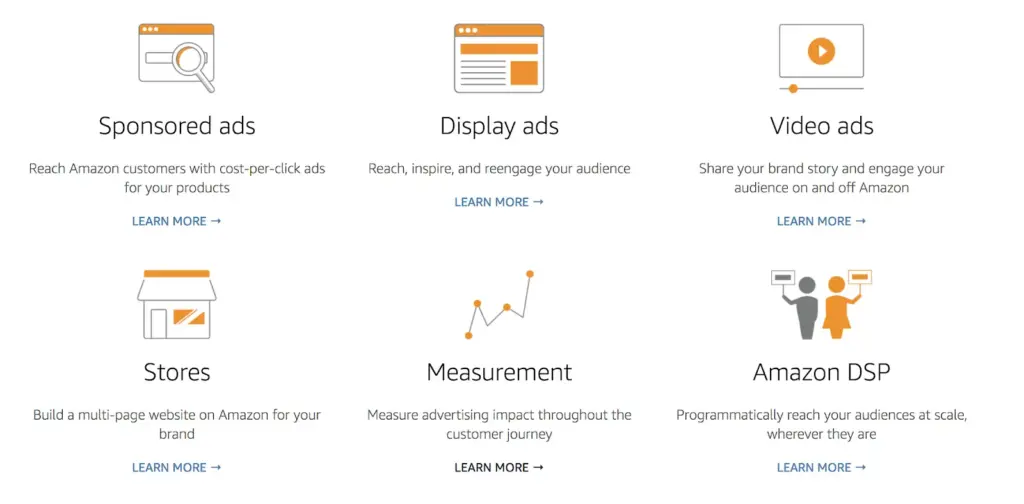 To make sure you understand all the options at your fingertips, let's dive into each tool.
Amazon Advertising Tools
Sponsored Product Ads
In short, Sponsored Ads are pay-per-click advertisements that allow brands to promote their products with keyword-targeted ads. As you've shopped on Amazon before, you've likely seen these ads. These appear with a small "Sponsored" tag after you've typed in a related keyword. Sponsored Product ads can show up at the top or within search results and on product detail pages. They will also appear on mobile and tablet browsers, as well as apps. As an example, when searching "garlic press," I was given these Sponsored Ads: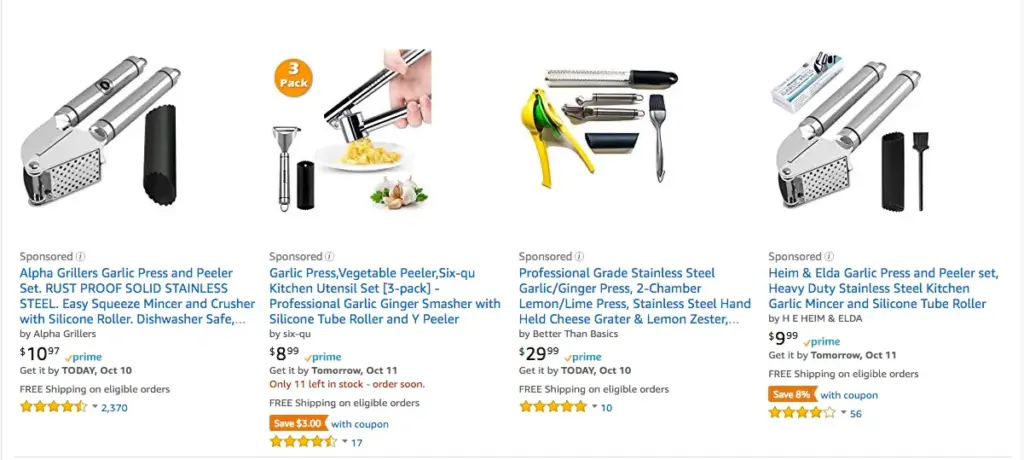 How Much do Sponsored Product Ads Cost?
As previously mentioned, these types of ads use a cost-per-click, auction-based pricing model. This means you are bidding against other sellers to get that spot within search results. You set the maximum amount you are willing to pay when a shopper clicks on your ad. The more competitive your bid is, the better chance it has to be displayed.
As you can see in the image below, this is what the Sponsored Ads user interface looks like. In the first column, you can enter your bid for the ad. To help sellers choose the right bid, Amazon will provide you with a suggested price range. As you're getting started, bid within or just slightly over the suggested amount. You can always adjust from there if you are not getting desired results from your campaign.

Once you've got campaigns ready to go, you can also set your budget: the maximum daily amount you're willing to spend over a calendar month.
Ready to Start Building Your First Campaign?
Check out this webinar from Amazon:
Now that you have a basic understanding of what Sponsored Products are, let's move onto the next advertising option.
Sponsored Brands
Formerly known as Headline Search Ads, Sponsored Brands are keyword-targeted ads that allow brands to have a custom headline and logo within their ad. Brands use these advertisements to drive shoppers to a custom landing page or their Amazon Store. These ads show up on the left side of search results and at the top and bottom of the page. They can also appear on both desktop and mobile browsers, as well as the Amazon app.

Who is Eligible for Sponsored Brands?
Only third party products that are enrolled in Brand Registry are eligible to utilize Sponsored Brands. The products must also be new and fall into one of the categories below.
Note: Adult products, used products, and refurbished products are not eligible for the Sponsored Brands program.

How Much Do Sponsored Brands Cost?
Similar to Sponsored Product Ads, Sponsored Brands use a cost-per-click, auction-based pricing model. You set the maximum amount you're willing to pay when a shopper clicks your ad. The more competitive your bid is, the more likely it is that your ad will be displayed.
While there are a lot of similarities with Sponsored Product Ads, the daily budget works a little bit different for Sponsored Brands. You set the maximum daily amount you're willing to spend on ads, but it does not roll over to the next day. This is unlike Sponsored Product Ads, which uses an average for the month.
Display Ads
Like sponsored ads, Display Ads also use a pay-per-click model. However, there are some differences. While sponsored ads are keyword targeted, Display Ads allow you to target your ad based on shopper interest or a specific product. Display Ads can appear in a number of places for both desktop and mobile users, including:
Detail pages

Below search results

Customer review pages

Top of the offer listing page
This image shows a Display Ad appearing directly under the checkout options on the right side of the page.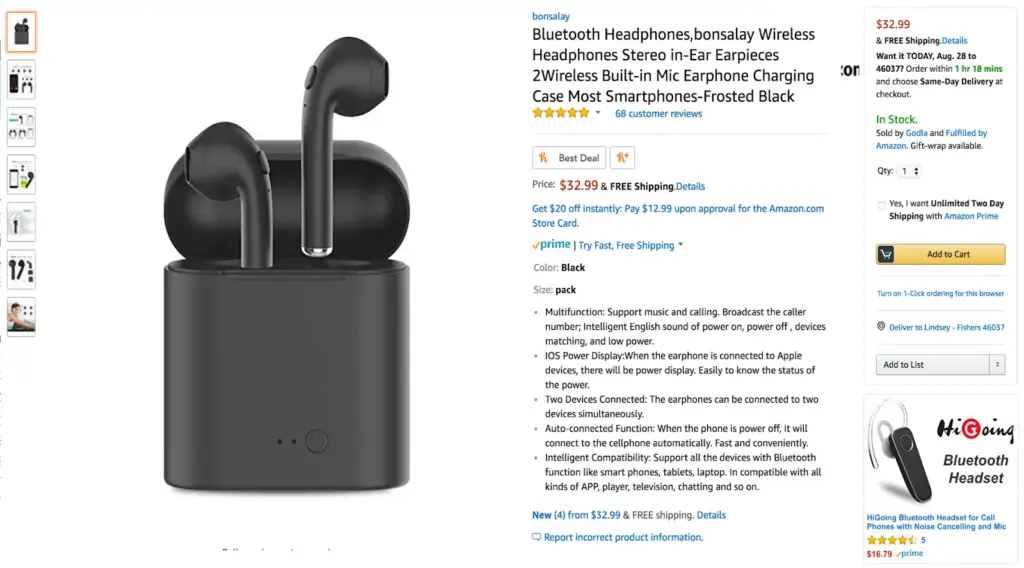 In addition to the areas listed above, these ads may also appear in Amazon merchandising emails.
Want some more information about Display Ads?
Check out the Amazon Ads YouTube account for more information on display ads and everything Amazon Ads.
Video Ads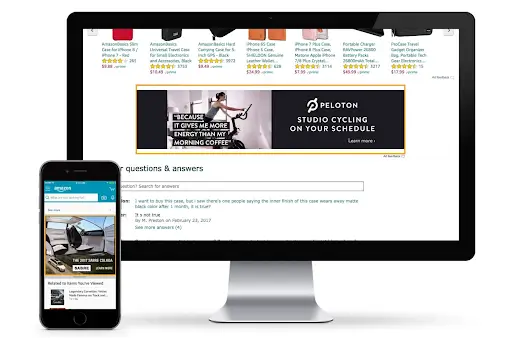 Video Ads are a great way for advertisers to really tell their brand story and engage customers in a unique way. These ads show up in brand-safe environments via trusted channels like Amazon, IMDb or on exclusive Amazon devices like Fire TV or Fire tablet, as well as across many third-party sites and apps. As you can see below, videos are showing up on the bottom of a webpage as well as on a smartphone.
One major point to remember about video ads is they require a budget of $35,000 or more in the United States. These are typically going to be utilized by sellers or brands that have bigger advertising budgets.
Stores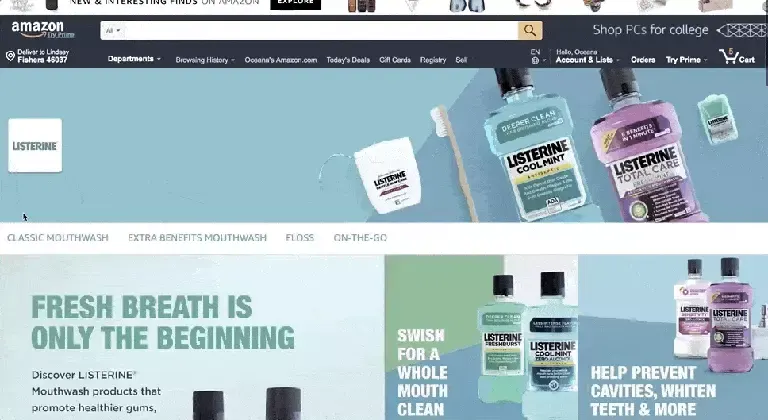 Stores allow sellers to create their own website within Amazon with its own branded URL. This is a great way to showcase your brand story and product portfolio in a curated customer destination while providing a place to drive advertisements to. They don't require any coding skills to set up and, as you can see below, provide a multi-page shopping experience.
Amazon DSP
Known formerly as Amazon Advertising Platform (AAP), Amazon DSP is a demand-side platform. This allows sellers to programmatically reach audiences on Amazon sites as well as through publishing partners and third-party exchanges. Unlike other advertising options where the main goal is to have a direct impact on sales, the main goal of DSP campaigns are to build brand and product awareness. This is more for companies that understand the nature of brand advertising and are already running display ads on other platforms.

Metrics and Reporting/Measurement
The metrics and reporting of Amazon Advertising allow sellers to see how their campaigns are performing. Here are some of the most important terms to understand:
Impression:

An impression is generated every time your ad is displayed.

Click:

A click is generated when a user clicks or taps your ad.

Click-through rate

: Click-through rate is the number of clicks your ad generates divided by the number of times your ad is displayed (impressions).

Detail page view

: A detail page view, or DPV, occurs when a customer visits one of your brand's product detail pages after clicking your ad.

Total sales

: Sum of sales attributed to your campaign. A sale is attributed to your campaign each time a customer clicks your ad and purchases your products within 14 days. It takes 3 days after your first click for this data to begin showing in your report.

ACOS

: The average

advertising cost of sales

(ACOS) is the amount you've spent on a campaign divided by the total sales attributed to your ad.
In this section of Amazon Advertising, sellers are able to run many different reports to check how their campaigns are performing.
Amazon Advertising Tools: Find What Works for You
While standing out on Amazon can be difficult, these days sellers have plenty of Amazon advertising tools to help get their products seen. However, running Sponsored or Display Ads or utilizing any of the other marketing strategies won't automatically ensure success.
A lot of the Amazon game (advertising included), comes down to good old fashioned research along with trial and error.
If you're going to jump into running Sponsored Ad campaigns for your product, you need to be fully aware of what you're willing to spend on your advertising campaign as a whole so you can properly set bids and your budget. It also might behoove you to start with a wider net of keywords, let the campaign run, and then pick out a few of the keywords that perform the best.
The point here is, you need to figure out what Amazon advertising tools and strategy options work for you and your goals. If something isn't working, take note and adjust accordingly before moving forward.
Here, at Viral Launch, we want to provide you with all the information you need to become a successful Amazon seller. For more on Amazon selling strategies, we encourage you to subscribe to our blog, check out our Youtube channel, and listen to our Follow the Data podcast.