The tech story of 2023 has been the rapid rise of artificial intelligence technology such as ChatGPT. Find out how to use ChatGPT as a tool for your online business.
Writing an effective Amazon listing is crucial for attracting potential buyers and increasing sales, but it can be daunting for many sellers. Many sellers look elsewhere when writing their Amazon listing, whether due to a lack of confidence in writing skills, language barriers, or a lack of knowledge on creating copy that will be crucial to your Amazon success.
This is where ChatGPT comes in – as an AI language model, it can save you time and money regarding Amazon listing optimization.
ChatGPT can save considerable time and money by automating a significant chunk of your Amazon listing copy. If performed correctly, you can generate content that accurately describes your product and informs the customer of its key points, ultimately driving more conversions and boosting your bottom line.
Below, let's dig in on how to use artificial intelligence tools for Amazon listings to advance your online business.
What is ChatGPT?
ChatGPT is an AI language model developed by OpenAI. It is a deep learning-based model that uses a transformer architecture to understand and generate human-like language. It's been pre-trained on an extensive collection of text from the internet and can generate human-like responses to a wide range of questions and topics.
ChatGPT is designed to assist and provide information to users, and can be integrated into various chat applications and platforms to provide an intelligent and interactive chatbot experience.
Launched in November 2022, it reached 1 million users just five days after its launch. In the months since its release, it's generated a ton of buzz thanks to its popularity, concerns about its usage, and the future of tech.
How to get started with ChatGPT
First, go to chat.openai.com. Then, continue with your Google or Microsoft account, or manually enter an email address and password. Upon doing this, you'll need to verify your email address, and boom, you're all set up. You may be asked to provide a cell phone number for verification purposes, where you'll receive a text with a confirmation code.
Due to its popularity and it being a free research preview, you may encounter issues with being unable to sign in or sign up due to servers operating at peak capacity. If this happens, try again shortly as it typically doesn't remain inaccessible for long.
Before getting down to business, feel free to play around in ChatGPT for a bit. Testing out the technology to find its limitations and see how far it can go can pay off when it comes time to create a prompt for your listing. Since the copy will almost literally write itself, your skill comes not as a writer but as a prompter. The AI-generated copy will only be as good as the prompt you enter.
Take a second to see how ChatGPT responds to vague prompts and how you can be more specific. At this stage of the tool's development, you'll likely find there's a sweet spot between vague and specific that will deliver the best response for what you're hoping to receive.
Utilizing AI tools for Amazon Listings
Since ChatGPT specializes as an AI language model, it naturally makes sense as a time-saving assistant for writing tasks. While that may not assist with optimizing advertising campaigns or managing inventory (yet), it can save you time and money regarding your Amazon product listing copy.
Your Amazon listing copy serves many purposes, but typically the goals fall under two umbrellas; for SEO visibility and to inform the customer about your product. While ChatGPT won't check off both boxes to perfection, it can help you save time and tackle most of the basics.
For example, you can prompt ChatGPT to create an Amazon product listing for whatever product you're selling, and it will provide a solid facsimile of an Amazon product description. You may have to toy around with your prompt and be specific to receive the copy in the desired format.

Before entering the prompt, requests for Amazon product listing copy for teeth whitening strips resulted in a few formats that didn't match the fields in an Amazon product listing. Once the specifics were included in the prompt, ChatGPT spat out the product description below.
Pretty impressive, right? And it took less than a minute to produce once given the prompt. In essence, the generated copy tackles what teeth whitening strips do. However, you may notice ChatGPT ran with the details quite a bit. The prompt does not mention the number of treatments, ingredients, or price, all directly or indirectly mentioned in the copy. This is where you come in!
The generated copy must be reviewed, edited, and fact-checked to ensure it's accurate and within Amazon's Terms of Service. For the teeth whitening strips example, you would want to ensure the treatment details, ingredients, and expectations are accurate to the product you're selling.
You can enter specifics in your prompt, and ChatGPT will include them in the description. But you may be better served to stick with the generated copy as the technology matures through its infancy. Editing the generated copy may be more straightforward, inserting the product-specific details independently.
Optimizing ChatGPT Copy for SEO
Importantly, ChatGPT doesn't write for SEO purposes on Amazon. Without access to search volume data from an Amazon-specific search volume tool like Keyword Research, the tool can't optimize visibility through SEO. For this, you can use Viral Launch's Listing Builder to cross-reference and edit for maximum visibility.
First, sign in to Viral Launch and open Listing Builder. Next, enter your primary keyword to generate a comprehensive list of keywords for your product.
We recommend skimming through the keyword list and removing any keywords that don't apply to your product. Keywords like competing brand names, restricted terms, or information that just isn't accurate for your product, as you won't want to include them and risk suppressed visibility or lying to customers.
Once you've removed unnecessary keywords, copy and paste the copy for your title, bullet points, and product description into the appropriate fields.
Example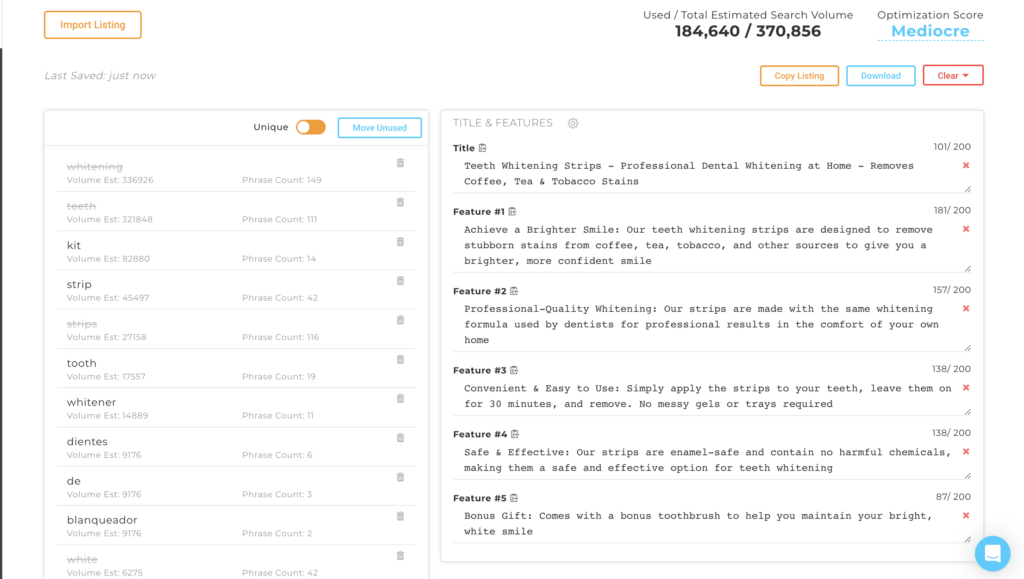 Take a look at your optimization score in the upper right corner. Is there room for improvement? Most likely, yes. From there, find spaces to insert unused keywords into your listing. An easy place to start would be replacing repetitive keywords if synonyms or variations with search volume appear as unused in your listing.
The ChatGPT product description also leaves plenty of space concerning character counts, allowing you to add more copy optimized for search without worrying about losing vital keywords.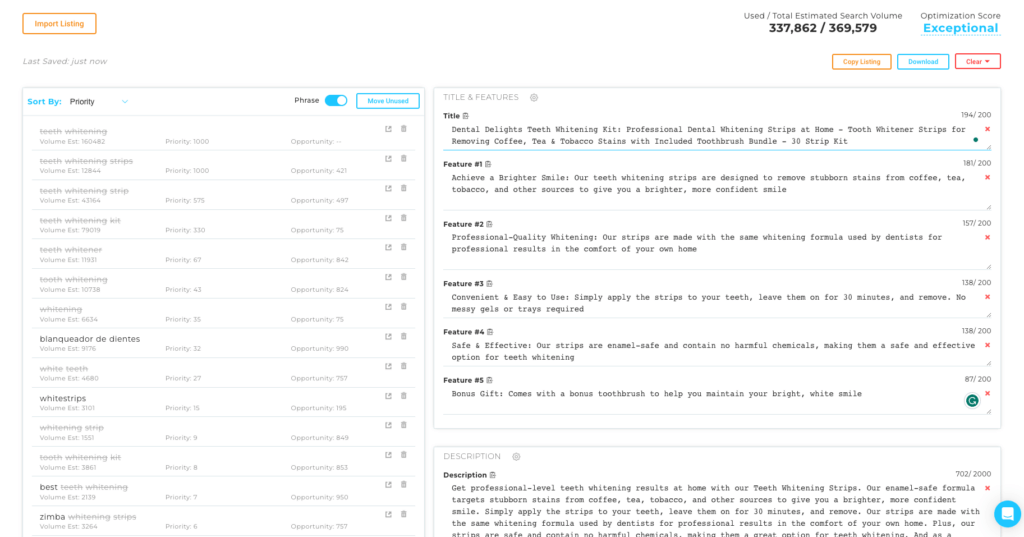 After stretching the product title closer to the 200-character limit with the most-searched keywords, the score goes from Mediocre to Exceptional. Also, this is without fully filtering out inapplicable keywords or completing the backend search terms, which would only push the score closer to perfection.
You may need to add a sentence or two to incorporate all keywords, and even move words around to prioritize the title and bullet points due to their higher indexation value. In fact, we highly recommend utilizing all the characters Amazon allows for your product, even if you reach a perfect score with room to spare. In the crowded Amazon marketplace, any opportunity to inform the customer of your product, answer potential questions, and entice the customer to purchase should be used to your full advantage.
Conclusion
ChatGPT offers immense potential to change how we work, but it's already serving purposes in the business world. While it isn't a one-stop-shop you can copy and paste without worries, it can save you plenty of time and money spent on a Listing Optimization if you feel confident enough to take these steps.
While this method requires work on your end, it pales in comparison to doing this entire process manually. If you created a listing without ChatGPT, you would've had to do these steps on top of the writing process. Or potentially spend hundreds for an SEO expert to handle this for you. Depending on your product and writing experience, utilizing the copy from ChatGPT can easily cut your workload in half.
It remains to be seen how else generative AI applications can streamline an Amazon business. From customer service to Amazon communication, the possibilities appear seemingly endless. Early adopters will likely receive an edge over those arriving late to the AI party. Since Amazon is getting into the generative AI business with Hugging Face, an "Amazon ChatGPT" as some call it, the technology appears to be on the rise and entering the Amazon space.
Consider artificial intelligence as another resource, a new tool in your FBA toolbox. Savvy Amazon sellers comprehend the importance of owning an edge over market competitors. Whether saving money on expenses, expanding your visibility and conversion , or saving time to master other elements of your Amazon business, a tool like ChatGPT can give you that edge to streamline your Amazon success.
Try your hand at creating an optimized listing with ChatGPT and Listing Builder today to boost your visibility and conversions while experiment with a new wave of technology today!