Every Amazon seller needs to know how to sell in a competitive market, and a top-shelf competitor analysis can give you the edge you need.
Because of the immense potential, it should be no surprise that the Amazon seller competition is fierce. With the convenience of the FBA program, access to a customer base in the hundreds of millions, and opportunity for growth, it's the premier space for those with an entrepreneurial mindset. Many experience issues dealing with the Amazon seller competition, as it's out of their control with constantly changing variables.
So how can you navigate a path to success on Amazon? It's all about maximizing every opportunity made available to you. To identify these opportunities and become aware of what works in your marketplace and what mistakes your Amazon seller competitors are making.
"If you know the enemy and know yourself, you need not fear the result of a hundred battles. If you know yourself but not the enemy, for every victory gained you will also suffer a defeat. If you know neither the enemy nor yourself, you will succumb in every battle."

Sun Tzu, The Art of War
Tzu made his name as a military general and philosopher thousands of years ago. However, his strategy also broadly summarizes the idea behind performing a competitor analysis and why you should have a deep understanding of your Amazon seller competition.
In a crowded marketplace, selling a phenomenal product is only the beginning. You must know your selling space inside and out to stand out and steal customers from competitors. In the process, you'll identify opportunities to increase visibility, better meet the needs of consumers, and capitalize on mistakes or shortcomings of the competition.
What is an Amazon Competitor Analysis?
An Amazon Competitor Analysis is more or less a SWOT (strengths, weaknesses, opportunities, and threats) analysis for sellers you're competing with in the Amazon marketplace. Also called a situational assessment or situational analysis, a SWOT analysis is a framework used to evaluate a competitive position and develop strategies to maximize performance.
This analysis allows you to identify opportunities for improvement and areas where you can differentiate yourself from your competitors. If you're considering selling on Amazon FBA, it's important to conduct a competitor analysis to understand the market and identify areas of opportunity.
With a proper competitor analysis, you can uncover gems
Here are some steps to help you conduct a thorough competitor analysis for Amazon FBA:
Identify Your Competitors
Sounds easy, right? To a degree, it is, but there are levels to this.
Conduct a keyword search with your primary keyword, and the search results will compile a page full of your Amazon seller competition. And while every listing in your category competes with you, not all competitors are created equally. So first, we must define competitor within this distinctive context.
It's important to remember the end goal of the analysis will be to make intelligent, actionable decisions to elevate your Amazon business. Considering this, you may be better served to base most of your research on listings with success more comparable to your own.
Monitoring the success of top sellers or brand names can be helpful, but their market share might not be for the taking yet. For newer or lesser established brands, no strategy can overcome a household brand name or entrenched top seller with thousands of positive reviews or a trusted reputation.
Audit competitor listings
Take a look at your opponents' listing in great detail. For the most part, Amazon gives each seller in a category an equal opportunity to create their listing with the same amount of space. By analyzing what others are doing with this space, you can implement what works for others into your listing and recognize shortcomings to avoid.
Images
Product images play a pivotal role on Amazon. Unlike shopping in a brick-and-mortar store, customers can't touch or see the product in person. High-quality product images bridge the gap for customers, allowing them to get a more thorough look at the product and answering their questions through detailed imagery and infographics.
Additionally, do the photos showcase unique features or benefits? Does it show the customer how it works and what settings it may be used in? Taking note of what your competitors are doing right and wrong and taking action with your own photos can be the difference between a standout listing that jumps off the search results page and a generic listing that gets overlooked.
Title
For SEO purposes, the product title possesses the most indexing weight of any section for a product listing. The keywords in a product title should be relevant to the product and with the most search volume.
If you see a common word or phrase thrown into titles to the point where it seems odd, it warrants additional research. Utilize a tool with access to Amazon search volume data, such as Keyword Research, to see any opportunities to capitalize on competitor mistakes.
From the format to the keywords, the product title represents your first opportunity beyond images to get your product in front of customers. Most likely, customers discover your listing via search, surrounded by a sea of competitors. Put yourself in the customer's shoes. Consider what information you want to see in a product title and what would earn your click to learn more in the product description before adding to cart.
What information are your competitors sharing in this space? Which keywords do they use?
Bullet points & description
The customer saw your photos, read your title, and wants to learn more. The bullet points and product description are your next shot at convince the customer why your product is what they need. Keyword indexation remains an essential part of the bullet points, but you can start selling your product in these sections. Check through your competitors' bullet points and descriptions to better understand how others in the market speak about the product.
Learn from what information others include in their listings and apply it to your own. If you're going to miss out on sales, never want it to be due to things you can control and information left unanswered in your description. As you analyze the listings, perhaps make a list of questions for your product and check them off as you go. Hopefully, you can even find more questions to make sure you answer with your copy.
Reviews
Often overlooked, you can learn a lot by skimming through competitor reviews. Unhappy customers tend to voice their complaints and Amazon encourages them to explain why in their reviews.
Within the reviews page, sort through the reviews to see what issues customers experience with the product. For example, you can click on the 1-star and 2-star reviews to see what competitors are doing wrong.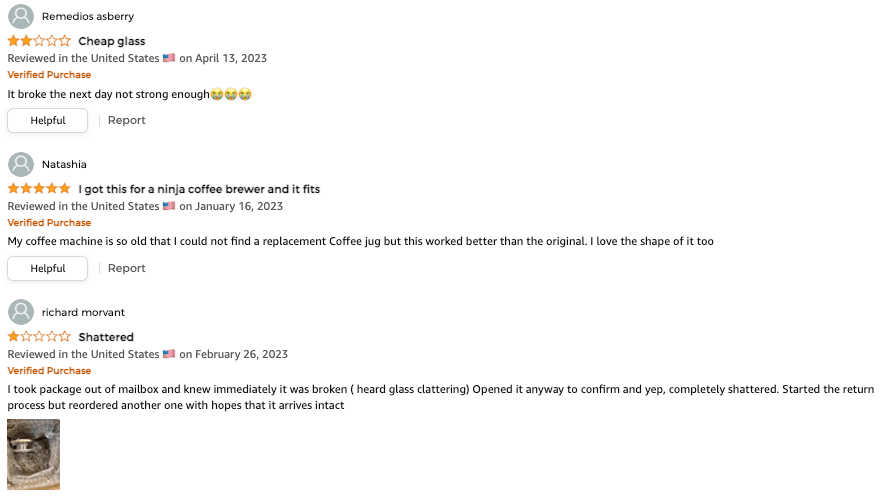 On the positive side, check the 5-star reviews for a more comprehensive look into what customers appreciate about a product. What problems are they solving? Is there any way the competition goes above and beyond that you can replicate? Four-star reviews provide precious insights, as they often entail satisfied customers who have experienced a minor problem or see room for improvement.
Be a keyword sleuth
The most successful Amazon sellers leave no stone unturned regarding visibility. Whether through organic search or sponsored ads, the best sellers ensure their products are seen in high-volume searches and built to turn those impressions into purchases.
Finding out which keywords your competitors are competing for can do wonders for your strategy for overtaking them, in a few different ways.
You can attack head-on by prioritizing the keywords they're prioritizing. Customers can find your product through various search terms. Most products are found through a few primary keywords, many more secondary phrases, and an assortment of tertiary, low-volume keywords.
While they all provide value, visibility for higher-searched terms can be much more fruitful. Because of this, however, the competition can be intense, with sky-high costs in advertising and costly promotions to climb the ranks. However for sellers without the benefit of a never-ending bankroll, targeting search terms with low-to-medium visibility may be more profitable through advertising and inclusion in your listing copy.
Monitor prices
The hallmark of competitive markets: price wars.
In any market where products are comparable, the cheaper price typically wins. As a result, knowing how low your competition can go and being aware of price changes as soon as possible so you can avoid being undercut can be a lifesaver, especially during high-volume sales events.
Monitoring competitor prices over time presents invaluable information into how they run their business. For instance, tracking prices and how products perform at various price points can consistently give you an edge to optimize your positioning. When you know how low the competition can go and how their performance at each price point, you can exploit weaknesses to climb the ranks.
Streamline your competitor analysis process with Competitor Intelligence
For Amazon business owners, performing these tasks can be extremely tedious and time-consuming. Even worse, the results constantly change as new competitors emerge and existing competitors evolve.
Enter Competitor Intelligence, one of the most helpful competitor analysis tools around! Competitor Intelligence is a reverse ASIN lookup tool that provides a quick and easy one-stop shop for tracking your marketplace rivals across various categories.
Enter a product ASIN to quickly get a massive list of their top-performing and underutilized keywords, alongside the ability to analyze and track indexation, keyword rank, sponsored ad rank, sales, price, reviews, search volumes, notification options and more.
Within Competitor Intelligence, you can enter the ASIN and instantly glean most of the information listed to this point for any ASIN.
Up-to-the-minute and historical data points related to price, rank, sales, revenue and a breakdown of estimated fees are just some of the in-depth details that can be found within seconds. Additionally, if you grant MWS access to the Viral Launch platform, you can compare how your product measures up categorically.
Find out where your challengers rank on a keyword-by-keyword basis for organic and sponsored searches. In the Competitor Keywords tab, a comprehensive list of keywords associated with the product appears. Within the tab, you can find out how the competition stacks up for each keyword. This is sortable by estimated volume, rank, and more.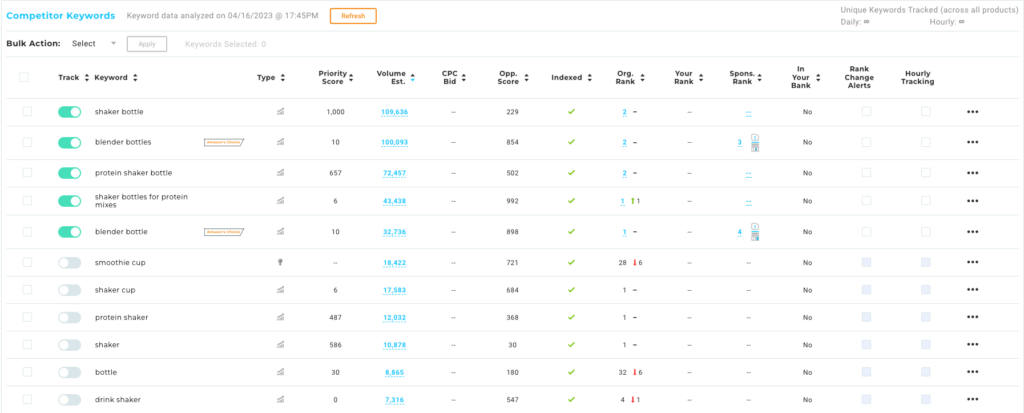 You can even sign up for rank change alerts and hourly keyword tracking. This allows you to stay on top of updates as they happen and never miss a beat when the competition changes.
In summary, a tool like Competitor Intelligence makes analyzing the Amazon seller competition a breeze considering the tedious alternatives.
Conclusion
At this point in the Amazon FBA marketplace, fierce competition in nearly every market appears inevitable. It's vital for sellers to maximize positioning and offer an enticing value proposition for a realistic shot at lasting long-term success. With this in mind, the importance of analyzing the competition becomes apparent. It's the most thorough way to uncover advantages in the market.
Whether in competitor analysis tools like Competitor Intelligence or another method, an Amazon seller competitor analysis can uncover the answers to take your e-commerce business to the top. Since the Amazon seller competition is fierce, this type of research has evolved from an elective to a prerequisite.
For this reason, few tasks are more worthwhile than mastering the art and science of competitor analysis.
Sign up for Competitor Intelligence today to take your Amazon seller competitor analysis to the next level and optimize your business.